Free Camping in Top Adventure Destinations
You don't need to spend a fortune on your road trip or outdoor adventure this summer.  Americans are fortunate that our predecessors protected more than 600 million acres of public land, much of which is accessible for camping and outdoor adventures.  Read on for our recommendations on the best free camping spots in eight of our favorite U.S. adventure destinations.
We will tell you how to get there, what to expect for tent or RV camping, and what to do in the area so you can make your next trip memorable, adventurous and easy on the wallet! Each location is unique and offers a budget friendly experience to get the most out of your summer.
Are you looking to upgrade your camping experience this year, but you don't have an RV?  No problem! Rent an RV on TripOutside through our partnership with Outdoorsy, and find convenient, insured RV rentals all over the country – from vintage vans to Class A motorhomes and everything in between!
Disclaimer: most of the camping spots listed below have no amenities like bathrooms or trash, so we highly recommend that you be self-contained or plan accordingly.  All campers MUST follow leave no trace principles and leave the camp sites in pristine condition.
Lake Creek Road is located within a valley surrounded by mountains to the east and west in the Sawtooth National Forest. It's just a 10 min drive from the town of Ketchum (where the renowned Sun Valley resort is), where there are tons of restaurant and shopping options.  Lake Creek Road offers the perfect getaway for those that want to be surrounded by nature and endless hiking options to explore, but still want to be close to a town or may be working remotely.
For outdoor enthusiasts looking to work remotely for a few days, Lake Creek Road is the perfect option as it has great cell phone service in all their spots (AT&T and Verizon). What more could you ask for?
The sites are easily accessible down a gravel road that starts in a local neighborhood. There is a maximum stay of 16 days.  There are no amenities like bathrooms or trash, so plan accordingly!  With great views, fantastic privacy, a camping site close to town, and great cell phone reception, Lake Creek Road provides a great getaway in one of the top outdoor destinations in America.
The Sun Valley area has many miles of incredible biking, from paved paths connecting the towns to mountain biking across its scenic peaks.  Compare Sun Valley bike rental prices and rent a bike online to explore the area on two wheels!

Mt. Shavano Wildlife Area has free dispersed camping just west of Salida. A great option to enjoy the best of camping and being as close as you can get to fantastic outdoor activities.  Mt. Shavano Wildlife Area offers great views, stunning sunsets, and the adorable town of Salida close by!
Salida has wineries, breweries, restaurants, and tons of hiking, kayaking, and rafting adventures, making the area a hidden gem of Colorado!  The Colorado Trail and trailhead for Mt. Shavano are also only a few miles up the road from your camping spot. You can compare rental prices and rent bikes online to go around town or take out on the many mountain bike trails in the area. The famous Arkansas River offers outstanding kayaking, rafting and paddleboarding options – book your adventure online today.  See our recommended 3-day itinerary for Salida!
In terms of accessibility, the road to access Mt. Shavano Wildlife Area can be a bit rough and steep in spots but has been managed easily by even large Class A motorhomes with slow and careful driving.
The camping area has many spots, few campers, fire rings at every site, and offers lots of space and privacy to take in the beautiful views of the surrounding fourteeners. There is a maximum stay of 14 days. Mt. Shavano Wildlife Area camping is a great place for all kinds of campers from backpackers with tents to larger RVs.

This gorgeous spot lies in Bridger-Teton National Forest, but perches over Grand Teton National Park, with unbelievable views of the Tetons.   There aren't a lot of places where you get a view like this right from the comfort of your cliff side camp spot for free.  Just 40 minutes outside of Jackson, WY, Teton Overlook offers free camping spots for groups or individuals looking to explore the National Park or surrounding National Forest.
To access the campsite, you can follow the Forest Service road directly across from the Cunningham Cabin in Grand Tenton Nation Park. You'll first pass the Lower Teton View camping area, which also has free spots that are much more accessible but do not offer quite the same views as the upper camping area. The road to the upper camping area is rocky and narrow, but not unmanageable for most vehicles. There is a maximum stay of 5 days in both the lower and upper camping areas. Teton Overlook does not offer any amenities, so plan accordingly!
Watch hot air balloons float across the red rock landscape as you wake up each morning at your campsite on Loy Butte Road in the Coconino National Forest outside of Sedona.  Loy Butte Road offers dispersed camping along most of its length, just 15 minutes outside of Sedona.  The spots can get busy on weekends and holidays, but usually there are plenty to choose from.
Just a short distance from the camp spots, there are great trailheads for hiking, biking, and visiting Indian ruins.  You may be aware that Sedona has world-class mountain biking, and this camping provides easy access to several trail systems.  Compare Sedona local bike rental prices and rent a bike online to explore the astounding red rock scenery on two wheels!  Or explore more activities in this sacred town – check out our recent Sedona blog article!
Loy Butte Road allows a maximum stay of 14 days, and also has no amenities.  While the road is washboard, it's in good condition and can be accessed easily by most vehicles.
Explore the Deschutes National Forest for free when you stay at Forest Road 260. Camping at this location is incredibly convenient, as it's located just a quick 10-minute drive west of Bend, OR. It's also located next to the trailhead for some of the best mountain biking in America.  For mountain bike enthusiasts, it really can't be beat!  You can compare Bend bike rental prices and rent bikes online for these incredible trails and pick them up at Hutch's Bike Shop in town.  While you are at it, book a kayak or stand up paddleboard rental for the pristine Deschutes River.
In addition to great biking, there are also great hiking trails in the immediate area. Plan your next hike to stand on top of a few beautiful waterfalls like Tumalo Falls or Double Falls.  Check out our Bend blog article for more ideas on the fantastic outdoor recreation in the area!
Accessibility wise, Forest Road 260 is in decent conditions but is not recommended to travel on with large RVs when wet. There is a 14-day limit at Forest Road 260. As for amenities, Forest FR 260 is a basic dispersed camping spot, however, there is a dump station close by in town where you can also find potable water.
Camp at Willow Springs Trail and explore the beauty of southern Utah. Willow Springs Trail camping has a great location just 5 miles from the Arches National Park entrance and just north of Moab. The camping spots are clean, and quiet, in an area where fellow campers truly respect their environment. The road is accessible for most vehicles and is just a little bumpy in sections. Moab is also an extremely accommodating town to campers – with free water jug fill ups, multiple dump stations, and shower facilities at the recreation center in town. Each camp site at Willow Springs Trail also has a fire circle, but no other amenities.
Moab has a plethora of outdoor activities and is world renowned for mountain biking.  Compare prices and get your bike rental online from the experts in Moab mountain biking.  The Colorado River also flows through Moab and there are great rafting, kayaking and stand up paddleboarding options in the area.  Check out our Moab 5-day adventure trip recommendation for a detailed itinerary!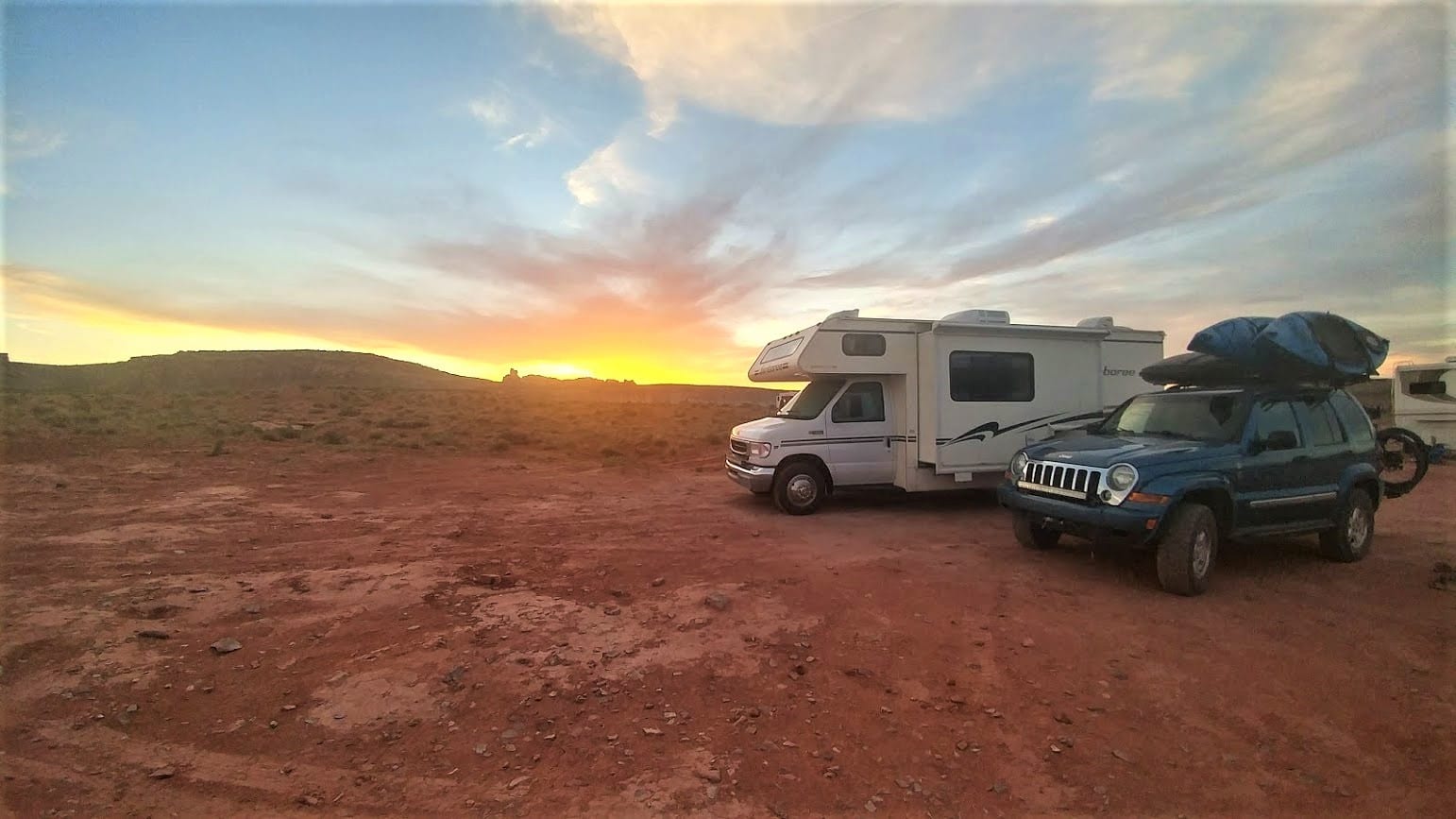 Looking to visit somewhere that screams views of classic Colorado? Boondocking at its finest? Look no more. Washington Gulch Road camp spots are located within the Gunnison National Forest and offer breathtaking views of Mr. Crested Buttle along with rolling hills of wildflowers. Incredible views and world-class hiking and biking just steps from your camping spot. Aside from the great views and outdoor adventures, the town Crested Buttle also has a lot to offer!  See our article on 4 Great Reasons to Visit Crested Butte this summer!
The dirt access road is narrow and a bit curvy with drop offs; some larger vehicles may not be able to pass the 'narrow and steep' road sign. There are plenty of spots for all kinds of trailer, tent, or RV campers in the established areas with existing fire rings. Water and sewage dumps are close by in the town. Campers can stay a maximum of 14 days at Washington Gulch Road.
To explore the incredible biking trails just off this road, compare prices and rent a bike online for pick up downtown or at Mt. Crested Butte. Crested Butte also has some incredible, scenic options for kayaking and standup paddle boards in various rivers and alpine lakes in the area.  Book your gear online today!
Glass Creek Campground offers the perfect getaway for those searching for either peace and quiet or adventure – or maybe a combination of both! Named after it's fresh water creeks that you can find around every corner, at Glass Creek Campground you'll be surrounded by ponderosa pines, hot springs, mountains to climb, waterfalls just 2-3 miles away, and plenty of trails for hiking and biking.
Located in the Inyo National Forest, just 15 minutes away from the mountain town of Mammoth, CA (and the top rated Mammoth bike park!); Glass Creek Campground is a short drive down a dirt road off U.S. highway 395. There are 66 spots lined along beautiful woods and available for all campers from backpackers with tents, to families with RVs, and motorhomes. There is a maximum stay of 21 days at the campground. Glass Creek Campground has many amenities including picnic tables, bear proof lockers, fire rings, and pit toilets for public use. There is no running water or garbage disposal within the campground, however, there is a fresh creek running through the north and south sides of the campground for water access. Additionally, there is a rest area just 5 miles away from Glass Creek to fill up freshwater tanks and drinking water.