Exploring the Maze with Western Spirit Cycling Adventures: A 5-Day Canyonlands Mountain Biking Adventure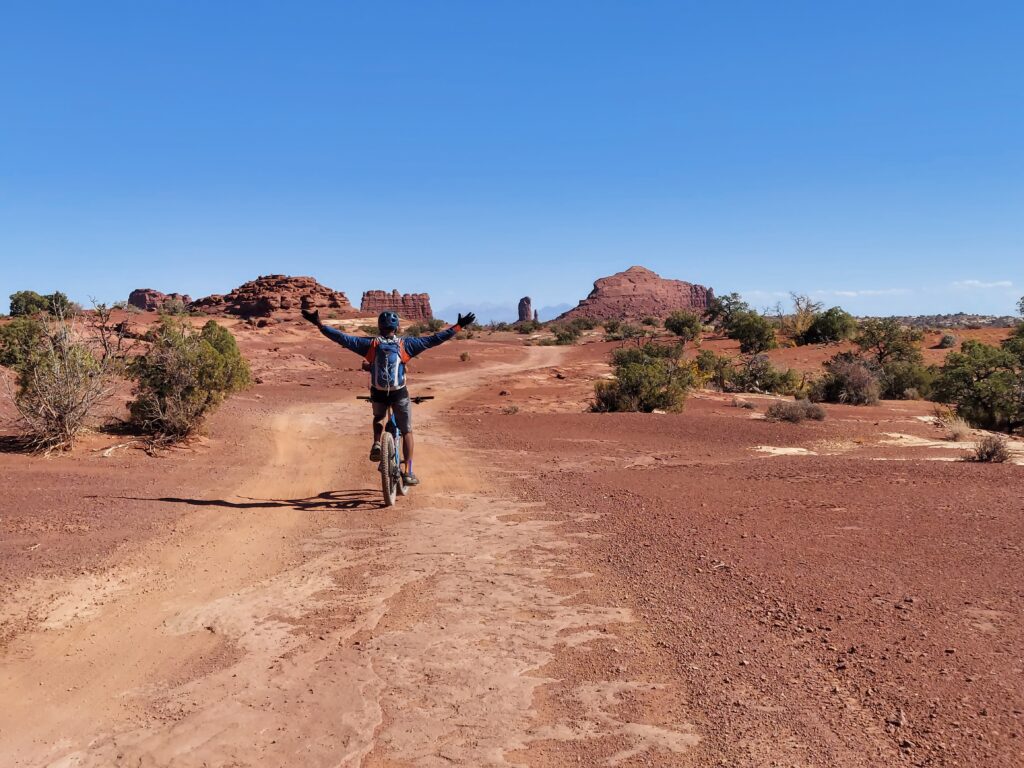 Picture waking up to breathtaking vistas of red rock formations, stunning canyons, and the promise of human powered adventure every day for five days straight. That's precisely what we experienced on our Canyonlands mountain biking trip through the Maze with the rad crew from Western Spirit Cycling Adventures.
Day 1: The Beginning of an Epic Journey – Canyonlands Mountain Biking
Before the Moab sun could even break a sweat, our gang of seven cyclists was buzzing with that 'first day of adventure' kind of energy. Our two Western Spirit guides, Will and Garrett, led the way as we piled into the van and set off on a 3-hour drive to Hanksville – the last chance to grab munchies, gas, water or other necessities – before continuing our trip into the heart of red rock country. We started our biking adventure at Hans Flat Ranger Station, a dusty and remote outpost with some fascinating tidbits about the history and geology of the area and several books and maps for sale.
After a quick debrief on Leave No Trace, the importance of crypto soil, and staying on trail, our tires first hit the dust on the Flint Trail, a 16-mile ride that was a mix of dirt doubletrack with some tricky sandy bits mixed in – a great warm-up for the days ahead. This Jeep road started at the edge of the Glen Canyon Recreation area and dropped us down from the mesa top, through stunning red rock scenery as we rode directly toward the Canyonlands.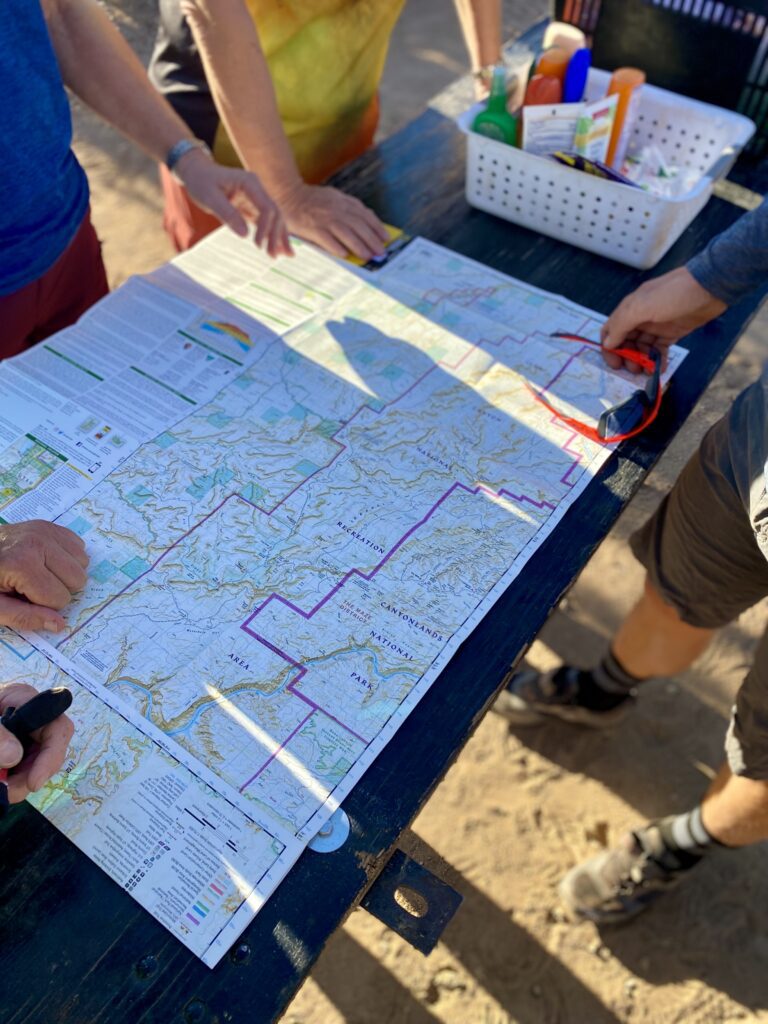 By lunchtime, at Bagpipe Overlook, our jaws had joined our tires in the dust – the canyon views were killer. Top that off with our guides tossing up salads and tortillas like culinary ninjas. By early afternoon we reached our spectacular campsite perched on a mesa overlooking the Canyonlands, suitably called the Golden Stairs. We were stoked to each find our own little corner to set up our tent with equally epic views of the Maze. A short jaunt out to a nearby land bridge offered more panoramic views of the red and white hoodoo rock formations that the Maze is known for.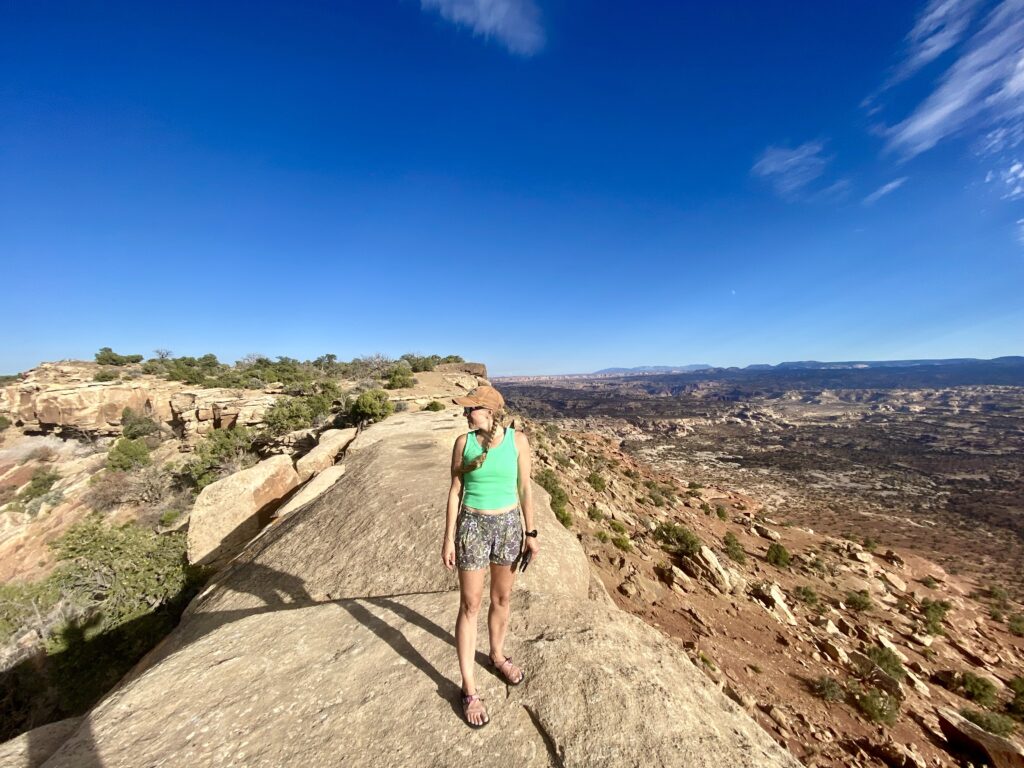 As the sun set, Will and Garrett treated us to appetizers followed by a stir fry feast that had us second-guessing our favorite restaurants back home. They easily accommodated our group's different preferences with both chicken and tofu options, which set my vegan mind at ease for future meals. I somehow found some room for strawberries and bananas dipped in chocolate for dessert. We spent the evening swapping stories about our favorite travel spots and adventures – one of our favorite parts about traveling with a group.
Day 2: The Maze Madness
After a night under the stars, day two began with a scrumptious breakfast, both hot and cold. Packing up camp was a breeze with the provided dry bags that we each stashed our gear into. We cycled out of camp for a 12-mile spin through a mix of rolling terrain and some smaller climbs, soaking in the rugged beauty of the area. We ended our ride at the Maze Overlook campsite, where we were stunned into silence by the unreal views of the maze of canyons stretching as far as the eye could see.
This multi-adventure day didn't stop there. We scrambled down into the Maze to see the famous pictograph, "The Harvest Scene". The descent into the canyon was technical, but our guides Will and Garrett provided excellent support and we followed their tips to make our way down to the canyon floor.
The pictographs stretched across a massive red rock wall, with intricate designs of people and animals that seemed to tell stories of ancient times. We had our packed lunch, enjoyed a nice break chatting about what the paintings mean (👽 was the most common answer), and then climbed back up to the top of the mesa, feeling a sense of accomplishment after our 7-mile trek.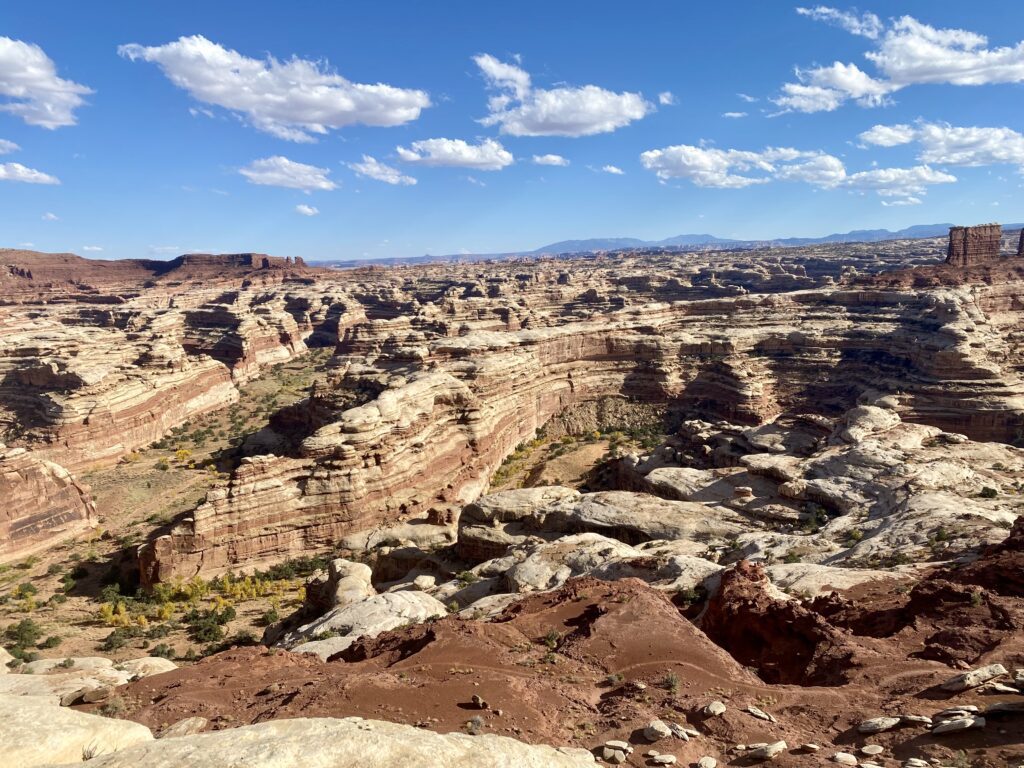 Back at camp, we knocked back guac like it's our job and devoured the sweet potato and bean enchiladas expertly cooked in a dutch oven over coals. The brownies the guys made us for dessert were so good they disappeared faster than our energy.
Day 3: Ridin' High
Day three started with another hearty breakfast, both cold (yogurt, cereal, fruit) and hot (oatmeal and toasted bagels). I could really get used to two breakfasts! We packed up camp and set off for another day of mountain biking through the stunning landscapes of the Canyonlands. The game plan was a 24-mile pedal pushing back up and over the Golden Stairs, and along a ridge with more impressive views of the Canyonlands.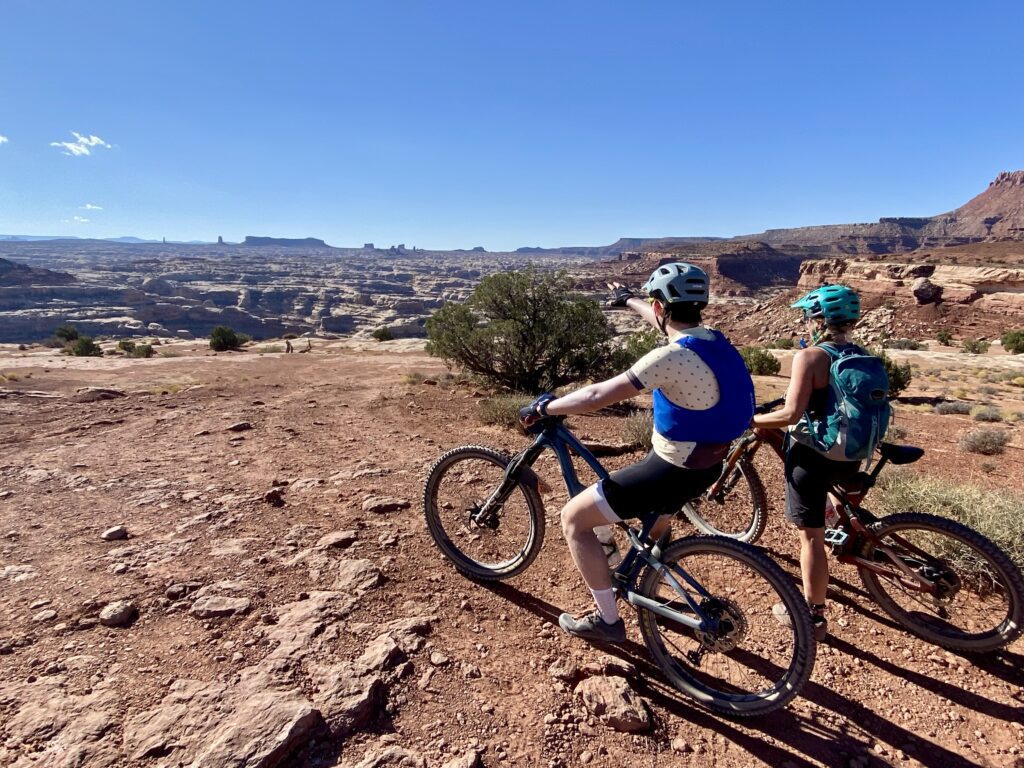 Most of the biking was a gradual uphill, with some hike-a-bike sections on the steeper stairs sections. We all stopped to watch as Garrett followed us in the truck and expertly rambled up the steep and chunky sections we had just walked. We paused at the Orange Cliffs of Glen Canyon for a delicious pasta salad lunch that had us almost too full to ride, but the thought of the mostly downhill ride to Teapot campsite kept us going.
More stunning views awaited us, and we enjoyed a sunset happy hour and some yoga on the rocks before the sun disappeared over the canyons. Our guides outdid themselves again with a veggie and sausage (and veggie sausage) pasta that hit the spot, and an apple pie that had us contemplating seconds (or thirds).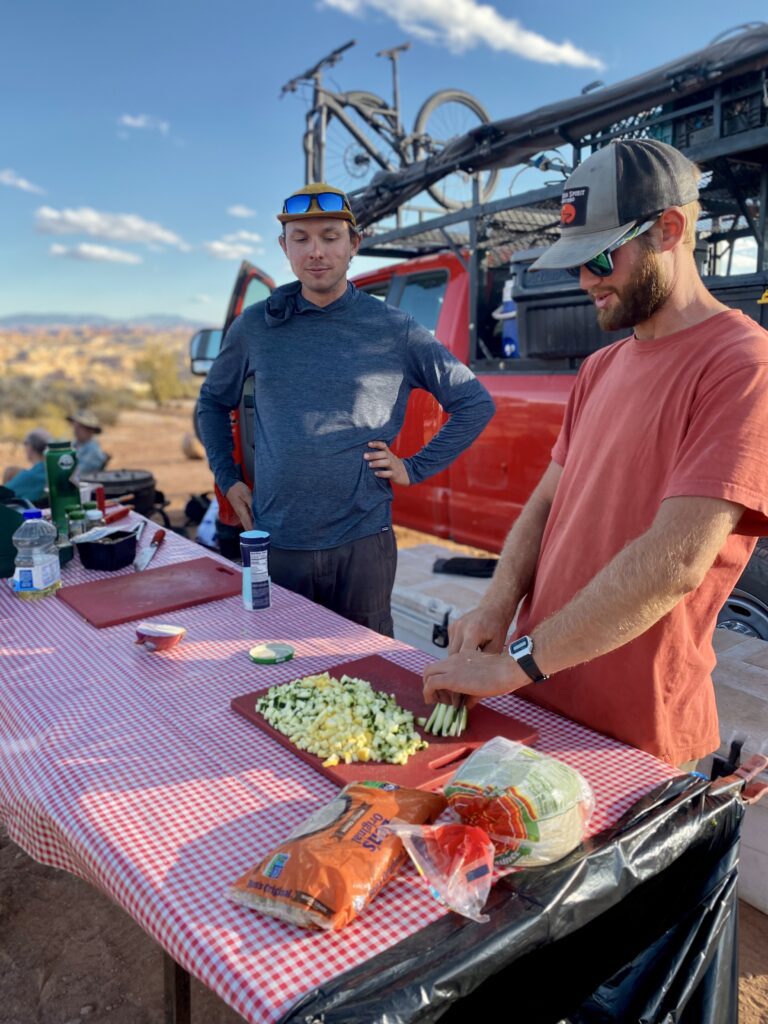 Day 4: Choose Your Own Maze Adventure
Staying at the same campsite for two nights allowed us to explore deeper into the Maze. No moving camp meant a laid-back morning with chocolate chip pancakes that had everyone grinning.
Today's agenda was "choose your own adventure" – stay in camp and chill, or saddle up for some exploring towards, or into, The Maze. We opted to ride out to see the Mother & Child rock formation on the edge of the National Park, followed by a hike to a fern-lined cave – nature's own oasis. A few of us pushed further into the Canyonlands and the Land of the Standing Rocks, which did not disappoint. With our heads on a swivel, we pedaled through the red landscape scattered with incredible rock formations like The Wall, Standing Rock, and Chimney Rock. It literally felt like you were biking through a massive painting.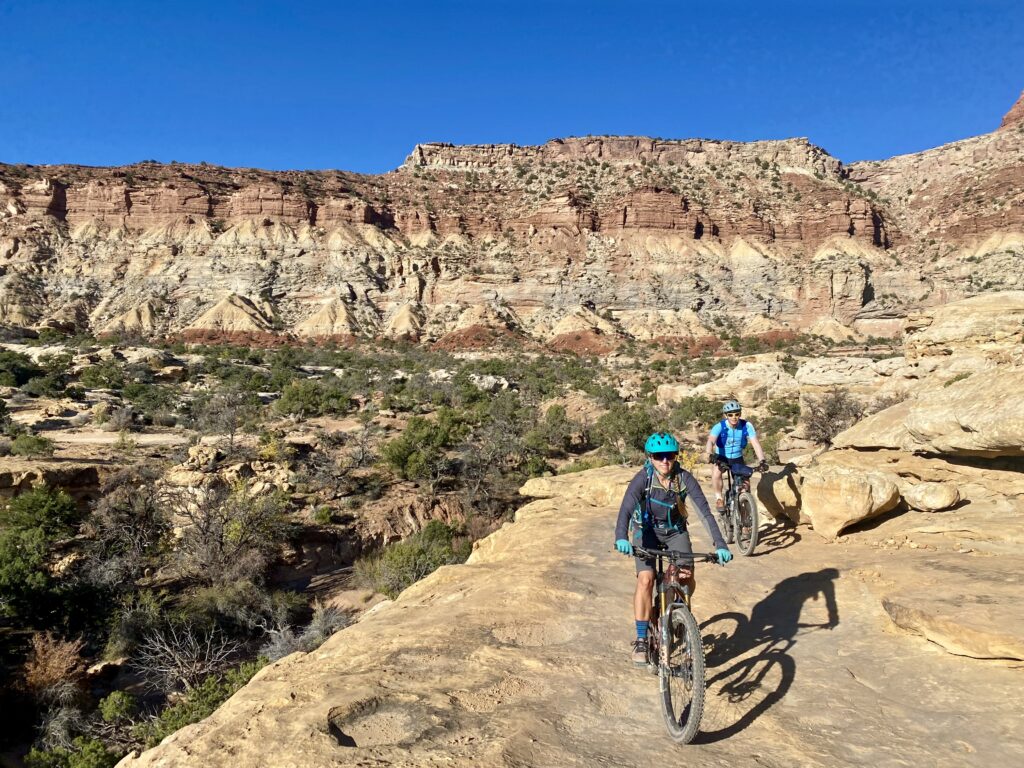 On the ride back to camp, we came across a huge tarantula crossing the road – just your average desert local. We wrapped up our 26-mile ride by feasting on more homemade guacamole and a taco spread that had us all going back for more.
Day 5: The Grand Finale
The final morning had us up before sunrise sipping coffee and stuffing our faces with made-to-order breakfast sammies (vegan-friendly options delighted me). With a 34-mile ride ahead, we kissed Teapot campsite goodbye and cruised along the Orange Cliffs.
The headwind was a beast in places, but the drop-dead gorgeous scenery kept us pedaling. We refueled with a delicious quinoa salad lunch and were all smiles on the van ride back to Moab, proud of every wild, scenic mile we'd conquered.
In Summary
And there it is—five days of pure, unfiltered, Canyonlands mountain biking glory. Hats off to the Western Spirit crew for leading us on a guided cycling tour through this red rock wonderland. We can't wait to do it all over again—because once you've tasted adventure like this, there's no going back to just 'normal' trails.
If this post inspired you to have a guided mountain biking adventure of your own, you can start planning your own guided cycling tour with Western Spirit Cycling Adventures today, and who knows what you'll discover.  In addition to this incredible adventure, they offer 50+ cycling adventures all over the West – from mellow rides around hot springs to five days above 10,000 feet, they have options for all types and ages of riders.  A sweet perk if you book before 12/15/23 – 10% off your adventure using discount code BNDL_10% (or save on a gift card for future use)!
Key Takeaways from Our Western Spirit Cycling Adventure
Benefits of a Group Trip
It's such a blast to hang with folks who get just as excited about biking as you are. Swapping stories and picking up new destination tips while you ride is like being part of an exclusive bikers' club where everyone's on the same awesome vibe.
Another perk is the wisdom you gain from the guides. These folks have been on some wild rides and have the coolest stories to tell. Listening to their recommendations on other epic trips meant that we walked away with a big wish list of rides and destinations to visit next.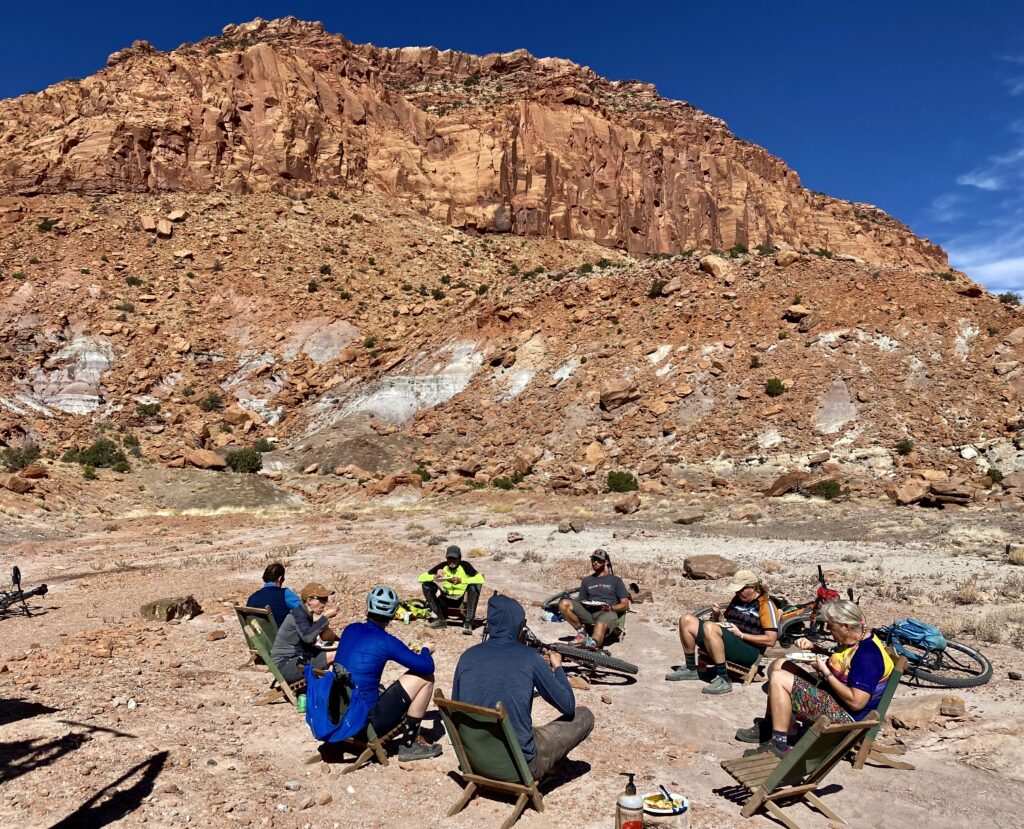 Why We Loved a Guided Cycling Tour
We do a lot of our adventures self-supported and unguided. But this adventure reminded us of the many benefits of a guided adventure.
You're scoring extra chill time: There's something sweet about a guided mountain biking trip—someone else sweats the (important) small stuff. With a crew sorting the campsite, whipping up grub, and keeping the show on the road, you've got a golden ticket to kick back. Whether you're stretching into a sunset yoga pose, scribbling in your journal, talking trails, or bike maintenance with new buddies, you've got the freedom to soak it all in, hustle-free.

You also get the VIP treatment. The guides are like backstage heroes, making sure everything's spotless and the food's to die for—seriously, it's like having your own wilderness chefs and trip wizards rolled into one.

Sure, you'll fork out a bit more upfront for these guided gigs, but you have to compare it against the bucks you'd spend hitting the town for eats and treats over a week. When you do the math, the sticker price of a guided tour isn't just for the guides—it's a full-on value pack. Might just be the smart play when you add up what it costs to DIY your adventure.

Support in remote destinations: Planning a trip to a place like the Maze, one of the most remote areas in the lower can be very challenging without a support crew.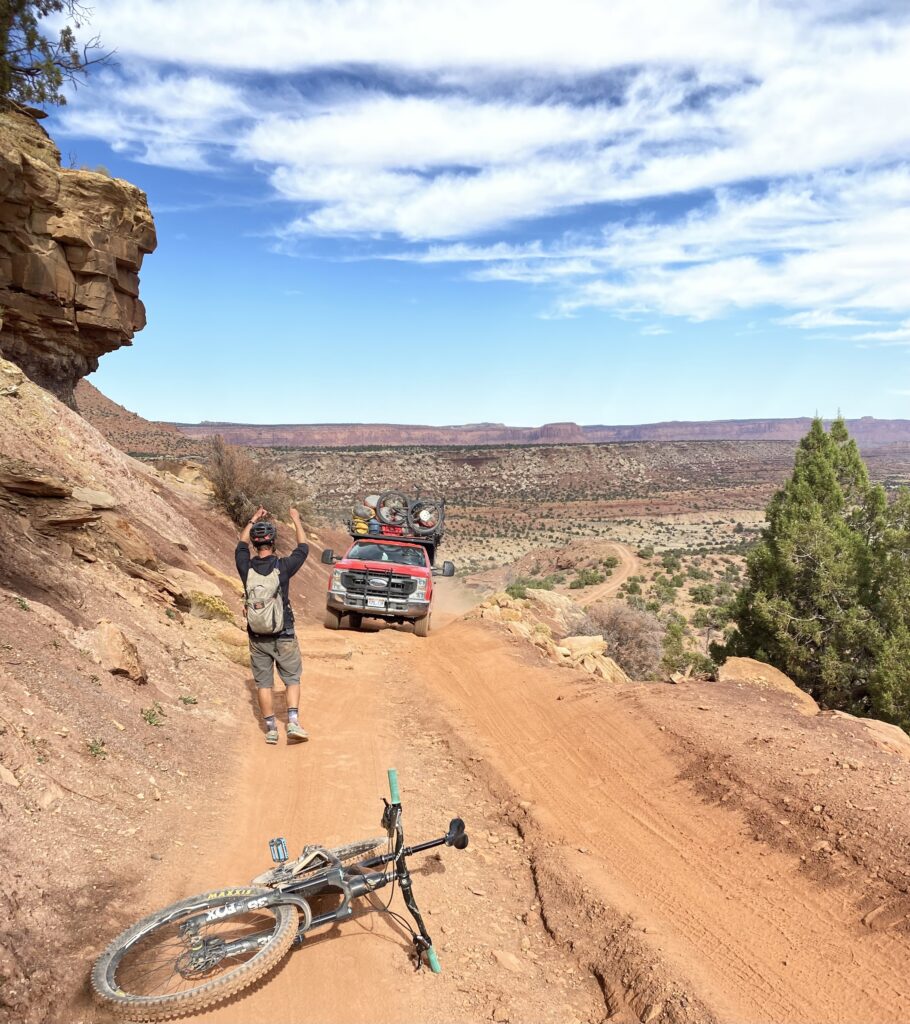 What We Loved About Western Spirit
These folks seriously get you. Before you even set foot on the trail, they're all about making sure you're signing up for the right ride. They ask questions upfront and make sure the group is well aligned, so once you're out there, it's all smooth sailing – no need to worry about being the slowest rider because everyone is at a similar level.

And if you're not leading the pack? No biggie. You can hop in the truck at any time to catch a breather. But do know – this is NOT a race, it's a group ride and the group stays together, or at least meets up at checkpoints along the way so you're not left eating anyone's dust.
With 30 years in the guided mountain biking business, they've got their system down to an art. The gear, the ride, the packing- everything.

One of the unsung heroes of a guided trip? Never having to stress about bathroom breaks in the backcountry. With Western Spirit, a clean and eco-friendly setup is always part of the package. They've got all the waste management dialed in, from latrines to groovers, adhering strictly to the leave-no-trace principles. So, you can focus on the ride and the views, without the… let's call it, 'extra baggage'.

We know from experience – if you need a special menu, or are a picky eater, they've got you covered. Their meals will have you thinking you're at a five-star joint with a backcountry twist. Western Spirit's guides are like gourmet chefs in bike shorts. They don't just set the bar; they're the bar.