TRIPOUTSIDE.COM PRESS KIT
What is TripOutside?
TripOutside is the easiest way to find and book outdoor adventures online from the best local shops. The site allows customers to discover top outdoor destinations, find the best local outfitters and experiences, compare shop prices, and book their gear and adventures online quickly and easily.
TripOutside.com features shops that rent gear and guide tours for biking, kayaking, stand up paddleboarding, canoeing, skiing, snowboarding, rafting, scuba, surfing, camping and more.
"We are excited about the launch of TripOutside, the largest and fastest growing adventure gear rental website. Our goal is to get more people outdoors and adventuring, and we are adding new shops and destinations every day", said TripOutside Founder and Outdoor Enthusiast, Julie Singh.
What is the idea behind TripOutside?
TripOutside is designed to save adventure enthusiasts time and effort while booking outdoor adventures. The typical process for booking outdoor gear requires extensive online searches, calling shops during business hours, providing credit card info over the phone, and tedious in-store waiver processes. TripOutside provides customers with a comprehensive online research and booking tool for all of their outdoor adventures.  TripOutside lets customers book adventures whenever and from wherever they want, all on one website.
Our mission is to make the outdoors accessible, and our vision is a world where people come back to nature to reset more often and work towards preserving it.
Who is TripOutside for?
For Customers: TripOutside is for anyone looking to spend more time outdoors. It's for the outdoor enthusiast taking an adventure trip, the novice looking to try out a new outdoor activity, or the expert looking to demo their next bike, kayak, SUP or skis before they make a big purchase. Customers can find their outdoor adventures in one place, compare pricing, and book the gear and adventures they need online quickly and easily.
For Outfitters: Many outfitters need help when it comes to optimizing and running their business, especially online bookings. TripOutside works with outfitters of all sizes, and whether they have an existing online booking solution or not, the TripOutside marketplace provides an additional marketing channel for more gear rental bookings. Outfitters make a large financial investment in their rental gear inventory and TripOutside helps them maximize their rentals. TripOutside helps outfitters rent unused equipment while saving them time and effort in the shop.
This outfitter video helps explain how TripOutside works.
Testimonials
"An extra $1800 in rentals in the first month! I stumbled upon this amazing site and they set us up for online rentals in just one day. They helped me with everything I asked for and more."  – Stephanie – Elevate Bike Shop, Crested Butte, CO
"TripOutside has been easy to work with and we have enjoyed a successful partnership in our first season of working together."  -Will – Spicy Sports, Whistler Blackcomb, Canada
Who's behind TripOutside?
TripOutside is a woman and minority owned business, designed and crafted by Julie and Reet Singh. They are a creative team of outdoor enthusiasts with 20 combined years of experience in retail, finance and technology at a fortune 30 company.  Julie and Reet left their corporate careers in pursuit of their passions for outdoor adventure and travel.  TripOutside is a fully mobile company, and Julie and Reet spend their time exploring all the best outdoor adventure destinations for their customers.
What is next for TripOutside?
In 2020, TripOutside aims to expand into 200 major outdoor destinations, identifying and featuring the best local shops for outdoor adventures.  The site is continually adding more activities like rock climbing, canyoneering, kite surfing, and more!  TripOutside is focused on constantly improving the outfitter and customer experience and will continue to provide enhanced information for customers and outfitters including pricing comparisons, trail guides, reviews and user generated content.
TripOutside Features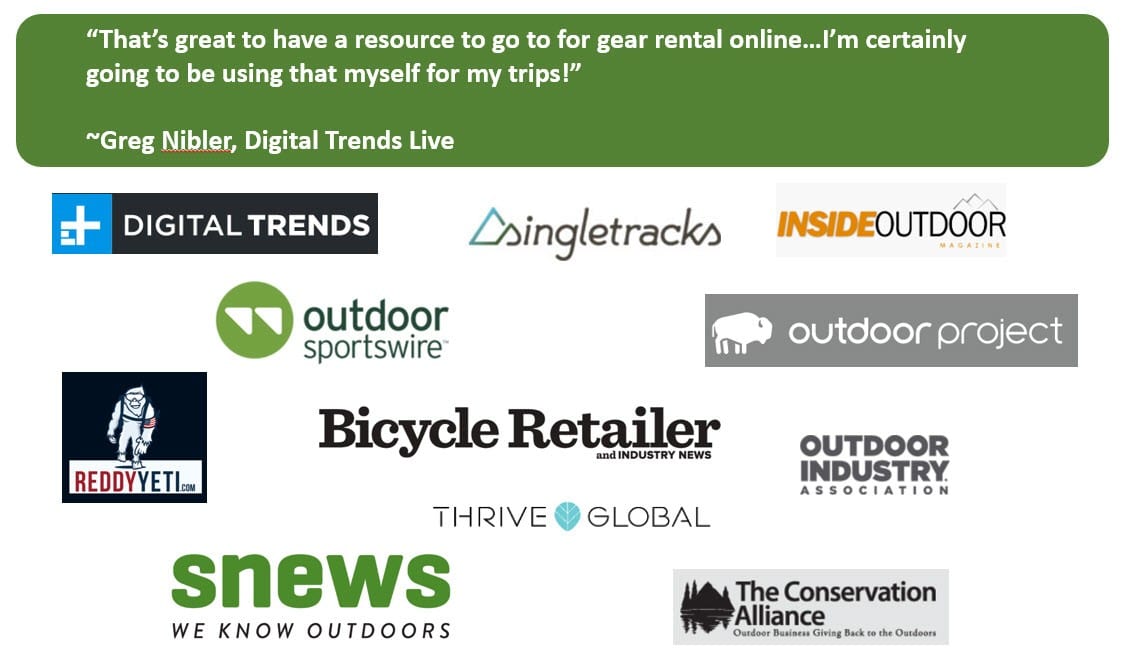 Bicycle Retailer & Industry News
Thrive Global & Authority Magazine Interview
Everyday Entrepreneur by Holly Knoll
Forbes Feature – How Safe Are Outdoor Activities?
Fun Facts
*TripOutside features over 300 adventures in 160+ top outdoor destinations in the US (as of Jan 2021)
*40% of online reservations are made outside of business hours
*90% of travel bookings involve going online
*TripOutside provides an additional channel for outfitters to market their human-powered outdoor adventures
*TripOutside only works with the absolute best local outfitters and activity providers
TripOutside Press Contact
For further details, contact Julie Singh at [email protected].   We look forward to chatting!
IG: @trip.outside
FB: facebook.com/tripoutside