Off the Beaten Path Travel Destinations – Outdoors
The Outdoors is Booming
People are flocking to the outdoors in record numbers, making finding an off the beaten path travel destination all that more important. They come for adventure, inner peace, and a break from everyday life. During the pandemic, many people discovered camping and outdoor activities as great forms of entertainment and exercise while social distancing. The stats show the reality: 7.1 million more Americans participated in outdoor recreation in 2020 than the year prior.  This was the highest participation on record, with 53% of Americans over the age of 6 getting active outside at least once.  Many of these consumers are in the outdoors to stay, even as some return to their pre-pandemic habits.
This means that some of the more popular destinations have become even more crowded.  Headlines were made about endless car lines and parking drama at some of America's favorite National Park. Many towns that rely on tourism, like Crested Butte, CO, have even pulled their summer advertisements and rejected economy-boosting music festivals because the endless tourism is leaving locals underhoused and overworked.
Spreading People Out
One of the goals of most outdoor recreation destinations is to spread people out to avoid crowds, lines, and negative impacts on the environment.  That should be easy – the U.S. has 640 million acres of stunning public lands!   Finding off the beaten path places to visit for outdoor recreation will reduce the negative impacts of overcrowding and help you keep your sanity.

Off the Beaten Path Outdoor Travel Destinations
This spring and summer, consider checking out some of the less crowded, hidden gem destinations for outdoor recreation.  There are so many spectacular places to explore, without the stress of crowds.  Even better, many of some of the less crowded spots are within driving distance from prime locations like Moab, Zion and Tahoe. So if you've already bought your flights, you can still escape the mobs at these uncrowded summer vacation spots.
If you are looking for an outdoor vacation away from the crowds, TripOutside has got you covered.  Read on for some of our favorite non-touristy adventure destinations to visit across the U.S. that have the same awesome adventures and insta-worthy sights, sans the crowds.
Some of the Best Kept Secrets in Outdoor Recreation…
Love Moab? Try Fruita, Colorado
Moab is one of the most visited outdoor adventure towns in the United States. With 2 popular National Parks nearby, millions of tourists visit every year. The visitation numbers increased in 2020 despite the pandemic, with many people finding solace from the pandemic in the National Parks. Arches National Park has occasionally closed its gates temporarily, but recently it has been forced to close it's gates by mid-day to reduce overcrowding, turning away more visitors than ever before.
To avoid the Moab crowds, we recommend heading to Fruita, only 1.5 hours northeast of Moab just over the border in Colorado.

Fruita Outdoor Activities
Fruita is one of the best uncrowded vacation destinations around. A quaint, artsy town, Fruita boasts a full range of outdoor adventures from epic mountain biking to rafting and paddleboarding on the Colorado River. The Colorado National Monument lies just to the south of Fruita.  It features backcountry hiking, camping and rock climbing opportunities throughout its sandstone cliffs and spires.
Looking for arches? Next to the Colorado National Monument lies the 123,400 acre McInnis Canyons National Conservation Area. The Rattlesnake Canyon section of this reserve has the world's second largest concentration of arches outside Moab's Arches National Park.
If you're looking to escape to the red rock but skip the crowds for your next adventure, definitely check out Fruita.
Love Tahoe? Try Downieville, CA
The Lake Tahoe area has been on the outdoor adventure map for a while. Despite the pandemic, 2020 was no different, except Tahoe saw an even greater boost in visitors. Unfortunately these visitors weren't well versed in wilderness protocols and the results were surges in vandalism, trash and bear activity.
We've got the perfect off the beaten path outdoor destination for you to give Tahoe a well-deserved break and still get your outdoor recreation on: Downieville, CA.

Downieville Outdoor Activities
Many people have never heard of this Northern California gem, and it's probably one of the least crowded recreation towns to visit in summer in California. Popular with a small subset of adventure junkies, outdoor recreation helped save this former mining town from extinction. Downieville is a mountain biking mecca just 2 hours away from Tahoe. The area's prime mountain biking trail – the Downieville Downhill – is a fast, flowy and technical trail that boasts access to the beautiful wilderness surrounding the town.  Need a bike rental or shuttle to the top?  We highly recommend renting from Downieville Outfitters – they are the longest running bike rental shop and shuttle service in the area.
Downieville is nestled in the Sierra Nevada mountains where the Yuba and Downie rivers intersect. The rivers are popular for swimming and whitewater rafting, and superb paddling opportunities abound in the nearby Lakes Basin Recreation Area, plus snowshoeing and cross country skiing in the winter.
Love Sedona? Try Tucson, AZ
If you've seen pictures of the beautiful red rocks of Sedona, it's no surprise even amidst the pandemic it's been a hotspot for outdoor adventurists (and even some celebrity visitors). People are flocking to Sedona to seek out spiritual renewal and reflection along with the beautiful outdoor scenery and activities.
If you're not one for following the crowds, pave the way towards the unsung Arizona gem – Tucson. Only 2 hours southeast of Phoenix, Tucson is surrounded by 5 mountain ranges and beautiful desert scenery.  This makes it the perfect destination for some rock-loving outdoor activities. It's not the most empty of our off the beaten path travel destinations, but it definitely offers all the Arizona beauty with none of the craziness of Sedona.

Tucson Outdoor Activities
Tucson offers hundreds of miles of trails for hikers to explore, from Saguaro National Park East and West to Oro Valley to Catalina State Park, with hikes for all skill levels.  Summer gets hot down here by the border, but spring and fall are perfect times for visiting this unique travel destination.
Whether you're looking for a paved trail or for an off-road experience, Tucson is here for all of your biking needs. With hundreds of miles of trail and bike routes you can't go wrong. The most popular for road biking, The Loop, offers 130 miles of paved, car-free paths that follow river beds and have plenty of bathroom and water stops. And for all you mountain bikers, enjoy popular trails like 50 Year Trail, Honeybee and Tucson Mountain Park.
We'll say it again, Tucson rocks! All those mountains and we can't forget to mention rock climbing. One of the top rock climbing destinations is Mt. Lemmon in the Catalina Mountains, which has more than 2,700 climbing routes, ranging from single pitch clip-ups to multi-pitch traditional routes. There's no grappling with this, Tucson is the destination for you, without the crowds.
To top it off, downtown Tucson is filled with delicious restaurants, trendy shops, 12 craft breweries, and a wealth of museums to visit between adventures.
Love Santa Fe? Try Silver City, NM
We understand all the love for Santa Fe. It's a funky town with a robust arts scene, great eats, good brews, and a gazillion hiking trails (many with a hot springs reward at the end!). Plus, the year-round mild weather is hard to beat. But Santa Fe is not secret, and it's a surprisingly popular destination for visitors trying to beat the summer heat.
Further south in the Land of Enchantment lies a wonderful outdoor recreation destination to visit in summer: Silver City, NM. Silver City sits at about 6,000 feet elevation, only 1000 feet lower than Santa Fe, so it also benefits from temperate summers perfect for outdoor recreation.  If you are seeking an uncrowded summer vacation spot with tons of adventure, head to Silver City.  Explore the area bike trails, the Continental Divide, and the fabulous hot springs just 2 hours away in Truth or Consequences.

Silver City Outdoor Activities
Silver City is a hub for beautiful mountain biking destinations. The Boston Hill Open Space trail system is a former open pit mining area, which harkens back to the reason people settled here and the town's name. Though not much silver was ever found in the area, there was plenty of mining for ore in the late 1800s. In 1999, the town turned Boston Hill into a 13-mile trail system with beautiful views of the Gila National Forest.
Locals say that if you can do all 13 miles in Boston Hill, you're ready for anything available in the nearby Gila National Forest, another mountain biking mecca. Silver City and the Gila are home to the Signal Peak Challenge, a 23-mile cross-country mountain biking race on Continental Divide singletrack.
The proximity to the Continental Divide Trail combined with the trail systems in the Gila National Forest means there's no shortage of hiking opportunities as well.  Silver City is sure to meet your outdoor recreation needs without all the hustle and bustle of Santa Fe's many tourists.
After your adventure, be sure to check out Little Toad Creek brewery and distillery for their eclectic vibe, and delicious food and beer (plus dogs allowed on the patio!).
Love Zion NP Area, Utah? Try Kanab and Page, UT
With Zion National Park tours shifting to ticketing systems to keep the crowds at bay, the slots to explore this beloved Utah outdoor destination are limited. Just over July 4th weekend in 2020, Zion National Park saw more than 94,000 people come through with shuttle wait times up to 90 minutes and the parking lot full by 8:30 a.m.
If you're not into waiting hours to hike or enjoy the outdoors, don't fret. Just a short 30 minute drive away you'll find Kanab, Utah – the Little Hollywood of the American West.

Kanab Outdoor Activities
Kanab, with its secluded, mystical charm used to draw in mostly filmmakers, but now, it's become one of the best kept secret family vacation spots for anyone who looking to avoid the crowds of Zion.
Surrounded by the Navajo sandstone cliffs and vistas of Sagebrush, Kanab gives you a feel of the wild West. Kanab is a highly-recommended off the beaten path outdoor destination for road cycling where trails often lead to abandoned Hollywood sets. Check out Powell Point where you can bike through alpine scenery to the tip of the highest plateau in North America.
Get your hike on in the Grand Staircase National Monument near Kanab. Explore Central Canyon, a 4-mile out and back through aspen forest and meadows; or Paria Canyon Trail, one of the premier hikes within the Colorado Plateau, which explores one of Utah's most beautiful and famous slot canyons.
Halfway between Kanab, UT and Page, AZ is the longest slot canyon in the world – Buckskin Gulch. A day hike of one of the various sections of the canyon will be the highlight of your trip. Multi-day camping trips are also possible to cover the entire canyon. Page also features the stunning Lake Powell, where you can paddle into the spectacular Antelope Canyon – the best way to experience this gorgeous slot canyon.
Love Jackson Hole? Try Pinedale, WY
The sudden surge of more than 40,000 visitors, the seemingly endless need for accommodation, and the strain to locals have made Jackson Hole busier than ever. Visiting this popular recreational town could mean dealing with crowded areas, trouble finding accommodation, and not getting the wilderness escape Jackson Hole is known for.
If you're looking for hidden gems near Jackson Hole without the crowds, Pinedale, Wyoming is the place for you. Just an hour and a half away from Jackson Hole, this adorable mountain town is home to secluded backcountry hiking and bike trails, alpine lakes, and large glaciers. The area around Pinedale features some of the wildest, undisturbed outdoors in the American rockies.

Pinedale Outdoor Activities
Pinedale is the gateway to Wyoming's Wind River range, which boasts over 2,300 crystalline lakes, 40 peaks over 13,000 feet, and the headwaters of the Green River, great places for paddling, hiking, and riding.  The Winds are popular for backpacking, with more than 7000 square miles to explore.  An added bonus of exploring this well kept secret range is the lack of permits required, unlike most other National Parks and long distance hiking trails.   There's also some great mountain biking here – riding areas range from mountain trails and gravel roads to open sagebrush desert.
Relax with an award-winning pint and homemade pico de gallo at Wind River Brewing Company right downtown Pinedale post-adventure.
Love Key West, FL? Try Naples, FL
The Florida Keys is always a top destination for tourists and that's been no exception since the pandemic. This beachside gem is seeing a steady increase of visitors, with people flocking to the shores and taking refuge in water activities like kayaking and SUP.  If you're jonesing for the beach, water, and some marine adventure with less crowds and partying, check out Naples, FL.

Naples Outdoor Activities
Naples is situated where the Everglades wetlands meet the Gulf of Mexico, bringing numerous opportunities for paddling through mangrove forests, spotting dolphins from a stand up paddleboard, sunbathing pristine beaches, and much more.  Join a guided tour to find the best spots to see manatees, or rent a kayak or SUP to head out on your own.  Nearby Marco Island boasts Tigertail Beach Park's lagoon, perfect for exploring via kayak or paddleboard.  Renting a bike is a great way to explore the island at your own pace.  Getting outdoors and paddling the area's beautiful lagoons or exploring the bike paths will ensure you get the off the beaten path experience.
Love Wisconsin Dells? Try Copper Harbor, MI
With the surge in vacations and trips, Wisconsin Dells recently welcomed almost 100,000 visitors into its water parks and entertainment spots. With all the people flocking to this popular destination, it sometimes gets hard to score a camping spot or have a peaceful moment soaking in nature on the trails.
Just 5 hours away from Wisconsin Dells, Copper Harbor treats its visitors to a combination of history and adventure.

Copper Harbor Outdoor Activities
Copper Harbor is the gateway to Isle Royale National Park and boasts biking, hiking, and water sports. It makes one of the better non touristy places to visit in summer, because it's far-north location keeps temperatures mild.  Enjoy the quaint bike views at Brockway Mountain Drive, or shred the trails of the renowned Copper Harbor mountain bike trails.
This resort town also offers sublime water activities, like kayaking on Lake Superior. Explore a chain of barrier islands, finger bays, sea caves, cliffs and spiny ridgelines that parallel the peninsula. Discover Keweenaw Peninsula's rugged beauty, historic lighthouses, and hidden waterfalls. It's official, Copper Harbor has it all.
Love Bend, OR? Try Bellingham, WA
Bend is buzzing! Just scroll through #bendoregon and you'll find hundreds of thousands of posts reveling in this majesty of this spot. Needless to say, most areas in Bend are crowded with a capital C.  To avoid the masses flocking to Bend, we recommend checking out the waterfront city of Bellingham, WA instead.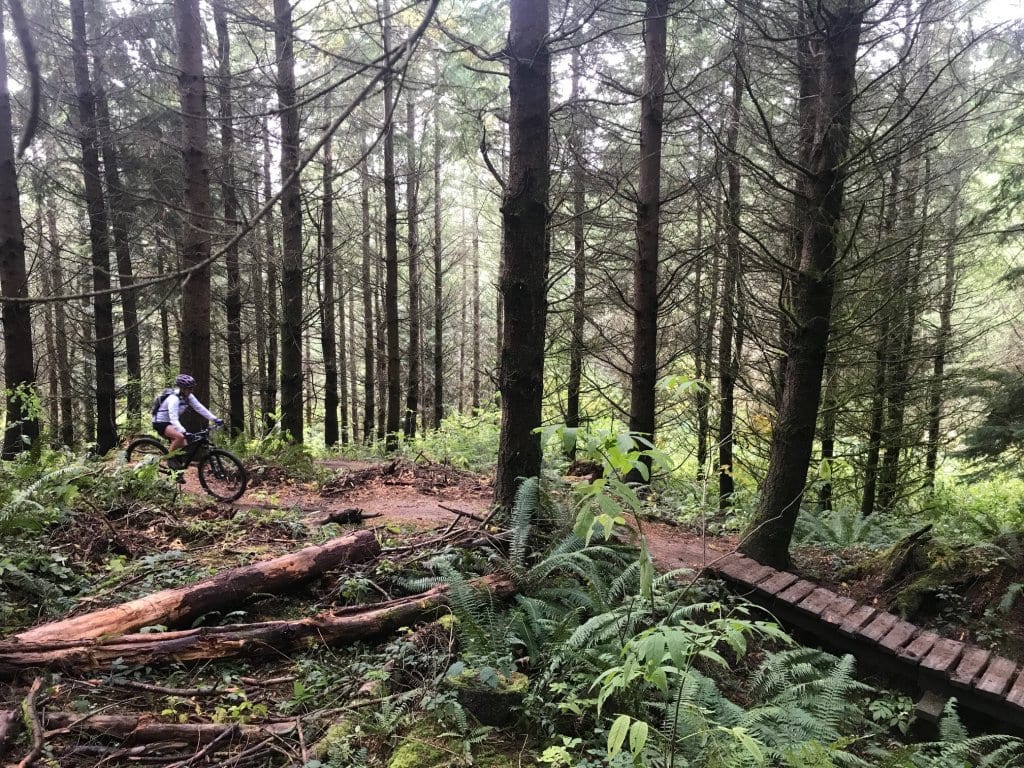 Bellingham Outdoor Activities
Just over 1.5 hours from Seattle, Bellingham offers year round outdoor adventures.  It's close proximity to Mt. Baker Ski Area means visitors can enjoy fantastic skiing, snowboarding, and snowshoeing in winter. When it starts heating up, Bellingham's location right on Puget Sound means superb kayak and paddleboarding opportunities.  Bellingham is also a hotspot for mountain biking, with 65 miles of bike trails at the renowned Galbraith Mountain Bike Park, repeatedly rated as the best mountain bike trail system in the state of Washington. Join a guided MTB tour with a local expert to find all the best trails.  You won't want to miss this Northwest gem!
Love Olympic National Park? Try Port Orford, OR
The lush forested mountains, waterfalls and rivers of Olympic National Park have an inherently mysterious draw. Their misty beauty has universal appeal. This results in major popularity for this park, concentrated primarily at the Hoh Rainforest and Hurricane Ridge entrances, which often have a car line of two hours or more in the summer.
For a less crowded experience, head down the coast a bit to Port Orford, OR, the most westerly city in the lower 48 and a gem of the southern Oregon coast.  Port Orford is a small, artistic fishing town that has recently become a playground for outdoor enthusiasts.

Port Orford Outdoor Activities
This eclectic coastal town has so much to offer to visitors.  Look out for wildlife like harbor seals, grey whales and sea birds on an ocean wildlife viewing kayak tour.  You will paddle through rock arches and secret coves as you discover the magical Oregon coast.  Or look for sea urchins, starfish and more marine life on a kayak and snorkeling tour at the sub-tidal reef at Nellie's Cove.  After exploring the coast, hop on the Wild Rivers Coast Scenic Bikeway, a 61-mile long trail that hugs the coast and offers spectacular views of the rugged coastline.  A variety of routes along the bikeway offer the opportunity to explore a historic lighthouse, a Wild and Scenic River, or a beautiful old growth forest.  If hiking is your thing, head up the 5.5-mile trail to the top of Humbug Mountain for stunning ocean views.
Whatever you're into, we think Port Orford will easily surpass your adventure expectations.
Love Grand Teton National Park? Try Driggs, Idaho
One common response to the crowds has been for National Parks to switch their campsites to reservation only, as the lines for first-come, first-served campsites were getting out of control. Grand Teton National Park in Wyoming was one of the first parks to make the switch – which is no problem… if you've already made a reservation. If not, this park might not be a feasible destination for you this year. But fear not, because right across the state border lies Driggs, Idaho. This unique Idaho adventure town is a lesser visited travel destination at 6200 feet elevation, nestled between the Tetons and the Big Hole Mountains.

Driggs Outdoor Activities
Driggs is home to practically endless of mountain biking trails. With Grand Targhee Resort to the east (which also has deep powder for skiing and snowboarding in the winter), Horseshoe Canyon to the west, and South Big Hole Trail System to the south, Driggs can be your central location to hit all these premier mountain biking destinations for empty, exhilarating trail rides.
You're also close to the Teton River and its many tributaries, giving you the choice of kayak, SUP, or rafting trips of all kinds. Teton River Supply in Driggs will outfit you with gear, drop you off and pick you up at your takeout. Then you can return to Driggs for a local brew at Citizen 33 Brewing – no waiting, no lines.
Love Yellowstone National Park? Try Sheridan, WY
Even with five different entrances across the park, Yellowstone National Park sees long waits and traffic jams in summer  (just like almost every popular national park in the nation). Yellowstone is iconic – we won't deny it – but it's hard to enjoy the majestic views when you're stuck in a massive crowd of people.
Less than four hours to the east is the town of Sheridan, WY. While you won't get the sparkling peaks and lakes of Yellowstone, Sheridan offers room to breathe while partaking in some of the greatest outdoor recreation in the country. The nearby Bighorn National Forest covers 1.1 million acres of beautiful, forested, conserved land for your outdoor play. From day hikes to multi-night backpacking loops, there are more than 1200 miles of trail to explore in this National Forest.

Sheridan Outdoor Activities
One part of the forest – the Cloud Peak Wilderness Area – is limited to foot and horse traffic only, no bikes allowed. The area is named after the tallest peak in the forest and it encompasses nearly 190,000 acres in the Bighorn Mountain Range with glacier-carved valleys and sheer rock faces. It's not Yellowstone, but it's pretty darn close.
Despite the rules in Cloud Peak Wilderness, the rest of the Bighorn National Forest is a mountain biker's utopia. Some of the most popular trails close to Sheridan include Black Mountain, the Tongue River Shuttle and Soldier Ridge Trail. Tongue River Canyon is also a popular limestone rock climbing destination, and a nearby ice wall called The Shroud is perfect for introductory ice climbing in the winter time. Winter also brings opportunities for snowshoeing and cross country skiing on the robust trail system. Whatever time of year, whatever activity you choose – Sheridan will impress.
Give the Popular Towns a Break
We know you want to explore the hidden gems, and we promise to keep curating new places to add to this list!  They will be sure to delight as much as (or more than!) the more popular hotspots.  For winter adventures, be sure to check out our list of 9 Best Uncrowded Ski Resorts!