Bio Bay Kayaking
Experiencing bioluminescence is a once-in-a-lifetime encounter for most people.  Kayaking in bioluminescence is even more unforgettable.  I experienced bioluminescence for the first time recently on a beach in Baja California. It was truly one of the most memorable experiences of my life. The bioluminescence brought out the child in me and the friends I shared the experience with.   Paddling through the bio bay brought us all so much joy – it was really incredible watching everything that touched the water instantly glow a bright blue color. It felt like I was in the movie Avatar, experiencing things that were out of this world.
What is Bioluminescence?
Bioluminescence is created by a certain type of algae found in oceans and bays.  It is a natural phenomenon in which these algae produce light through a chemical reaction. The light is generated by the oxidation of a light-emitting pigment called luciferin, which is catalyzed by an enzyme called luciferase. Algae use bioluminescence for a variety of reasons, including as a defense mechanism against predators or to attract prey. The ability of certain types of algae to produce light is also used as an indicator of the health and abundance of marine ecosystems, making it an important area of research in marine biology.
Where is Bioluminescence Found?
There are some incredible places in the world where you can experience bioluminescence while kayaking or paddle boarding and we feature many of these destinations and kayaking adventures on TripOutside. Here are a few of the places where you can experience this for yourself.
Places to go Bioluminescent Kayaking
Take a night bioluminescent kayaking tour on the south side of Puerto Rico near La Parguera. On this two-hour tour, you'll hop onboard a boat that takes you all the way to the renowned lagoon where you can find bioluminescent algae to paddle among. Once inside the lagoon and away from boat traffic, you'll jump into your kayaks and head to a shallow area where you can experience some of Puerto Rico's best bioluminescent kayaking.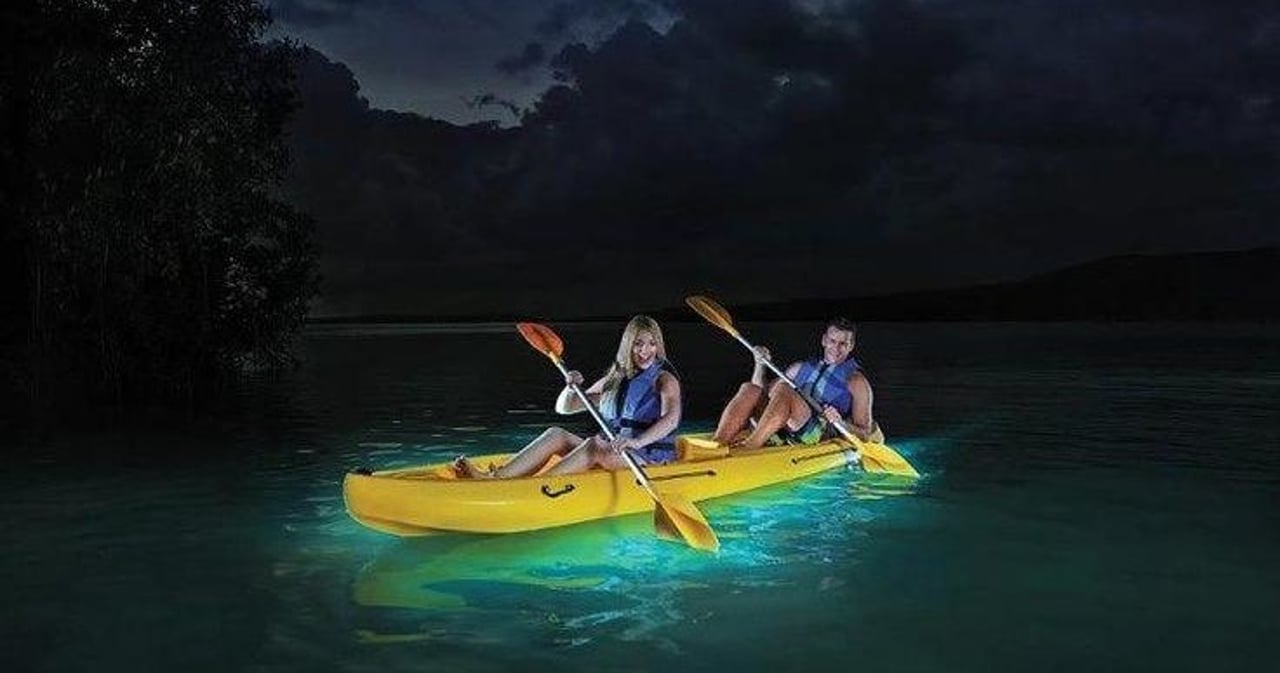 The fact that you can only experience bio bay tours at night makes it even more of an adventure. Don't let your day end when the sun goes down. Join a bioluminescent kayaking tour at sunset that leads to the fascinating Laguna Grande located near Fajardo, Puerto Rico on the northeast corner of the island. Under the night sky blanket you can touch the waters that glow with bioluminescent organisms!  The tour starts in the nearby fishing village of Las Croabas where you will meet the local experts that will guide you to the lagoon.  Once in the lagoon, you will paddle along the edge of the mangrove forest as you watch the stroke of each paddle light up a bioluminescent blue-green.  Watch fish that look like shooting stars as they swim through the thick concentration of bioluminescent dinoflagellate!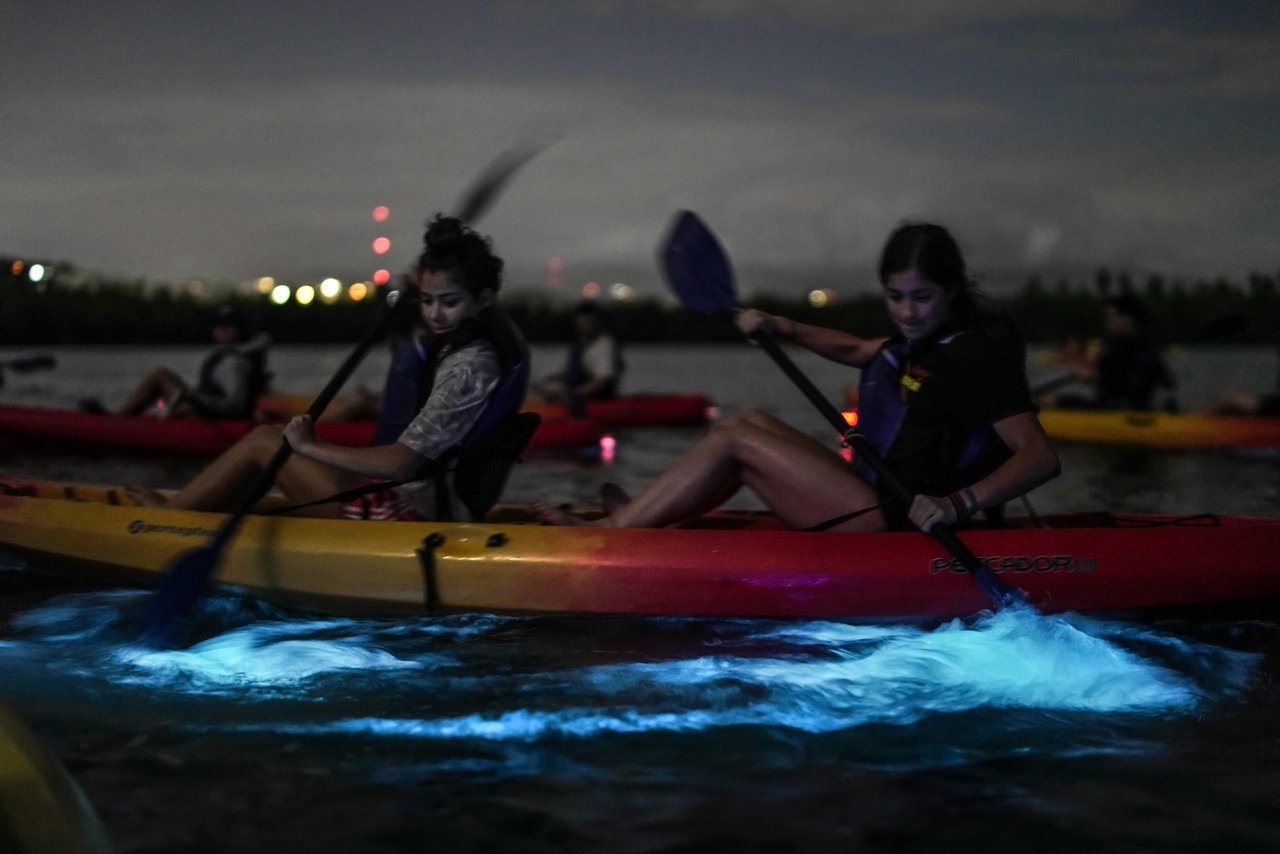 You actually don't have to travel to Puerto Rico to experience bioluminescence (unless you want to).  I would encourage you to skip Disney World and experience the wonders of a bioluminescent kayaking tour instead the next time you're visiting Orlando. Between June and October, you can find this algae in the Indian River Lagoon, Mosquito Lagoon, and some rivers near Orlando. If you're lucky, you may get to experience Manatees swimming underneath you while you're kayaking, as these majestic animals live in the same area.  Listen to our podcast with Greg Pflug to hear more about the different adventures near Orlando.
Finally, the bay where we had our personal experience with bioluminescence in Baja California Sur, Bahia De Concepcion. It is one of the several bays on the Baja peninsula in Mexico where you can experience this phenomenon as we did. It is hard to predict when and where it will appear but typically in the winter months, you may see a pink/red algae around the shoreline. That's a sign that there's a good possibility that you'll see some beautiful bioluminescence once night falls.
The great thing about Mexico is that no matter which beach you end up on, there will most likely be a local driving a truck with a trailer full of kayaks that will come around to offer you kayak rentals. You can simply rent one on the spot and head out for a paddle.  We suggest renting one for a full day to experience the overnight phenomenon.
Tips for Experiencing Bioluminescence
Similar to seeing the stars at night, darkness is the key to experiencing the best bioluminescence. Light from headlamps, structures, etc. reduces how brightly you will see the algae glowing.  We highly recommend finding a place that is dark and does not have a lot of light pollution in the area.

The kayaking adventures that we offer on TripOutside keep these factors in mind and our guides will do their absolute best for you to experience the bioluminescence.  They have years of experience and local knowledge on where to find the algae and the best times of the year to find it.  That being said, it can also come down to luck on whether the algae is present!
I hope that if you have a chance to experience bioluminescence in your lifetime, you jump on the opportunity because it really does feel like a dream.  I know that I won't forget this experience and I hope to be able to experience bioluminescent kayaking again someday.