Piragis Northwoods Company
As one of the most trusted outfitting companies for BWCA trips, Piragis Northwoods Company in Ely, MN will get you outfitted and ready for your trip on Boundary Waters' 1200 miles of canoe trails, 1000+ glacial lakes, and 1M acres of pristine wilderness.
Piragis Northwoods Company has been outfitting and guiding BWCA trips for more than 40 years, and knows intimately what it takes to enjoy this vast wilderness. As a full-service canoe trip outfitter, Piragis has helped thousands of guests prepare for their Boundary Waters trips.  Piragis Northwoods Company offers complete and partial outfitting – ranging from renting ultra light canoes, to a complete and customized camping and canoeing equipment package for your trip.
The Piragis team will provide their insider tips on the best campsites, portgaging, and the top sites to visit in the BWCA. Whether you are looking to rent canoes and gear, or take a guided BWCA adventure, Piragis has got you covered.
About the Boundary Waters Canoe Area
If your adventure itinerary points to the north, don't forget to include the iconic Boundary Waters Canoe Area Wilderness in northern Minnesota. Known for its beauty, solitude, and accessibility, the BWCAW continues to make a name for itself – all thanks to it's world-class canoeing, camping, and fishing features.
Canoeing is the BWCA's main draw. Hundreds of canoe routes range in difficulty and duration – all allowing you to savor the solitude of scenic, peaceful, pristine waters.
There's no right or wrong route in the BWCA – visitors can plot their own routes according to their preferences. The route options seem endless over the BWCA's 1000 lakes connected by rivers and portages only accessible to paddlers.
BWCA Wildlife
Inside BWCA's enormous ecosystem, visitors can see up close the crystal clear lakes of the area. Wildlife roams freely in the biodiversity of swamps, bogs, streams, watersheds, wetlands rivers and lakes.  The timberwolf, moose, loon, bald eagle, beaver, muskrat, otter, pine martin, fisher, fox and many more animal species call this iconic wilderness home.

About Piragis Adventure Company
Piragis is located right downtown Ely, MN, the gateway to the Boundary Waters Canoe Area Wilderness.  As a team that has been servicing the BWCA and Quetico Park just over the border for decades, Piragis Northwoods Company does not just know the gear that's best for you – they have expert knowledge of camping, canoeing, and exploring the BWCA. They provide quality gear for your days in the wild, and tips to help you thoroughly enjoy your BWCA experience. With their partial and complete outfitting services, they can provide you with the essential gear for exploring the BWCA.
The Piragis team is always eager to guide guests with the best places to see the sunsets, catch walleye, swim on sandy beaches and spot wildlife. Ely's lakes and rivers are for the fishermen, the birders, the seekers of solitude, dedicated paddlers, and wilderness enthusiasts. Just four hours drive from Minneapolis, the Boundary Waters Canoeing Area offers a paradise away from the hustle bustle of everyday life. With Paragis, you'll see BWCA's stunning beauty firsthand!
Piragis Northwoods Company Complete Outfitting
Piragis Northwoods Company helps take the stress away from your BWCA preparation with their complete outfitting services. Featuring canoe and camping products from trusted brands, Piragis has a complete canoeing package with lightweight camping essentials, food, and a canoe for your BWCA trip.  With this complete package, you just bring your clothing and shoes, Piragis provides the rest!
The Complete Outfitting Package includes:
Ultra-light Kevlar canoes
Top-notch camping gear designed for canoe camping – from brands like NEMO, Big Agnes, Cooke Custom Sewing, Granite Gear, and more
Delicious camp food with a customizable menu made by you
Expert trip planning and routing advice
Hot Shower when you return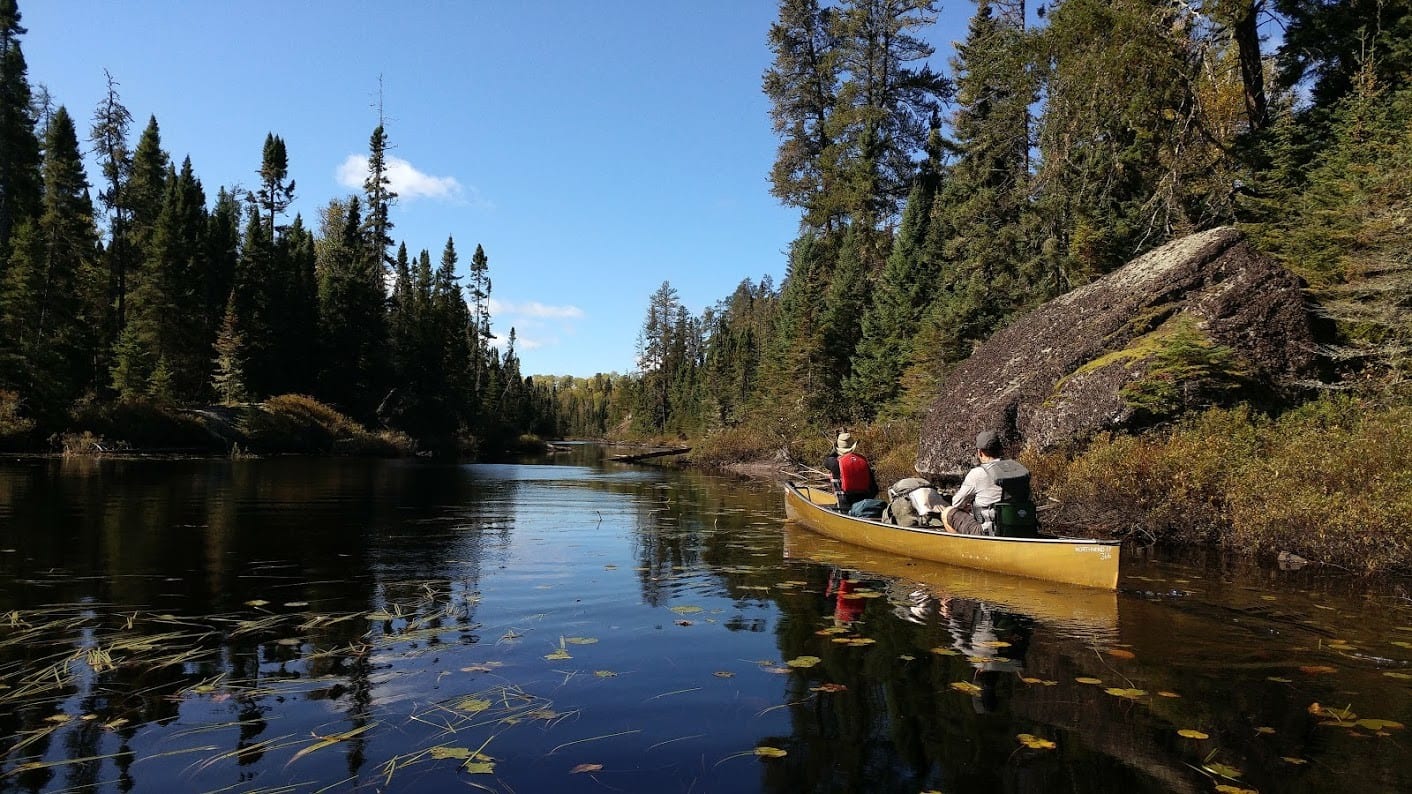 Piragis Northwoods Company Partial Outfitting
Looking for a canoe or some camping gear to round off your collection?  Piragis Northwoods Company offers partial outfitting to help ensure you don't miss any essential items for your trip.  Piragis has ultra-light Kevlar canoes that only weigh 42 pounds – they definitely take a load off for portaging. They rent canoes for solo, tandem and groups, sleep packs, portage packs, tents, food accessories, camp kitchen items, and satellite communication to enable you to experience a safe, enjoyable, hassle-free BWCA experience.
Piragis Northwoods Guided Canoe Trips
For the ultimate guided adventure, Piragis provides guided canoe tours suited to your preferences – you can choose from day trips, overnight trips, and longer multi-day adventures. During this customized adventure, they will also teach you necessary skills to canoe in the BWCA.

Guided Day Trips
If spending the night in BWCA is not in your itinerary, you can join the Piragis team on their guided day trips. Experience backcountry canoeing and see sights unique to BWCA like boreal spruce stands, floating bogs, and old growth pines. Take in the interesting flora and fauna, and meet different kinds of birds like the MN state bird, the loon.
Piragis Northwoods Guided Canoe Day Trips are a great way to get a taste of canoe country.
Guided Canoe Camping Trips
Piragis Northwoods Company offers guided multi-day canoe camping trips in the BWCA. These guided camping trips are a great option for those who want to venture into the wilderness with others, or are new to the wilderness.
In these guided trips, you'll learn how to:
Pack your bag
Load and unload the canoe
Paddle a canoe
Basic Boundary Waters navigation
Portaging tricks
Basic campcraft (how to hang a tarp, gather firewood, start a fire, set up tents, etc.)
Cook over the campfire and do dishes in the wilderness
Hang your food pack/take bear precautions

Why Book with Piragis Northwoods Company
Five Star Customer Service
Serving BWCA adventurers for more than 40 years, the Piragis team knows what you need while you're in the vast wilderness of BWCA.  Their 5-star ratings are well deserved, and their knowledge will give you everything you need for an incredible BWCA adventure.
Options for all Levels of Paddlers and Explorers
Whether you've been exploring the BWCA for years, or it's your first time, Piragis will help you outfit your trip.  If you're unsure what to bring, or how to pack your essentials for your BWCA trip, Piragis has both complete and partial outfitting services. If you are looking for instruction and a guided trip to some of the BWCA's most spectacular places, Piragis offers guided adventures customized to your preferences.
The BWCA wilderness is waiting. Explore this iconic adventure destination with Piragis Northwoods Company!