Beginners Guide to the Incredible Boundary Waters Wilderness
Make just one trip to the Boundary Waters Canoe Area Wilderness, and your life will be changed forever. 
This pristine wilderness extends along 150 miles of the US/Canada border in Northern Minnesota and looks much the same as it did in the early 1900s when preservation efforts began. More than 1,000 lakes and hundreds of miles of rivers and streams make it a one-of-a-kind destination for canoeing, with 20% of the total area made up of water.
With thousands of miles of canoe and portage trails, the BWCA offers an adventure for all.  Whether you desire a challenging trip paddling dozens of lakes and rivers and taking in scenic waterfalls or a peaceful paddle to observe ancient pictographs, the BWCA has endless options.
In this guide for beginners, we share insight into how to plan a trip to the Boundary Waters as a beginner, the best time to visit Boundary Waters, the best Boundary Waters canoe area routes and entry points, and the ultimate kit list for your trip.
What is the Best Time to Go to the Boundary Waters?
If you're planning on kayaking the Boundary Waters then it's important to plan your trip at the right time of year. Traveling the wilderness brings with it a range of risks, and you want to ensure that weather conditions aren't going to impact the safety or enjoyment of your trip.
Open water season in the Boundary Waters is between May and September. If you want to enter the area between these months you'll need to make sure you have a permit, as this limits the number of visitors to the area and ensures that the environment isn't damaged by human interference.
You can visit the BWCA outside of this peak season, but the waterways and lakes will be obstructed by ice and you will be traveling by cross-country ski or snowshoe rather than canoe. You still need a permit to enter in the off-season, you just don't have to pay for one.
Visiting the Boundary Waters in May means that you'll be one of the first people back into the area that year, which can be great for snagging a campsite before the summer visitors come, but also means that some portages may be difficult to traverse due to lack of use. In June, tourism starts to pick up in the area, although the water temperature can still be quite cold and mosquitos and black flies begin to gather.
The best time to visit Boundary Waters on a fishing trip is between June and August, as this is when the most fish will be active in the water and you'll have the most luck at catching a range of species. This is also the warmest time of the year so camping and canoeing are more comfortable, although bugs are particularly common in July.
Many people consider August to be the best time of year for canoeing Boundary Waters as there are very few mosquitos, the weather is warmest and the water is also a great temperature for swimming. The wilderness sees the highest number of families during this month, so if you're trying to visit when it's quiet you may want to avoid the peak season.
By the time September comes around, the Boundary Waters becomes much quieter as the temperatures start to go down and Fall starts to draw in. If you're not too bothered by chilly nights this is a fantastic time to visit.   The remarkable leaf colors and the lack of mosquitos (and crowds) also make it one of our favorite times of year.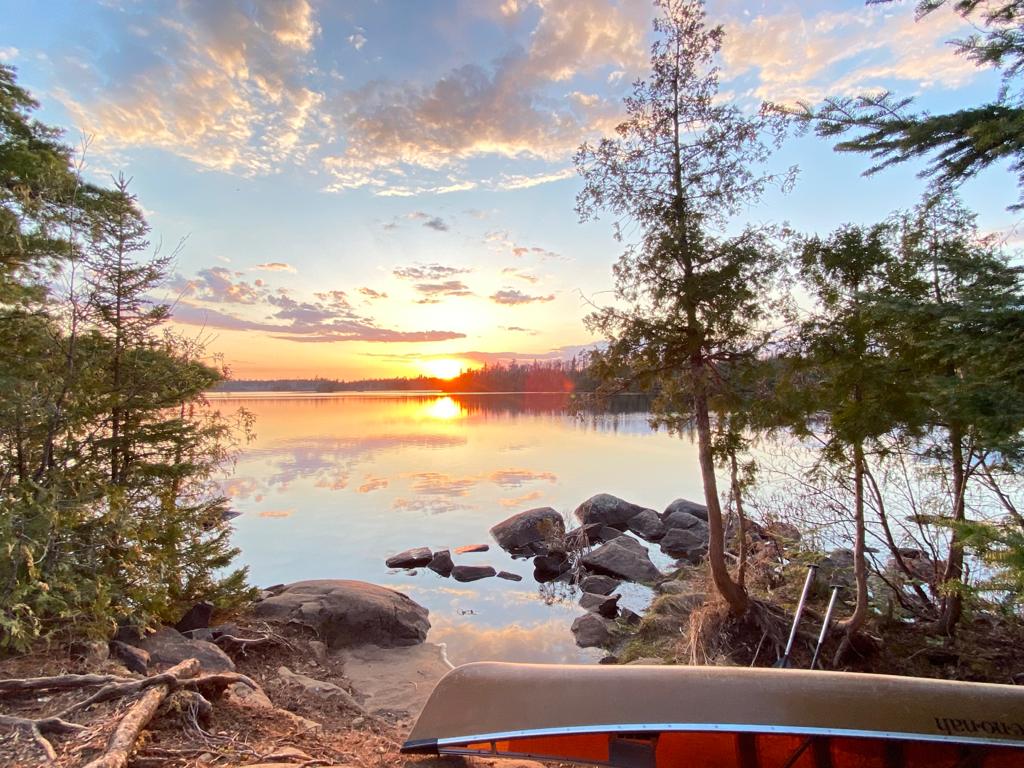 What is the Best Canoe for BWCA?
There are a variety of different brands of canoe available for adventurers wanting to explore the Boundary Waters, and the type you choose may depend on whether you're renting a canoe from an outfitter for your trip or buying one for yourself. So instead of recommending specific brands, here's what you need to consider when choosing the best canoe.
Firstly, while kayaks are considered to be very good watercrafts in general, canoes are typically a better choice for a Boundary Waters trip. Canoes are more stable and can carry more gear, and lightweight versions make carrying them over portages or removing them from the water much easier.
Some types of canoes are designed specifically for multi-day trips, so you'll want to opt for one of these if possible when you're planning your trip. You'll be carrying your pack and gear in your canoe when you're paddling the Boundary Waters, so you also need to consider how much storage space is available and whether this will be enough for your equipment.
Most Boundary Waters outfitters have Kevlar canoes in their fleet for BWCA trips.  Kevlar canoes are lightweight and are easy to paddle and carry.  Since a BWCA trip requires both paddling and portaging, Kevlar canoes are a great choice.
If you're traveling with only one other person, you might decide that a double canoe is the best option so you can share the load of paddling.  Paddling a canoe solo can be a bit more challenging, so splitting a group into pairs is best.  
If you're a beginner visiting Boundary Waters, it's a good idea to speak to one of our recommended outfitters to discuss the best type of canoe for your trip.

Boundary Waters Canoe Area Permits
Boundary Waters permits are required all year, but there are a few factors that decide which permit you will need and how to get it. 
If you are doing a canoe camping trip during the summer months, you will need an Overnight Paddle permit that allows you to paddle and camp overnight in the BWCA. Get an OP permit for your BWCA trip at Recreation.gov. 
It helps to know where you will be renting a canoe or gear first, so you can choose the outfitter as the issuing station so they can issue the permit when you pick up your gear.  Alternatively, the outfitter can also book the permit for you.
What are the Different Types of Boundary Waters Permits?
Depending on the time of year you visit and the type of trip you're planning in Boundary Waters, there are several different types of permits on offer.
Between May 1st and September 30th
Overnight Paddle (OP)
This is the most popular permit (and way to explore) for the Boundary Waters trip.  This is a permit for your typical canoe camping trip in the BWCA.
Day Use Only (no camping)
If you're visiting BWCA for the day, you just need a Self Issued Permit which is available at the kiosks at the BWCA entry points and from Forest Service offices.
Hiking and Camping Overnight (no paddling)  
If you want to stay in the Boundary Waters overnight, but won't be paddling around, you need an Overnight Hiking Permit for the location you are entering. There is no limit for the number of nights you can stay in the area once you've entered.
After September 30th and before May 1st
In the off-season months between September and May, you only need a Self-Issued Permit to enter the Boundary Waters. These are available from kiosks at BWCA entry points and Forest Service offices. Reservations are not required and there are no recreation fees.

The Best Boundary Waters Entry Points
Boundary Waters entry points are all that stand between you and the chance to explore this phenomenal piece of wilderness. You must have a permit to pass through an entry point, but then once you're in you can walk and paddle around as freely as you please, staying for any duration you'd like.
Boundary Waters permits need to be reserved in advance and operate on a first-come, first-served basis. Different entry points have different numbers of permits available each day, so you need to do your research in advance and ensure that you'll be able to enter the BWCA when you arrive.
Here are some of the most popular Boundary Waters entry points in each area to inspire you.
Cook Area
#12 – Little Vermilion Lake
#16 – Moose River 
Ely Area
#4 – Crab Lake
#22 – Mudro Lake
#24 – Fall Lake
#25 – Moose Lake
#30 – Lake One
Isabella Area
#34 – Island River
#75 – Little Isabella River
Tofte Area
#41 – Brule Lake
Grand Marais Area
#54 – Seagull Lake
#55 – Saganaga Lake
5 of the Best Boundary Waters Routes
As well as choosing an entry point, you also need to plan your route for canoeing Boundary Waters. After deciding how many days you want to explore the area, or whether you'd just like to plan a day trip, take a look at some of the most popular routes below.
Sawbill Lake
If you've only got time for a day trip kayaking the Boundary Waters, Sawbill Lake is a great spot to explore. Paddle around the lake or portage to nearby Smoke Lake or Alton Lake and enjoy the rugged scenery in this secluded spot. The route is on the Tofte side of the BWCA, so if you're renting equipment you'll need an outfitter on this side of the area.
The Number Chain
This route is one of the best Boundary Waters for beginners options, as it focuses on minimum paddling and maximum enjoyment of the area. You begin at Lake One and then travel to Lake Two, then into Lake Three and then finish at Lake Four, with only a handful of portages and plenty of time to stop and swim or fish. This route starts on the Ely side of the Boundary Waters, so you'll need to rent equipimtnet from near the town.
Seagull and Saganaga Lake
Right on the border between the USA and Canada in the Grand Marais area of the BWCA, this route lets you loop from Sea Gull Lake, up to Saganaga and then back down to your starting point. It's a route with a lot of paddling and only a few portages, which is great for a weekend trip. 
Kawishiwi River Triangle
A classic beginner's route for Boundary Waters canoe trips is the Kawishiwi River Triangle, which has a small number of portages and usually takes about three days to complete. Starting on Farm Lake on the Ely side of the Boundary Waters, you enter the Kawishiwi River and paddle along the south section, around a triangular route to Clear Lake, then connect back to Farm Lake the way you came.
Fall Lake and Basswood Lake Loop
This route will take between three and five days depending on your fitness and experience, and takes you from the edge of Fall Lake, near Ely, around Basswood Lake, right on the edge of the USA/Canada border. You begin and end at entry point #24 'Fall Lake' and is a great ​​Boundary Waters route option if you don't want to portage too much.

Staying at Boundary Waters Campsites
The Boundary Waters Canoe Area Wilderness offers over 2000 designated campsites across the 1200 miles of canoe routes and 1,100 lakes. When you're planning how to camp in the Boundary Waters, the first thing to note is that these campsites are all backcountry first-come, first-served sites, and are not reserve-able. 
While canoe camping in the BWCA, you must camp in these designated campsites. You can see the locations of each of these campsites on an official BWCA map.
All of the designated campsites in the Boundary Waters Canoe Area have a wilderness latrine (an open-pit toilet). The sites closest to the entry points into the BWCA can be busy, and the farther into the wilderness you paddle, the more solitude you will find.
If you are visiting the BWCA during the summer or holiday weekends, we suggest that you arrive at your campsite early in the day in order to secure a spot.  
Boundary Waters Canoe Area campsites do have an unofficial rating system which ranks the sites between 1 – 5 stars. Check out BWCA.com for Boundary Waters Canoe Area campsite maps and campsite reviews and ratings.
A Boundary Waters Gear List
As the name explains, Boundary Waters is a Wilderness area, which means that there are very limited facilities for humans. Campsites are equipped with a fire grate and a latrine, but when it comes to what to bring to the Boundary Waters, you'll need to pack everything else for yourself.
Packing as light as possible is definitely recommended, as you'll have to carry all of your gear when you're portaging. Some outfitters will be able to offer you pre-packed equipment kits, but the following list includes everything you need if you decide to bring all of your own items.
A backpack

A tent

A sleeping bag

A sleeping mat

A towel

Dry bags

A tarp

A camp stove and fuel

A lighter

Cooking utensils

Eating utensils

Food

A water bottle

A water filter system

Dish soap

Bear proof food storage system or food hanging system

Garbage bags for waste

A pocket knife or multi-tool

A flashlight

A navigation compass

Trail maps

Toilet paper

Hand sanitizer 

Sunscreen

Bug spray

A first aid kit

Personal hygiene products

Weather appropriate clothing

A rain jacket

Wet shoes for canoeing

Dry shoes for camping

Sunglass

A sun hat or bandana
As well as the above items, you will obviously also need a canoe, paddles and a life jacket.
Summary
A space as vast as the Boundary Waters Canoe Area Wilderness can be daunting to travelers that have never explored it before. But the great news is that this beautiful part of the world is the ideal place to plan an outdoor adventure even if you are a beginner, with plenty of help and advice available from outfitters and regular visitors to the area.
If you're thinking about a trip to the Boundary Waters, Trip Outside can help you find your ideal route with outfitters based in Ely and on the Superior shore in Tofte, and provide complete outfitting for your BWCA adventure.
Find more adventures in the state of Minnesota like kayaking the Mississippi River in Minneapolis. For more inspiration on Minnesota adventures, check out local adventurers like Look About Lindsey.
SAVE THE BOUNDARY WATERS
The Boundary Waters Canoe Area Wilderness is threatened by sulfide-ore copper mining.  The Campaign to Save the Boundary Waters is leading the effort to ensure permanent protection for the Boundary Waters Wilderness, America's most visited Wilderness and Minnesota's crown jewel, from proposed sulfide-ore copper mining.
What would a Twin Metals mine on the edge of the Boundary Waters mean? Pollution. Not this mine. Not this place. #SavetheBWCA
Find out more about how you can help Save the BWCA!
No matter where you camp and canoe, make sure you follow Leave No Trace principles, and recreate responsibly outdoors to ensure our wilderness areas stay pristine for generations to come.