5 Day Moab Outdoor Adventure Guide
Moab is one of the best adventure destinations in the entire world. What other place can you visit multiple national parks, mountain bike unbelievable singletrack, rock climb Slickrock and raft down the infamous Colorado river through red rock canyons – all within a few miles from town?
You guessed it, Moab! The challenge is, Moab can also cause analysis paralysis because there is so much to do. We have come up with a short list of must-dos from our experience in Moab to help you narrow down your options.
Day 1: Mountain Biking and Hiking Arches National Park
Grab breakfast at Love Muffin Café – they have a great burrito line up, ours was the Morita
Morning: Mountain Biking (2-3 hours)

Warm up with an intermediate ride to practice your technical skills and get used to the Moab rocks, some great options are as follow. The great thing is, you don't need a shuttle and can ride all of these trails from the trailhead.

Packing list: Hydration pack, snacks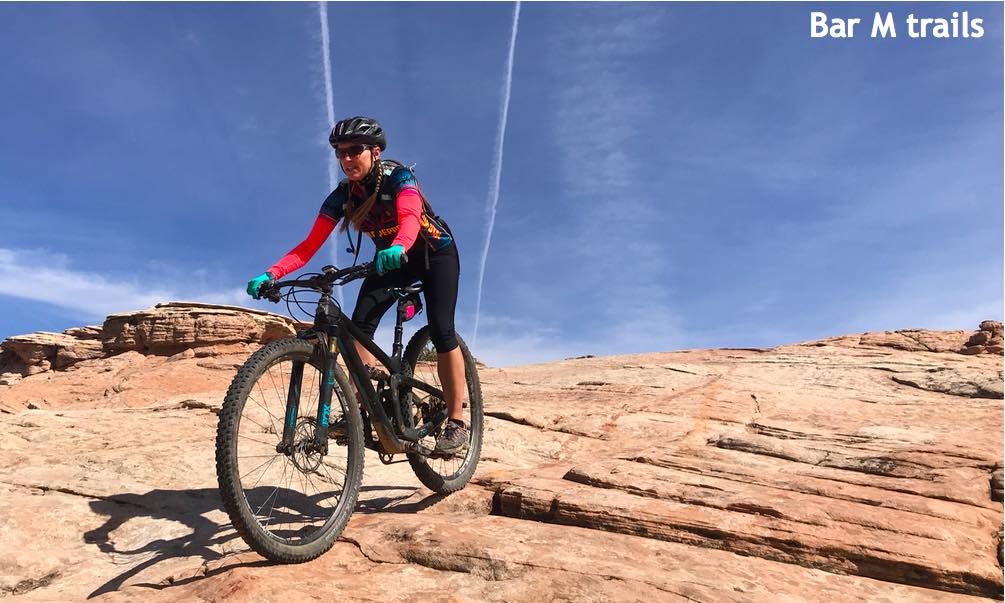 Afternoon lunch in town: grab some Mexican grub at Quesadilla Mobilla, one of the best spots in Moab for a quick lunch from a food truck.  Don't let their speedy service fool you…the quesadillas are delicious! Nom Nom Nom!
Evening Hike (2-3 hours)

Sunset Hike Delicate Arch: the most iconic arch in Arches National Park is best seen at sunset. It's a moderate hike, gradually climbing until you reach the arch, providing gorgeous vistas along the way.

Pack a dinner if you like and take your time, it is nice to relax at the top and watch the sunset light up the arch.
Packing list: headlamp, snacks, camera, maybe even a tripod so you can capture the Delicate Arch.
PSA: It's nice to capture the Arch from a distance, allowing everyone to take pictures of it.

TIP: Enter the park at least a few hours before it closes to register at the Visitors Center for a permit to hike the Fiery Furnaces. It may take 30-45 minutes to get the permit, as there is an educational video you must watch, but it's totally worth it.  If you register on Day 1, you should be able to get a permit to hike it before you leave (see itinerary for Day 4 for more details on Fiery Furnaces).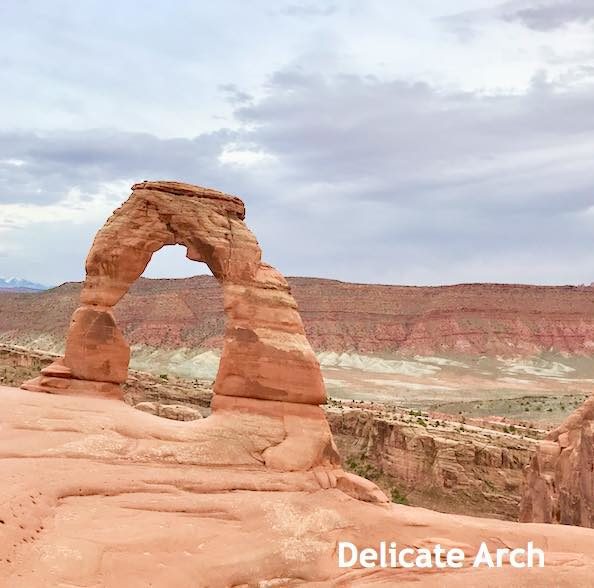 Day 2: More Biking and Gorgeous Views: Dead Horse State Park
Breakfast – Eklectica Coffee makes a stellar scrambled tofu burrito, a great pre-ride breakfast!
Morning activity:  Mountain biking – Intermediate/Advanced ride

Now that you're warmed up on the Moab trails, you can hit one of the more advanced trails by grabbing a shuttle and doing a long downhill ride of the Whole Enchilada (avg. 5-6 hours including shuttle time)
. For shorter rides, consider LPS/Porcupine Rim trail, which is the last section of the Whole Enchilada.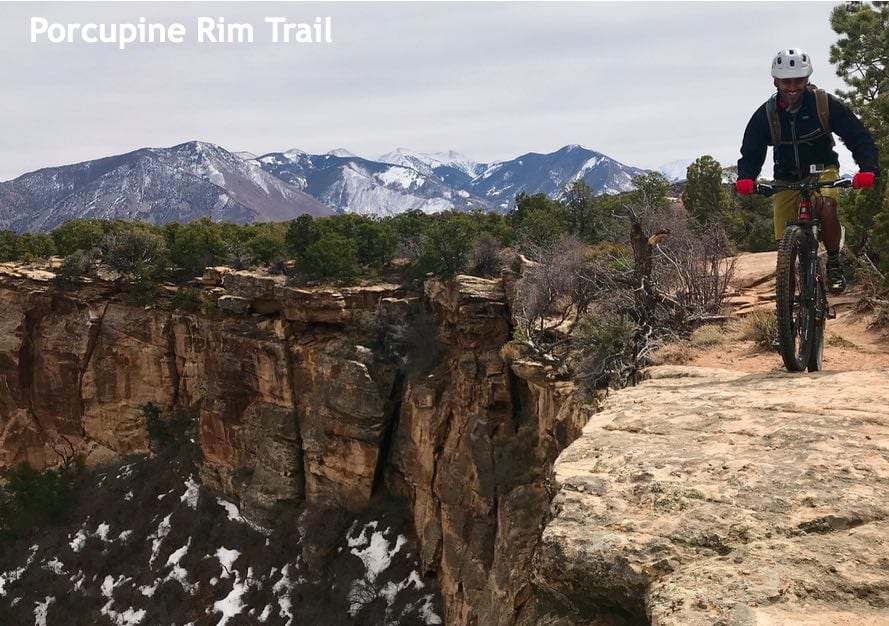 Beginner / Take-it-Easy ride Option:
Dead Horse Point Trails

The network of trails is easy to follow, and offers short loops that can be combined into a long ride. It's a newer network in Moab but still has enough technical sections to keep the ride fun for all ability levels.
If you choose this ride, go ahead and check out the Dead Horse hiking trails and the overlook suggested for the evening hike.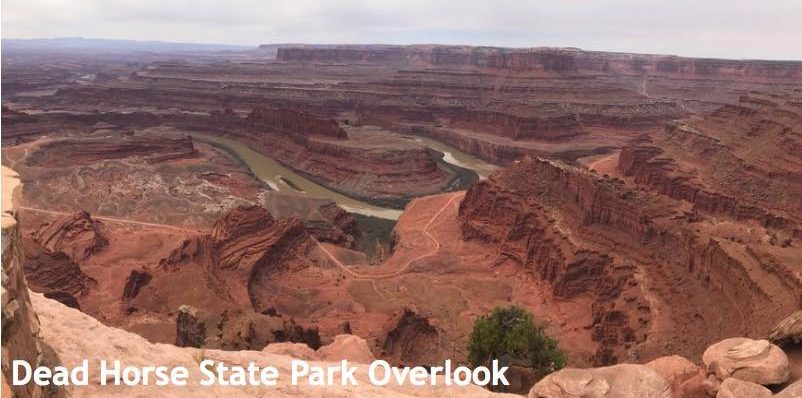 Lunch / Happy Hour depending on when you finish

Moab Brewery has a super average ambiance, but really awesome beer. Low alcohol % of course (still Utah 😳)

Evening "Hike" (1 hour)

Dead Horse State Point offers a gorgeous viewpoint of Canyonlands National park that does not require a long hike, just a few hundred feet from the parking lot.
If you choose the beginner mountain bike option above, make sure you check out the viewpoint before or after your ride!
Day 3: Raft the Colorado River
Breakfast: Moab Diner is a go-to breakfast stop
Rafting the Colorado River: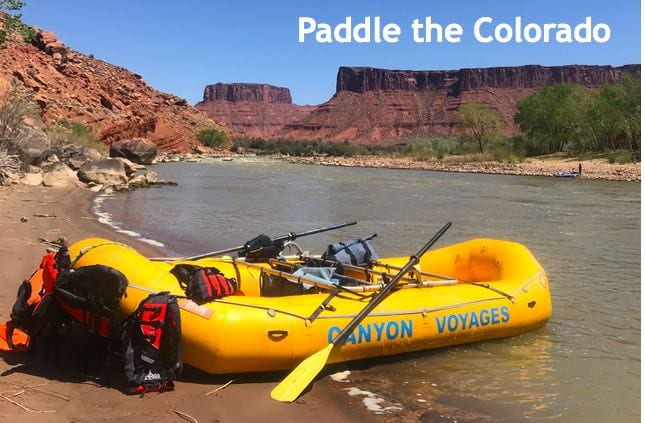 Your legs, butt, and wrists will thank you for taking a day off the bike! Rafting down the Colorado River provides some of the best red rock canyon scenery in Utah. This is one of the most gorgeous river paddles you will ever do unless you find water on Mars.
You can also choose kayak, SUP and raft rentals for a DIY paddle option.
Evening:

A night out in town? There are several options including karaoke, pool tables and more at a few different spots in town. Some of our favorite watering holes include Woody's Tavern, Eddie McStiff's and Club Rio.
Day 4: Fiery (effing) Furnace!! 🙌🏽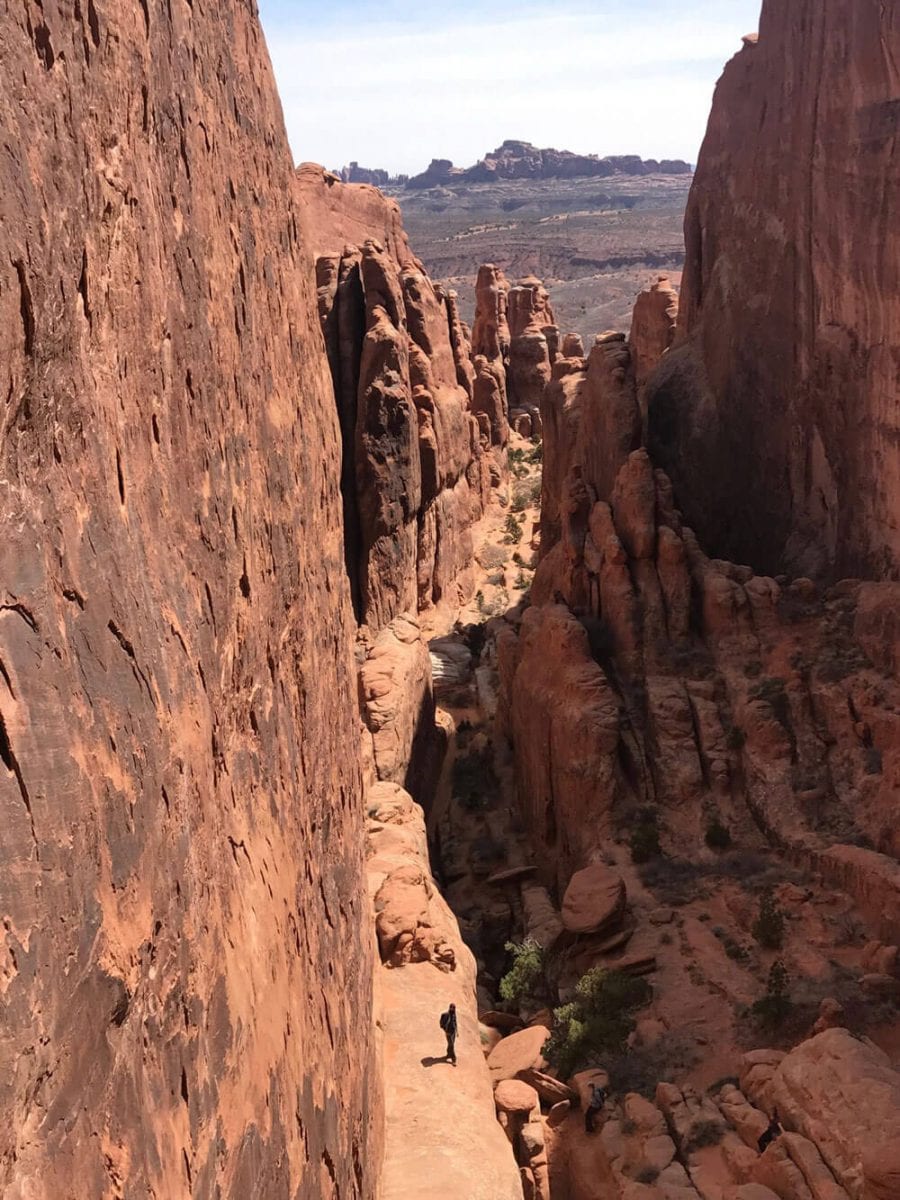 Breakfast – Sweet Cravings Bakery + Bistro
Morning Hike (2 – ?? hours, up to you!)

Fiery Furnaces

This is by far our favorite part of Arches National Park for many reasons: 1) you need a permit, so it limits the number of people in the area allowing you to enjoy this untouched beauty practically to yourself 2) You can take as long as you like, finding your own way through narrow canyons and rock scrambling to your heart's content.
Pack a lunch for the hike to enjoy overlooking one of the natural arches that you may come across in the Fiery Furnaces. Moonflower Co-op grocery store is an awesome natural health food store that offers a great variety of freshly prepared food and takeout sandwiches.
Evening hike (0-?? Hours)

While you're already in the park, you can choose a couple of options:

We're tired:

You can drive to most of the popular arches in the park including The Windows, Landscape Arch, etc.

We're unstoppable, let's hike more:

Primitive Loop hike near Landscape Arch

This loop takes you way off the beaten path, letting you explore the park on your own (you may encounter a person or two).
TIP: This loop will require you to navigate on your own. The only markings you will find are the cairns once you're about .5 miles into the trail. Look very carefully for the cairns, they can be hard to see.
If you are going in the late afternoon/evening, bring someone with experience with this trail and a very good flashlight!
You will not have cell service in the park. If you're not comfortable navigating, we highly recommend using the All Trails app or something similar and download the offline map so you can find your way. It's like a maze back there that you don't want to be lost in, especially on an evening hike.
Pack a headlamp, water and lots of snacks.
Day 5: Take a drive in Canyonlands National Park
The Shafer Trail Off-Road Drive

You can choose to drive the Shafer trail, a 19.2-mile point-to-point trail located near Moab, inside Canyonlands National Park.
Caution: Please do read the information on the White Rim Trail from the NPS website for more details, trail status etc.
Must have:

A permit
The right vehicle – 4WD high clearance vehicle is recommended.
Well now that you're completely exhausted and have had multiple jaw-dropping moments, you're beginning to realize that you still haven't scratched the surface of all that Moab has to offer. For a longer trip, consider spending more time in Canyonlands National Park or checking out some of the great hikes such as the Fisher Towers, which are outside of the National Parks.
Where to Camp in Moab, Utah
Here are our favorite spots, you can find all the details on each campsite on Campendium (our favorite app for finding free campsites)
Willow Springs Trail

 This is the closest camping system to Moab. Easy to access right off the road, there are some portapotties set up along the road, but don't count on them. Sometimes, they can be sideways..

Klondike Bluff road

Close to the Klondike mountain bike trail system

Lower Gemini Bridges – we did not camp in this area as we have an RV as the reviews mention that this would only be ideal with a high clearance 4×4 vehicle.

Leave a note below if you end up camping here. Oh, and send us a picture!
Are you looking to upgrade your camping experience this year, but you don't have an RV?  No problem!  Rent an RV on TripOutside through our partnership with Outdoorsy – and find RVs for rent all over the country – from vintage vans to Class A motorhomes and everything in between!
No matter where you camp and recreate in Moab, make sure you follow Leave No Trace principles, and recreate responsibly outdoors to ensure our wilderness areas stay pristine for generations to come.