From Mountains to Sea Caves: The Ultimate Bucket List Paddle Boarding Guide to North America
Paddleboarding is a popular watersport that has been gaining momentum in recent years. Not only is it an easy sport to learn, but it's a good workout and there are so many health benefits to getting active outdoors.  Plus, you can take an SUP out on almost any body of water – from calm lakes and rivers to the ocean's coastline and secluded bays.  North America is home to many stunning paddleboarding destinations, each with its own unique features that make them bucket list-worthy.  We will help you get active outdoors by exploring some of the best places to paddle board on your next vacation.
Paddle boarding in our featured destinations gives you the opportunity to explore high alpine lakes, secluded coves, rock formations, and beaches that can only be accessed by paddleboard. Whether you're looking for marine life encounters, mountain scenery, or unique ecosystems, North America has a paddleboarding destination for you.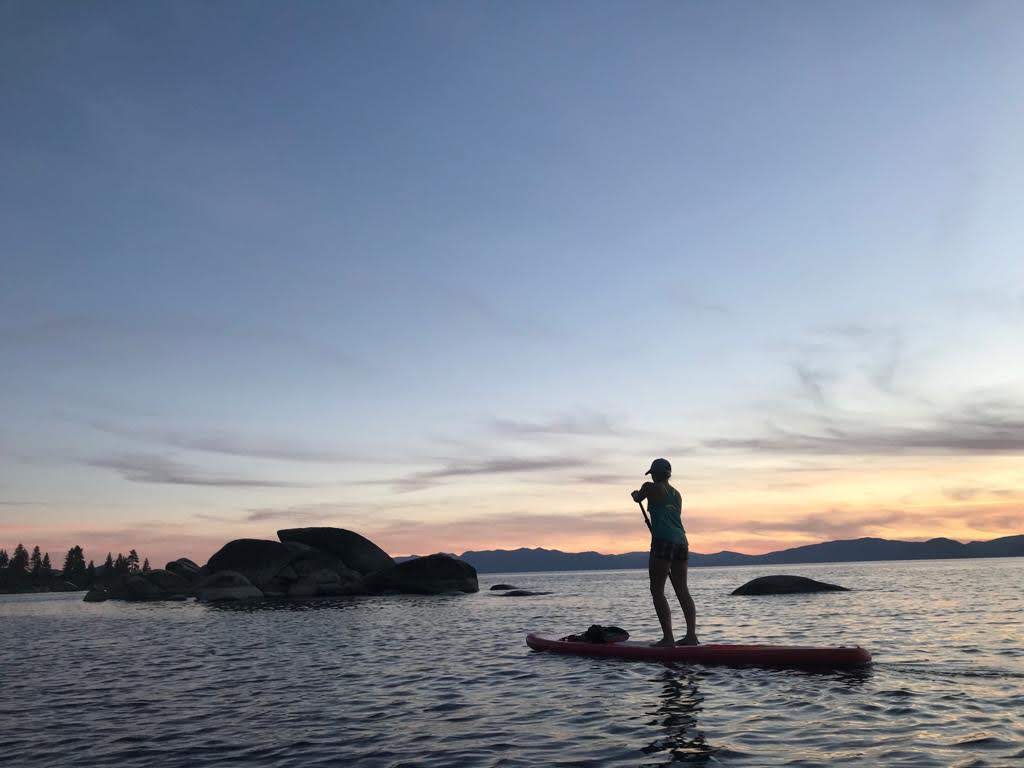 Lake Tahoe, California
Lake Tahoe is a large freshwater lake located in the Sierra Nevada Mountains straddling the border of California and Nevada. It's known for its crystal-clear waters and breathtaking mountain views, making it a prime paddleboarding destination. The lake has several beaches, including Kings Beach and Sand Harbor Beach, where you can launch your paddleboard and explore the shoreline.  Rent a paddleboard right on the shore of the lake in Carnelian Bay or take a guided tour with instruction to see the lake from a local's perspective.  You'll have the opportunity to explore secluded coves and beaches that can only be accessed by paddleboard.  
After your paddle boarding adventures, check out Tahoe's many other adventures!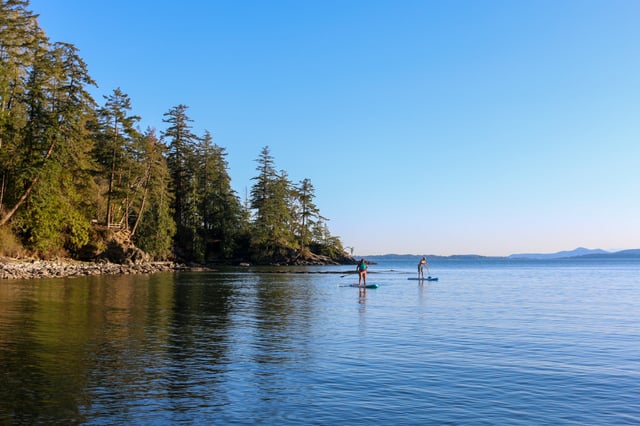 Bellingham, WA
Bellingham, Washington is one of our top picks for best places to paddle board in North America.  It's location in the northwest corner of the state near the Canadian border provides a scenic setting for paddleboarding, with views of the San Juan Islands and the Olympic Mountains.
One of our favorite places to launch a paddleboard in Bellingham is Wildcat Cove, 6 miles south of Bellingham in Larrabee State Park.  Take in the area's coastal cliffs and marine life like starfish and anemone on a guided paddleboard tour. 
Another popular spot for paddleboarding in Bellingham is Lake Whatcom, located just outside of the city. The lake is surrounded by forest-clad mountains, providing an incredibly scenic setting for paddleboarding. You can explore the lake's many coves and bays, and even paddleboard up to Whatcom Falls, a fern-laden set of waterfalls located on the north end of the lake.
Bellingham is also home to several paddleboard rental shops and guided tours. If you're new to paddleboarding, or just looking for a guided experience, these companies can provide everything you need to get out on the water safely and confidently.
Bellingham's beautiful scenery and abundant waterways make it well worth adding to your paddleboarding bucket list.  Don't forget to add on other adventures – many visitors come to Bellingham to also enjoy it's epic mountain biking!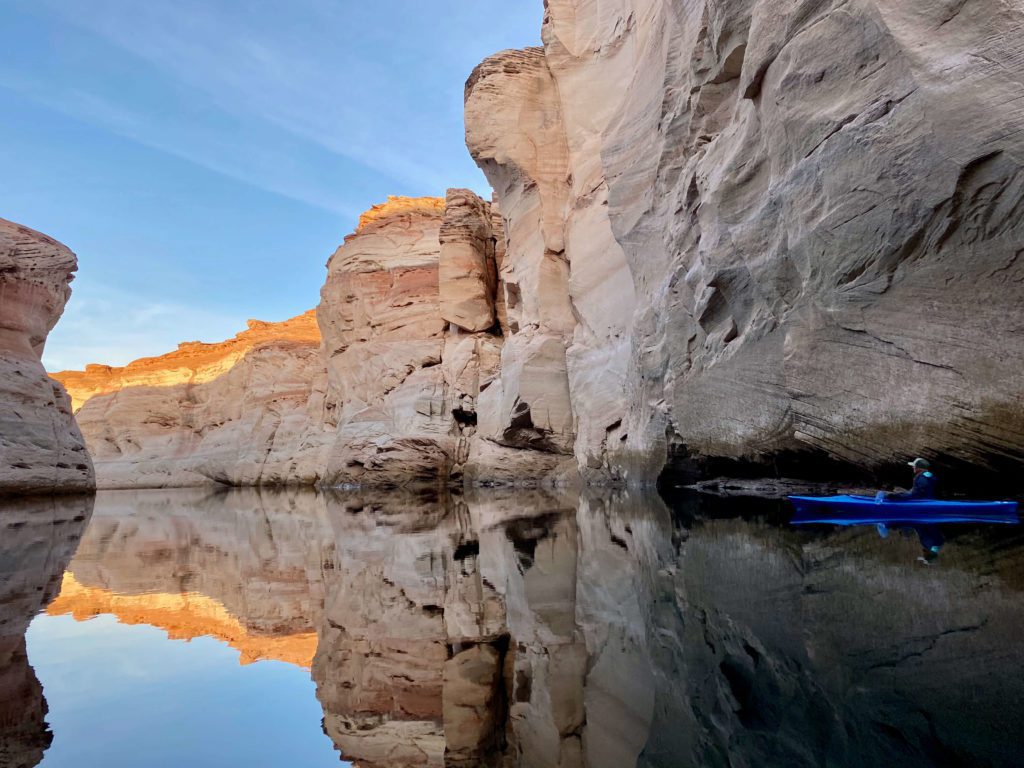 Lake Powell, Arizona
Lake Powell is a massive reservoir located near Page, Utah in northern Arizona and southern Utah. The lake is known for its dramatic red rock cliffs and canyons and it's listed as the #1 SUP Wonder of the World by SUP Connect.   Paddleboarding on Lake Powell is a surreal experience, as you'll feel like you're paddling through a canyon. The lake is also home to several hidden coves and beaches, making it an excellent spot for exploration.  You can even paddle into the renowned Antelope Canyon – one of the most beautiful slot canyons in the world.  Rent a paddleboard to explore on your own, or take a guided tour with a local expert from Lake Powell Paddleboards and Kayaks.
With over 1,900 miles of shoreline with towering cliffs, hidden slot canyons and warm, clear waters, Lake Powell is an unforgettable paddleboarding experience.  While you are in the area, don't miss Buckskin Gulch – the longest slot canyon in the world!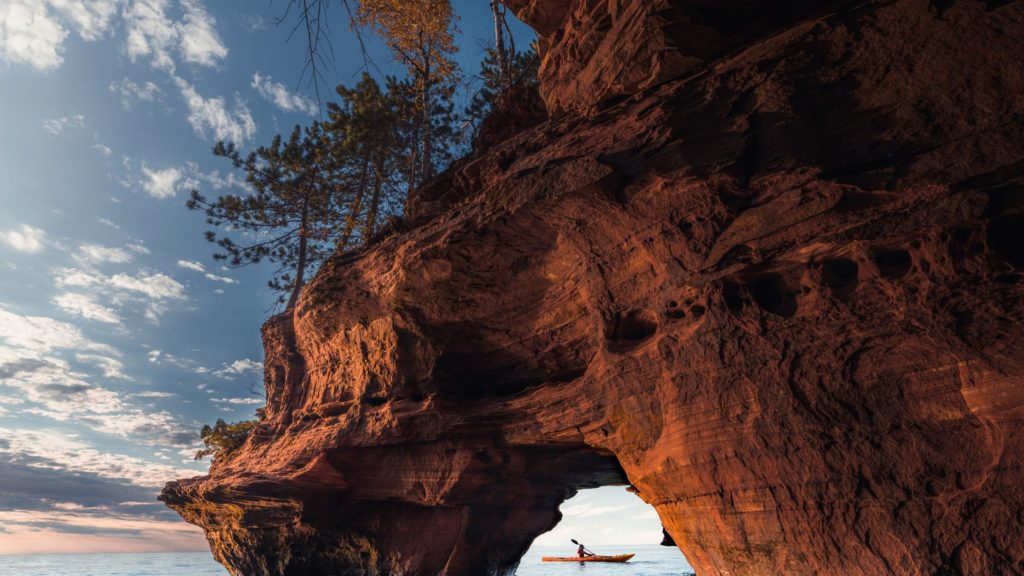 Apostle Islands, Wisconsin
The Apostle Islands are a group of 22 islands located off the coast of Wisconsin. The islands are known for their sea caves and rock formations, making them a prime spot for paddleboarding. Paddleboarding around the Apostle Islands is a unique experience, as you'll get to paddle through sea caves and arches, which can only be accessed by paddleboard. The islands are also home to several historic lighthouses, which can be seen from the water.
The Apostle Islands, located in Lake Superior, offer rugged coastlines, sea caves, and numerous islands to explore. Paddleboarding here provides an opportunity to get up close to wildlife such as bald eagles, otters, and black bears. You can paddle through sea caves and along sandstone cliffs, or hop from island to island and explore each one's unique features.  Make sure to check in with a local outfitter before you go, or take a guided tour of the islands – the weather and conditions on Lake Superior can change without warning and become dangerous.
While you are in "the Northwoods", consider adding on another bucket list adventure.  A wilderness canoe trip in the Boundary Waters Canoe Area Wilderness in northern Minnesota will be a trip you won't soon forget.
Lake Louise, Alberta
Lake Louise is a stunning glacial lake located in Banff National Park in Alberta, Canada. The lake is known for its turquoise waters and stunning mountain views, making it a prime paddleboarding destination. Paddleboarding on Lake Louise provides an up-close view of the renowned mountain scenery of Banff National Park.  It's easy to launch right from the beach.  You can also paddle to the far end of the lake, where you'll find a quiet beach that's perfect for a picnic, and away from the crowds.  We suggest a paddle later in the afternoon in summer to avoid the crowds earlier in the day.  Other nearby lakes that are just as stunning include Johnson Lake, Moraine Lake, and Emerald Lake.  No matter which lake you choose, Banff's spectacular views mean you can't go wrong.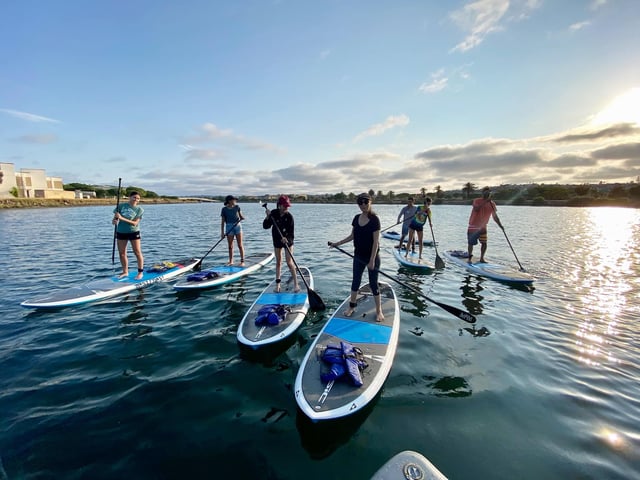 San Diego, California
San Diego is a world-renowned paddleboarding destination, located in Southern California. With its warm weather, beautiful beaches, and crystal-clear waters, it's no wonder why so many people flock to San Diego to enjoy the sport.
One of the most popular paddleboarding spots in San Diego is La Jolla Cove, which is surrounded by cliffs and provides a picturesque setting for paddleboarding. You can paddle along the coastline and explore the nearby sea caves, or head out to the open ocean for a more challenging paddle.
Paddleboarding is also popular in Carlsbad Lagoon, just north of San Diego in the coastal city of Carlsbad.  The calm waters and lush greenery make this a great spot for paddleboarding – whether you're a beginner or expert.  For beginners, this is an excellent place to take a lesson and guided tour with Blue Paddle Mind Adventure.  Look out for birds such as herons, egrets, and seagulls. If you're lucky, you might spot fish, rays, or even the occasional seal or sea lion. Paddleboarding is a fantastic opportunity to observe and appreciate the local ecosystem.
Another popular paddleboarding destination in San Diego is Mission Bay, a large saltwater lagoon located in the heart of the city. Mission Bay offers calm waters and plenty of space to paddle around, making it a great spot for beginners or those looking for a more leisurely paddle. You can rent a board from Surfari Surf School and paddle around the many islands and channels in the bay.
With its beautiful scenery, warm weather, and abundance of waterways, San Diego is a must-visit destination for any paddleboarding enthusiast.

Los Barriles, Baja Mexico
Los Barriles is a small town located on the eastern coast of the Baja California peninsula in Mexico, about an hour from Los Cabos airport. The town is known for its pristine beaches and clear waters, which are perfect for paddleboarding.  Rent a paddleboard right on the water from Vela Baja, and paddle the the Sea of Cortez, nicknamed the Aquarium of the World.  Marine life is abundant – in winter and early spring, it's common to witness jumping manta rays and breaching grey whales as you glide through the water.
You can also visit the nearby Cabo Pulmo National Marine Park for a snorkeling or scuba diving tour, which is home to a diverse array of marine life, including sea turtles, rays, sea lions, whales, and schools of tropical fish.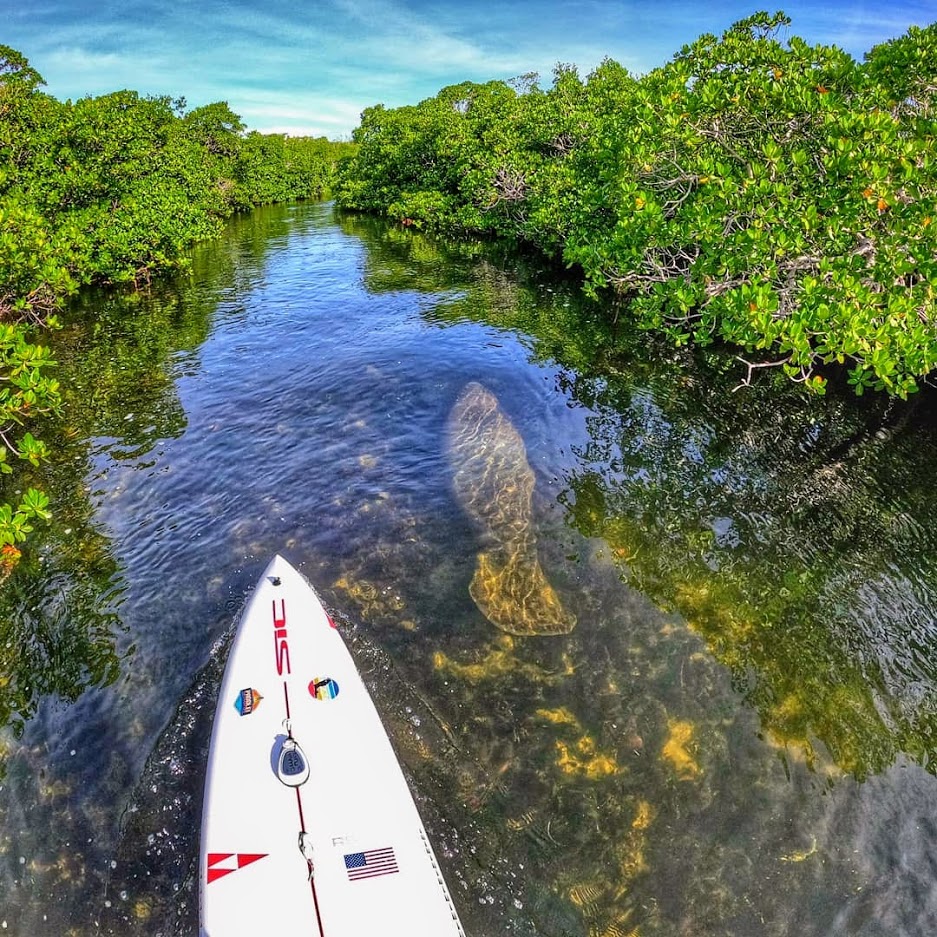 Everglades National Park, Florida
Everglades National Park, located in southern Florida, offers a unique paddleboarding experience through its mangrove swamps and freshwater marshes. Paddleboarding here provides a chance to encounter alligators, manatees, and a variety of bird species. The park's remote location means you'll feel like you've escaped civilization and are truly immersed in nature.  Visitors can rent paddleboards and kayaks from several top rated outfitters located in and around the Everglades. These rentals typically include all necessary equipment, including paddleboards, paddles, and life jackets.  Or explore the area on a paddleboard tour with an experienced naturalist guide, and see juvenile nurse sharks, manatees, sea turtles and more.  These tours can provide paddlers with a unique perspective on the park's wildlife and history, as well as safety tips and advice on where to paddle.
Paddleboarding in the Everglades requires a certain level of skill, as paddlers must navigate through narrow channels, shallow waters, and sometimes strong currents. Therefore, it is recommended that only experienced paddleboarders attempt to paddle in the Everglades.  We also recommend wearing a life jacket, carrying plenty of water and snacks and being aware of the weather and tides.  
With its unique eco-system and abundant wildlife, the Everglades is sure to be enjoyed by experienced paddlers looking for a new and exciting adventure.
Maui, HI
Maui is a world-renowned paddleboarding hotspot boasting clear waters, abundant sea life, and a stunning coastline.  Makena Landing is a popular paddleboarding spot on the south coast of Maui with calm waters, beautiful coral reefs, and the opportunity to see marine life like sea turtles and colorful fish.  Take a sunrise paddleboarding tour and enjoy the pastel hues of the sunrise as you paddle over coral reefs abundant with sea life.  Or rent a paddle board for a self-guided adventure of the pristine Wailea Coastline off Makena, in search of the local resident sea turtles. 
Lahaina Harbor is another popular Maui paddleboarding spot with calm waters and beautiful views of the surrounding mountains.  Or check out nearby Ka'anapali Beach, known for its beautiful views of the island's mountains as well as pure white sand, crystal-clear waters and tropical fish and sea turtles.
For even more marine life action, check out Maui's best snorkeling and scuba diving adventures.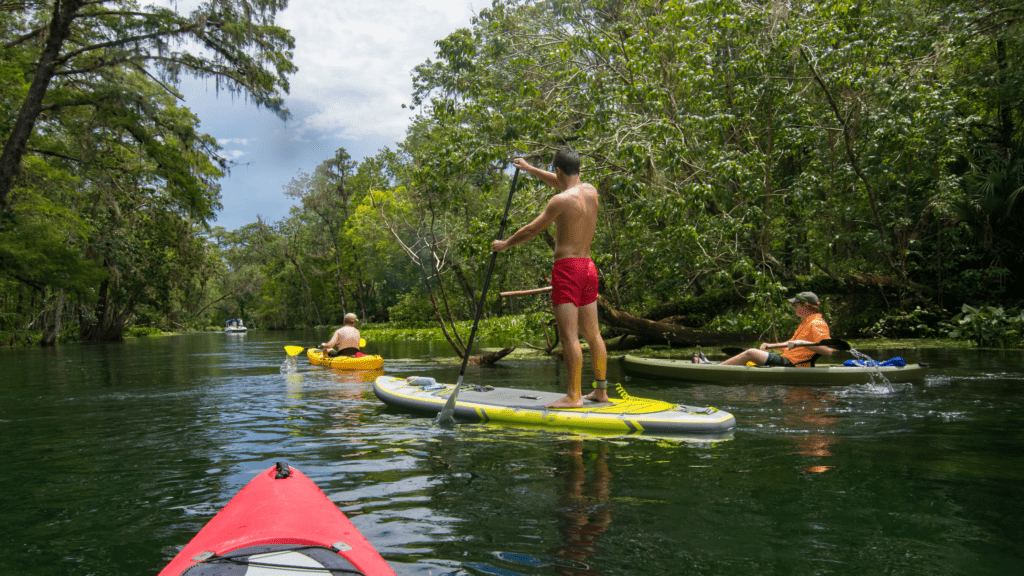 Silver Springs State Park, FL
Silver Springs State Park is a beautiful destination for paddleboarding enthusiasts. The park is located in Ocala, Florida, and is known for its crystal-clear spring water, abundant wildlife, and stunning scenery. Paddleboard rentals are available by the hour, half-day, or full day. The park also offers guided tours for those who want to explore the area with an experienced guide.
Silver Springs State Park is known for its crystal-clear spring water, which is perfect for paddleboarding (or clear canoeing!). The water is so clear that you can see the fish and other marine life swimming beneath you as you paddle.  The park is home to a variety of wildlife, including alligators, turtles, birds, and fish. Paddlers may even catch a glimpse of manatees, which are known to frequent the area.
The park offers stunning views of the surrounding landscape, including towering cypress trees, lush vegetation, and tranquil waterways. Paddlers can explore the park's many waterways, including the Silver River and the spring run.  The park is accessible to paddlers of all skill levels, from beginners to experienced paddlers. The park's calm and clear waterways make it a great place to learn the basics of paddleboarding.  More experienced paddlers can explore the park's many waterways and enjoy the stunning scenery.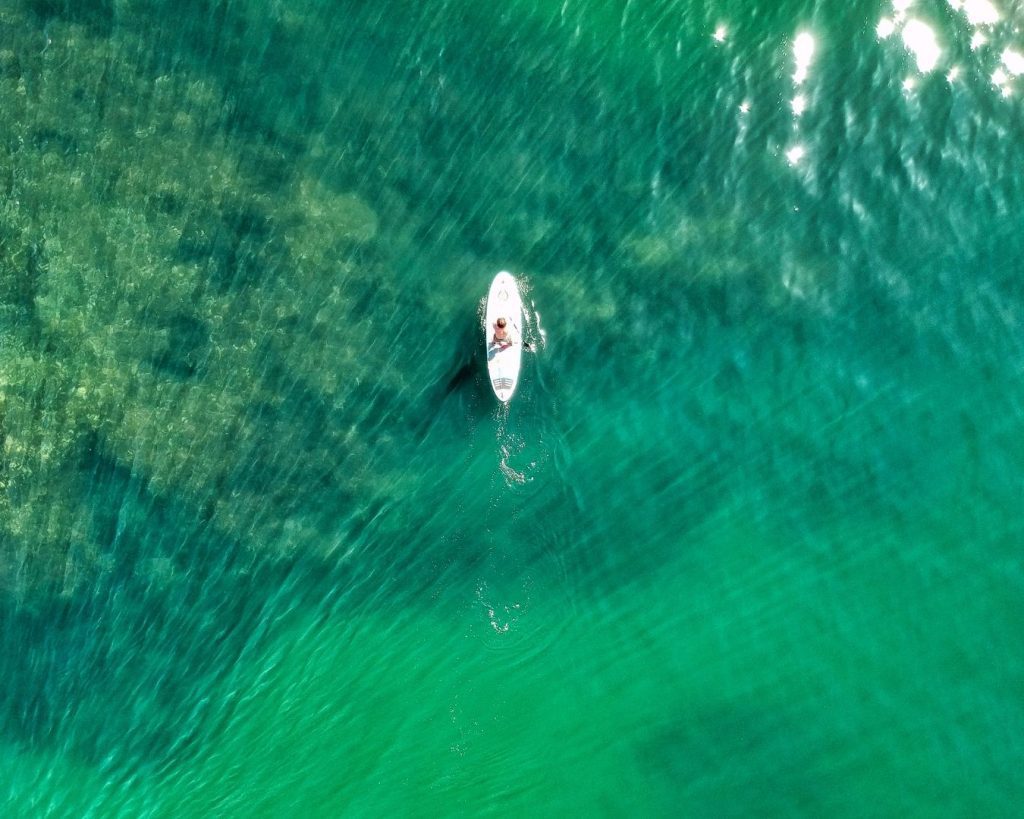 Duck Key, FL
Duck Key is a small island located in the Florida Keys and is a fantastic place for paddle boarding because of its crystal clear waters, mangroves and marine life.  The waters surrounding Duck Key are home to a variety of tropical fish, sea turtles, and even dolphins.  Enjoy one of the area's renowned sunsets against the picturesque island scenery.  Rent a paddleboard from Sole Watersports by the hour, half-day, or full day.  Or check out a guided tour for a unique perspective on the area's wildlife and history.
After your paddleboard adventures, head out to the shallow patch reefs of the Coffins Patch Sanctuary Preservation area for some of the best snorkeling in the keys!
North America has no shortage of bucket list paddleboarding destinations. Whether you're looking for mountain scenery, unique ecosystems, or marine life encounters, there's a destination for you. Paddleboarding provides a unique way to explore these stunning locations, and the experience is sure to be unforgettable.