Save Money on Your Next Ski Trip
Comparing prices for your ski vacation?  Look no further!
We know ski trips can be expensive, and lift tickets seem to go up every year.  TripOutside wants to help you save money on your next ski vacation, so we are focused on bringing you hacks to save money on your next ski vacation.  If you are planning a ski road trip, check out our Ultimate Ski Resort Road Trip!
How to Get the Best Deals
Ski Rentals
Ski and snowboard rentals can vary in price depending on where you are planning to hit the slopes.  In some destinations, ski rental costs can vary up to 70% between shops.  We have gathered ski and snowboard rental pricing at 20 major ski destinations.  Check out our helpful chart below, which shows the average prices by destination.  If you like it, please share it!
When you're ready, book your ski rental quickly and easily at TripOutside.com.  We also have price comparison tools by destination so you can view all of the local shops' pricing in one place, and then book online easily.
Find resort information, rental price comparison tools, and the best deals and discounts on ski rentals on TripOutside.
Top 20 Major Ski Destinations – Rental Pricing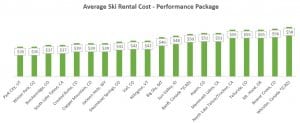 Choose Your Destination Wisely
Choosing a resort that is more off the beaten path, rather than the big names like Aspen, Whistler and Vail, can help you save money, avoid long lift lines, and get more skiing or riding in.   If you are a beginner and just learning to ski, you definitely don't need to start with the biggest, fanciest mountains.  The smaller resorts will have less expensive lift tickets, as well as accommodation, dining, etc.  While you are learning you will move slowly to more advanced terrain and will probably be sticking to the green runs for the first couple days.  Every resort has great green runs!
When to Go
In our experience, the best deals and discounts can typically be found in the early and late season.  Any time before Christmas is typically early season but it can be hit or miss for snow.  Our favorite time for ski vacations is anytime in March.  The snow has fallen all season, the mountains have a solid base by March, and resorts have deals running for late season.  March can also be one of the snowiest months, and many times is a bit warmer than January and February.
Learning to Ski
If it's your first time on the slopes, check out this great article – The Ultimate Beginner's Guide to Skiing.  You will find everything from learning ski lingo to how to ride a chairlift!