Ski Resort Road Trippin
Are you looking to do a winter road trip and hit up a couple different first-rate ski resorts?  Now it's easier than ever.  Last year, my husband Reet and I bought the Max Pass, which allows users to ski at over 40 different resorts for 5 days each.  The MAX pass has been replaced by the IKON pass this year.  The IKON pass includes 38 different resorts, with either 5 days or unlimited access at each.  With our suggested itinerary below, you can hit up 12 different resorts and with just 14 days of skiing or riding, you can save over $1300 on lift tickets!
Which IKON Pass Option?
You only need the $599 IKON Base Pass, which includes unlimited days at 12 resorts and 5 days each at 25 resorts.  With lift tickets averaging $200/day at major resorts, the IKON Pass is a fantastic new offering that saves skiers and riders tons of money.  Another great way to save on ski and snowboard rental – check out the price comparison tools on TripOutside.com!  We show the best deals and discounts on ski rental at all of the resorts featured below.
Itinerary
Winter Park
Start in Denver and head west on I-70, turning north on highway 40 to hit up Winter Park resort (unlimited days).  We made the mistake of driving to Winter Park in a snowstorm, and the mountain pass to get to the resort is no joke!  Luckily, we went slow and made it fine – but we definitely recommend checking the weather before you head out.
Winter Park is spread across 2 different mountains with lots of options for all levels.  Advanced skiers and riders will enjoy the alpine bowls, moguls and renowned tree skiing.  Stay in one of the many hotels or lodges in the base village, or if you have an RV or van, park in Lot G across from the resort.  Winter Park is one of the only Colorado resorts that allows overnight camping for RVs in their parking lot.  There are no hookups or dump stations available, and units must be self-contained.  No RV?  No problem! Rent an RV on TripOutside through our partnership with Outdoorsy, and find convenient, insured RV rentals all over the country – from vintage vans to Class A motorhomes and everything in between!
Rocky Mountain National Park
If you want to take a day off skiing or boarding, Rocky Mountain National Park is less than an hour away and has fantastic snowshowing opportunities.  We rented snowshoes in the nearby town of Grand Lake, and spent an incredible day in the Park making tracks along the Colorado River.  We even spotted a couple moose munching in the thick vegetation along the river!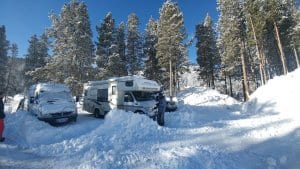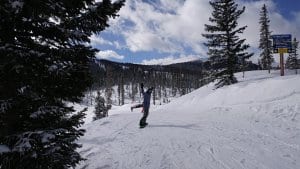 Steamboat Springs
Next, head north 2 hours to Steamboat Springs AKA Ski Town USA (unlimited days) to ski their famous champagne powder snow.  Steamboat is one of the largest ski resorts in Colorado and has a variety of terrain across seven mountain peaks.  There are plenty of lodging options, both in the base village and the downtown area.  For apres ski, visit one of the many restaurants around base village, or venture a bit farther to check out Butcherknife Brewing Co, an eco-minded craft brewery with superb rotating taps.  Head out to the clothing-optional Strawberry Hot Springs (4×4 required in winter) for a night soak (arrive by 9:30pm/10:30pm weekends) and enjoy the 104-degree natural spring water.  There are many pools to choose from, some with small waterfalls – we even had one all to ourselves.  Note: it's also clothing optional!
Utah Resorts
From there, drive 5.5 hours to Park City along highway 40 – the northern route to Utah.  Leave Steamboat early so you can stop to admire the fossilized remains of dinosaurs at Dinosaur National Monument in.  The Monument has provided many of the dinosaur fossils in museums across the world, and these fossil beds are some of the best preserved in the world.  Because it was winter, the Monument was empty – which meant we basically got a private tour with the Park Ranger on duty!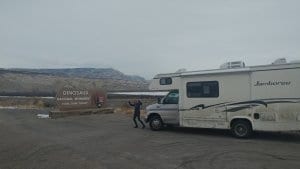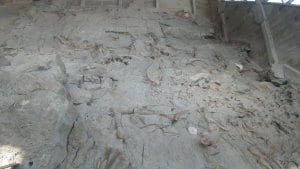 Once you arrive in Park City, you have a plethora of resorts to enjoy Utah's famous "greatest snow on earth".  The closest IKON Pass resort to Park City is Deer Valley (5 days – no snowboards allowed).  If you drive towards Salt Lake from Park City, and head up Big Cottonwood Canyon, you can ski both Brighton (5 days) and Solitude (unlimited days).  These resorts are directly in the path of winter storms and get more snow than the Park City side of the Wasatch mountains.
Although they are smaller, we enjoyed Brighton and Solitude much more than the sometimes chaotic Park City resort.  Their 500 inches of powder annually, combined with wide open runs and a lack of lift lines makes it easy to see why the locals favor these resorts.  Enjoy apres with a cold brew at Molly Green's pub at the base of Brighton, or dry out at the fire with a massive nacho plate in the uncrowded Silver Fork Lodge a couple miles down the canyon.  Silver Fork also has a killer breakfast menu if you have time to stop on your way up the canyon in the morning.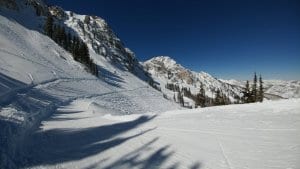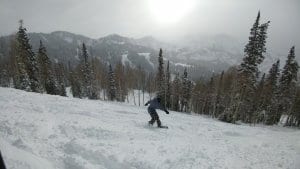 Alta and Snowbird resorts (5 days each) are a bit farther at just over an hour from Park City, but worth the visit.  The two resorts are connected (Alta is skiers only) and also average over 500 inches of snow annually.  The combined 4700 acres boasts the longest ski season in Utah, typically remaining open into May.  There are lodging options in Alta and Snowbird, or you can make a day trip from either Park City or Salt Lake City.
Back to Colorado
Once you've exhausted the Utah resorts, head south on highway 6 to Green River where you will jump on I-70 for the trip back to Colorado.  At Glenwood Springs, take highway 82 to the world-famous Aspen resort (5 days).  Aspen speaks for itself with endless dining, nightlife and shopping options, as well as 5,300 acres of skiable terrain between the 4 local resorts.
Round out the ski tour at Copper Mountain (unlimited days), right off I-70 and only 75 miles west of Denver.  Copper boasts almost 2,500 acres of naturally divided terrain for all abilities.  Copper's quaint village has lots of great lodging options and is known for it's rowdy apres ski.  The ski-in, ski-out Incline Bar & Grill was voted "Best Apres Ski in Copper" with food and drink specials from 3-6.  Celebrate your 1,200 mile, 12 resort road trip with their $3 PBRs!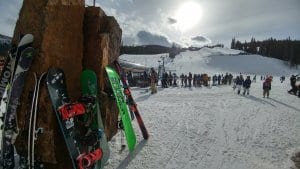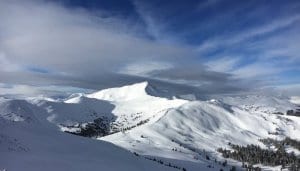 Camping
RVing is a great way to do a road trip (especially on the cheap!) – even in winter!  There are typically plenty of RV parks open in the winter where you can hook up to electric and keep the RV nice and toasty.  No RV?  No problem! Rent an RV on TripOutside through our partnership with Outdoorsy, and find convenient, insured RV rentals all over the country – from vintage vans to Class A motorhomes and everything in between!
How to Get the Best Deals on Ski Rentals
Check out more resort information, rental price comparison tools, and the best deals and discounts on ski rentals!