Tips for Your Colorado Ski Vacation
There's very good reasons for Colorado to top the lists for the best state to ski every year. Colorado ski resorts are some of the best in the country.  The state brings in over 14 million visitors annually during the winter ski season. From the steep slopes of Crested Butte to the notorious Vail back bowls, Colorado's ski resorts are legendary.  Colorado's popularity lies primarily in its high altitude terrain with some resorts topping out at 14,000 feet.  Add in 300+ inches of fluffy, dry snow annually and spectacular Rocky Mountain views and you've got the perfect ski destination. Colorado boasts 26 ski resorts across 15 different mountain ranges, making it a fantastic choice for your next ski trip.
If you know you're heading to Colorado, choosing which ski resort to visit out of so many fantastic choices can be a challenge!  Most visitors fly into the Mile High City of Denver, where they can easily access many of the state's most popular ski resorts.  Heading to other parts of the states like the southwest will give you access to some of the least crowded resorts.  Difficult decisions… but we've got your back.  Read on for recommendations on our favorite Colorado ski resorts, plus tips on how to make the most of your Colorado ski vacation.

Select the best ski resort in Colorado based on how far you want to drive
Denver is the largest city in Colorado.  It has a large international airport, hosting flights on all the major airlines from most major domestic cities and many international as well.  Many ski and snowboard enthusiasts fly into Denver because of its proximity to a large number of world-class ski resorts. These resorts are likely to be busier than ski resorts in other parts of the state because of the convenience of flying into Denver and easy access via I-70, but most of these resorts also have a ton of terrain to spread people out.
Here are our top recommended resorts around Denver: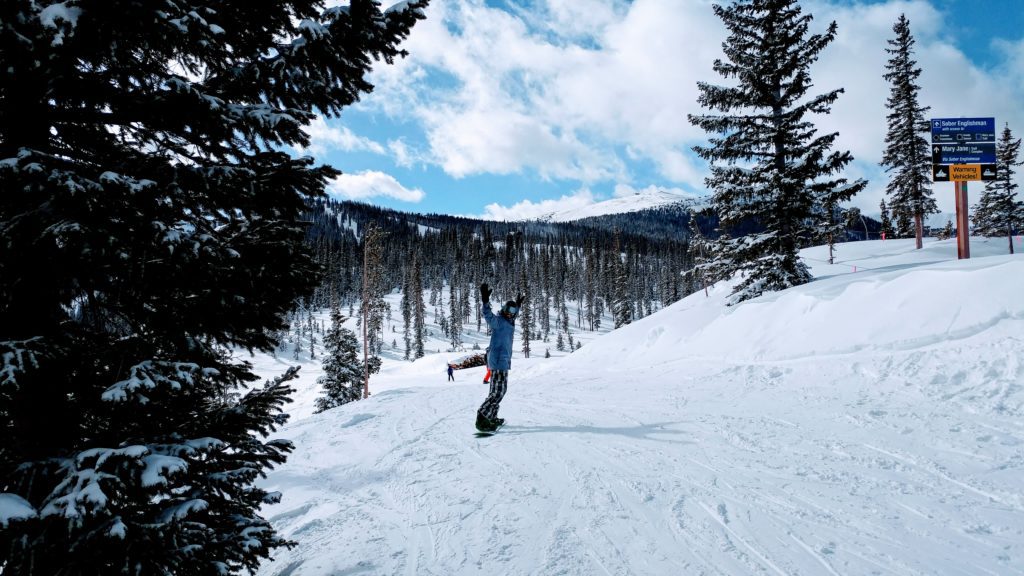 Winter Park Resort is the closest major ski resort to Denver.   What we love about Winter Park:
Despite being just 67 miles from Denver, Winter Park's location tucked away in the Rockies feels as remote as the most off-the-beaten-path ski resort.
The resort is a relatively straightforward drive from Denver.
There's even an option to take the Amtrak train from downtown Denver right to Winter Park, a scenic ride to skip the winter driving!
If you are looking for tree skiing, the tree runs on Mary Jane can't be beat.
Winter Park Ski Resort has over 3,000 acres of skiable terrain with more than 140 trails and 1,200-plus acres of back-country terrain.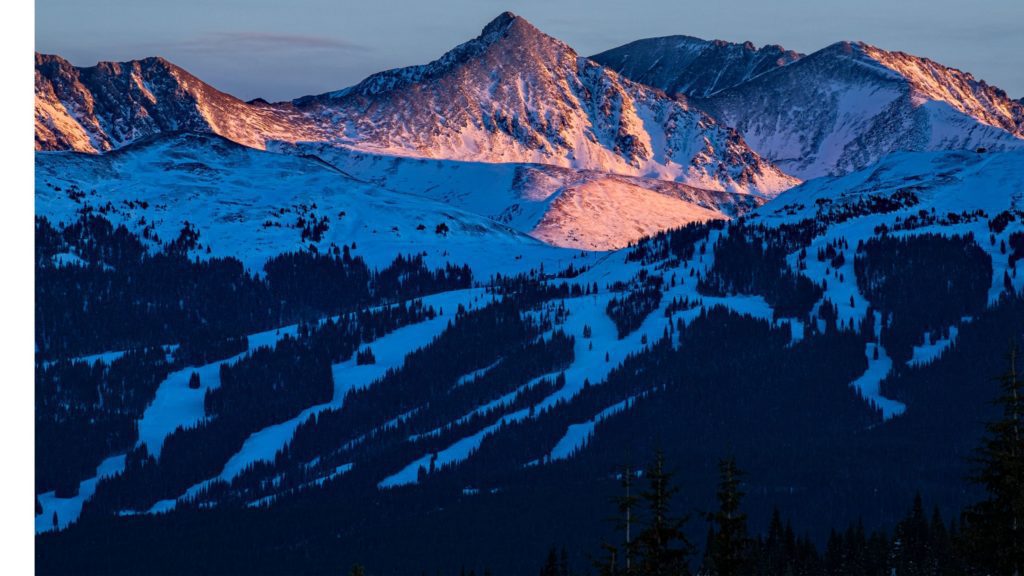 Copper Mountain is 75 miles from Denver and is home to a variety of award-winning terrain. The resort's 2500 acres of terrain follows a fall-line path that includes everything from mellow rolling terrain to steep fast runs.  Beginners can head over to the west side for easier runs, while experienced skiers can ski the intermediate and advanced runs in the center and eastern side of the resort.
What we love about Copper Mountain:
The incredible perks at Copper like free snowcat access to Tucker Mountain for expert skiers, free parking, and the free Summit County bus system that can take you into Frisco or Breckenridge.
These freebies combined with the lower lift ticket prices will make your trip to Copper much easier on the wallet.
Copper's naturally divided terrain makes it a great resort for all levels.
Don't jump on the bus to Breckenridge too quickly though – Copper Mountain's base village has some great après ski hangouts that rival Breckenridge. Try out the happy hour at cozy local dives like Jack's Slopeside Bar and Grill, and Incline's.

Thanks to the magical combination of 5200 acres of terrain, 300+ days of sunshine and 370+ inches of snow each year, Vail is a must-visit ski destination. While Vail can be viewed as upscale or expensive, we believe it's worth it because of the resort's epic terrain… you must visit at least once.
What we love about Vail:
Huge amount of terrain and the legendary back bowls
Wide variety of shops, restaurants, and other activities for non-ski days
Majestic views of the surrounding Gore and Sawatch mountain ranges as you ski
Vail is 100 miles from Denver, so expect a couple hours driving depending on weather and traffic.
Ski Resorts: 3+ hours from Denver
There are many wonderful ski resorts in Colorado that are a bit farther of a drive from Denver.  These are typically located off the "main drag" of I-70, and if you are willing to make the drive, you will typically see fewer people and less lines at these resorts.  Our favorite ski resorts that are a 3+ hour drive from Denver are located in some of our favorite Colorado ski towns.
If you are looking for something new in Colorado for your ski trip, head up to Steamboat Springs. Steamboat is known for its incredible tree skiing for skiers of all abilities and its fluffy "champagne powder" snow. If you catch Steamboat during a snowstorm, you will realize the snow is worth the hype.  The resort's almost 3000 acres of terrain has enough steeps to satisfy the experts, but it's also well known for its expansive and un-intimidating intermediate trails.
What we love about Steamboat:
Steamboat is great for the whole family with a good mix of trails across the resort.  Kid-friendly activities are plentiful and showcase Steamboat's Wild West roots.
Steamboat's namesake hot springs are a fantastic way to relax after a day on the slopes.
There's a ton of choices for après-ski.  The base village has plenty of spots like the Double Diamonds bar where the party can last all night.  Or head into the downtown for an even wider variety of food and drinks.
The town is situated in northern Colorado about a three hour drive from Denver, which makes it a bit more secluded than some other ski resorts along the I-70 corridor.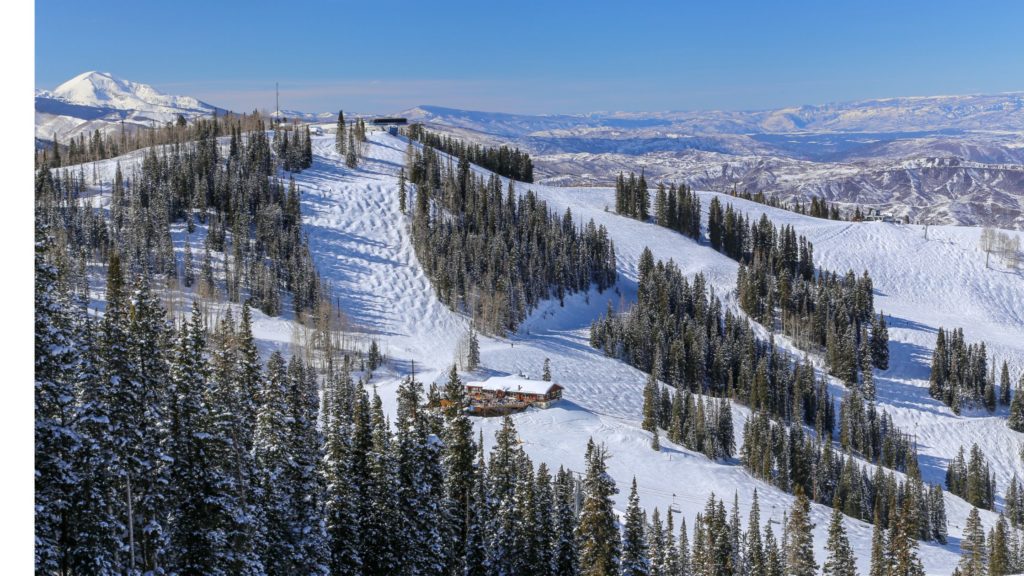 The infamous Aspen, Colorado actually has four unique ski mountains, all accessible with the same ski pass. The combined area of these four mountains is a whopping 5527 skiable acres.  Aspen is perfect for adventure-seeking skiers – the trail breakout favors intermediate to expert skiers.  With an average of 300 inches of snow annually, you'll get your much-needed pow fix. All four of the Aspen Snowmass resorts are connected by short rides on a free bus system, meaning you can even ski all four mountains in a single day.  Is Aspen worth the shelling out for?  We think so, and you can save some money by staying in nearby Snowmass Village, which has a number of slopeside options plus a base village with plenty of options for après-ski.
What we love about Aspen Snowmass:
After a day on the Aspen slopes you will find lively après-ski parties, excellent dining choices, luxury spas, and possible celebrity sightings.
If you decide to take a day off of skiing, there are plenty of other activities to keep you busy like snowshoeing, snow tubing and ice skating.
With four connected mountains, there's tons of choices for all levels of skiers and snowboarders.
Typically a 3-hour drive from Denver, you can easily include an Aspen trip to your Colorado adventure itinerary.  You can also fly right into Aspen airport on United and Delta airlines, a 15-minute drive to the ski resort.

Crested Butte Resort's 1547 acres of skiable terrain is renowned by advanced skiers and snowboarders for its upper terrain known as the Extremes, which has some of Colorado's steepest ski lines. But for the rest of us, intermediate-friendly tree runs and spacious groomed runs make this resort a top pick. Skiers and boarders enjoy plenty of pow days with an average snow dump of 300 inches a year.
Referred to as Colorado's last great ski town, Crested Butte's location in southern Colorado offers incredible scenery and less crowds.
What we love about Crested Butte:
It's off the beaten path location, and true mountain town vibe.
It's historic downtown with many quaint shops, après-ski bars, and tasty restaurants.
Despite Crested Butte being a bit farther off the beaten path, it is relatively easy to get to and enjoys fewer crowds than the ski resorts right along I-70.
Crested Butte is typically a four hour drive from Denver, or you can choose to fly into one of the regional airports – Gunnison is 30 minutes away and Montrose is 90 minutes away.
Southwest Colorado Ski Resorts
Southwest Colorado is home to some of the state's most rugged terrain and high peaks. It also has some of the best ski resorts in Colorado.  The resorts here aren't connected by an interstate; instead you find yourself traveling on state highways like Highway 550 (also known as the Million Dollar Highway) that take you through breathtaking mountains with an abundance of scenic vistas.  There are a couple of different airports that you can choose to fly into to access these resorts, including Durango-La Plata County Airport, Montrose Regional Airport and Telluride Regional Airport.  Flying directly into Telluride may be more expensive, so Durango or Montrose is typically a less costly option, but requires a bit more driving.  The lack of proximity to a large international airport means the resorts in this part of the state are also less crowded.
The Southwest is home to three major ski resorts that we highly recommend visiting: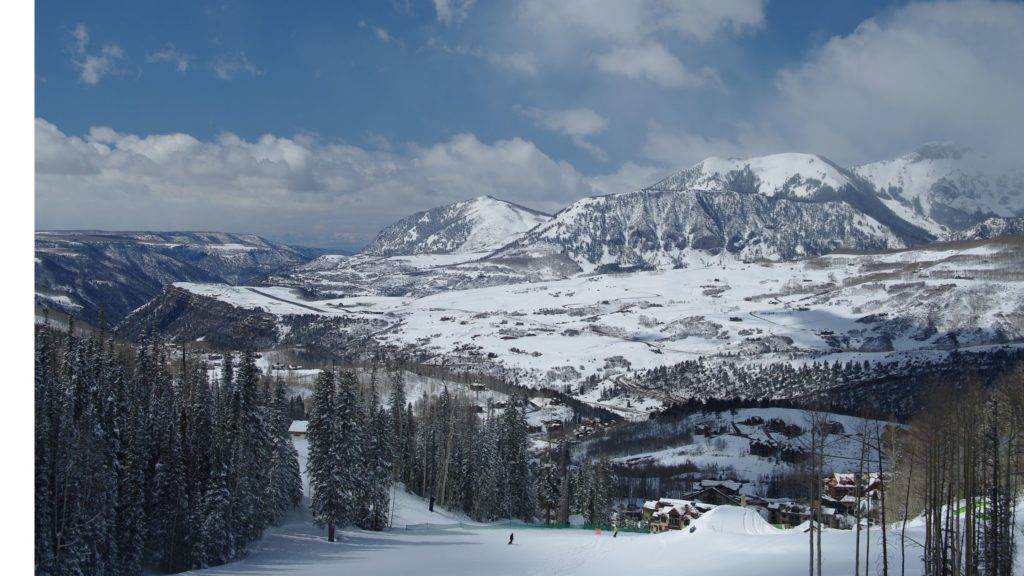 Thanks to its legendary terrain, Telluride is considered one of the best skiing destinations not only in the US, but also in the world. Its stunning mountain views, charming historic downtown, and true varied terrain for all is a big draw.  Telluride is home to 2000 acres of lift-accessible terrain that truly accommodates all levels of skiers and riders.  Steep vertical drops, bowls, cliffs and chutes are beloved by expert and advanced skiers and riders, and advanced intermediates enjoy Telluride's double blue trails and intermediate glade skiing, a rarity at other resorts.
What we love about Telluride:
Beginners can ride any lift at the resort and still find an easier trail, even a 4.5-mile run down from just below the summit.
Telluride's lack of lift lines and low pressure atmosphere for all skill levels.
Telluride may seem ritzy and upscale, but we love that the town has managed to hold onto it's wild west roots and laid back charm.
Both the town of Telluride and the ski base Mountain Village have fantastic dining and apres-ski options, as well as shops and bars to keep you plenty busy off the slopes.
To get to Telluride, you can fly directly into Telluride Regional Airport, or look into making the (beautiful) drive from Durango-La Plata County Airport (~2.5 hour) or Montrose Regional Airport (~1.5 hour).  Flying directly into Telluride may be more expensive, so Durango or Montrose is typically a less costly option.  It does require a bit more driving – but the drive is stunning.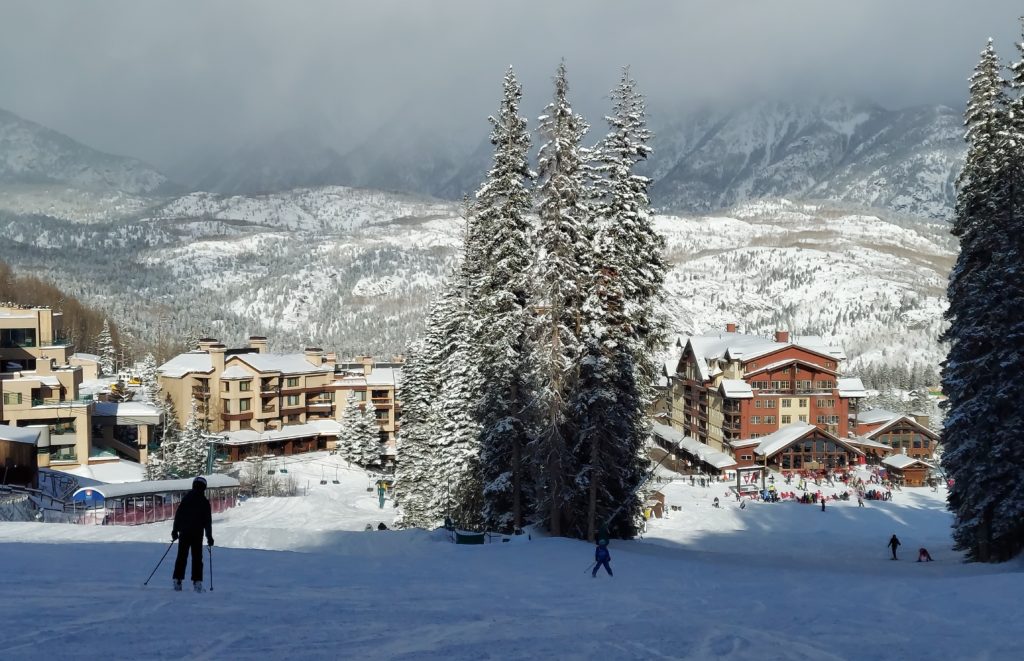 Purgatory doesn't make the top lists often, and it may be the only resort on this list that you haven't heard of, but we couldn't overlook it comes to great ski resorts in the southwest.  The fact that it's off the radar for many Colorado visitors makes it a true gem with wide open slopes.
Purgatory is located in the San Juan Mountains just 30 minutes north of Durango, CO.  The resort's 1,635 acres offer unique tree skiing opportunities, and a good mix of terrain with about 50% of the trails rated intermediate.  Averaging 260 inches of snow annually, Purgatory is known for its consistent dry powder.
What we love about Purgatory:
Purgatory is an inexpensive family destination with some of the lowest lift ticket prices in Colorado.
The rugged San Juans give the resort a spectacular backdrop
The abundance of winter activities, friendly staff, little to no lift lines, and some of the best ski weather in the country.
The resort's base village and surrounding area has several reasonably priced après-ski and dining options (our fave: the Old Schoolhouse Cafe), or head to nearby Durango historic downtown for your pick of dozens of restaurants, bars and shops.
Durango-La Plata airport is an easy 25-minute drive from downtown, and just under an hour from Purgatory Resort.
WOLF CREEK SKI AREA
Wolf Creek receives an astonishing 430 inches of snowfall each year – the most snow of any Colorado ski resort. This family owned ski resort stretches across a high alpine ridge in the rugged San Juan Mountains.  Unlike some of the other resorts on this list, the resort doesn't have a base village or town, so most visitors stay in Pagosa Springs, about 30 minutes away.
What we love about Wolf Creek:
It's surrounded by some of the most rugged mountains in Colorado and the views are spectacular.
The plentiful pow, expansive hike-to terrain and fantastic bowls with advanced intermediate terrain.
Wolf Creek does allow self contained RV camping in the Overflow Parking Lot for those hardy folks who wish to spend the night at 10,000 feet and get to the lifts early.
To get to Wolf Creek, most visitors fly into Durango-La Plata airport, which is approximately a 1.5-hour drive.
Colorado Ski Resorts Map
Our map of Colorado ski resorts shows our favorite resorts across the state, plus many other remarkable ski resorts that call Colorado home.
Consider taking a lesson to improve your skills
If you are new to skiing or snowboarding, or looking to improve your skills, you may want to consider taking a lesson at the ski resort.  Most resorts offer lessons for all levels, both group and private. It's a great way to ensure you and your group stay safe, improve your skills, and make the most out of your trip to Colorado.  You can also use a lesson to help you feel more confident on the mountain – whether it's tackling the black diamond runs, the terrain park or those daunting moguls.
If you're new to skiing or snowboarding and are taking a group trip, consider taking a lesson at a ski resort close to where you live if it's possible. For example, if you live in Atlanta and have a ski trip coming up in Colorado, you can visit a smaller resort in North Carolina to take a lesson in advance. In most cases, these lessons will be less expensive, and you'll get the hang of the sport before going out with your group. It will make you more confident, you'll get used to your gear and the ski lifts, and get through all of the early learnings of getting into the sport.
Take a shuttle to the resort (or at least rent a 4×4)
Winter driving in Colorado can be unpredictable even along the interstates. I-70 isn't your normal interstate, it goes right through the mountains with high elevation passes and frequent snowstorms.  We recommend taking a shuttle from the airport to avoid having to worry about driving, or rent a 4×4 or AWD vehicle to ensure your safety.  You can even take a train right from downtown Denver to Winter Park Ski Resort!
Many roads, including I-70, require 4×4, snow tires and/or chains on vehicles while it's snowing.  You don't want to miss out on a day of skiing because you didn't have the right vehicle.  Most ski towns are easily walkable and/or have ski shuttles within the town and to the ski resort, so vehicles aren't typically needed once you arrive.

Prepare for the weather and altitude
Colorado can be a land of extremes so it is important to be prepared!  Before visiting, track the weather and temperatures and consider the activities you have planned. Packing layers is important for all outdoor activities, and helps to ensure you can adjust your attire accordingly based on the weather and your activity level.  It can get quite chilly in the mountains and if you aren't prepared with what to pack for your ski trip, you will may miss out on some of the best adventures!
To get ready for the high elevation, increase your cardio activities pre-trip, because the better cardio shape you are in, the less likely you will feel negative effects from the elevation. You can prepare yourself and your lungs for that "out of breath" feeling at higher elevations when you don't have as much oxygen to work with.  More hydration is also necessary at higher elevations, especially when you are active.  Drinking more water leading up to your trip is smart so that you get in the habit of it before you will really need to.

Rent gear in advance, and choose delivery
Let's face it, ski and snowboard gear is expensive and can be a hassle to transport.  Especially if you only ski a couple times a year or less.  When you rent equipment at your destination, you can save yourself the headache of transporting and maintaining gear, and you get to try out the newest equipment on each trip.  With delivery options available almost everywhere, ski rental is a breeze.  Book your gear easily online and have it delivered to your accommodation the evening before your first ski day.  Remember that availability can be tight, especially during holidays and peak times, so book your rental gear online as far in advance as possible.
Buy lift tickets online to save time and money 
Lift ticket prices have skyrocketed in recent years, but there are still great ways to save your hard earned dough.  The closer you get to your ski date, the more expensive lift tickets will be.  Buying lift tickets online in advance will give you a much better deal, plus less of a wait at the slopes!  If you are skiing more than 1 day, another great way to save is to buy a multi-day lift ticket, which typically costs less per day than buying individual single day tickets.

Include a day off of skiing in your trip itinerary
When planning your trip, include an extra day in your itinerary so you can enjoy other winter activities. Most ski destinations have plenty of other winter activities like snowshoeing, cross country skiing, ice skating, ice climbing, hot springs and more.  Taking a break from shredding the slopes can allow you to look for wildlife, enjoy the peaceful sounds of nature, or take up a new activity you've never tried before!
No matter where you decide to ski in Colorado this winter, you are bound to have a great time. Remember to recreate responsibly, and follow leave no trace principles to ensure our wilderness areas stay pristine for generations to come. Whether you are staying close to Denver or getting off the beaten path in the southwest, Colorado will make a wonderful destination for your next ski trip.