10 Tips on How to do Outerbike Right
Outerbike Sun Valley 2019
"Just go out and try a bike that you want, take it on some of the best trails in the world and when you're done, come back and try another one". No, that isn't a mountain biker's lucid dream, it's called Outerbike. You may have seen the ads of riders with big smiles across their faces on lots of different bikes, we saw the same ad and had to try it out for ourselves. 
We have to say, the event was even better than we thought it was going to be! It also helped that Julie and I were both in the market for new bikes (after ours were stolen) so the timing of the event couldn't have been better. And if we weren't in the market for new bikes, after going to the event, I'm pretty sure we were going to be. Outerbike may as well offer a 'sell your bike' booth at the event because that is what you're going to do after you leave this event. 
We spent 3 days in Sun Valley Idaho, one of our favorite destinations, trying out lots of different bikes and wanted to share our thoughts on how you can best enjoy the event.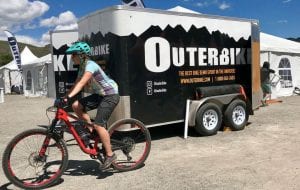 What to bring
You should bring your shoes & pedals (if you ride clipless/SPD), helmet and your normal riding clothes. 

Be prepared for the elements: bring sunscreen, warm layers, wind jacket, etc.  A hydration pack is also a great idea as many of the demo bikes do not have water bottle mounts.  Water is available at the event.

 
Show up early
Early bird gets the carbon XO trail bike with 150mm of travel. It really helps to show up at the event when it opens – it gives you the opportunity to get first dibs on the bike of your choice. Although each brand brings a large enough fleet to handle multiple requests for a bike, you are still going to run into waits.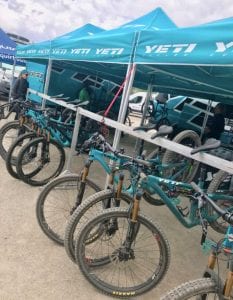 Walk the show first
We made the mistake of just riding the very first brand and the first bike that we came across, which was great!   But then we quickly realized that we were going to run out of time and needed to prioritize the bikes that we really wanted to try

Make a list of the bikes you want to ride.  No need for analysis paralysis here, just a short wishlist because not every bike is going to be available in your size when you want it. You can use this list to just try the next option and come back to the first when it's available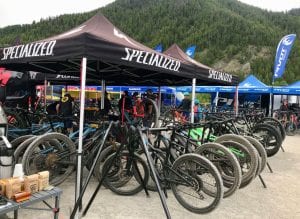 Try the newer or smaller brands
The smaller and newer brands don't have massive marketing budgets and 20 vans spread across the country demo'ing bikes. It's a great opportunity to meet the folks that created the bike or  maybe even started the company! We tried

Esker

bikes in Sun Valley and fell in love, so much so that we ended up buying 2 of our own Esker bikes after the event!  

Some of the other cool smaller brands that we saw at Outerbike Sun Valley were

Alchemy

 and 

Moots.

   We got to hang out and meet the owners and talk about what makes these bikes stand up. Another great thing we love about smaller brands is that they're focused on making less, but better. Most of them have a minimalist approach, focused on coming up with just a few models but making them best in the category that they are aiming for.  

Try all the categories, you may surprise yourself

Bike innovation has come along so fast in the past few years that you may find yourself loving a new category of bike that you didn't think you wanted. 

In our case, we have been more XC and trail focused riders as we like to climb the hills that we're going to descend and avoid chairlift riding. After demo'ing bikes with 150-160mm of travel, which we would have previously written off as ''too much bike'' we found ourselves loving these bikes as they not only soak up everything that you throw at the on the downhill, they climb really efficiently as well! A lot of it comes down to the geometry. Talk to the brands and see what they offer in XC, trail, all-mountain/enduro categories and see how they were designed. A lot of the big travels bikes these days still keep the climber in you in mind. 

   

Be kind, rewind

Even though the brands were relaxed about how long of a ride you can be on, make sure you don't keep the bike while you're eating lunch or chatting away with your friends. There may be someone waiting to demo the bike next! Take the bike out, but return it as soon as you're done with the ride.

This never happened to us as we always found another brand or bike that was ready to be ridden but don't leave this dog hanging.

 

There aren't too many rules around what you can and can't do, but here is a shortlist to consider:

Kids bikes are not available

No age requirements for Outerbike. However, you must be 21 with proper I.D to drink at the afternoon beer garden. You're welcome to bring your family, but please know this event is targeted for adults. 

No loading bikes onto private vehicles.

Keep singletrack single

No cartwheels, hula hooping or headstands either 😉 Just making sure you're still reading. And if you are, THANK YOU!

Upcoming Outerbike events:

Remember, if you're looking to demo a bike any given day, check out over the biking section and find the perfect outdoor location.

Happy Trails!