Ultimate Guide to Surfing in Hawaii: Tips & Surf Spots to Catch the Perfect Wave
Hawaii, often referred to as the "Surfer's Paradise," is renowned for its stunning beaches, warm waters, and epic waves. Whether you're a seasoned pro or a beginner looking to ride your first wave, Hawaii surfing is an experience like no other. In this ultimate guide, we'll take you through the top surfing destinations in Hawaii and provide valuable tips to help you catch the perfect wave.
Map – Top Hawaii Surf Sports
Kailua-Kona: Where Waves and Culture Meet
Kailua-Kona on the Big Island of Hawaii is not just famous for its rich cultural heritage but also for its excellent surfing conditions. Surfers flock to spots like Banyans and Magic Sands Beach Park. There are numerous surf schools for beginners – but for the best of the best, check out our curated, 5-star rated Kailua-Kona surf schools.  More experienced surfers can tackle the bigger swells on offer in the area.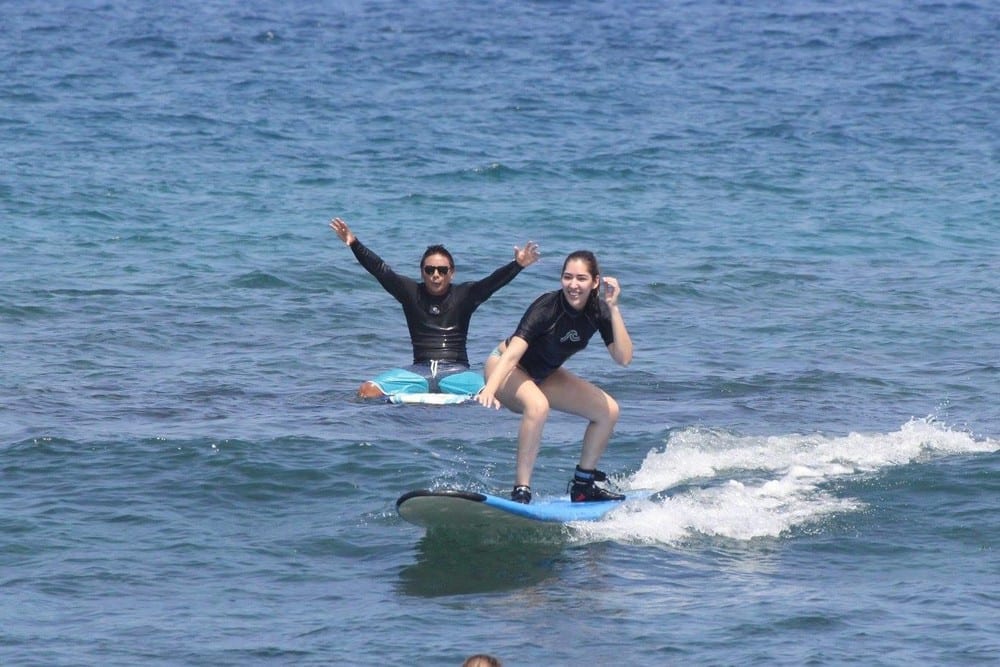 Haleiwa: The North Shore Gem
The North Shore of Oahu, particularly Haleiwa, is a mecca for surfers. Known for its powerful and massive waves during the winter season, it's where you'll find iconic breaks like Pipeline, Sunset Beach, and Waimea Bay. If you're an advanced surfer seeking a challenge, this is the place to be.  Beginners looking for lessons have several top rated surf shops to choose from, like group lessons with North Shore Surf Girls and couples sunset surf lessons with Sea & Board Sports.
Kihei: Maui's Surfing Hotspot
Kihei, on the island of Maui boasts consistent waves and warm waters year-round, making it an ideal destination for surfers of all levels. The Cove and Kalama Beach Park are popular spots for beginners, while experts can test their skills at spots like Freight Trains and Ma'alaea Bay.  With tons of 5-star rated surf schools like Maui Waveriders and Surf Yoga Maui offering group, private and semi-private lessons, you will be riding waves in Kihei in no time!
Lahaina: A Historic Surfing Haven
Lahaina, also on Maui, is not just a historic town but also a fantastic place to catch some waves. Breaks like Lahaina Breakwall offer a friendly environment for novice surfers, while Honolua Bay provides more advanced surfers with challenging waves amid stunning scenery.  Beloved Lahaina surf schools like Royal Hawaiian Surf Academy offer group lessons and private/semi-private lessons, making Lahaina one of the best places on the island of Maui to learn to surf.   Or compare prices for Lahaina surfing lessons at top rated surf schools.
Honolulu: Surfing in the Heart of Oahu
As the capital of Hawaii, Honolulu on Oahu offers a mix of urban and beach culture. Waikiki Beach is an iconic spot for learning to surf with its gentle waves, making it perfect for beginners. You can take lessons from local surf schools and ride your first wave against the backdrop of Diamond Head.  Surf HNL offers group and private lessons right at Ala Moana Beach Park in Waikiki (transportation from your hotel included!) and Ohana Surf Project offers customized surfing lessons for any level of surfer – plus options to save money with 2-session and 3-session packages.
If you have some time, you can take a 6 day surf course with HI Surf Camps for in-depth surf training and knowledge at several of the best North Shore surf breaks, and some hiking and snorkeling adventures thrown in too (transportation from Waikiki included)!
Surfing Tips for a Successful Hawaiian Adventure
Safety First: Always prioritize safety by wearing the right surf gear, using sunscreen, and respecting local surf etiquette.
Reef-Safe Sunscreen: We applaud Hawaii for being the first state in the U.S. to ban sunscreen containing chemicals that harm corals.  Make sure your sunscreen is reef safe!
Choose the Right Board: Select a surfboard that suits your skill level and the type of waves you want to ride.
Take a Lesson: If you're a beginner, consider taking a surf lesson with a certified instructor to learn the basics and safety rules.
Check the Forecast: Keep an eye on surf reports and weather conditions to find the best time for your surf session.
Respect the Locals: Hawaii's surf culture is deeply rooted in respect. Follow local customs and be courteous to fellow surfers.
Explore Other Activities: Hawaii offers a plethora of outdoor activities. Consider trying paddleboarding, snorkeling, or even a scenic hike or bike ride.
Hawaii's diverse surfing destinations provide something for everyone, from mellow rollers to world-class breaks. So, whether you're looking for the thrill of massive waves or a gentle ride into the sunset, Hawaii is the place to be. Grab your board, catch a wave, and let the aloha spirit guide your surf adventure!
Looking for other surf destinations?  Check out our recommendations on the 10 Best Surfing Beaches in the U.S.!