Are you ready for an unforgettable outdoor adventure? Our recent packrafting trip on the Colorado River in Moab was exactly that. In this article, we'll take you through our experience and share all the details you need to embark on your own packrafting journey in the stunning desert region.
Packrafting in Moab: A Last-Minute Decision
We had initially planned for a bigger adventure on Saturday, but when we checked the weather forecast showing a 65% chance of rain, we made a spontaneous decision to squeeze in a shorter trip on Friday afternoon while the weather was still warm.
To make our adventure happen, we reached out to our local expert partner, Melissa from Desert Highlights. She quickly assessed our needs and confirmed that four packrafts were available for the same day.
Renting Packrafts and Getting Ready
We rented online and showed up at the shop to pick them up and after a quick demo, we had our 4 Alpacka Rafts ready to roll down the Colorado River.
Total time: 3 hours 16 minutes
Moving time: 2 hours 40 minutes
Total distance (bike and paddle): 13.24 mi
Awesomeness rating: ⭐️⭐️⭐️⭐️⭐️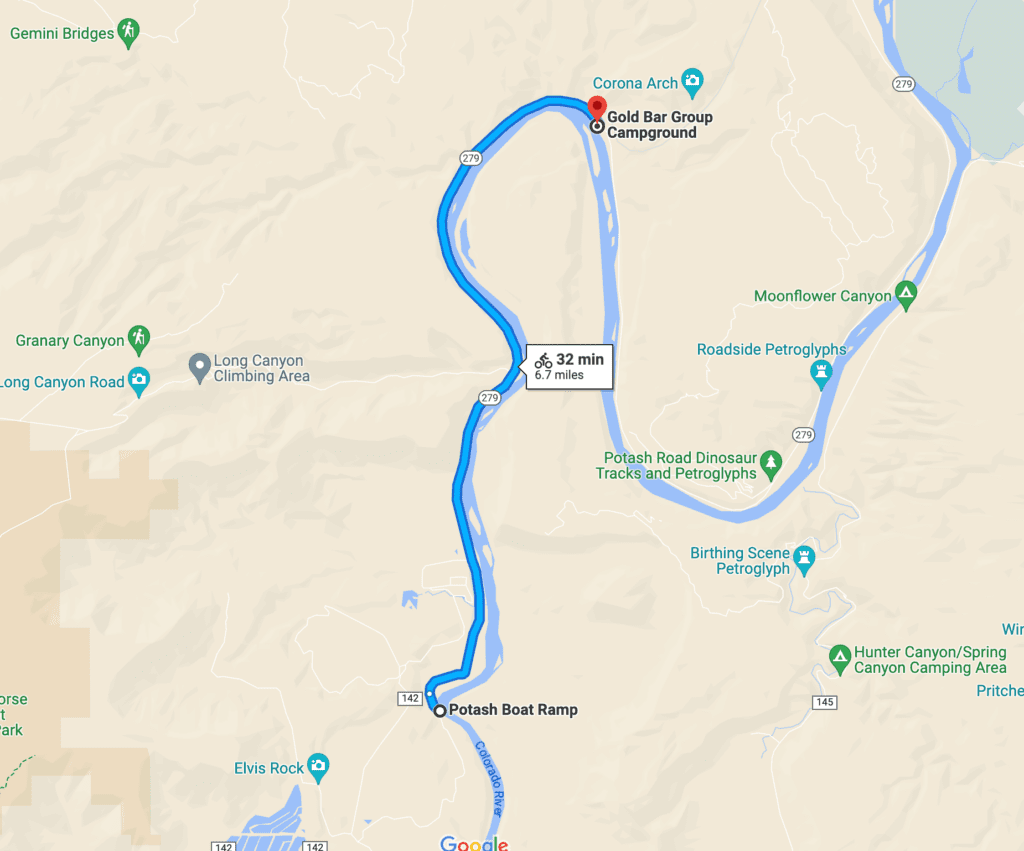 Bike Packrafting the Colorado River in Moab
We decided to put in pack rafts at the Gold Bar Campground. First, we inflated our rafts using the bag inflation system which took about 10 minutes per raft, some of our friends had pumps to inflate their SUPs and Kiteboarding gear which came in handy as well.
Next, was the process of strapping the bikes to the pack rafts carefully so that the chainring is facing outwards and doesn't cut into the rafts. We used four TripOutside gear straps to strap the components of the bikes to the provided carabineers and were ready to float down the river. There are a few more steps involved that require you to put cold water on the raft and inflate it to full capacity when you get in the water, but we'll save you the step-by-step instructions here 🙂
On our comeback list: We'd like to spend more time at this campground and go explore the Corona Arch Hike and The Jeep Arch hike on our next trip! Stay here, play here.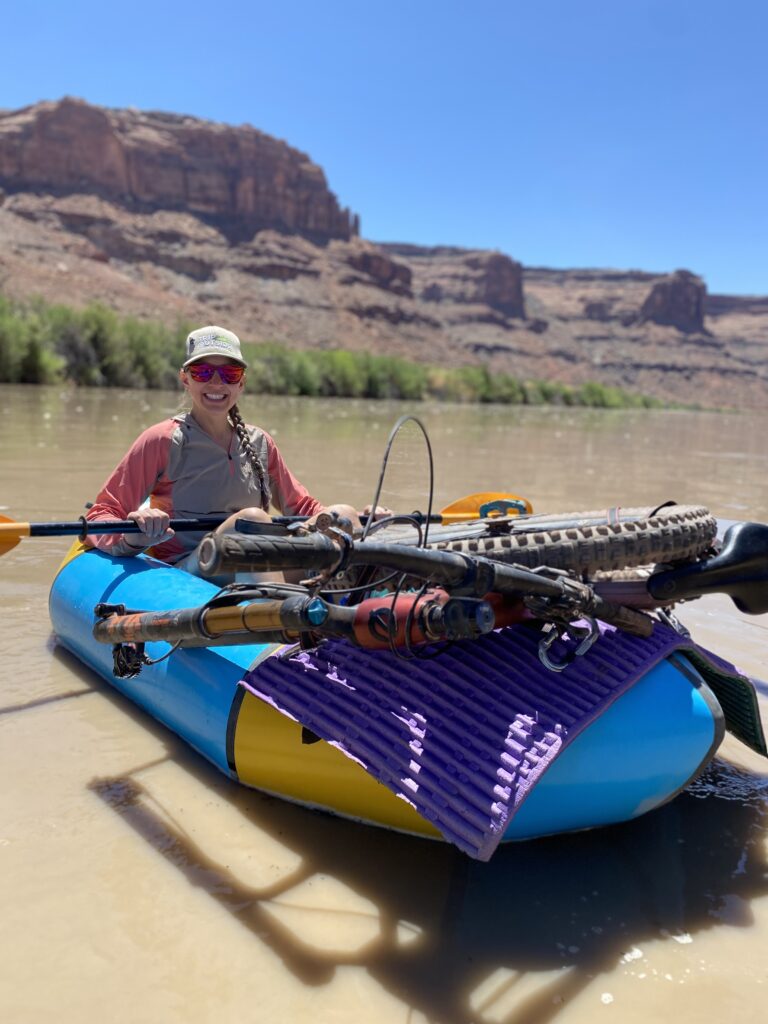 Consider taking a guided packrafting trip with the highest-rated local guides in Moab, UT. You can combine multiple adventures into one trip like canyoneering, mountain biking along packrafting.
The beauty of these guided trips is that you get off the beaten path, and find serenity and adventure away from the crowds.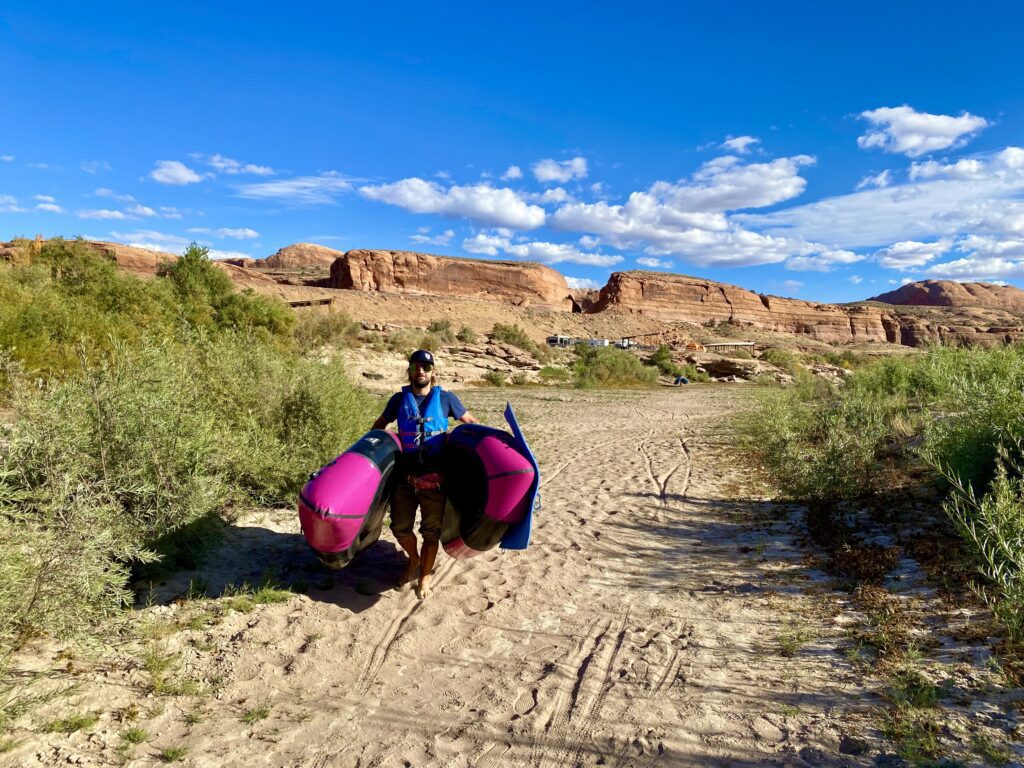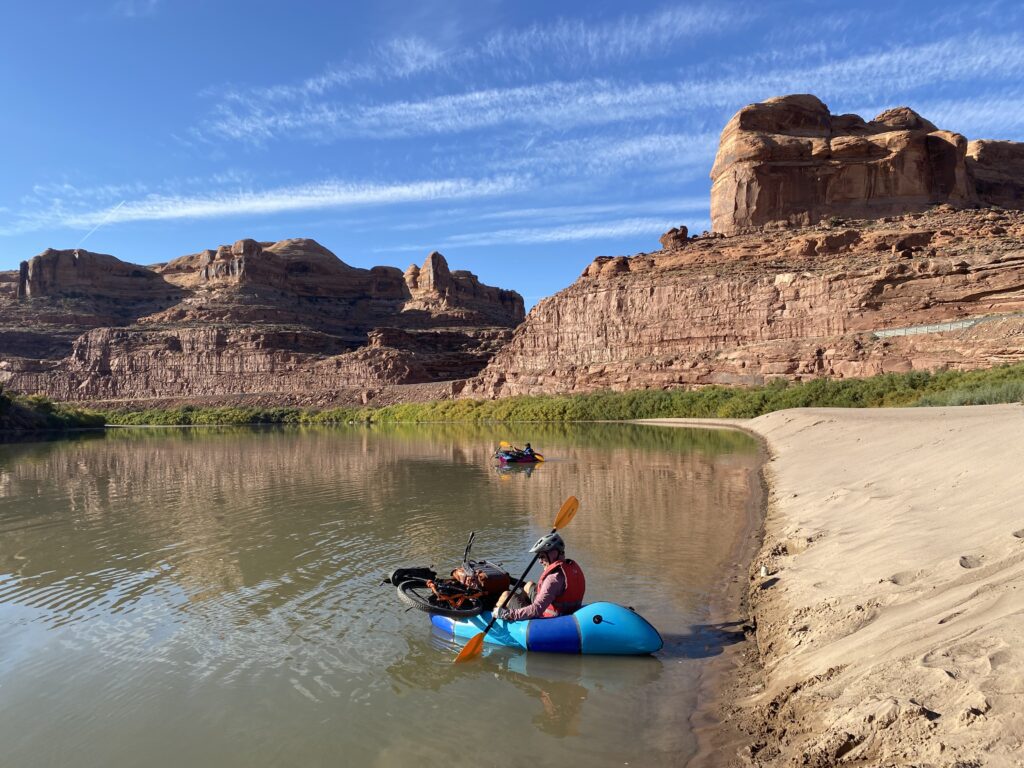 The Paddle
The float down the river was a super mellow, flat water paddle with breathtaking views of massive canyons and mesas surrounding us. The timing of the day was beautiful and the sun had lit up the red rock all around us. We knew that the 6.7-mile paddle would take a few hours and that our bike ride back would most likely be in the dark.
The Pedal
Our absolutely favorite thing about bike packrafting is the concept of eliminating the shuttle and doing a fully human-powered adventure! It's the absolute best way to keep the adventure alive, even when the paddle is over.
We finished our paddle at the Potash Boat Ramp, which was a large and paved boat ramp that was easy to spot. By the time we finished the paddle, the full moon was beginning to rise and the temps were starting to drop. It took us about 15 minutes to deflate the rafts, clean them up, roll them up, and strap them to our bikes. We threw on our headlamps and started a relatively flat, 6.7-mile bike ride back to the start at the Gold Bar Campground.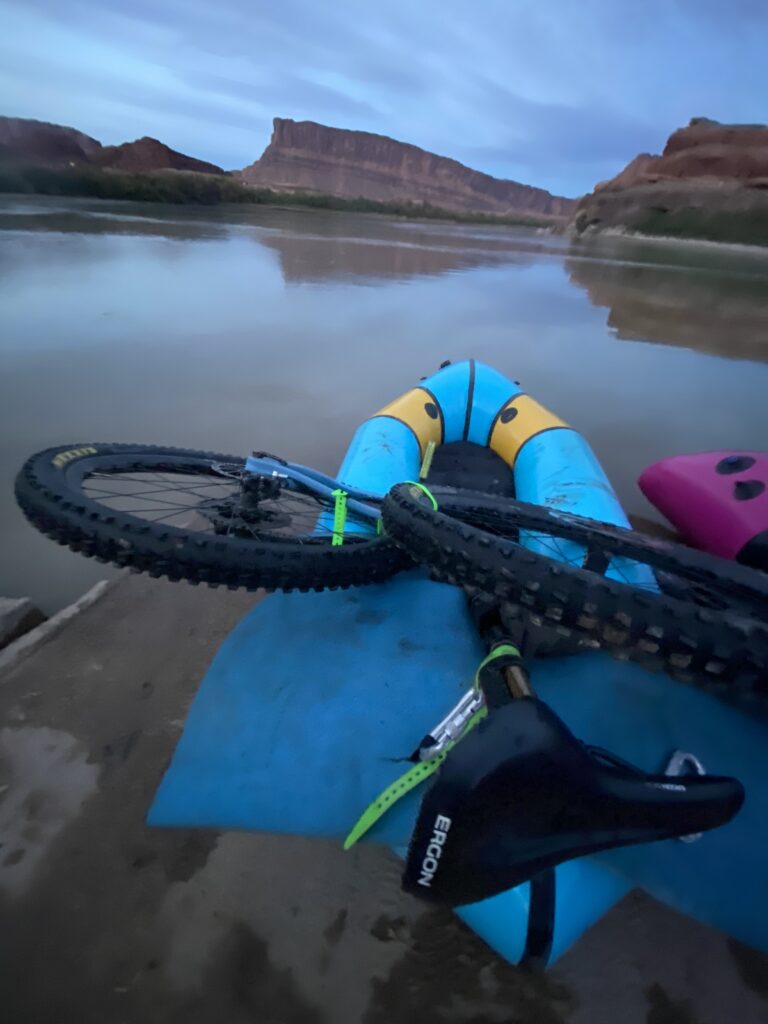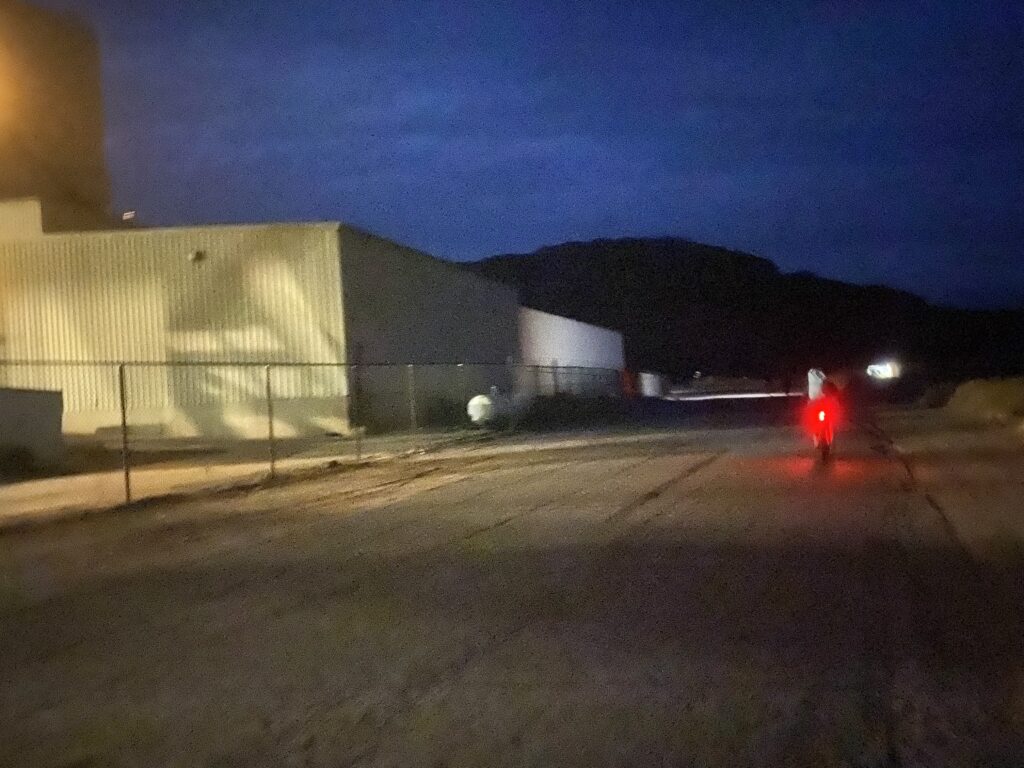 We've done some bigger bike packrafting trips that required off-road bike travel that we're excited to share with you soon!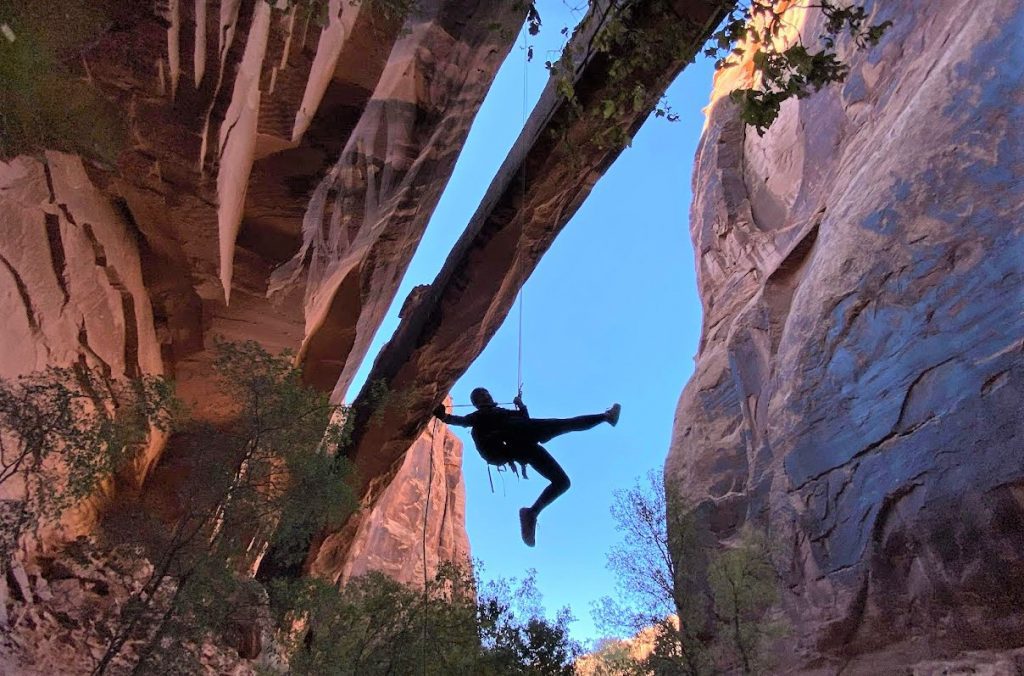 Paddle and rappel your way through Moab's stunning canyons! Experience the perfect blend of adventure and tranquility with our canyoneering+packrafting adventures.
Apres Adventures in Moab
A great way to finish the day was to head to Proper Brewing Company in Moab, grab some grub and finish off with their delicious vegan milkshake that we (barely) earned. For future trips, we would like to start our pedal out of here and finish here.

We hope that this article has inspired you to spend more time IRL with friends, away from the phones, unplugging, and creating new memories.
Check out our full list of outdoor adventures in Moab here.