Destination Guides: Best of Salida, CO
TripOutside's Destination Guides help you figure out the best things to do and places to visit on your next adventure. Check out our top Salida, Colorado activities –  from the best shops to the best trails, we've got you covered!
Best Bike Rental Shop
Subculture Cyclery offers a variety of bike rental options that makes it easy to ride the beautiful trails surrounding Salida. The shop is open 7-days a week and offers full-day bike rentals that include helmets, pedals, and tools if needed.  Subculture rents mountain bikes, cruiser/town bikes, kids bikes and e-bikes.
Best Trail
The hands down best trail in Salida is the Monarch Crest Trail.  This high alpine IMBA epic trail can be covered in snow until mid-summer, so plan your trip for July or later.  The full route requires a shuttle to the top of Monarch Pass and is 36.2 miles, but because this is a combination of several trails, shorter versions of this ride can also be done.  This ride is popular for its scenic beauty and high-altitude Rocky Mountain riding.  It is a famed Colorado ride for good reason – it starts along the Continental Divide, offers amazing 360 views and a lot of adventure.  It is also a long ride at high altitude, so self-sufficiency and preparation for extreme weather are required.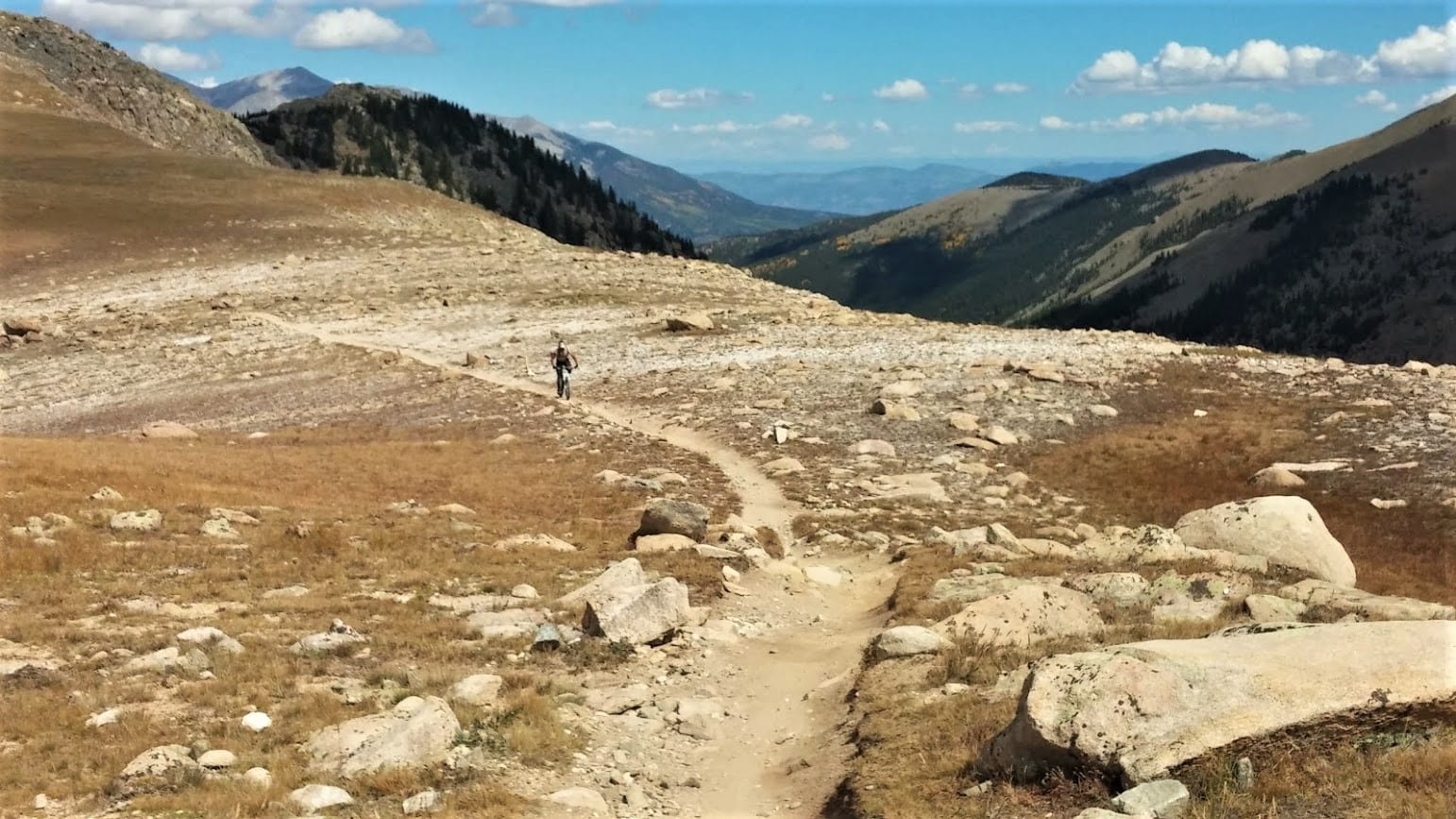 For a shorter loop or early season riding, check out the Backbone Trail, where you can create a lot of different loops from the main trail.  If you head to the east, you'll have a great view of the entire town of Salida. If you want to extend your ride, we recommend riding the full 23-mile Cottonwood Tour trail starting from town.  This fun tour starts with a 7-mile dirt road climb which bring you to some of the most fun riding we've done in a long time on trails like Rumba, Backbone and Sweet Dreams.  Some small technical sections will keep you challenged, and the flowing downhills will get your adrenaline pumping!  Bring lots of water – most of this ride is arid, rocky and exposed.

Best Paddle Shop
Dvorak Expeditions (DVK) is the place to go in Salida if you're looking to go whitewater rafting or to rent a kayak, SUP, or tube for a river adventure.  DVK will help you to make memories for a lifetime. They are conveniently located just outside of town near the Arkansas River.  They also have a location downtown Salida.  Check out the various options they offer from Class I – IV rapids, and book your rafting adventure online!

Best Place to Paddle
The Arkansas River offers a variety of places to paddle: whether you're a whitewater enthusiast or looking for a leisurely paddle down one of the calmer stretches. Brown's Canyon is a popular whitewater rafting trip, and Dvorak Expeditions runs fantastic daily adventures there.  For experienced kayakers looking to explore the rapids, some of the best-known ones near Salida are the Zume Flume, Staircase, Raft Ripper, Screen Door and The Numbers. If you want a more mellow section of the river to take a SUP or kayak, there are a few calmer areas of the river closer to downtown.  Big Bend is a popular put-in for a half day float to downtown Salida.  Rent an inflatable kayak from Dvorak, and they can help you determine the best launching point and take out based on your needs!

Best Restaurant
Moonlight Pizza & Brewpub: this awesome pizza joint had an added benefit – house brewed beers!  You can't beat pizza and a beer after a long day outdoors.  Their specialty pizzas and moonzones are pretty legendary, and they also have hot sandwiches and salads for those who aren't in the mood for a pie.  And it's guilt-free:  if you go on a Monday, 10% of their sales are donated to a local non-profit!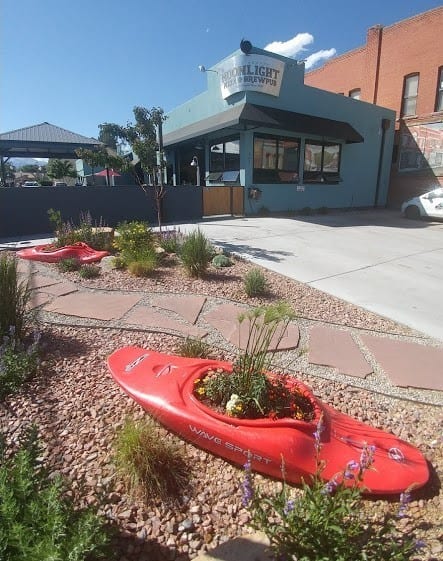 Runner Up: The Firefly Restaurant is a highly rated local restaurant that offers locally made beers and wines, and an extensive range of dishes with unique flavors. They can accommodate a variety of dietary restrictions with their scrumptious menu. The restaurant is open from Wednesday to Saturday, and has a great little outside patio.  But get there early – it fills up fast!
Best Bar
Sip the outdoor-inspired craft cocktails at the eclectic Woods High Mountain Distillery downtown Salida.  It can be difficult to choose just one from their menu of innovative cocktails and craft spirits.  They give tours daily at 4pm (reservations recommended).  The distillery is inspired by the outdoors -their goal is to bottle their passion for outdoor adventures into spirits that shine with the essence of the mountains of Colorado.  With a goal like that, what's not to like?
Runner Up:  If you're looking for drinks and snacks post Salida adventuring, Soulcraft Brewing is a must do! A soothing atmosphere with great music, beer, and food truck snack options. Don't miss out: happy hour goes from 3-5pm daily!
Best Coffee
Highly loved coffee plus mouthwatering food options makes Sacred Ground Coffee the place to go for your caffeine kick in Salida.   The shop is conveniently located on the Hwy 50 business loop through Salida.  Their drink selections are imaginative and tasty, and the laid back ambiance of the shop makes a perfect start to the day.
Best Free Camping:
Mt. Shavano Wildlife Area Camping is a great option to enjoy the beautiful Salida outdoors and being close to several activity options just west of Salida.  An abundance of privacy and beautiful views of the surrounding mountains makes camping here a great place for all kinds of campers – from backpackers with tents to larger RVs. The road into the camping area is single lane and steep in areas, but most vehicles can make it just fine.  There are many spots to choose from and fire rings at every site.  Just up the road lies many miles of great hiking options, including the 14,000+ foot summit of Mt. Shavano.  No RV?  No problem! Check out Outdoorsy for convenient, insured RV rentals all over the country – from vintage vans to Class A motorhomes and everything in between!

Best Hotel
If you'd rather stay at a hotel, the Palace Hotel is our choice in Salida.  This historic and elegant hotel occupies a beautiful red brick building on the Arkansas river in downtown Salida, and is steps from great dining, shopping and outdoor activities.
Best Time of Year to Visit
Shoot for visiting in early summer: late May to June can make you feel like you have the place to yourself!  Salida sits in a valley that is ringed by mountains on all sides which impacts its climate significantly.  It gets over 300 days a year of sunshine, and much lower precipitation than the surrounding mountains.  Most tourists come to Salida in summer in the warmest months of July and August.  Late summer and early fall is also a great time to visit, although there may be less opportunities for whitewater rafting due to the lower river levels at this time.  Winter is not nearly as cold or snowy in the valley, but Salida can get snow between December and May.  The average high in January is 49 degrees.
Closest Airport
For those flying to come and visit Salida, the closest airport is the Colorado Springs Airport (COS), located nearly 100 miles or a 2-hour drive to the east.  Shuttle options exist from the airport to Salida, and you can also rent a car.