Silverton, Colorado, is a gem of a mountain town, renowned for its awe-inspiring landscapes and rich cultural history. However, like many tourist hotspots, the influx of visitors can sometimes strain the local environment. The good news is that there are numerous ways to travel sustainably and minimize your ecological footprint while soaking in the beauty of Silverton.
Adventure Responsibly
One of the first things to consider when planning your trip is how to support local Search and Rescue (SAR) operations, which are often funded by volunteers. A great way to contribute is by purchasing a CORSAR card. This card helps fund rescue missions across Colorado and ensures that these vital services continue to operate effectively.
Burn calories instead of fossil fuels on your next trip to Silverton. Consider adventures like hiking, biking, or e-biking instead of renting an ATV or side-by-side. You'll help reduce noise and dust pollution from vehicles, reduce disruptions to ecosystems and wildlife, and enjoy the quiet serenity of the wild areas surrounding Silverton. You'll also be part of the parking solution as most of the parking at popular trailheads gets extremely busy during peak periods.
Adventure with a Local Expert
If you're new to the area, consider taking a guided tour with a local expert. Not only will you save time on research, but you'll also gain a richer experience. Local guides can provide insights into the culture, trails, wildlife, and more. For those interested, San Juan Expeditions offers a range of guided experiences that are worth checking out.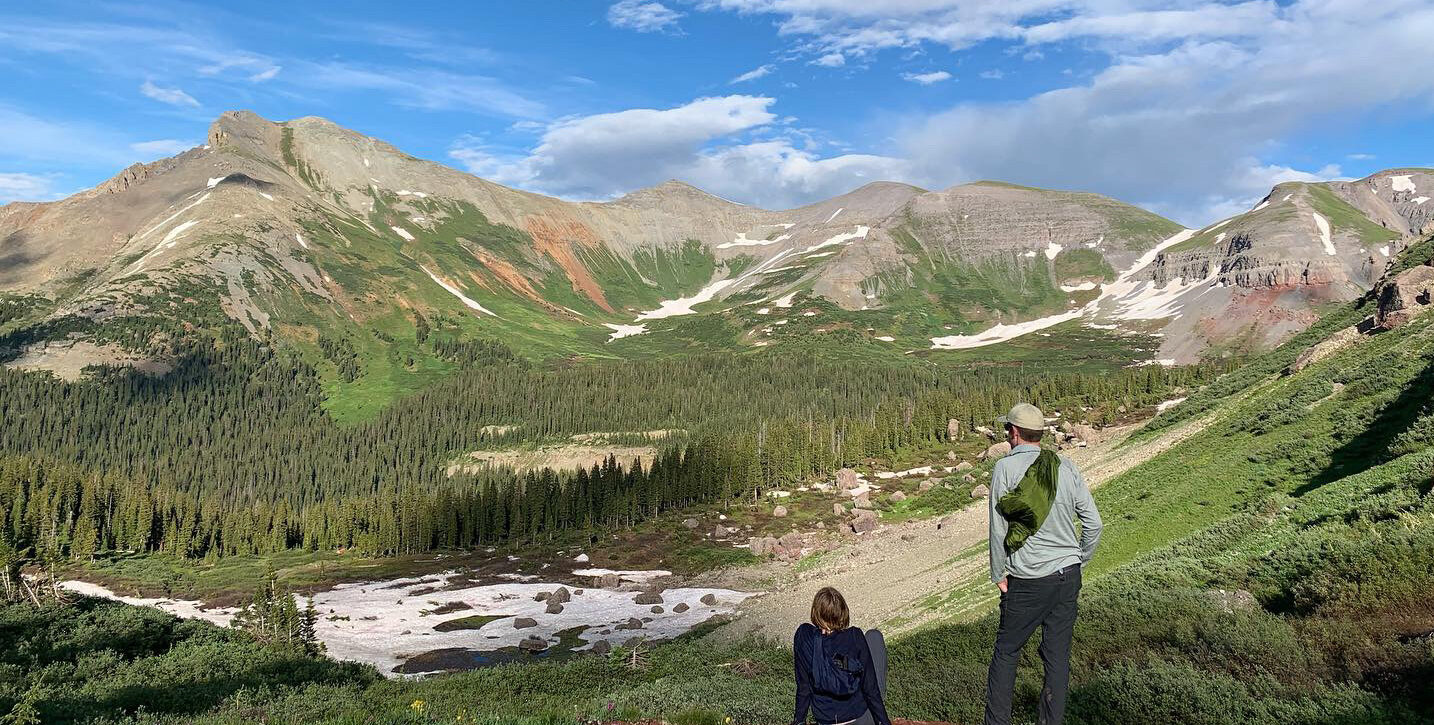 Slow Down
Life in bustling cities often moves at a breakneck pace, but part of the charm of small outdoor towns like Silverton is their laid-back, easy-going lifestyle. Slowing down not only allows you to absorb the beauty around you but also helps protect local wildlife, which can be endangered by speeding vehicles. Additionally, driving slower on dirt roads can significantly reduce dust pollution.
Use Public Transportation or Carpool
Consider taking public transportation or carpooling to Silverton to reduce your carbon footprint. In the summer months, The Durango Silverton Narrow Gauge Railroad is a popular option for visitors to Silverton and offers stunning views of the San Juan Mountains along the way.
In Silverton, most of the popular hikes are within a few miles and can easily be accessed by an e-bike. You can rent e-bikes in Durango and bring them along for your trip. If you do decide to drive, don't idle your vehicle and help keep the mountain air clean.
Shop Locally
Shopping locally is a win-win for both the traveler and the community. It keeps money within the community, supports local jobs, and often results in unique, handcrafted souvenirs. Silverton boasts a variety of local businesses that offer everything from metal-fabricated decorations to arts and crafts.
Leave No Trace in Silverton
When exploring the great outdoors in Silverton, be sure to follow the Leave No Trace Principles.

Dispose human waste responsibly
When nature calls, dig deep and know how to dispose of 💩 responsibly.

We've partnered with PACT Outdoors to offer you a 15% discount on their products to help you bury your poop in an environmentally friendly way. Discount auto-applied during checkout.
Reduce Waste
Bring a reusable bottle and coffee mug. The dumps and infrastructure in mountain towns like Silverton are small and limited. In order to grow the dump, you would have to dig up the beautiful mountains that we are all here to enjoy. Even if the infrastructure was there, we're really just moving trash from one place to another, so it's best not to create it in the first place.
We see overfilling trash cans with single-use items that can easily be avoided. It also helps keep the trash cans closed and helps prevent wildlife from getting into them. The Coffee Bear sells cute mugs, with the added bonus of bringing a piece of Silverton back home with you.
When packing for your trip to Silverton, consider bringing eco-friendly products such as reusable bags, utensils, and containers. This will help you avoid using single-use plastics and reduce your overall waste. MODL outdoor water bottles and Hydrapack are some of my favorites while traveling, and Hydrapak also collapses down to save precious packing space.
Respect Wildlife
You'll commonly find marmots, deer, elk, bears, and moose roaming in and around Silverton. As enticing as it is to get as close as possible to capture a picture for the 'gram, just know that our distance to these wild animals has a direct correlation to their future survival. Disturbing wildlife can cause them stress and drastically reduce their survival rates. Remember the rule of thumb: Close one eye, hold out your arm and put your thumb up. If you can cover the entire wild animal with your thumb you're at a safe distance.
Be Considerate of Others
Respect and consideration go a long way – whether it is in town or on the trail. We are all here to experience the natural beauty and charm of Silverton. We often forget to remember that regardless of our backgrounds and choices of recreation, we can work together to enjoy and care for the town that we all love. Uncontrolled pets, excessive music, and noise can take away from others' experience of nature.
Volunteer
Participate in citizen science with the Mountain Studies Institute
Mountain Studies Institute (MSI) is an independent not-for-profit mountain research and education center established in 2002 in Silverton, Colorado. MSI develops science that people can use to address environmental issues facing the San Juan Mountains. They conduct and facilitate research, provide educational opportunities and internships, and conduct environmental monitoring. They also connect scientists and stakeholders across the San Juan Mountain region to go beyond scientific inquiry to the meaningful application of knowledge that makes a difference in the quality of the environment and our communities.
Build trails with the Silverton Singletrack Society
Silverton Singletrack Society was founded in 2014 as a chapter of the International Mountain Biking Association, Silverton Singletrack Society is a non-profit, all-volunteer trail group dedicated to promoting mountain biking in Silverton and San Juan County.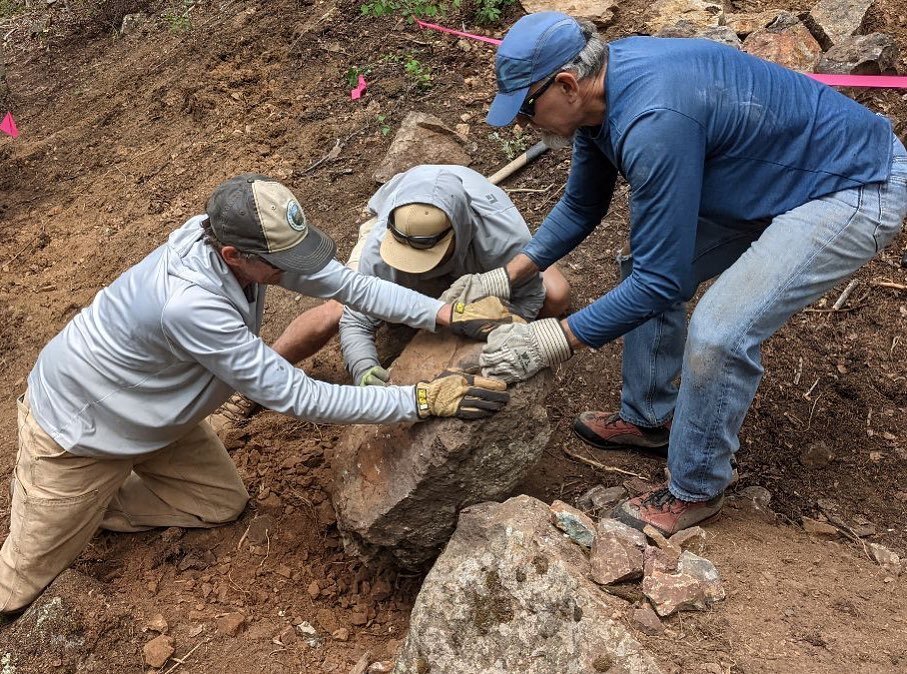 Visiting Silverton, Colorado, is an unforgettable experience, offering a unique blend of natural beauty, outdoor adventure, and local culture. However, the privilege of enjoying such pristine environments comes with the responsibility to protect and preserve them. By adventuring responsibly, choosing sustainable options, and engaging with the community in a mindful way, we can all contribute to keeping Silverton as enchanting for future generations as it is for us today. Let's make every journey a sustainable one.