Moab's 5 Best Intermediate Mountain Bike Trails
Taking a trip to Moab to experience its world-renowned mountain bike trails?  TripOutside has done the research for you!  Below are our recommendations for the top 5 intermediate Moab bike trails.  We have ridden every one of these trails and are only making these recommendations based on our own experience. These trails are all rideable in a day, with scenery varying from red rock towers to cliffs, canyons, and mesas.   Read on to find out more about how to experience Moab, Utah's best mountain bike trails.
One important note on Moab mountain biking trails. Intermediate trails here cannot be compared to intermediate trails in other places. The ratings are relevant only to the Moab region trails. Some of the intermediate-rated trails can feel like a black diamond / advanced trail if you're not used to riding the rocky terrain. Having said that, most of the trail networks have a great mix of beginner, intermediate, and advanced trails. If you're looking for a trail system that has lots of options for everyone, we recommend the Bar-M (also known as Moab Brand trails) or the Klondike Bluffs trail system. You'll find everything from buttery smooth to extra spicy trails here.
Consider supporting our work: If you need to rent a bike for your adventure, please consider comparing bike rental prices and book online on TripOutside. You don't pay anything extra, we get a small fee from our partner shops.
1) Navajo Rocks Loop
The Navajo Rocks loop trail system is an easy 25-minute (20-mile) drive from Moab – you head north on highway 191 and turn West on highway 313.  The popular loop combines 5 incredible trails for 17.4 miles of flowy singletrack with lots of short climbs and descents but nothing too intense.  As you ride, you will hug a huge mesa on the Big Mesa trail, ride Slickrock domes on Ramblin, hit some rock gardens on Rocky Tops, shred the downhill on Coney Island, and pedal exposed slickrock on the Big Lonely.
The loop is a figure 8 shape, making it easy to cut it short and ride only half if you are crunched on time or energy.  The entire 17 miles are one of our favorite intermediate trails in Moab since it includes lots of flowy singletrack with some technical sections dispersed throughout, which are easily walkable for beginners and a nice challenge for intermediate riders.  The scenery can't be beaten – you will be surrounded by the famous Moab red rock for much of the ride. Don't forget to bring tons of water, you will need more than you think! See trail on Trailforks.

2) Klondike Bluffs: Dino Flow & Alaska Trail
The Klondike Bluffs trailhead north of town on highway 191 has something for everyone – from beginner to expert.  Our favorite intermediate trails at this trail system are Dino Flow and Alaska trails.  We spent a week camped at the BLM nearby and were able to ride every trail, and they are all pretty fantastic, but these two specifically shouldn't be missed.
Dino Flow provides a great warmup with no long climbs or descents – just a fast, flowy 5.4-mile  singletrack that snakes between boulders with several slickrock sections.  It is a ton of fun in either direction.  We rode the Alaska trail uphill, which was a fun little workout, but may be even more fun downhill for those looking for speed.  There are some flowy sections with big boulders thrown in to remind you that you are in Moab, but the scenery was some of the best we've encountered anywhere.  When you get to the top of Alaska, you ride along a ridge with incredible views for miles across the remote northern side of Arches National Park that many don't see.  To finish the loop, take Mega Steps (intermediate/advanced) or Baby Steps (beginner/intermediate) back down. See trail network on Trailforks.

3) Amasa Back: HyMasa Trail
The Amasa Back trails are some of the closest trails to town (rideable by bike) and what HyMasa trail lacks in distance (1.8 miles one way), it makes up for in views.  Intermediate riders can ride Lower HyMasa, part of Cliff Hanger (advanced trail but easily walkable if needed), and then HyMasa for a 2.5 mile ride, and then turn around and ride it back for a whole new view.  More advanced riders can make it a loop by connecting HyMasa to Captain Ahab – a rocky, technical trail that will challenge most riders.  The views of the surrounding Kane Creek area are spectacular – high red rock walls and buttes with the La Sal Mountains peeking out from behind. See trail on Trailforks.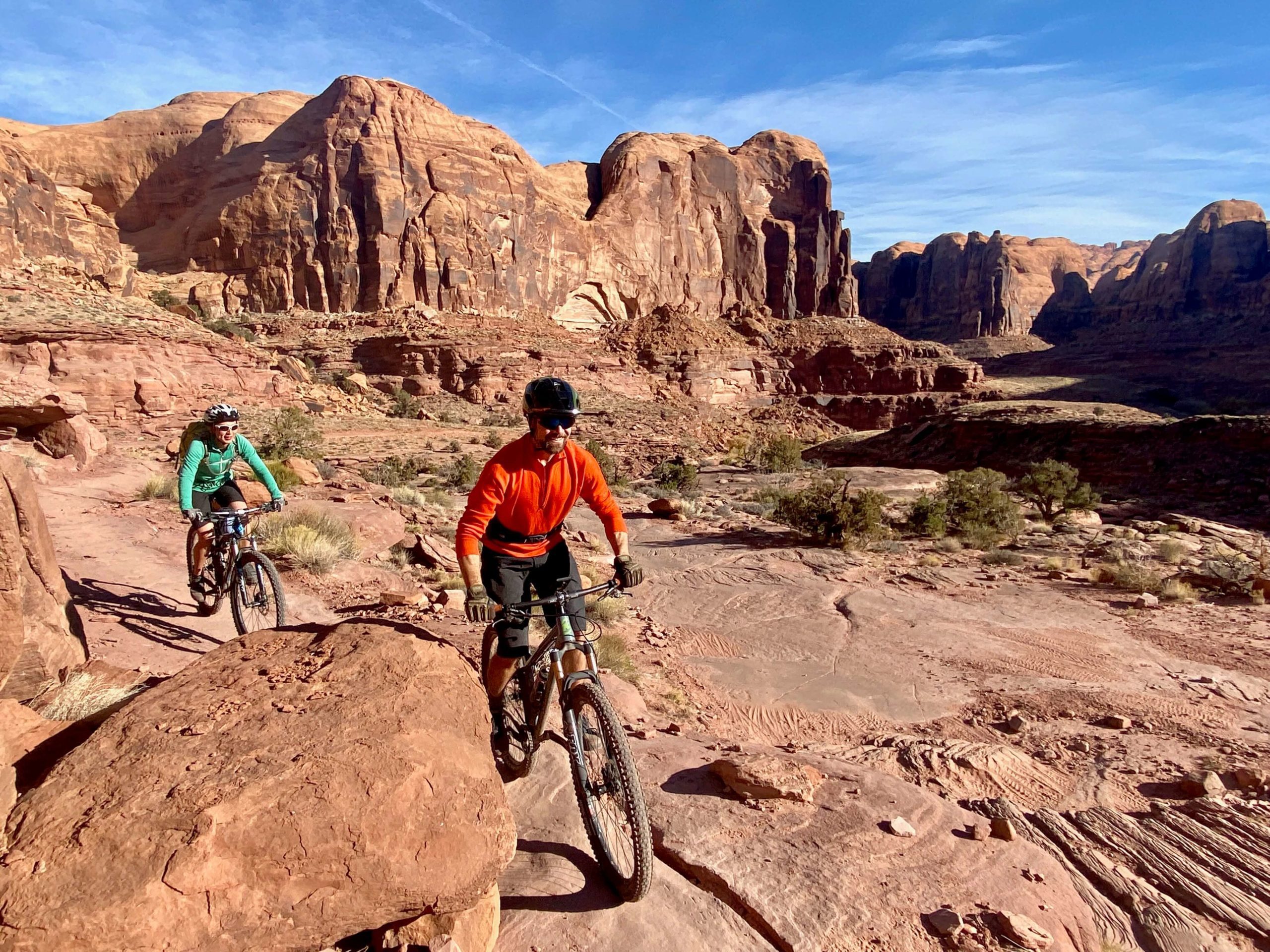 4) Moab Brand Trails: North 40 & Circle O
Moab Brand trails is a relatively newer trail system in Moab, and is one of the closest to town, just 11 miles north on highway 191.  Also called Bar M trails, the system features about 40 miles of singletrack for all levels of riders.  Most trails are flowy with little climbing but lots of fantastic slickrock riding.
There are mostly beginner and intermediate trails here, with one 3-mile advanced trail, Deadmans (a fun trail with several rocky sections that can be easily walked if needed). North 40 is a great intermediate loop that takes you through quintessential Moab terrain – some rocky areas and short punchy hills with just enough technical sections to get you warmed up.   It's a blast ridden either way.   Circle O trail brings you to quite a different terrain – out onto the slickrock where you follow the painted line on the rock while taking in views of Arches National Park in the distance. See trail network.

5) Porcupine Rim (on the difficult side of intermediate)
We would be remiss if we didn't include Porcupine Rim in our list, although it is more of a challenge than the other rides on the list.  Porcupine Rim trail is the last section of the Whole Enchilada – an epic, 34-mile ride that starts high up in the La Sal Mountains at 11K feet, and descends almost 8K feet to the Colorado River.  The entire Whole Enchilada trail is best to ride late in summer or early fall when most of the snow at the top has melted, whereas the 14-mile Porcupine Rim trail can be ridden most of the year.  Most people shuttle to the top, and there are several shuttle companies in town to choose from.
This must-ride trail in Moab is mostly downhill and can typically be ridden in an hour or two, but taking in the stunning views of the Castle Valley can extend the ride.  Parts of the trail are doubletrack, and parts are fast, rockin' downhill with technical rock gardens along the way.  This backcountry ride starts in the pinon pines and descends down many broken slickrock sections (we recommend renting a full suspension bike for this ride!) to several overlooks that allow 360-degree views across the sandstone landscape.  From there the trail turns to tight, twisty singletrack with techy rock sections scattered throughout and glimpses of the Colorado River far below. You finish the ride at the river near Grandstaff Trailhead, and can take the paved path back into town. See trail map.
6) The Mag 7 Trail Network (non-shuttle)
We love doing this course as a loop and finish with a strong climb back to the start. It's the opposite on an enduro loop where you start heading downhill right away with fun flowy and techy sections and finish the ride with a climb.
This route begins at the Gemini Bridges trailhead, conveniently located off Highway 313. Here's a summary of the trail:
Getaway Top Trail: This trail serves as the initial section of your journey, connecting the parking area on Highway 313 to the beginning of Bullrun. It's a sweet singletrack trail that offers a much more enjoyable experience compared to riding on Gemini Bridges road.
Bullrun: Bullrun is an outstanding trail known for its diverse terrain, featuring a mix of rocks and dirt. It offers a playful flow and is rated as intermediate technical. Along the way, you'll be treated to excellent views of Bull Canyon as you ride along the rim, with picturesque vistas of the LaSal mountains and Arches to the east. It's worth noting that this trail is primarily designed for downhill riding and may have high-speed downhill traffic.
Great Escape: This fantastic trail offers a good flow on mostly rocky terrain with some dirt sections. It's suitable for riders with intermediate technical skills and provides a moderately strenuous experience.
Return to Parking Lot: To return to the parking lot, start by heading back on Little Canyon, which consists mostly of sandstone and rocky transitions. This trail offers some tight turns and great views, making it a fun ride. Additionally, Little Canyon provides access to lower Gemini Bridges road.
On the way back, you can always opt to bail out on the Gemini Bridges Road to ride it all the way back to the start.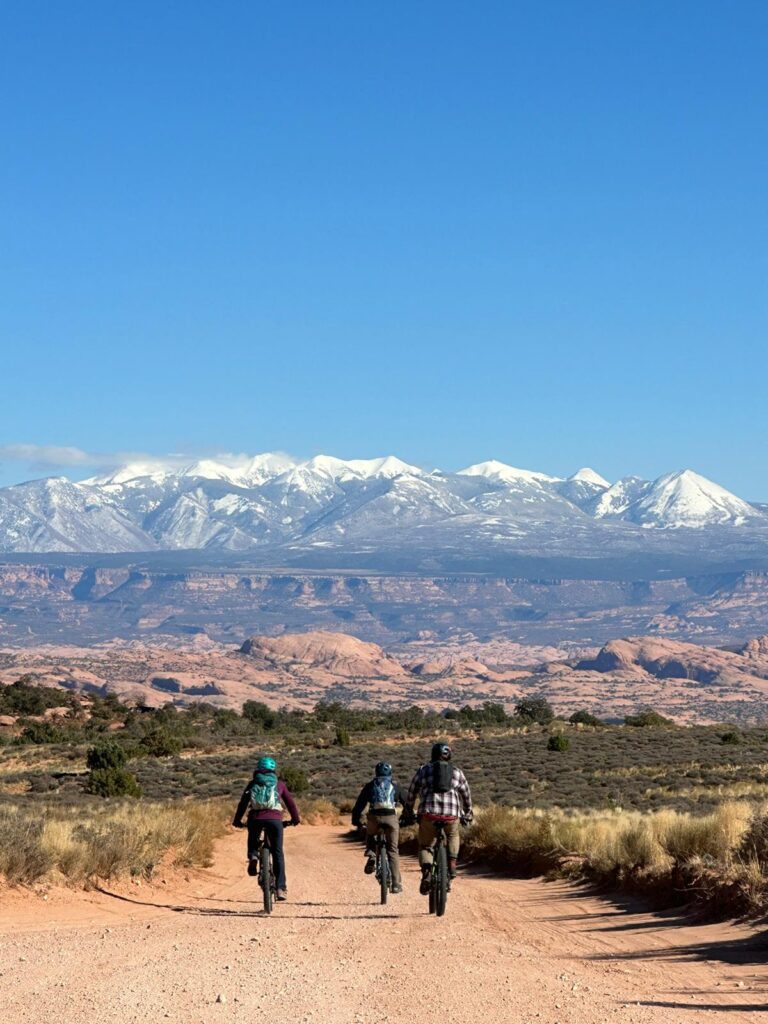 Whichever trail you choose, Moab trail systems will not disappoint.  Enjoy your ride!
If you are looking for more outdoor adventure in Moab, check out our climbing, canyoneering and rafting trips!