National Parks and mountain towns across the country are suffering from overtourism, in part due to the impact of social media. Limited funding for National Parks can't keep up with the number of visitors. Impacts are seen far and wide – from increased litter and pollution to inexperienced tourists getting too close to wildlife.
We are with you! We want to travel and see our country's incredible wild places, but don't want to add to the tourism problem. In this article we bring you fantastic, off-the-radar wilderness areas nearby some of the most popular National Parks that pack the same punch but lack the crowds.
An added bonus is the outdoor recreation opportunities in these marvelous destinations. National Parks can be limited in what outdoor recreation is allowed, so finding adventure hubs near the National Parks allows for more recreation.
Awesome Alternatives to Over-Visited National Parks
Considering Grand Teton National Park? Head to Pinedale, WY!
Skip the crowds at Grand Teton and explore the nearby but much lesser known Wind River Range instead. This mountain range sits just outside the charming town of Pinedale, WY, just 1.5 hours from Jackson Hole. It has 19 of Wyoming's 20 highest peaks, 7 of the largest glaciers in the Rocky Mountains, over 2,300 lakes and it spans the Continental Divide. The adventure opportunities are endless. Climb one of the 40 named peaks over 13,000 feet, paddle a crystalline high alpine lake, rock climb one of the sheer granite peaks, backpack the infamous Winds, or mountain bike the Continental Divide trail. Need a bike? Rent online from Geared Up bike shop, right downtown Pinedale.
Wildlife is plentiful in Pinedale – moose, grizzlies, wolves and pronghorn are among the many species that you may see. After your adventure, visit the Wind River Brewing Company downtown Pinedale to try their fantastic in-house brews.
There are many camping options on the numerous lakes in the area. Our pick is Soda Lake, which has free camping spots perched on the lake shore, complete with fire rings and bathrooms. Pinedale is a well-kept secret to saving money, avoiding lines, traffic and hordes of tourists and still experiencing some of the best outdoor adventures Wyoming has to offer.

Considering Yosemite National Park or Tahoe? Head to Downieville, CA!
Avoid the masses in Tahoe and Yosemite and make your way an hour and a half north of Tahoe through the Sierras to the quaint town of Downieville. A former mining town nestled in the scenic Sierra Nevada range, Downieville has been revitalized into an adventure hub. The surrounding mountains have world class mountain biking and hiking, and the South Yuba River runs through town and offers excellent whitewater rafting, fishing and paddling opportunities. The Downieville Classic is a well known mountain bike ride in the area. Downieville Outfitters rents bikes and runs a shuttle to the top of the Classic.
Downieville has several great restaurants and bars to relax after your day of adventure. The best part about it is that you will feel like you have the trails, rivers and lakes all to yourself. Several beautiful National Forest campgrounds lie along the river on Highway 49 as you drive into Downieville from the west.

Considering Arches National Park? Head to Canyonlands National Park!
Arches National Park is closer to the town of Moab and sees many times the number of visitors that Canyonlands National Park sees. Arches is truly spectacular! But when you are tired of the crowds, drive a bit further to Canyonlands for an adventure all to yourself.
Canyonlands has three main sections divided up by the Colorado and Green rivers, each offering a unique opportunity to explore. You can check out all three: Island in the Sky, The Needles, and The Maze. Each offers a different type of isolation. The Confluence Overlook is a remarkable hike in the heart of Canyonlands. It leads hikers to a vista overlook of the confluence of the Green and Colorado rivers.
Canyonlands is the perfect location for a number of outdoor opportunities; pick up a bike rental in Moab and hit the scenic roads throughout the National Park like the famous White Rim Trail. Canyonlands is also known for rafting and paddling.
Squaw Flats campground in the Needles district offers beautiful camping spots set amid the red rocks that the Park is famous for. Canyonlands is for those who truly want to get off the beaten path and enjoy Utah wilderness. Make sure to stock up on water, groceries and gas before you leave Moab – Canyonlands is very remote and has no facilities!

Considering Yellowstone National Park? Head to Driggs & Victor, ID!
Surprisingly, Idaho itself doesn't have any National Parks. However, don't let that stop you from visiting this spectacular state. The wilderness areas, wildlife, high peaks and outdoor adventure in Idaho can't be beat! After you've had enough of the Yellowstone and Grand Tetons crowds, make your way over Jackson Pass to the town of Victor, where outdoor adventure is abundant.
There's a reason mountain biking near Victor is known as the wild west of mountain biking, grab a bike at Fitzgerald Bike Shop and find out. Another great adventure option is kayaking or paddle boarding the Teton River. This calm, meandering river is popular with moose and has unbeatable views of the famous Tetons. If you're up for an incredibly scenic but challenging hike, we recommend traversing Table Mountain. The trail gets unbelievably close to the Tetons with astounding views. Teton Canyon Road on the way up to Table Mountain offers free camping in Alta, Wyoming with superb views of the Tetons. Jackson Hole Airport is just 30 minutes from Victor and around 45 minutes from Driggs.

Considering Zion National Park? Head to Hurricane, UT!
The crowds at Zion National Park are an indicator of how beautiful southern Utah is. Zion National Park is one of the most visited National Parks in the country! Fortunately, there are plenty of remarkable places to visit outside of the National Park with just as outstanding scenery and perhaps even more outdoor adventure opportunities.
The nearby town of Hurricane has a number of adventure options from mountain biking the high mesas to paddling the beautiful Quail Creek State Park. The intermediate level Wire Mesa mountain bike trail is the perfect combination of winding singletrack and astounding vistas over Zion National Park. You will drive up the mesa to the trailhead, and ride a loop high above the red rocks. Unbelievable views stretch for many miles. Canyoneering opportunities are plentiful in the slot canyons around the Hurricane area. The best way to try out canyoneering is taking a guided course or trip with a local outfitter. For free camping near Hurricane, Sheep's Bridge Road offers awe-inspiring views of the surrounding red rock and allows camping for 14 days!

Considering Great Smoky Mountains National Park? Head to Nantahala National Forest!
Great Smoky Mountains National Park is America's most visited National Park. Seeking outdoor adventure and an escape from the hubbub of the Smokies? We recommend visiting the Nantahala National Forest instead. Bryson City is a great adventure base in North Carolina on the outskirts of the Nantahala National Forest just south of the Smokies.
The Nantahala area boasts endless outdoor adventure from world class mountain biking and rock climbing to whitewater rafting and paddling on its famed rivers. The forest encompasses 3 different wilderness areas and over 600 miles of different trails for hiking, mountain biking, or horseback riding. The Appalachian Trail passes right through here, and you can experience one of the more scenic (and challenging!) sections on the 16.2-mile hike from Nantahala River to Cheoah Bald. Whitewater rafting class II and III rapids on the Nantahala River is a must-do family friendly adventure.
The Nantahala area also has fantastic mountain biking. A nearby favorite is the Tsali mountain bike trails – four stellar singletrack loop options with shorter and longer trails available for various levels of riders. Tsali campground is adjacent to the bike trails and offers 42 campsites from April through October. Sites are available on a first come, first served basis and some accommodate small RVs, but no hookups are available. We recommend visiting Nantahala National Forest in summer for prime water sports season. Alternatively, the fall allows you to witness the beautiful leaf show.

Considering Grand Canyon National Park? Head to Grand Staircase Escalante National Monument!
Already visited the Grand Canyon and looking for something a little quieter? Grand Staircase Escalante was declared a National Monument in 1996. The Monument lies about 1.5 hours north of Grand Canyon's North Rim, and is known for canyoneering, camping and hiking. Explore the 200-million-year-old area for yourself and see the incredible cliffs, canyons, bridges and arches. You could spend days exploring the many hiking options through the slot canyons of Grand Staircase Escalante. It would be challenging to find a more scenic, remote and rugged place to hike. Buckskin Gulch is one of the world's longest slot canyons and was carved by the Escalante River. There are a variety of hikes to choose from ranging from beginner through difficult to explore this extraordinary red rock paradise.  If you are looking to SUP or kayak, check out Lake Powell Paddleboards for an incredible experience paddling the lake and it's slot canyons!
The best time to visit the Monument is late March through June and early September through October. Weather conditions and water temperatures are generally most favorable for hiking slot canyons during these times. An often-overlooked slot canyon is Zebra slot canyon, 8 miles down Hole in the Rock Road from the town of Escalante. It's an easy 5-mile hike through a stunning zebra-striped slot canyon. Check out camping options such as Calf Creek Campground or Deer Creek Campground to be in the center of it all.

Considering Rocky Mountain National Park? Head to Grand Lake, CO!
Avoid the busy Estes Park side of Rocky Mountain National Park and stay at serene Grand Lake instead. The lake resides on just outside the western park entrance. It offers tons of opportunities for hiking, biking, wildlife watching, and incredible scenery. Some of the best hikes near Grand Lake area follow along the Grand Lake East Shore Trailhead. For experienced hikers, we highly recommend the Mt. Ida hike. This trek climbs almost 2500 feet to the top of 12,889-ft Mt. Ida and has some of the best views in the park.
Grand Lake is a great place to launch a kayak or paddleboard to explore the shores and look for moose. Moose also like to gather along the Colorado River in the Park. You can camp for free for a few nights at Stillwater Pass or pay a small fee for the beautiful campgrounds just inside the West entrance of the Park. Both are great options to beat the crowds of the eastern side of Rocky Mountain National Park.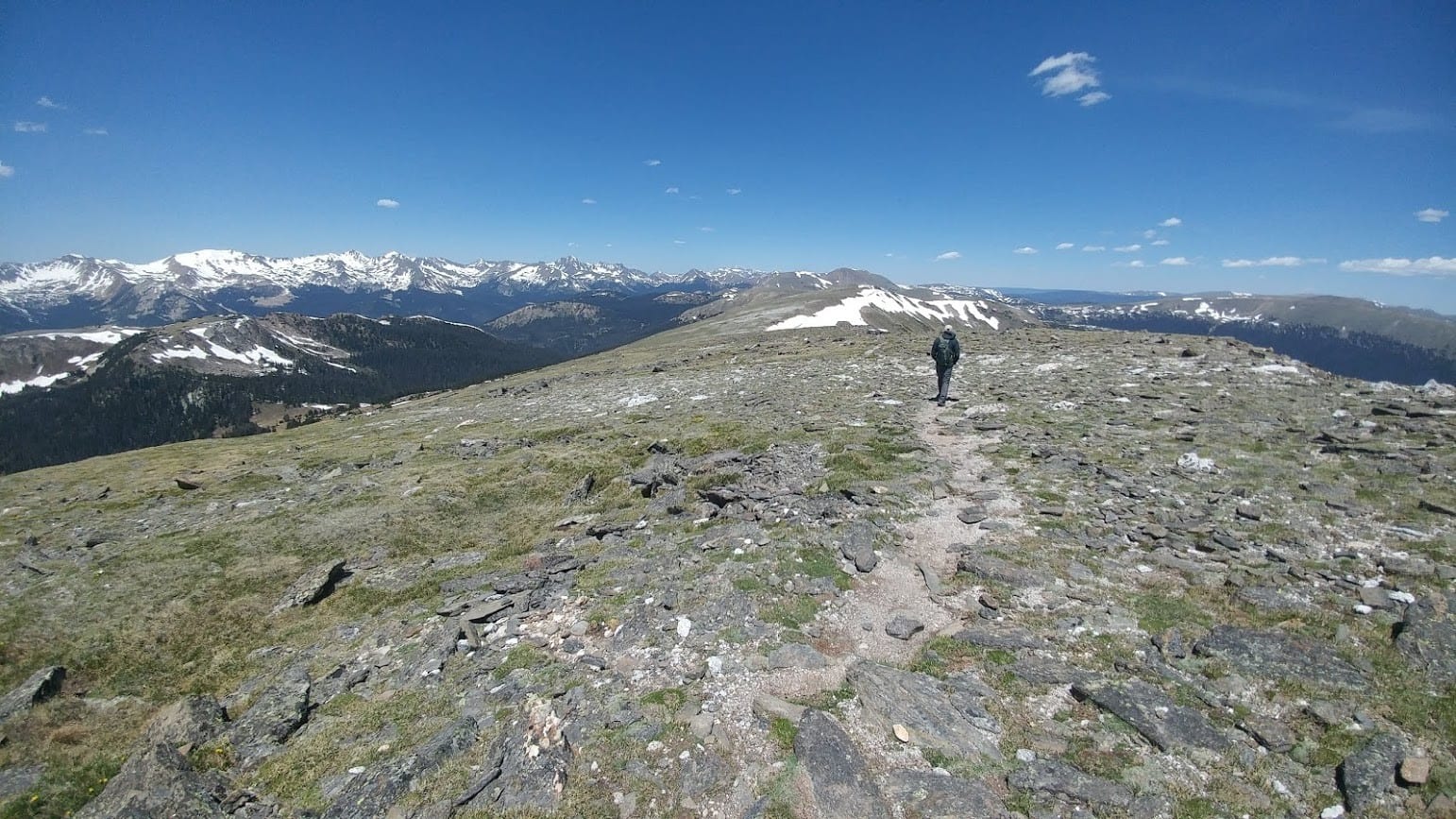 No matter which National Park, National Forest, Wilderness Area or natural area you decide to visit, make sure you follow Leave No Trace principles, and recreate responsibly outdoors to ensure our wilderness areas stay pristine for generations to come.