Utah is already on the radar for many outdoor enthusiasts, and this spectacular state is truly an epic outdoor adventure playground. Many visitors associate Utah outdoors with its five stunning National Parks with their iconic red rock landscapes. One could spend years exploring these five parks alone. Nevertheless, Utah has over 22 million acres of public lands making up almost 42% of the state and is ideal for outdoor exploration far beyond the National Parks.
Here are 18 incredible outdoor activities to get out and explore our Utah public lands! We recommend renting an RV and visiting each of these incredible Utah spots on a road trip.
Mountain Biking Utah's Famous Red Rock
One of the top Utah mountain biking destinations is the world-renowned Moab area. Moab offers numerous trails from beginner to extremely technical through the various rock features this area is famous for. We recommend visiting in the late spring/early summer (April through June) and the fall (September to October) for the best riding weather. Moab can get very hot in the summer, so be prepared! If you are visiting during the summer, many bike rental shops will allow you to ride only early in the morning. Temperatures typically cool off at night since it's the desert, but there is little shade during the day.
Rent a Scott mountain bike online from Rim Cyclery, located right downtown Moab with top quality mountain bikes and experienced staff. It's one of the oldest bike shops in Moab!  Or check out Doubledown Bike Shop, which carries bike rentals from Revel, Norco and Niner, and is the newest bike shop in town.
To get to Moab, the closest major airports are Grand Junction Regional Airport (70 miles away) or Aspen–Pitkin County Airport (150 miles away). Alternatively, Salt Lake City is 234 miles from Moab.
2. Park City Mountain Biking
Park City is another amazing place to mountain bike – you will never get bored with all of the different options available. The surrounding area has over 450 miles of trails to explore and varying terrains from easy and flowy to technical downhills passing through incredible scenery. Park City has something to offer for every type of rider! It's no wonder why Park City is rated one of the top mountain biking locations in the U.S.  We even featured Deer Valley bike park in our top 10 top downhill bike parks list!
The best time to visit is from late May through September, sometimes extending to October depending on the weather each year. Park City is located just 32 miles southeast of Salt Lake City, and it is possible to fly into Salt Lake City and rent a car, take a bus or shuttle, and be in the mountains in under an hour!
Renting a bike for your trip to Park City is easy with these top rated outfitters.

If you're heading to Salt Lake City, there are also many options to hit the trails just outside of the city! We recommend heading to Salt Lake for your bike trip anytime between April and October, to enjoy their beautiful summer weather.  You can fly directly in and out of Salt Lake City and either stay in the city and do day trips to bike the nearby Wasatch Range, or find accommodation outside of the city limits and closer to your preferred trails.
Rafting Utah's Mighty Rivers
In addition to incredible mountain biking, rafting in Moab is also a must-do outdoor adventure. Explore the beautiful scenery of the Colorado River and its infamous canyons, red rocks, and buttes. Rafting in early summer is best for whitewater opportunities, while later in the summer the water is calmer and temperatures are warmer.  Booking a rafting adventure with Paddle Moab let's you choose between everything from multi-day class III and IV whitewater trips to scenic Class I and II floats through Moab's spectacular red rock scenery. Their shop is conveniently located in downtown Moab, minutes from the Colorado River.
Packrafting in Moab is another fantastic way to take in the spectacular scenery.  Desert Highlights, Moab's original canyoneering guide service, also offers packrafting tours.  Packrafting adventures are one of the best ways to enjoy the infamous Colorado River as it carves it's way through Moab's red rock.
Packrafts are lightweight, one-person inflatable boats that can be rolled up and packed into a backpack, allowing you cherry pick sections of the river that best suit your floating desires.  It also allows you to combine rafting with hiking and mountain biking adventures. Whether you have zero boating experience or are a whitewater aficionado, you're sure to have a blast in these versatile  boats. From relaxing flat-water to Class I, II and (sometimes) III rapids, they can cater to your idea of fun on the Colorado.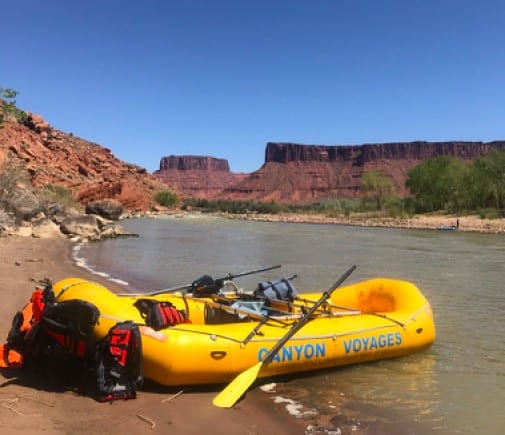 If you're staying near Moab, Canyonlands National Park is a phenomenal destination for rafting, kayaking and stand up paddleboarding. You can plan a half day or full day trip to explore the beautiful canyons and red rock towers of the Green River or the Colorado River. Both rivers meander through the park and join at an impossibly beautiful convergence. Your trip to Canyonlands can be booked online with Paddle Moab, located in downtown Moab. Moab is one of the best adventure playgrounds in Utah – outdoor activities abound!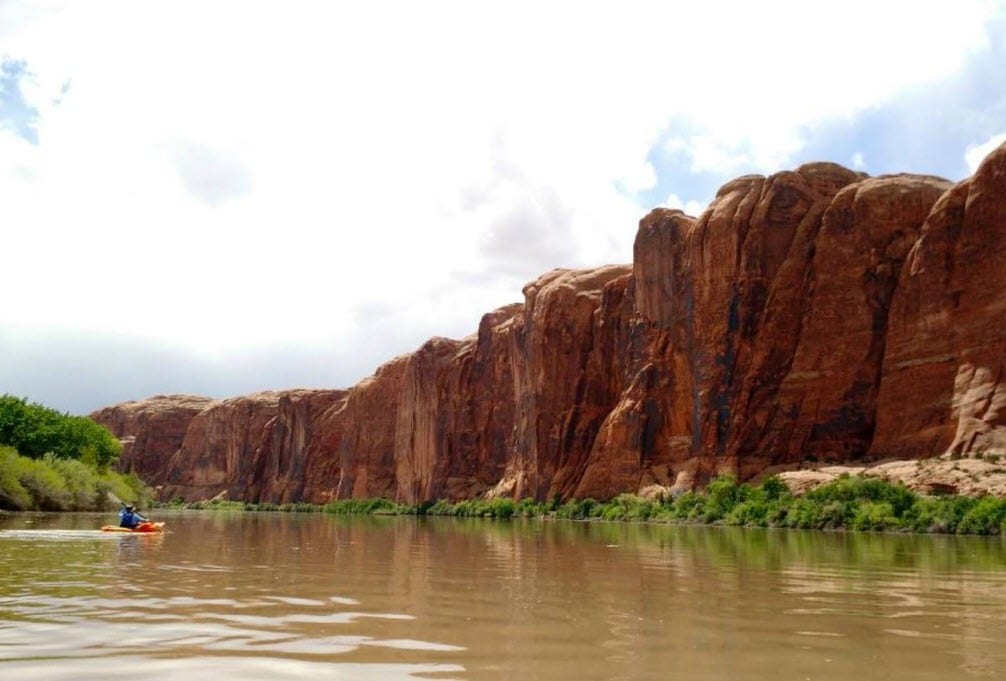 Not only is Park City a great destination for mountain biking, you can also raft in the summer months. Book a rafting trip online with Exclusive Excursions to explore the fantastic scenery and light rapids of the Provo River. The river is just 35 minutes from Park City and shuttles are included in the trip. Summer months from June to August are the best months to explore what the Provo River has to offer.
Skiing or Snowboarding the "Greatest Snow on Earth"
7. Hitting the Slopes at Brighton or Solitude Ski Resorts
Both Brighton Resort and Solitude Mountain Resort offer incredible opportunities to experience Utah's famed "greatest snow on earth". The resorts reside in Big Cottonwood Canyon, just 45 minutes from Salt Lake City. The two ski resorts are connected, offering a multitude of options for ski and snowboard enthusiasts of all levels. Brighton gets dumped on with over 500 inches annually of Utah's celebrated dry snow. It also has the second highest base elevation of all Utah ski resorts. Solitude is much more tranquil and is often favored by skiers. Both resorts are local favorites and less touristy than the Park City resorts. The most popular time to visit is between January through March. Both resorts are located just 30 miles outside of Salt Lake City making it easy to fly into SLC airport.
In terms of outdoor activities, Park City, Utah has it all. And in the winter, skiing and snowboarding dominates. Park City offers up loads of accommodation options, a quaint Main Street and a variety of restaurants, bars and shops. Skiers and snowboarders can have their rental equipment delivered right to their accommodation by renting online with Black Tie Ski Rental Delivery (10% discount when you use TripOutside!) Park City resort combined with The Canyons resort in 2014 to make the largest lift-served ski resort in the U.S. We recommend hitting the slopes between January and March for the best snow.
Exploring the "Big 5" National Parks (and 7 National Monuments)
9. Hike Angel's Landing in Zion National Park
Nothing is quite like experiencing the views of Zion's Canyon from the hike up to Angel's Landing. This 5-mile round trip trail offers astounding 360 degree views, and is one of the most popular trails in the Park for good reason. The trail is best hiked in spring, summer, and fall. During the winter months the trail can get icy and extreme caution is necessary (although it's a great time to avoid the crowds!). In the summer months you'll want to get up early to hike in the morning as it can get extremely hot (and busy) in the afternoon. Zion National Park is located in southern Utah and is not close to any major airports, so you'll likely want to rent a car. The closest major airport is McCarran International Airport in Las Vegas, 170 miles away.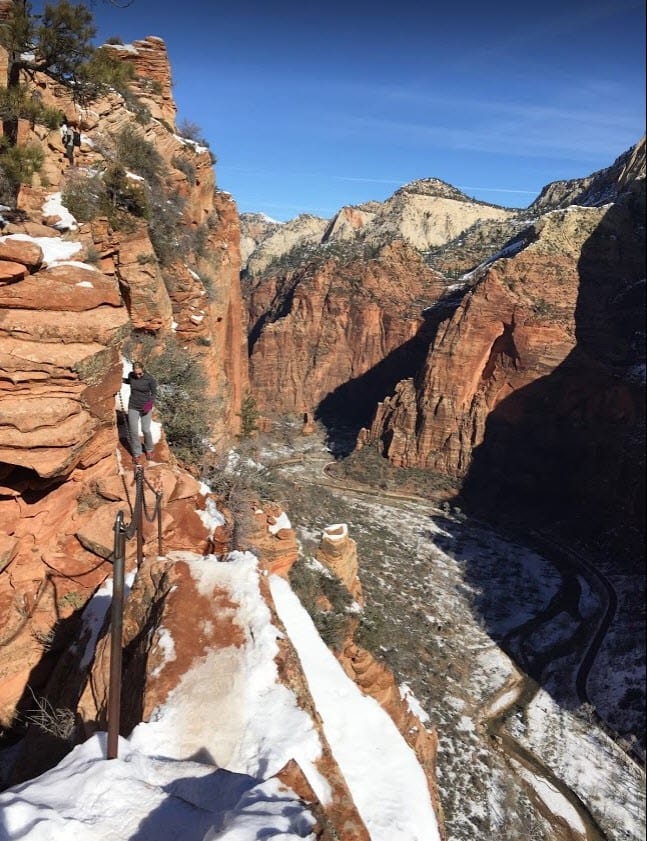 10. Hike Riggs Spring Loop in Bryce Canyon National Park
This 8.8-mile loop is a challenging hike as you take in the panoramas of the legendary Bryce Canyon hoodoos, and descend into the peaceful pine forest below. This hike is perfect for a day trip as it will take roughly 4 hours. Alternatively, you can turn the hike into a 2-day backpacking trip, camping at Coral Hollow and rising early to view pink cliffs at sunrise as you hike out of the canyon. Bryce Canyon National Park is located in southern Utah, and the closest major airport is Las Vegas. The 270-mile drive from Las Vegas to Bryce Canyon National Park is well worth it however – southern Utah's landscapes are truly astonishing.
11. Fiery Furnaces Hike in Arches National Park
The Fiery Furnaces hike is a unique loop through canyons, spires, arches and buttes, making it one of the most famous and challenging hikes in Arches National Park. To do the Fiery Furnaces hike you must register for a permit at the Arches Visitor Center. Register for a permit at the start of your trip, because it may take a few days before you are issued one. We recommend visiting in late spring and early fall when temperatures are warm, but not too hot yet.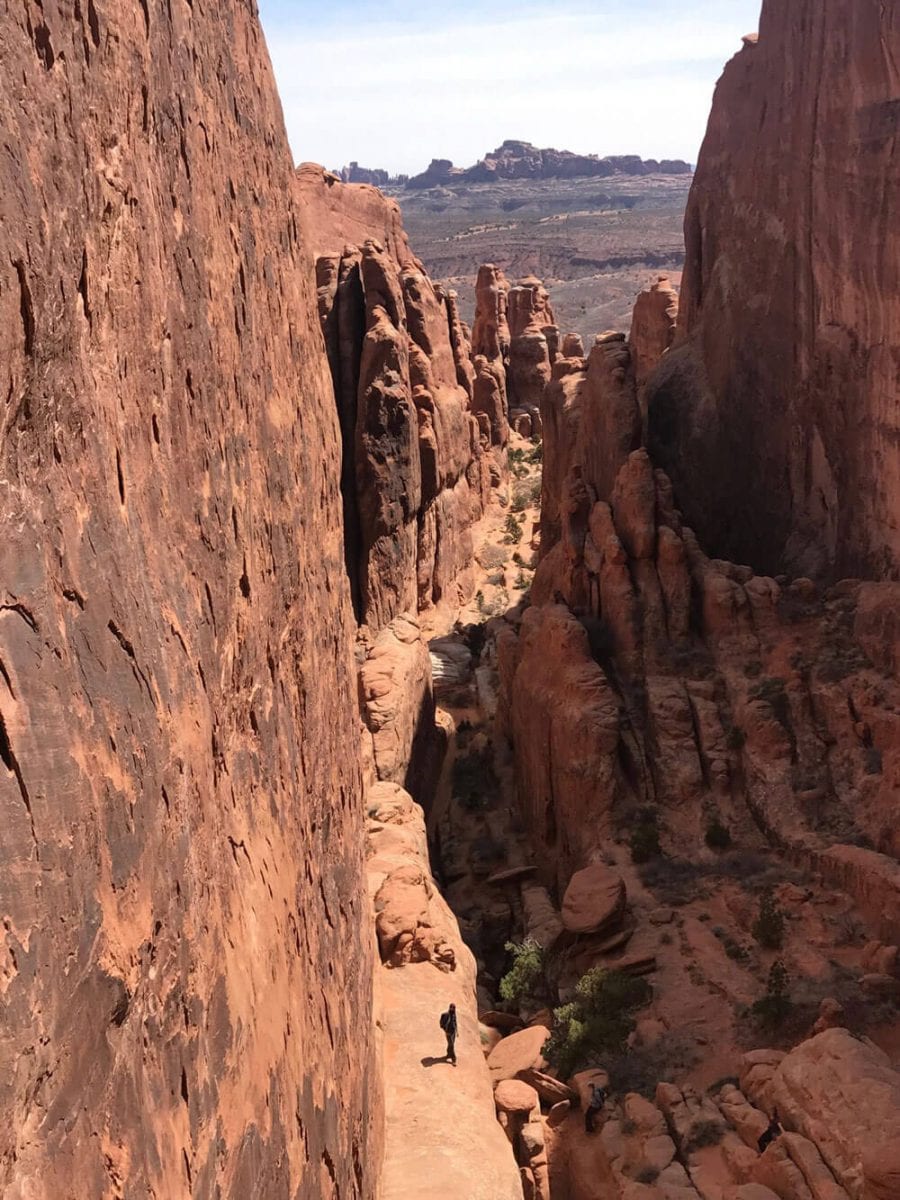 12. Enjoy the Dark Skies in Capital Reef National Park
If you want to see the Milky Way like you've never seen it before, Capital Reef National Park is one of the best locations in the U.S. for stargazing. Most of the park is at around 7,000 feet elevation in an area with low smog and light pollution, making it one of the clearest and darkest places in the country to observe the night sky. Choose a night when the moon is not out to experience pitch black skies and more stars than you can imagine. Grand Junction Regional Airport is a 3-hour drive and Salt Lake City airport is 3.5 hours.
13. Hiking Slot Canyons in Grand Staircase Escalante
You could spend days exploring the many hiking options through the slot canyons of Grand Staircase Escalante National Monument. It would be challenging to find a more scenic, remote and rugged place to hike. Buckskin Gulch is one of the world's longest slot canyons and was carved by the Escalante River. There are a variety of hikes to choose from ranging from beginner to difficult to explore this extraordinary red rock paradise. Two of our favorites are Spooky Gulch and Peek a Boo Gulch. The best time to visit the Monument is late March through June and early September through October. Weather conditions and water temperatures are generally most favorable for hiking slot canyons during these time periods.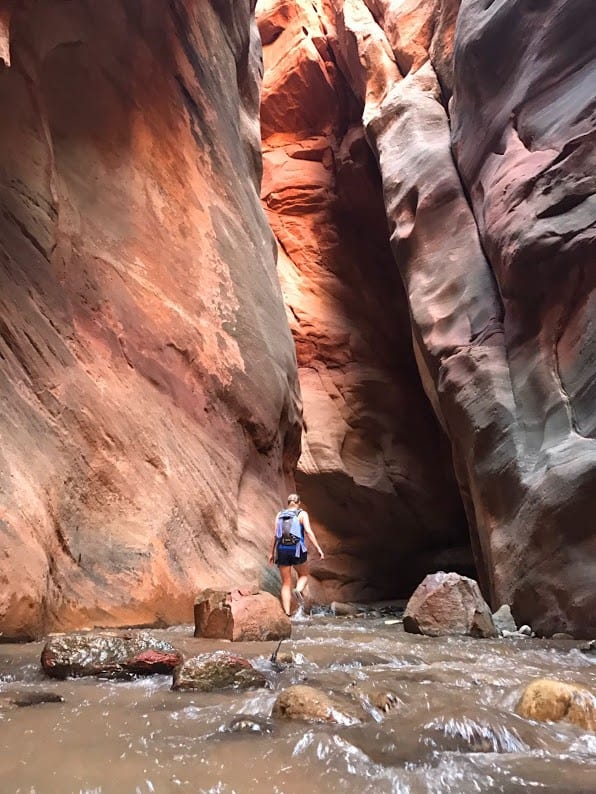 14. Finding Ancient Relics in Bears Ears
In Bears Ears National Monument, you can explore not only the mind-blowing red rock formations, but also learn about ancient cliff dwellings, petroglyphs, and well-preserved Native American artifacts. There are countless hiking and camping options within Bears Ears, especially for outdoor enthusiasts looking to combine the great outdoors with history. Explore this sacred land full of early human and Native American historical artifacts, and learn about how to help preserve and protect this important place. (On December 4, 2017, President Donald Trump signed a controversial executive order to redraw Bears Ears National Monument, reducing its size by 85%.) Grand Junction Regional Airport is a 3-hour drive, and Salt Lake City airport is 5 hours.

15. Canyoneering near Zion National Park
Canyoneering is a unique way to explore the beauty of Southern Utah's slot canyons up close. One of the best ways to experience the immensity of these canyons is by scaling down and through them. For those who have never been canyoneering before, Zion Rock and Mountain Guides is one of the original guiding companies in the Zion area. After 20 years in business, they are experienced and intimately familiar with Zion National Park. They offer guided rock climbing, canyoneering, mountain biking and yoga, all while providing details around the history of the park and area geography.
The best time to visit these slot canyons is late March through June and early September through October. Weather conditions and water temperatures are generally most favorable for hiking slot canyons during these time periods.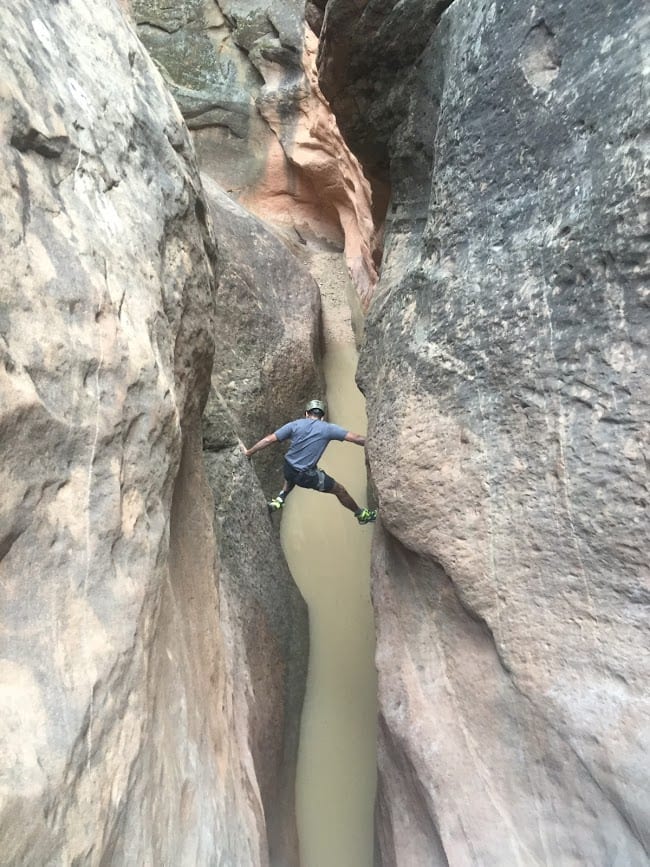 Paddling Lakes & Reservoirs
Stand up paddleboarding (SUP) and kayaking are excellent activities to explore the beautiful lakes and reservoirs that Utah has to offer. Quail Creek State Park in southern Utah has some of the warmest waters in the state. Rent SUPs and kayaks online with Dig Paddlesports online and pick them up at their shop right on the reservoir. We recommend staying for a few days to hike, camp, and explore around Zion National Park or St. George while visiting southwest Utah.
The best time for paddleboarding and kayaking is between spring and fall when the water is warm. To get to Quail Creek State Park, the closest major airport is Las Vegas, 140 miles away.

17. Paddling the Great Salt Lake
Why not plan to paddle the famous Salt Lake during your next trip to Utah! The lake is about 35 by 75 miles, and you will enjoy this calm, vast saline lake as you paddle around. The Great Salt Lake is the fourth-largest terminal lake and the fifth-saltiest body of water in the world. Make sure you check the weather forecast before heading out, weather can quickly change in the summer months. To visit you should fly in and out of Salt Lake City.
Utah has some of the best outdoor adventure activities in the world – pack your bags and get out there! We think the best way to visit them all is by road trip. Rent an RV through TripOutside's partnership with Outdoorsy, which is a is safe, easy, fully insured, peer to peer RV rental marketplace with a great local selection. We hope that our list above will help guide your adventures!
No matter where you recreate in Utah, make sure you follow Leave No Trace principles, and recreate responsibly outdoors to ensure our wilderness areas stay pristine for generations to come.