Updated 6.15.22
North America's Best Downhill Mountain Bike Parks
Where pedaling uphill is not required
When it comes to letting a chairlift do the heavy lifting, two wheelers everywhere flock to ski resorts with bike parks. There is no shortage of downhill mountain bike parks in North America, but the following are standouts as far as trail selection, accessibility for all mountain biker levels, bike rentals and overall send factor. Be sure to check the individual bike park or resort website for operating hours before you go, as many lift-served bike parks operate on a Thursday to Sunday summer schedule.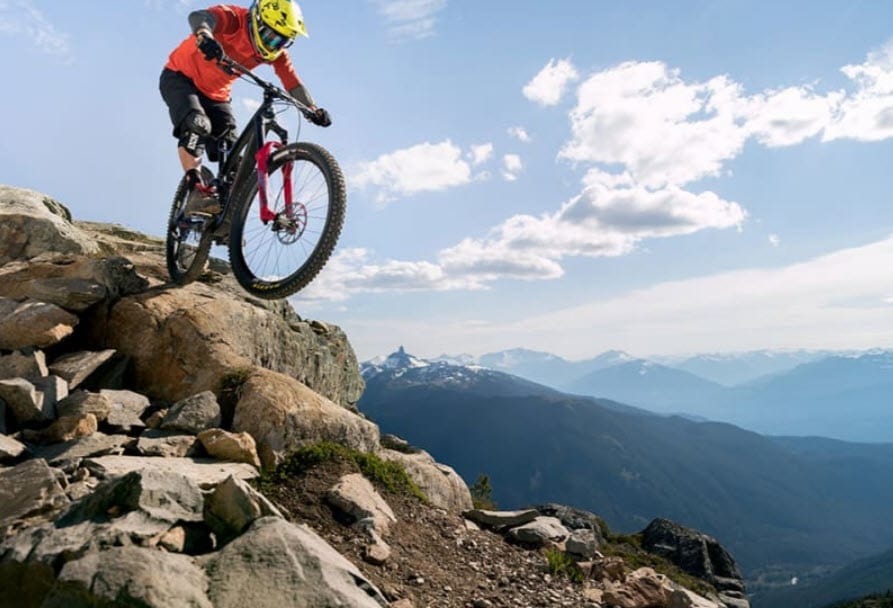 Whistler Bike Park
What sets it apart?
5,000-foot vertical drop
Dual slalom course
70 trails
In general, British Colombia has a reputation for its challenging, technical mountain bike trails, but the Whistler Bike Park is the kingpin of the entire scene, drawing downhillers from around the world. A true pioneer in the downhill mountain bike park industry, the Whistler park launched long before bikes with full suspension – or actually any type of suspension – in the early 1990s. You can thank the foresight and successful persuasion of local bike guide and back roads trailblazer Eric Wight.
Since its inception, the Whistler Mountain Bike Park has set the bar year after year in creative terrain features and gravity-fed offerings. Looking at the park map is like unfolding the pages of a world atlas. There are just so many trails, the majority ranking in the intermediate to extreme (blue to double black) category, but still an impressive offering of beginner (green) trails. Whistler also offers bike park lessons for newbies to get started and a dedicated progression area for more experienced riders to develop their skills.
Whistler's Vertical Drop
What naturally sets Whistler apart from other bike parks (and other ski resorts) is its incomparable vertical drop. You can take three separate chairlifts and gondolas (although the summit ride costs extra and has a daily limit on riders) to the aptly named Top of the World just below the Whistler Mountain Peak summit. From here, you can drop a whopping 5,000 vertical feet down a bounty of trails back to the base. While most ski resorts with bike parks boast five to 10 dedicated downhill trails, Whistler is home to a mind-blowing 70 expertly designed dirt bike routes, all deliberately buffed out, machine – and hand-built with berms, jumps, bridges and professional downhill features that will make you understand why full body armor is recommended.
Renting a bike is a breeze, with shops located at the base of the gondola, in Whistler Village at the Blackcomb base and Creekside base.  Whistler Gateway Bikes and G1 Rentals are the local favorites.  Also new for 2021 and further evidence that the Whistler Bike Park continues to up the ante in the industry, riders can now test their speed side by side against their friends in the GMC Dual Slalom intermediate-level course.
Aspen Snowmass Bike Park
What sets it apart?
Wildflowers
Stunning fall colors
Cross-country trails
Among America's newest downhill mountain bike parks, the Aspen Snowmass Bike Park brings the already ample two-wheel offerings in and around Aspen up several levels. With more than 25 miles of dedicated downhill trails reached from the top of Elk Camp Gondola and Chairlift, Snowmass is home to another 50 miles of cross-country trails, including uphill-only routes, so anyone with a solid set of lungs who wants to work for their downhill rush has plenty of opportunities for a scenic slog.  Bike rentals are conveniently available at Snowmass base village as well as at a number of in-town Aspen locations.
From the top of Elk Camp Gondola, riders of every level have numerous options of pristine, machine-built singletrack to get them back to the base village, while higher level riders can continue up Elk Camp Chairlift to take a handful of challenging trails 3,000 vertical feet down. Each of Snowmass's bike trails has its own personality, from the black-rated, narrow and steep Animal Crackers, which requires ultimate concentration through its technical rock gardens and off-camber traverses, to the  long (4.5 miles) and flowy French Press with its high banked turns and hand built rollers that takes you more than 2,000 vertical feet down and across the ski resort's wildflower- and aspen-strewn slopes. There is also a skills park near the bottom of the mountain for beginners to (not literally) cut their teeth before heading up the gondola.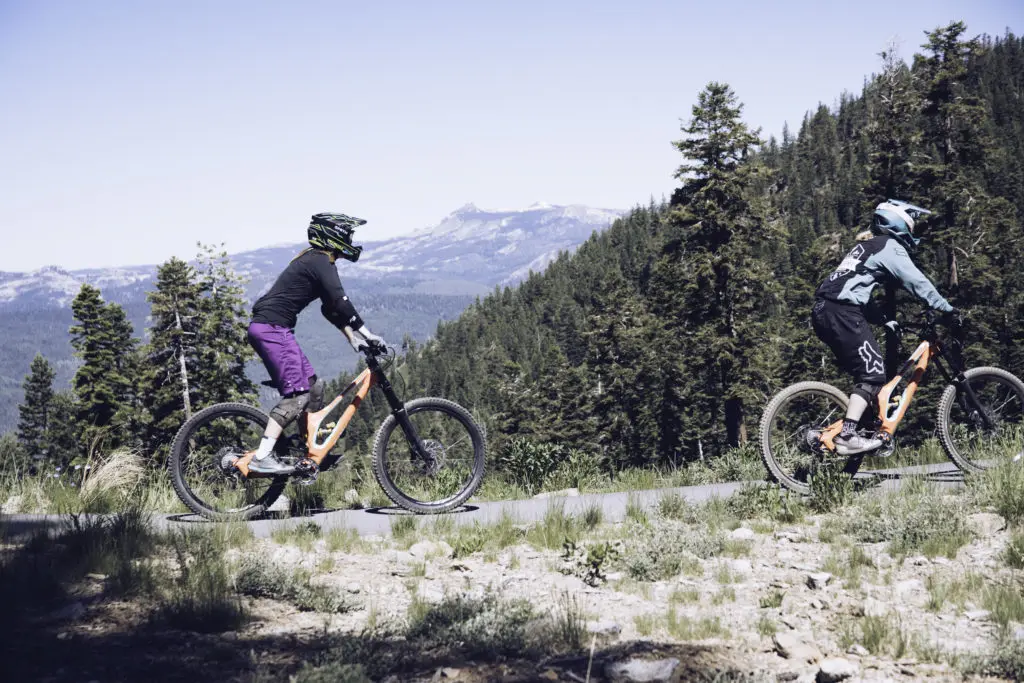 Northstar Bike Park
What sets it apart?
Open until early October
E-bike friendly
The largest downhill mountain bike park in northern California and also the only lift-served bike park in Lake Tahoe, the Northstar Bike Park boasts 33 trails and has for many years ranked among the top 10 downhill mountain bike parks in the USA according to seasoned riders. The park is also one of few downhill mountain bike parks across the globe to host the Enduro World Series and is famous among expert and pro riders for its raw black trails full of rock stairs, boulders and deep chutes. Don't let that scare you away, though. About half of Northstar's bike trails are geared toward beginner to intermediate (green and blue) pedalers, featuring wider, roomier paths comprised largely of soft, powdery dirt. Many riders out there can say they first become hooked on the sport through the resort's clinics, academies and skills park. Bike rentals, including high-end downhill bikes, kids bikes and e-bikes are available in Northstar's base village as well as at a couple of favorite shops in nearby Truckee. Another standout feature of Northstar is its uphill route and beyond-the-mountain trails open to e-bikes.
Deer Valley Bike Park
What sets it apart?
Longevity
Six mountains of trails
Opened in 1992, the Deer Valley Bike Park was one of the first ski resorts with a bike park and lift-served access to open in the United States. With more than 70 miles of trail spanning Deer Valley Resort's six mountains and hundreds more that wander out of the resort to Park City and beyond, you could ride here for a whole week and not come close to glimpsing the plethora of pedal-friendly dirt. That said, of Deer Valley's entire sprawl of singletrack, only one trail is built for beginners. Measuring 4 miles in distance, Holly Rollers is the token green trail, meandering around smooth corners through wildflower meadows and pine forests from near the top of Bald Mountain to Silver Lake Village. Deer Valley also offers lessons for beginner riders, through which top students would easily hop on the fast track toward Deer Valley's numerous intermediate (blue) trails.
Sample intermediate adventures include the super fun Tidal Wave, which features at least four dozen table top jumps (no air required if you prefer to simply roll over the tables) and Deer Crest, which takes you to the lower parking lot at Snow Park Lodge and en route offers views of Jordanelle Reservoir in the distance. Some of the more thrilling routes include the pro trail NCS, named after the National Downhill Bike Championships that Deer Valley hosted back in 2008. It's rife with old school challenge, including loose, rock-filled trenches through narrow slots of trees. There are three chairlifts open to bike hauls and a total of 3,000 vertical feet to cover, all downhill. Bike rentals can be found at Christy Sports at the base of Deer Valley Resort as well as several outfitters right in Park City that also offer downhill bike rentals.
Trestle Bike Park
What sets it apart:
Lots of trails for every type of rider
Creative terrain features
Family-friendly
Trestle is the Winter Park Downhill Mountain Bike hub that ranks as the crowning favorite among Colorado bike park enthusiasts. It's the place to get rad on sideways ramps and wooden bridges that end in a series of drops. The Trestle trail crew clearly takes a lot of pride in building and maintaining the park's many features. Worry not, though, there is something for everyone. Not only does Trestle bike park have a fantastic selection of beginner (green) trails, but its trail map comes with useful progression guidelines specific to the type of riding: downhill/freeride or cross-country uphill and downhill. The place also prides itself on its comprehensive clinics and daily lessons. In addition to the progression guidelines, the Winter Park bike park offers a step-by-step First Timer's Guide.
Family Friendly Bike Park
In total, Trestle is home to 40 miles of trails served by a gondola and two chairlifts and has launched a sizable expansion into its backside terrain. It's one of few downhill mountain bike parks in which the whole family can take the lifts together to the same summit point and either stick together on the route downhill or split ways for the descent and meet at the bottom to head up to the next lap. Besides its status as one of the USA's best downhill mountain bike parks, the Winter Park bike park is also known for its bounty of demo downhill bike rentals, which come in packages including lift tickets as well as a full gamut of pads and protective outerwear.  Our favorite bike shop in town (just north of the resort) is Christy Sports, where you can find gear for all your biking needs in Winter Park.
Keystone Bike Park
What sets it apart?
Convenient access
Long trails
Base village amenities
Season bike park pass includes Breckenridge bike park
While Keystone Ski Resort is famously family-friendly, not many winter visitors realize that the ski area itself, while home to numerous beginner slopes and practice areas, is quite steep. The Keystone Bike Park is the same, only with limited beginner options. One of the most convenient features of this park is that it is accessed by a single gondola/lift ride that takes you up nearly 2,400 vertical feet in just a few minutes. River Run Village is home to numerous restaurants, hotels, bars and coffee shops, meaning that the Keystone Bike Park is an ideal centerpiece for a weekend or week-long getaway. With its proximity to Breckenridge, Lake Dillon and the rest of Summit County, Keystone is the perfect headquarters for days of downhill bike park exploration, pedaling on hundreds of miles of cross-country trails, hiking, paddling, fishing and brewery hopping.
Season Bike Park Pass – Keystone & Breckenridge
If you are in town for multiple days, it's worthwhile to consider Keystone's season bike park pass, which also allows access to the lift-served terrain at Breckenridge, which, in addition to being in the process of expanding, is more raw and cross-country oriented compared to Keystone's downhill specific freeride terrain. The Keystone Bike Park is smaller than most of the others on this list. After renting a bike conveniently in River Run Village, check out the 25 lift-served trails covering 55 miles.  Since most trails are interconnected routes, it feels more like a small handful of trails that take you from the top of the mountain to the bottom. Beginners and most any rider who is not a regular downhiller should start on Girl Scouts, a green trail that leads to a series of other greens and challenging blues. Seasoned downhillers will be committed to a challenge once they pedal through the lead-ins to the expert terrain from either Cowboy Up or the boulder-drop and rock garden-rich Milky Way trails. Because each trail covers so many miles, once you make your pick at the top, you're pretty much in for the long haul.
Angel Fire Bike Park
Where: Angel Fire, NM
What sets it apart?
Largest bike park in the Southwest
Trails for all levels
Great views
Angel Fire Bike Park is arguably what put Angel Fire Resort on the radar for year round adventurers from all over the world and definitely helped New Mexico as a whole etch its mark as a destination for mountain bikers. Back in 2005, Angel Fire hosted a World Cup downhill race and the place became instantly famous. This New Mexico bike park has come a long way since then, smoothing out its terrain offerings as well as its reputation. While it was once known as a hotspot for daredevils and boulder droppers, it's now recognized as a hub for downhillers of all levels. Today, Angel Fire Bike Park is home to nearly 40 trails spanning 60 miles, some featuring the jagged rock gardens and technical drops for which the area became famous as well as wide flow segments (Turbo Diesel trail is a great example) and handbuilt freeride features like the strategically constructed jumps on Boulder Dash and the one-of-a-kind wallride (a massive wooden bridge that scoops into a wall for sideways gravity-bending action) on the Chutes & Ladders trail. Nearly every trail in the park offers sweeping views of the entire Moreno Valley.
Southwest Favorite Bike Park
Angel Fire is easily the best downhill mountain bike park in the southwest and definitely worthy of its year-to-year ranking by downhillers among the top five bike parks in the U.S. It's also one of the largest bike parks in the Rocky Mountains and the first to open and last to close, typically launching its season in May and operating well into October. Their onsite shop offers bike rentals that include a vast selection of high-end downhill bikes and FOX body armor.
Mammoth Bike Park
Where: Mammoth Lakes, CA
What sets it apart?
E-bikes allowed throughout park
Beginner-friendly
Unique dirt
Situated as it is in a volcanic region of the Sierra Nevada mountains of eastern California, there is no downhill mountain bike park in the USA that instills the actual sensation of descending a volcano like Mammoth Bike Park. With more than 80 miles of trails for every level of rider from first timers to World Cup pros, the shared characteristic of each and every trail is its unique soil. Referred to as "kitty litter," pumice makes up the majority of the bike park, a collection of loose, porous pebbles that can either make for super fun skids around banked turns or rather painful road rash. The gray, dune-like terrain opens to spectacular views of the pine forests below and the turquoise lakes in the distance. With a vertical drop of well over 3,000 feet and zero foliage to block the panoramas from the summit, descending from top to bottom truly feels like starting on the moon and finishing on the pine tree-laden earth.
E-Bike Friendly
One of the only mountain bike parks in the world to allow Class 1 pedal assist e-bikes throughout the park, riders can get the reverse sensation of heading from earth to the moon when pedaling upward. Complete with a dedicated Discovery Zone that includes a skills park and shorter, smoother trails that are easy to lap, Mammoth Bike Park masterminds are clearly thinking about the future of the sport. Expert riders will get more than their fair share of thrills, too, as evidenced by the legendary Kamikaze bike race, one of the nation's first downhill bike races that launched in the 1980s. The black-rated runs are full of natural terrain features –cliff-sized granite slabs to launch and spiky rock gardens to navigate – as well as human made wooden bridges and walls.
Killington Bike Park
Where? Killington, VT
What sets it apart?
Variety of trails
Natural division of terrain
Judging by the dearth of east coast representation on this list, you could say that the west is best as far as downhill mountain bike parks. However, anyone who takes on the 40-plus miles of highly varied, pristinely designed, lift-served singletrack at Killington will realize that the East – especially this Green Mountain region – is indeed a beast all its own. One of the winning features of the Killington bike park is its separation of terrain. There are two chairlifts and a gondola that service the park and all of the smoothest, mildest beginner (green) trails as well as a series of fun, jump-filled intermediate (blue) trails can be accessed from the Snowshed chairlift.  Bike rentals are available right at its base. The blue and black trails higher up the mountain offer every possible version of dirt that can be sculpted by hand or machine, including massive table top jumps and perfectly designed banked turns. Mother Nature also has special challenges to throw at riders on technical trails, such as steep, narrow slits with spider webs of tree roots that look like something out of Lord of the Rings. The vibrant green slopes and lush foliage add to the beauty of the overall experience, as does the summer scene with its many festivals and activities as well as access to a selection of independently owned restaurants in the town of Killington.
Mountain Creek Bike Park
Where: Vernon Township, NJ
What sets it apart?
Rocky terrain
Friendly community feel
Weekly race league
New Jersey is certainly not among the first places to come to mind for downhill mountain biking, or a place one envisions for mountain activities of any sort. As it turns out, Mountain Creek Bike Park has some legit vertical – more than 1,000 feet of it – and admittedly an impressive 50-plus trails by which to explore it. With the exception of the beginner (green) trails, which are conveniently preceded with a progression zone at the top of the mountain and mostly comprised of smooth, manicured dirt, the first thing you notice about the trails here is their consistent rockiness. From rock stairs to football field-sized segments of smooth slab, the rock is everywhere, beckoning tires amid the tree-lined and moss-laced surroundings. That doesn't mean there aren't ample flow trails and jumps, some of which lead to big air (so measure your speed during the first lap) and a lot of regular riders with obvious freeride talent. There is a friendly, community feel about the place, especially on Thursday nights when the bike park hosts a weekly race league. Mountain Creek is also home to a great gear shop with bike rentals and a resort-like lodge and restaurant. For what might seem an unassuming corner of New Jersey, you could use more than one day to tackle the surprising amount of terrain at this bike park.
No matter what side of the continent you're on or which peaks you're exploring, chances are, there's a mountain bike park within reach. If you're making a special trip for some gravity-assisted two-wheel cruising, you can't go wrong with any of these world-class downhill bike destinations. Enjoy the dirt and the views from the top!
Post contributed by Shauna Farnell.  An avid mountain biker, Shauna usually prefers slogging uphill before diving into the dessert (the descent), but still appreciates the thrill of a two-wheel downhill playground. Specializing in adventure sports and the human experience, her writing can also be found in publications such as The New York Times, ESPN and Thrillist.