Best of Ely and The Boundary Waters Canoe Area
Updated 3.28.23
The BWCA, or Boundary Waters Canoe Area Wilderness, offers endless options for exploration with thousands of miles of canoe and portage trails. This pristine 1 million-acre wilderness extends from Ely, Minnesota up to the Canadian border and across to Lake Superior.  
If you're looking for anything from a peaceful paddle to a multi-mile trip through lakes, rivers, and near scenic waterfalls – the Boundary Waters Canoe Area Wilderness is the place to go. The town of Ely is a really popular place to begin or end a trip around BWCA, providing a range of different entry points and giving travelers a place to rest when they emerge from this vast wilderness that looks much the same as it did when preservation efforts began over 100 years ago.
TripOutside's Mini Destination Guides help you figure out the best things to do and places to visit on your next trip. Check out our top recommendations in Ely, MN – from the best shops for BWCA outfitting to the best entry points around the area. We've got you covered!
The Best Time of Year to Visit Ely
The summer months between May and September are the most popular time to come to Ely and Boundary Waters, but the BWCA is visited year-round.
Our favorite time in the Boundary Waters is late August and early September. The mosquitos that are in full force in the peak summer months have typically eased off by late August and the days are usually still warm enough to enjoy a swim in the pristine water.  
Winter is an excellent time to visit if you are prepared with the right gear. With the right gear and knowledge, winter camping in the Boundary Waters can be an extraordinary experience.  
There are far fewer visitors in winter, and you will have the solitude of this incredible wilderness to yourself – including no bugs!  Experiencing this pristine wilderness covered in snow, and enjoying snowshoeing, cross-country skiing or dog sledding make this winter adventure truly unique.
The Best Paddle Shop for BWCA Outfitting
Paddling some of Minnesota's 10,000 lakes in the Boundary Waters Canoe Area Wilderness is by far the best way to pass your time in Ely. If you're looking for somewhere to rent gear or receive expert advice, Ely Outfitting has you covered for rental gear like canoes or packs, complete outfitting and guided trips.  Piragis Northwoods Company is another top rated BWCA outfitter that provides canoe rentals and complete outfitting for Boundary Waters adventures.
Both of these outfitters can hook you up with canoes, waterproof maps and even camping gear, so you don't need to bring a thing for your journey. They specialize in Boundary Waters Canoe Area trip outfitting and route planning. 
Whether this is your first time to the BWCA, or you are a seasoned pro, our recommended outfitters will help you with everything you need for your trip.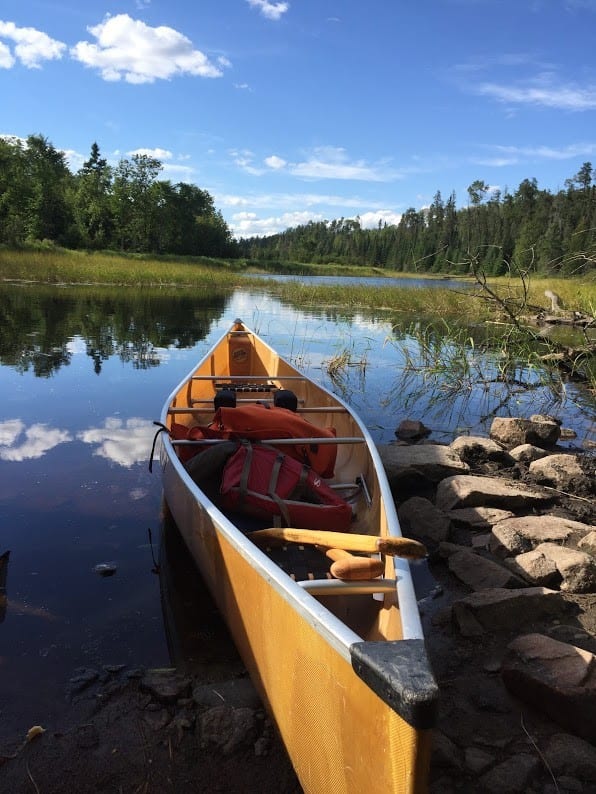 The Best BWCA Entry Points near Ely
Entry points are used to access the Boundary Water Canoe Area Wilderness and the DNR limits the number of visitors that can enter each day, as well as the type of boat they bring with them. If you want to explore the BWCA from Ely then you'll need to choose a nearby entry point and request a permit in advance for this entry point.  Here are some suggestions for entry points near Ely, or check with your outfitter for many more!
#4 – Crab Lake
The Crab Lake entry point is located right next to Burntside Lake and gives you access to the Crab and Cummings Lakes. The portage from the point to Crab Lake is 320 rods and four entry permits are available each day.
#6 – Slim Lake
The Slim Lake entry point is also on the edge of Burntside Lake and has the advantage that the portage route has been meticulously maintained so that it's very easy to traverse. You can then reach Rice Lake from Slim Lake, or portage further from the point to access Coxy Pond or Silica Lake.   Two paddling entry permits are available each day.
#23 – Mudrow Lake
Mudrow Lake is a very popular entry point near Ely, Minnesota, and there are five paddle permits available each day, so you'll want to arrive here early. Portages to the lake itself vary in length, and you can also portage to nearby Horse Lake or Fourtown Lake where there are good camping spots available.
#24 – Fall Lake
If you're looking for an entry point that allows plenty of people into BWCA, Fall Lake has fourteen entry permits available each day, and allows motorboats as well as canoes. From here you can take a number of routes for your BWCA trip.  
#31 – Farm Lake
Farm Lake is one of the closest entry points to Ely and allows three entry permits to visitors every day. You can explore Farm Lake or South Farm Lake easily from here, and also gain access to the North Kawishiwi River via this lake.
The Best Places to Paddle in Ely
Plenty of people use Ely as an entry point to the BWCA, and the start of their multi-day paddle trip. But whether you're looking for a day trip to a lake within the wilderness, or a multi-day route to explore the area, there are some great destinations for canoe trips starting out of Ely.   Friends of the BWCA has more recommended BWCA canoe routes including recommended number of days and skill level.

The Best Things to Do in Ely, MN
If you're searching for what to do in Ely, MN, our first answer is obviously always going to be that you should explore the Boundary Waters on a canoe trip. But if you're looking for other activities around the area, here are some of the best things to do to keep you entertained.
If you don't fancy exploring from the water, hiking in Boundary Waters is just as popular for folks that want to experience the wilderness. There are a range of hiking trails from or near to Ely that connect campsites or offer routes for a single day's trip, and if you visit in the summer you can still enjoy swimming in the lakes and admiring the scenery from the shore.
Ely is also a wonderful place for birdwatching, with around 155 different species living in the area around the city. You might spot some of these if you're on the water, but you can also set out on foot with your binoculars and see what you find.
In terms of cultural attractions, choices of where to visit include the Ely-Winton History Museum, Dorothy Molter Museum and Bois Forte Heritage Center and Cultural Museum. Animal lovers and children will also really enjoy the International Wolf Center and American Bear Center, where you can witness creatures that have been rescued and the conservation efforts used to support their species.
The Best Places to Eat in Ely, MN
The Best Restaurant in Ely
One of the best restaurants in Ely, MN is Gator's Grilled Cheese Emporium! We're sure you can guess what their speciality is – but aside from the best grilled sandwiches, Gator's Emporium also has delicious breakfast options.
 From breakfast burritos, sandwiches, and biscuits and gravy, there is something for everyone. The restaurant has a relaxing fireplace, nice outdoor seating and is very reasonably priced with quick service. It's the perfect place to start your day and fuel up before your paddling trip!
The Best Bar in Ely
Looking for someone to get a drink after a day of paddling around Ely? If you're spending an evening in the area then Zaverl's is a local bar you won't want to miss. 
Zaverl's Bar is the place where everyone knows everyone – an opportunity to hear more about the best finds for adventures from locals. Great cold local beers, pub grub, and an extremely friendly place to spend an evening.  It's our favorite dive to relax with a local brew after an incredible journey through the Boundary Waters Canoe Area.
The Best Coffee in Ely
If you're looking for great bakery goods and coffee (and also baked burritos?!) check out Front Porch Coffee & Tea. Get your caffeine fix at one of the best breakfast places in Ely before setting off into the wilds of the Boundary Waters (and immediately upon return)!
Where to Stay In Ely, MN
The Best Campsites in Ely
Our two favorite camping locations near Ely (other than the BWCA of course!) are Birch Lake Campground and Fall Lake Campground. Both campgrounds are located in the Superior National Forest on the outskirts of the BWCA Wilderness.
Birch Lake Campground offers spots on the lake at $15 a night with picnic tables, a fire ring/grills, a water pump on the main road, and no electricity. At Fall Lake Campground for $22 a night, you can find amazing shower/bathroom houses as well as fire pits and picnic tables.
Both campgrounds provide a scenic and comfortable stay for the night before entering, or the night after emerging, from Boundary Waters.
The Best Hotel in Ely
If you'd rather stay at a hotel when you're in Ely, check out the family-owned Motel Ely. Each room has a fridge, air-conditioning, and has wifi. Motel Ely is AAA-rated as well.

Ely, Minnesota FAQs
Where is Ely, Minnesota?
Ely is a small city in St. Louis county in the northeast of Minnesota. It's located at the edge of the Vermilion Iron Range on the shores of Shagawa Lake, right in the middle of the Superior National Forest. Its proximity to the Boundary Waters Canoe Area Wilderness makes it a popular place for travelers to begin their canoe trip to the BWCA.
What county is Ely, MN in?
The city of Ely is located in St. Louis county in the state of Minnesota. The county belongs to the Arrowhead Region of Minnesota and has Duluth as its county seat, which is around 95 miles away from Ely.
What is the closest airport to Ely?
For those flying to come and visit Ely, the closest airport is Duluth International Airport (KLDH) which is two hours away. Your next closest option is Minneapolis Airport (MSP) which is around 4 hours drive away. 
If you're looking to drive to Ely, it is about 10 hours in the car from Chicago or Kansas City.
When is the Blueberry Festival in Ely, Minnesota?
As well as being known for its proximity to Boundary Waters, Ely is also famous for its annual Blueberry Art Festival which is held every summer in the city. The three-day event showcases artists and craftspeople from all over the area as well as plenty of food vendors, with blueberry pies appearing as a signature offering every year.
Summary
Ely is one of the most popular places to begin or end a trip through the Boundary Waters Canoe Area Wilderness, and one of the main benefits of this is that there are so many wonderful outfitters and local guides that will help to ensure you have a memorable trip. The town itself may be small, but there's a ton of adventure, as well as a great range of places to eat, shop and stay, which is why we've highlighted it as one of our favorite destinations near BWCA.
If you'd like to plan a trip to Boundary Waters, we can help you find your ideal route with outfitters based in Ely and on the Superior shore in Tofte and provide complete outfitting for your BWCA adventure.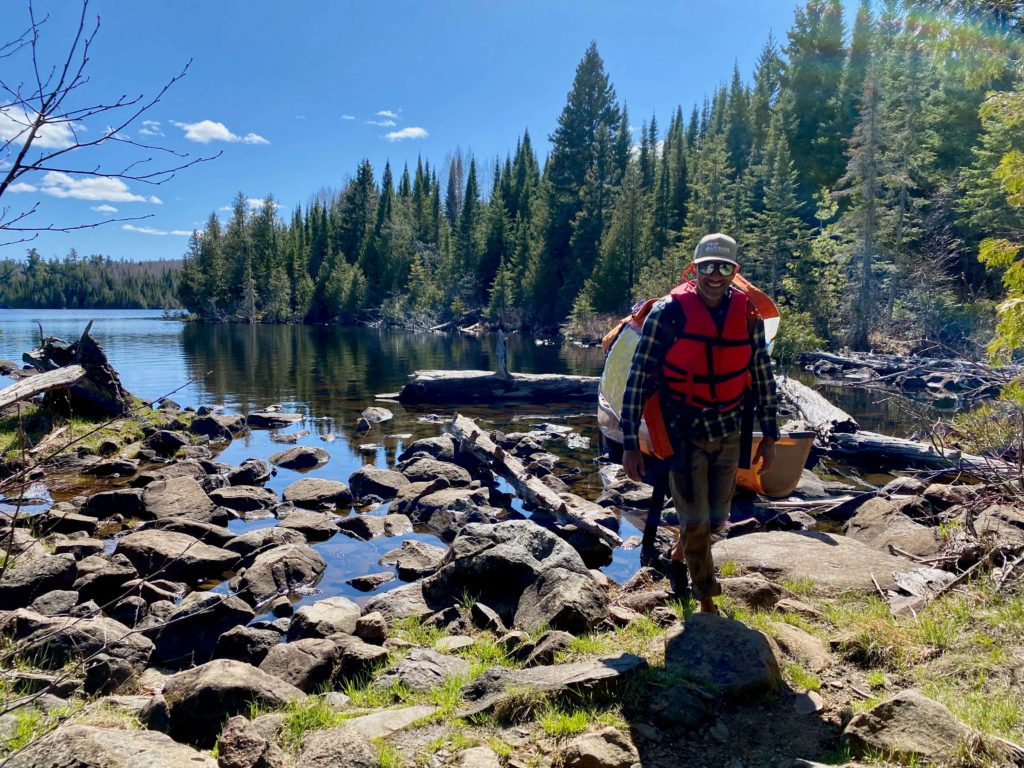 SAVE THE BOUNDARY WATERS
The Boundary Waters Canoe Area Wilderness is threatened by sulfide-ore copper mining.  The Campaign to Save the Boundary Waters is leading the effort to ensure permanent protection for the Boundary Waters Wilderness, America's most visited Wilderness and Minnesota's crown jewel, from proposed sulfide-ore copper mining.
What would a Twin Metals mine on the edge of the Boundary Waters mean? Pollution. Not this mine. Not this place. #SavetheBWCA
Find out more about how you can help Save the BWCA!