Must-Visit Mountain Bike Destinations in the US
Updated 7.21.22
We have been traveling in our RV since the summer of 2017 exploring the best outdoor towns in the U.S.  This is our "best of" compilation of our favorite mountain bike towns that we've found along the way.  Some are well-known destinations, others are barely on the radar – but we feel they are all very worthy of the title.
In addition, we share our favorite trails in each town – for further trails details and route planning we recommend using Trailforks, Singletracks and MTBProject.
Please comment below and let us know if we have missed any great towns!
---
| | |
| --- | --- |
| Pros | Cons |
| More than just mountain biking | Too hot in the summer |
| 2 epic National Parks in close proximity | Too many jeeps, depending on the time of year |
| Endless trails to choose from | Can be crowded during peak season & spring break |
| Some of the most scenic mountain bike trails on the planet | |
Moab is one of our favorite places to ride on the planet!  Not only is Moab epic for mountain biking, but the outdoor adventures around this small Utah town are endless.  With spectacular National Parks and State Parks like Arches, Canyonlands and Dead Horse nearby, plus the Colorado River flowing through it, there's something to meet almost everyone's outdoor desire.  Plus, it's very RV and camping friendly!
Must Ride Trails in Moab, UT
Advanced/Intermediate

Whole Enchilada / Porcupine Rim

Shuttle recommended
The Whole Enchilada, or the shorter Porcupine Rim, are the most famous trails in Moab for a reason.  They are incredible!  But be ready for a full day in the saddle!

Mag 7 

Shuttle recommended
First 5 trails a blast, the last 2 are tough AF and super-advanced.   You should not try the Portal trail unless you are a very advanced rider as there are high-risk drop-offs. Check with the local shop if you're considering this trail first and they'll probably talk you out of it.

Intermediate / Beginner

Brand trails (Bar M)

Beginner-friendly options, no shuttle required
Some fun slickrock trails!

Klonzo trail system

Great cross-country and trail riding with slickrock

Klondike Bluffs

Ride by some dinosaur tracks!
Some technical riding options, and some slickrock trails

Navajo Rocks

Our favorite cross-country trail in Moab. If you're a cross country rider that wants to get a workout and enjoy the slick rock riding of Moab, Navajo loop is for you.
Great all-around experience of Moab: views, slickrock, varied terrains – it has it all!

Beginner

Dead Horse State Park

Best for beginners or for family rides and provides gorgeous views of Dead Horse State Park and Canyonlands National Park.

Where to Rent Bikes
There are some great  bike shops in Moab Utah offering a great line up of full suspension and hardtail mountain bike rentals.
Our favorites are:
Moab is Best Known For
Mountain biking and the outdoors mecca and some of the most scenic National Parks.
Where to Camp for Free in Moab
Willow Springs Rd
Dalton Wells Road
Lower Gemini Bridges
In addition to outdoor adventures, you can rent an RV to get you there on TripOutside!
Other Outdoor Things to Do in Moab
Visiting Arches National Park
Hiking and biking Dead Horse State Park
Visiting Canyonlands National Park
Rock climbing the red rock mountains
Best Time to Visit Moab
Spring and Fall

September and October are the best months to visit if you want to ride the Whole Enchilada. It guarantees that the trail will be open and it won't be too hot during the day.
March, April and early May are great riding months but you may not be able to ride the Whole Enchilada as it may be covered in snow at the top.
June – August are really hot months and riding hours will be limited, most of the riding will have to be early morning and/or late evening.
---
| | |
| --- | --- |
| Pros | Cons |
| Lots of trail riding options for all ability levels | A big tourist destination, avoid peak times. |
| An easy to get to destination, only 2 hours from Las Vegas | Near Zion NP, one of the busiest National Parks |
| Lots of free camping areas | Very hot in the summer |
| Options to add on other activities | |
The Hurricane and Virgin, UT area is known for the magnificent Zion National Park nearby.  For mountain bikers, the areas surrounding the park have some truly incredible trails, and Hurricane is known as a mecca for mountain biking.  With great free camping options just off the trails, and tons of trails for all levels of riders, Hurricane is a great biking getaway for the whole family.
Must Ride Mountain Biking Trails near Zion National Park
Hurricane / LaVerkin trails (mostly Intermediate with Beginner options available)

Gooseberry Mesa – a 13-mile loop with rolling singletrack, incredible vistas and Slickrock sections that compares to Moab.
Hurricane Rim Loop – IMBA Epic trail
Jem/Gould Loop

Wire Mesa Loop (Intermediate / Beginner friendly)

This was one of our favorite short loops, although it is only a green/blue trail, it is just so freaking fun! It's built really well and provides incredible features to tackle and is surrounded by amazing views in all directions.

The Whole Guacamole (Intermediate to Advanced riders)

A more remote, 11-mile loop with 600 ft. of climbing but you will feel that you climbed 1500 ft. due to the rocky terrain.
To get to the top where the trailhead starts, you may want to have a high clearance vehicle and possibly require 4×4 if it has rained recently. The road is a gravel road leading up to the top but the last mile before you get to the trailhead can be sketchy and rutted out depending on how the recent weather has been.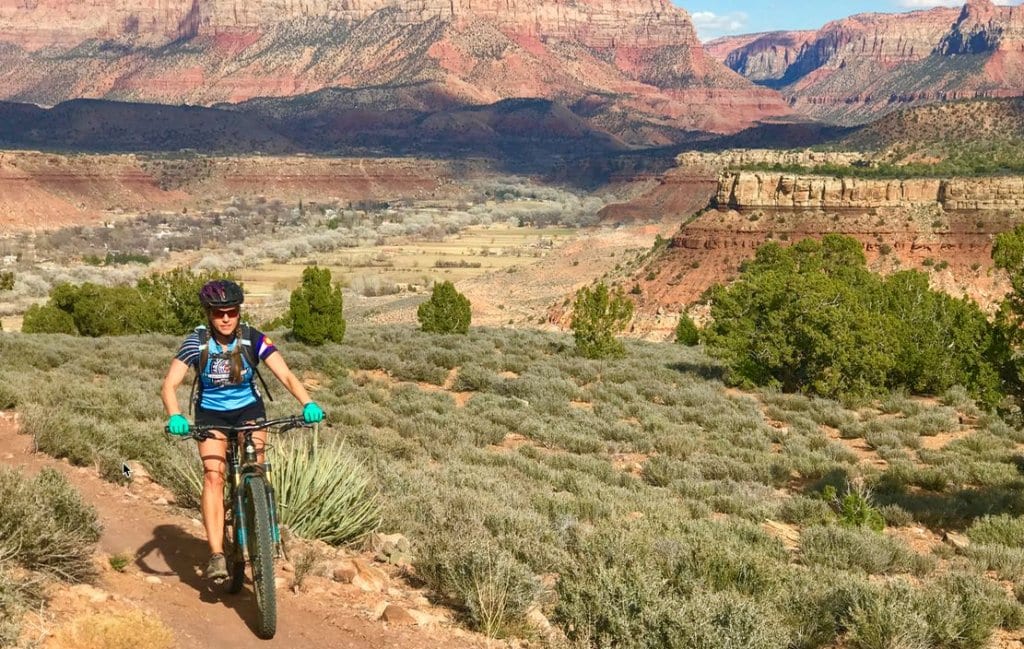 Hurricane/Virgin is Best Known For
Desert riding
Redbull Rampage takes place nearby in Virgin, UT
Where to Rent Bikes in Hurricane
Hurricane Cliffs – if riding Gooseberry Mesa area
Dalton Wash Road – if riding The Whole Guacamole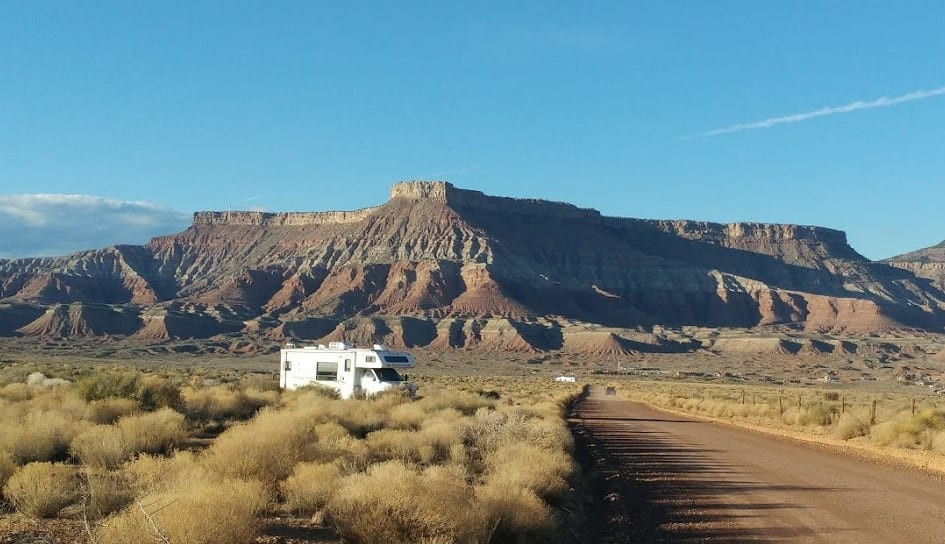 Other Outdoor Activities Near Zion National Park
Canyoneering near Zion National Park (we recommend Zion Rock & Mountain Guides if you aren't experienced in canyoneering)
Zion National Park
Hiking Kanarraville Falls
Best Time to Visit Hurricane
The Hurricane area is one of the best destinations for the shoulder seasons. Spring and fall, even winter days can provide great riding during the day with the weather in the 50s in December and January.
---
| | |
| --- | --- |
| Pros | Cons |
| Mountain biking birthplace (arguably) | High elevation riding, sits at 8900 ft |
| Over 700+ miles of trail | Hard to get to, 4 hours from Denver. Lack of affordable nearby airports |
| Options to ride straight out of town | You'll hate your hometown trails afterward |
| It's a mountain bike party, all the time | |
| Downhill options at Mt. Crested Butte | |
Crested Butte is a top adventure destination in Colorado, earning one of our top spots for mountain destinations. When the snow melts and summer comes, Crested Butte transforms into a biking getaway where trails spanning hundreds of miles and intertwine with scenic wilderness. The town is also surrounded by alpine lakes and rivers for SUP and kayaking after the snow melts. Hiking trails are plentiful right out of town, and hikers will be rewarded with scenic vistas, potential for wildilfe spotting, and wildflowers of every color.
Crested Butte has impressive mountain biking stats – with more than 700 miles of singletrack to choose from, bikers of all skill levels can find adventure in these mountains.
Must Ride Mountain Biking Trails in Crested Butte
Close to town riding options:

Snodgrass (Intermediate)

Great trail to ride out of town and an intro to the area, it's 7.3 miles out and back and provides a great idea of what riding in CB is like and has some beautiful overlooks of Mt. Crested Butte

401 Trail (Intermediate to Advanced riders only)

High alpine riding, shuttle recommended if you're not into climbing
One of the highest trails in the country that will take you to 11,335' and a must do rides. It's a 14-mile loop that is 60% singletrack after taking the dirt road up
Features alpine-style riding, leading into luscious green fields and aspens. You get it all with this ride!

Intermediate / Advanced local's favorite rides

Doctors Park

If you're up for a 14.5-mile climb for a gnarly 6-mile shred, this is your trail my enduro friend.
You can shuttle this ride if you still want all the shred but none of the grind

Teocalli Ridge

About 15 minutes outside of town
You climb 2,184 feet over 6.8 miles, some of it may be hike-a-bike. But when you're on the top, get ready for one heck of a downhill!

Downhill park riding (Intermediate/Advanced)

Evolution Park at Mt. Crested Butte (downhill park)
Although it isn't the biggest of the bike parks, it offers 30 miles of singletrack that can please most intermediate and even some beginner downhill riders. There are enough trails for the advanced downhill riders as well that you won't be disappointed

Where to Rent Bikes in Crested Butte
Our favorite bike shops in CB:
Where to Camp for Free in Crested Butte (also see RV Rentals!)
Washington Gulch Rd
Oh be Joyful Recreation area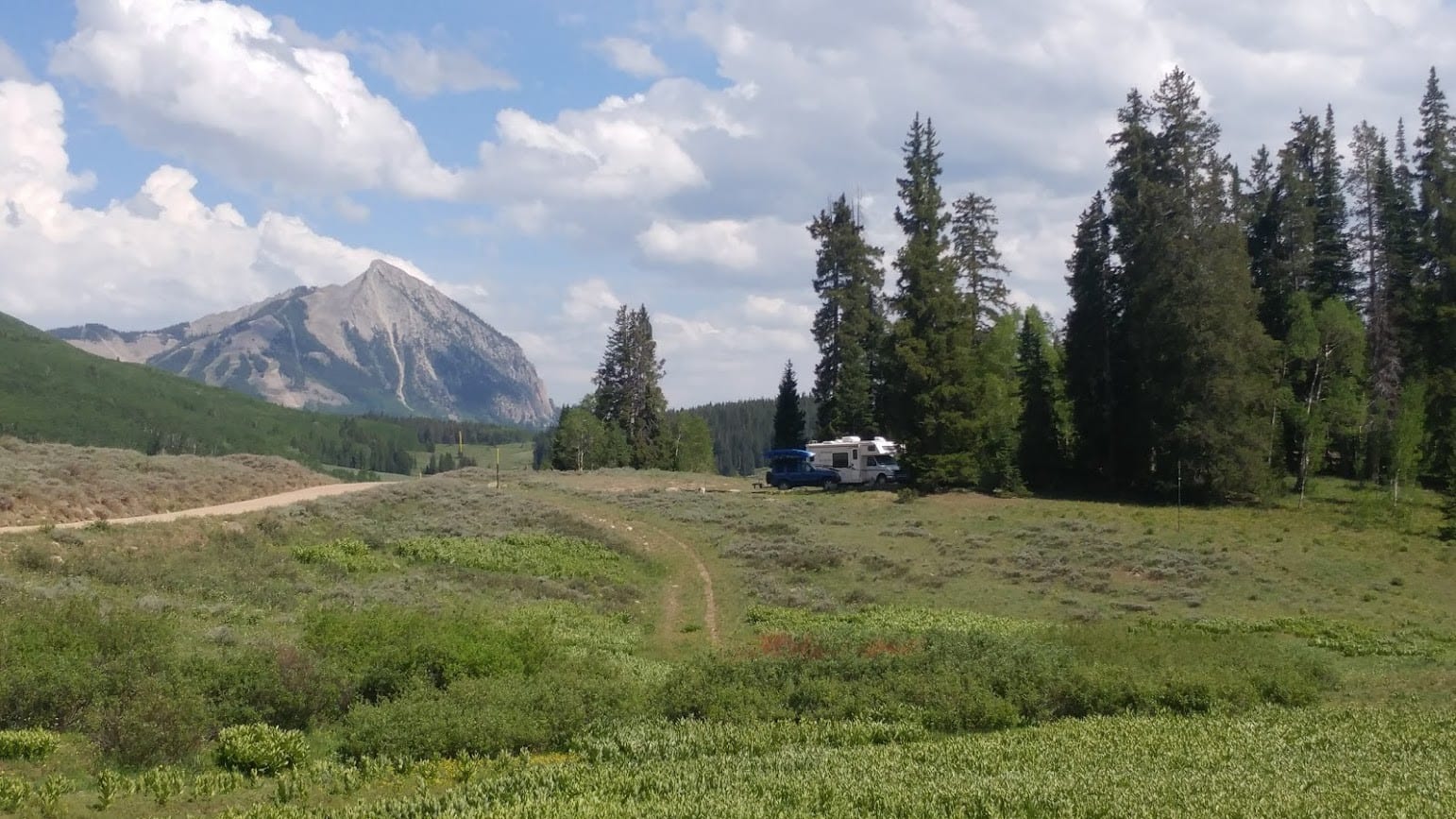 Crested Butte is Known For
High altitude riding in a great attitude town. Surrounded by gorgeous peaks in all directions
Crested Butte has been known for great skiing and snowboarding for quite some time, and is now on the map for one of the best mountain bike towns as well.
Other Outdoor Activities in Crested Butte
Paddling rivers and alpine lakes
Maroon Bells hiking
Summer festivals
Best Time to Visit Crested Butte
May through September
July is the best month for wildflowers if you to see the rocky-mountains in technicolor
---
| | |
| --- | --- |
| Pros | Cons |
| Easy to get to from Colorado Springs | High elevation riding |
| Great for multi-sport adventures | Limited trails for beginners |
| Dispensaries and breweries | |
You may have never heard of Salida, Colorado, a quaint town in the Colorado Rockies surrounded by peaks over 14,000 feet.  With so many other famous Colorado destinations, Salida often gets overlooked.  But that only adds to it's intrigue.  Salida is only a 3-hour drive from Denver, and this outdoor mecca plays host to mountain bikers, mountain climbers, rafters, rock climbers…and the list goes on.
Must Ride Mountain Bike Trails near Salida, CO
Monarch Crest IMBA Epic trail: (Intermediate to Advanced riders only)

You'll need a shuttle for this one and start early. It's a 36.2-mile point to point ride that will descend 5,890 feet, starting at the elevation of 11,962'!
Shuttles available from High Valley Bike Shuttle

Cottonwood Tour (Intermediate)

1-mile ride that can be broken into smaller sections with options for all riders
Ride out of town, shuttle recommended if you're not into climbing. The beginning of the ride is a 8-mile road climb to the trailhead.

Methodist Mountain (Great for beginners and intermediate riders)

A short but great trail system that has trails that are perfect for beginners and families that don't want to take on the challenging rides and still have a blast!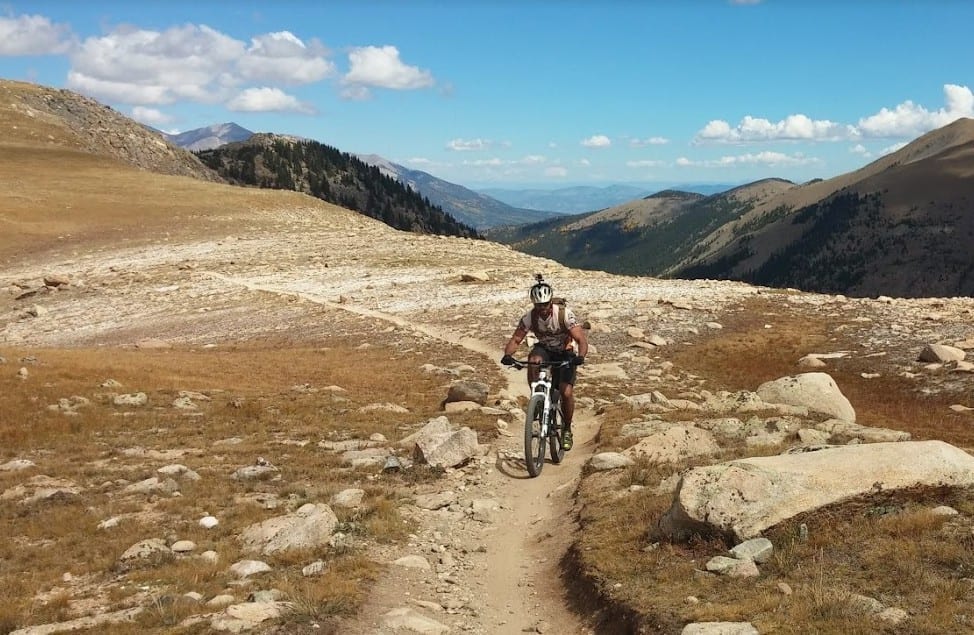 Where to Rent Bikes in Salida, CO
Subculture Cyclery is the main rental shop in town (Absolute has stopped renting bikes due to the bike shortage)
Where to Camp for Free
Shavano Wildlife Management area
Salida is Best Known For
The mind-blowing trails surrounding Salida really put this mountain bike town on the map.  Monarch crest trail IMBA epic is one of Colorado's classic mountain bike rides (which makes it one of the U.S.'s classic mountain bike rides)
Arkansas River rafting
Basecamp for climbing 14ers
Other Outdoor Activities around Salida, CO
Rafting the Arkansas river
Climb 14ers – Mt. Shavano, Mt. Yale are the closest. This area offers one of the highest density of peaks over 14000 ft.
Visit Princeton Hot Springs for a soak after all of your outdoor adventures.
Best Time to Visit
June – October. Err on the later side if you want to ride the Monarch Crest trail to make sure it is clear of snow. In some years, it is not clear of snow until mid-July
---
Duluth, MN
| | |
| --- | --- |
| Pros | Cons |
| A hidden gem in the Midwest | Short season |
| Rated #1 outdoor town by Outside Magazine | Mosquitoes in the summer |
| Miles of epic riding right out of town | No free camping, BLM or National Forest options |
| Lots of technical trail options | |
| Lake Superior!!! | |
Duluth, MN is an up and coming mountain bike destination in the Midwest.  Duluth was recently voted Outside Magazine's Best Town Ever.   It's an outdoor mecca surrounded by the pristine Lake Superior and the iconic Northwoods.  With 6,834 acres of city parkland, 178 miles of wooded trails, plus Lake Superior, there's not much you can't do when you are outside in Duluth.  Minnesota's "City on a Hill" overlooking Lake Superior has some of the best mountain biking in the Midwest.  There's over 150 miles (and growing fast) of bike trails, and Duluth is one of only 5 places in the world with the "Gold Level Ride Center" designation by IMBA.
Must Ride Mountain Biking Trails in Duluth, MN
There are 150+ miles of riding in Duluth, MN and the tough hardy MN folks ride all year long, even through the brutal winters thanks to fat bikes
The Duluth Traverse (all levels) is an 85-mile point to point featured ride that is 75% singletrack that rides all the way across town with multiple bailout options for riding just a few sections
Spirit Mountain downhill trails (Intermediate/Advanced) are Duluth's only lift-serviced trails.  The trails are short but fun!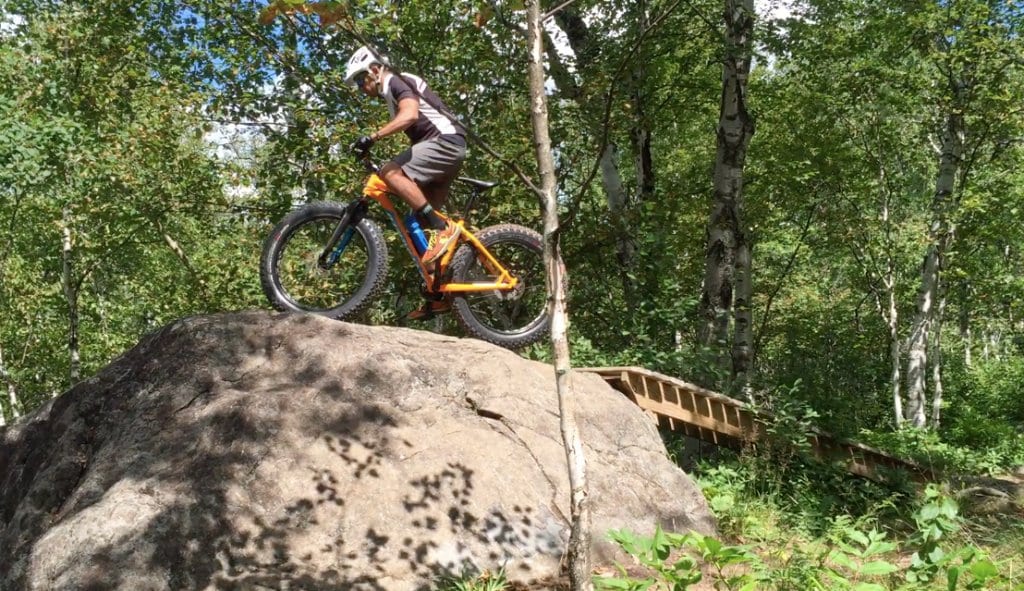 Duluth is Best Known For
Breweries, Minnesota nice community, plaid shirts, and the North Woods.
Duluth is a relative newcomer on the best mountain bike town list, but the city is expanding trails rapidly and this Midwest town is making a name for itself within the mountain bike community!
Where to Rent Bikes
There is pretty much only one great mountain bike rental shop in town, Continental Bikes
Where to Camp for Free
Unfortunately, there aren't any free camping areas right in Duluth, but it is Minnesota nice. Check out Boondockers Welcome, it's like couch surfing for your RV in hosts' driveways. Requires an annual membership fee but it's free to camp
Other Outdoor Activities in Duluth
Best Time to Visit
Summer is a perfect time of the year but BRING BUG SPRAY. The MN mosquitoes don't eff around..
Late summer (end Aug/early Sept) can also be a really great time. Temperatures are a bit cooler, but that also means that the worst of the mosquito season is gone!
---
| | |
| --- | --- |
| Pros | Cons |
| Multi-sport options available | California gas prices |
| Other close by towns with epic riding | Lack of great free camping |
| Make it a road trip, so many options | Tahoe very busy in the summer |
| Close to SFO and Reno for fly-in & out options | |
| Downhill options at Northstar Resort | |
Downieville is a charming and colorful adventure town along the Yuba River in Northern California. It began as a gold mining mecca in the 1800s, and has now transitioned into a hub for outdoor adventure. It is well known as a mountain biking mecca, and the renowned Downieville Downhill is the most popular (albeit advanced rated) trail.  Overall, Downieville is a more advanced trail system tailored to intermediate and advanced riders, with technical features, and a few hike-a-bike sections.
Truckee is a charming town perched just north of Lake Tahoe that has it's fair share of fantastic outdoor adventure.  From biking the infamous Flume Trail to paddling the crystal clear Lake Tahoe, Truckee makes a great Northern California getaway.
Must Ride Trails in Tahoe, Truckee, Northern California
Truckee, CA (Options for all capabilities)

The Hush Hush Ones: Stop by our favorite bike shop Cycle Path in Truckee, CA and ask them to tell you about the super-secret, super awesome local rides. That all we will say for this area 😉 Cough Cough, Yogi Bear

The Flume Trail (Intermediate to Advanced)

An obvious pick, but popular for a reason. The rim trail offers incredible views of Lake Tahoe

Downieville Downhill (Intermediate to Advanced)

This renowned 14 mi. shuttle ride features northern California's classic Sierra mountains riding. It is difficult rated, flowing singletrack with fast, rocky, technical features, and impressive drops. Dropping 5,000 vertical feet in 15 miles, it hosts the longest and most demanding mountain bike race in the country – the Downieville Classic. It's all about the speed, tight turns, creek crossings, and rock gardens.   The ride requires a 2-car shuttle, leaving one car at the top of the ride – or you can take a shuttle from one of the local companies in Downieville and ride back to your car.

Truckee / Tahoe Best Known For
Views of Lake Tahoe, paddling on the lake and the IMBA Epic Tahoe Rim Trail
Downieville Classic bike race
Where to Rent Bikes in Truckee & Tahoe
Truckee
Tahoe

Over the Edge or Flume trail bikes

Downieville
Where to Camp for Free
In Truckee: Sagehen campground, it's free but it's a bit far and no cell service. Also, lack of bike trails to ride right from the trail system
In Tahoe area: Limited options of free camping right near the trail system
In Downieville: Ramshorn Campground (Forest Service campground, $20-25/night) is one of the closest to town (5.6 miles) and is located right on the river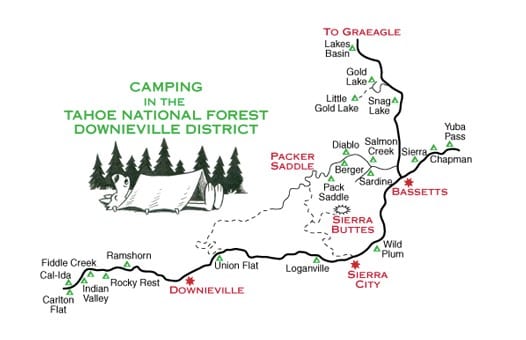 Other Outdoor Activities in Truckee
Paddling Lake Tahoe, umm, of course, you have to!  This crystal clear lake is on the top of everyone's paddling list
Hiking around Lake Tahoe, if you're out of trails to ride. So, after you've been there for 5-6 months or if the bike is in the shop.  Or if you have family/friends with that don't ride
Best Time to Visit Truckee
Skip the summer crowds and go in the shoulder seasons. The weather is amazing in September and there are half the crowds
If you're looking to ride higher elevation trails such as the Flume trail or Downieville classic, skip the springtime and planning on hitting these trails late summer or fall to make sure they're open
---
| | |
| --- | --- |
| Pros | Cons |
| Post-ride hot springs | Limited bike rental options |
| Downhill park riding | Short season on higher elevation riding |
| Free camping, oh.. by hot springs | Starbucks |
Mammoth Lakes may be best known for its ski resort, but summer adventures abound around this town in the high Sierras.  The Mammoth bike park (nominated one of our 10 best downhill parks!) caters to mountain bike adventures while hiking and backpacking the nearby John Muir trail is a rite of passage for many.  Convict Lake has stellar paddling opportunities, and camping options in the area come with spectacular Sierra views and natural hot springs.
Must Ride Trails in Mammoth Lakes
Intermediate to advanced – Double high five Y
Intermediate and beginner-friendly – Uptown Downtown
Chairlift access and something for everyone – Mammoth mountain bike park
Mammoth Lakes is Best Known For
Closest big mountain to LA area. One of the most scenic drives and areas in the country (highway 395)
In addition to being a top mountain bike town, Mammoth is also known for its phenomenal winter skiing and snowboarding.
Where to Rent Bikes in Mammoth
There are very limited ''good'' options for bike rental. Mammoth mountain is your best bet, Footloose Sports also has pricey but high-end bikes, no online booking.
Where to Camp for Free 
Off of Hot Creek Hatchery Spur Rd
Glass Creek Campground
Other Outdoor Activities in Mammoth Lakes
Soak in natural hot springs
Visit Convict Lake, at sunset…. And then tag us in your IG because we want to see it again!
Day trip to Yosemite National Park (hiking and climbing galore)
Skiing/snowboarding at Mammoth Mountain in winter
Best Time to Visit Mammoth Lakes
Summer to October
Winter for great skiing/snowboarding
---
| | |
| --- | --- |
| Pros | Cons |
| Easy to get to from Phoenix | Too hot for summer riding |
| Shoulder season mecca | Lack of fun post riding spots and lack of nightlife |
| Lots of trail options | Very touristy, think pink jeep tours. Just pass them while you bike and wave |
| Lots of trails for the advanced to the expert rider to test out their skills | |
Sedona is considered by many one of the most beautiful places in America to visit. Geographically, Sedona rests in a transition zone between the Colorado Plateau and Upper Sonoran Desert. This sacred and powerful place is home to several spiritual energy vortexes, as well as an extensive trail system with unparalleled options for mountain biking and hiking.  Sedona offers astounding red rock vistas and is a perfect destination for the off-season months when the rest of the country's trails are covered in snow.
Must Ride Trails in Sedona
So many incredible trails – mainly Intermediate/Advanced, but some beginner-friendly options exist
Check out our 6 best intermediate rides in Sedona article
Sedona is Best Known For
Off-season riding. When it's too cold for the rest of the country, head down to Sedona.  Sedona is probably the best known mountain bike town in Arizona… for good reason.
Where to Rent Bikes in Sedona
There are 3 bike shops in Sedona, AZ that each offer a great line up of mountain bike rentals.  Rentals range from $35 to $95 per day.

Thunder Mountain Bikes carries the hottest line up of mountain bikes from several amazing brands like Evil, Ibis, Revel, Santa Cruz, Intense and more.  Their location downtown Sedona is convenient to the Western Gateway, Dry Creek and Carroll Canyon trail networks.
Rent a bike online at Sedona Bike and Bean in Oak Creek Village and grab a latte from them pre-ride
Absolute Bikes rents premium bikes from Specialized, Yeti, Pivot and other great brands.  It's location right in Oak Creek means you can ride right out of the shop to the trails!
Where to Camp for Free
There are a lot of options for free camping, we camped off the main drag 525 which was slightly busy, but gave us quick access to town and getting to trails
Road 525 (or Loy Butte Rd) can be busy, but make sure you stick to one of the established parking/camping spots and don't just forge your own spot in the desert
Other Outdoor Activities in Sedona
Hiking opportunities are endless, and the views are spectacular no matter where you go
Cool off with a kayak tour or rental and paddle the desert oasis of the Verde River
Best Time to Visit Sedona
Spring and fall are the best times to visit, it's very hot in the summer
Winter can be a great time to ride too, temps are usually in the 50s in Dec/Jan and up to the 60s by February – it's also the best time to save money on hotels and other accommodation
---
Wydaho – Victor and Driggs, ID + Alta, Wyoming
| | |
| --- | --- |
| Pros | Cons |
| Remote, wilderness riding experience (not in the wilderness) | You'll want to move to Idaho |
| Chairlift options available at Grand Targhee | A hard to get to destination |
| Close to some of the best National Parks in the country | Riding in grizzly country, carry bear spray, please. |
The quieter western side of the Tetons is home to some of the best mountain biking, hiking and paddling in the area.  Even better, the crowds dissipate once you cross the pass from Jackson.  Summer opens up the incredible lift-served biking trails at Grand Targhee resort.  Victor is known as the 'wild west' of mountain biking, with trails that start near town and stretch into the Big Hole mountains.  The Big Holes offer a ton of varied riding opportunities and are known for their wild, rugged nature.
Must Ride Trails 
Grand Targhee trails – (All skill levels)

Lift serviced downhill runs plus great cross-country trails in Alta, WY on the west side of the Tetons
Ride: all of them. For a great XC ride, get to 38 special and ride it up to Peaked and come back down. The views up 38 special are pretty dang magnificent
Chairlift access, trails for all ability levels and lots of XC riding options

Phillips Ridge to Phillips Canyon loop (Intermediate to Advanced riders only)

This is a gnarly loop that offers gorgeous views in the Victor/Wilson area. A nice long climb ascending 2300' with some technical descending areas thrown in.

Horseshoe Canyon trails in Driggs (Intermediate)

Flowy trails in the Big Hole mountains to the west of Driggs
Wydaho is Best Known For
These towns that straddle the border of Wyoming and Idaho are some of the best mountain bike towns around.
Remote riding that is easily accessible but please do know that you're in grizzly country, check out this article to make sure you're prepared and aware
Where to Rent Bikes
On the mountain – Grand Targhee at the Habitat Bike Shop
Where to Camp for Free
Grand Targhee Resort – It's not free, it's $20 to camp in their lot, but it's ride in/ride out!  We recommend calling ahead to make a reservation.
The Big Eddie Campground

Free campground on the Teton River outside of Driggs
If you camp here, consider riding the Horse Shoe area trails if you have ridden all the other great stuff
This is a prime moose habitat, respect their space and enjoy these majestic animals
Other Outdoor Activities
Visit Jackson Hole and Grand Teton National Park
Paddling the Teton River
Hiking the Tabletop mountain, it's an incredible hike that gets you close to the Tetons from the backside
Skiing/snowboarding at Targhee in winter is unbelievable!
Best time to visit:

June to late-September (check snow conditions at Targhee if riding in May)
---
Sun Valley / Ketchum, ID
| | |
| --- | --- |
| Pros | Cons |
| Lots of free camping options | You'll want to move to Idaho |
| Off the beaten path | Your family will never come to visit you because they think Idaho is just potatoes |
| Many miles of incredible riding in Sun Valley | Hard to get to |
| Lift serviced trails at Sun Valley resort | |
| The views… | |
Sun Valley is the perfect adventure spot for mountain bikers of all abilities! Whether it's your first time trying it or you're an experienced rider, Sun Valley has a trail for you! The best time to visit Sun Valley for mountain biking is absolutely during the summer months – summer is trail time.
Must Ride Trails in Sun Valley
Bald Mountain DH park (Intermediate to advanced)
Adams Gulch (Options range beginner to intermediate/advanced)

Can ride straight out from town

Other Sun Valley considerations:

If you have time, head up to Galena Lodge and ride the Galena Grinder IMBA epic system there, it's amazing! Lots of flowy trails and some backcountry feel options as well
If you have even more time, head further up to Stanley, ID. Ohh, and hit Fisher Creek Loop on the way
Sun Valley / Ketchum is Best Known For
Remote trails with few people
Sun Valley mountain resort
Great rafting, hiking, hot springs, and more biking just north in Stanley, Idaho
Where to Rent Bikes
Where to Camp for Free
Were do we begin… there are so many options:

Lake Creek Road – closest to town and unbeatable scenery: farther up the road is 16-day free camping
Trail Creek Rd
Warm Springs Canyon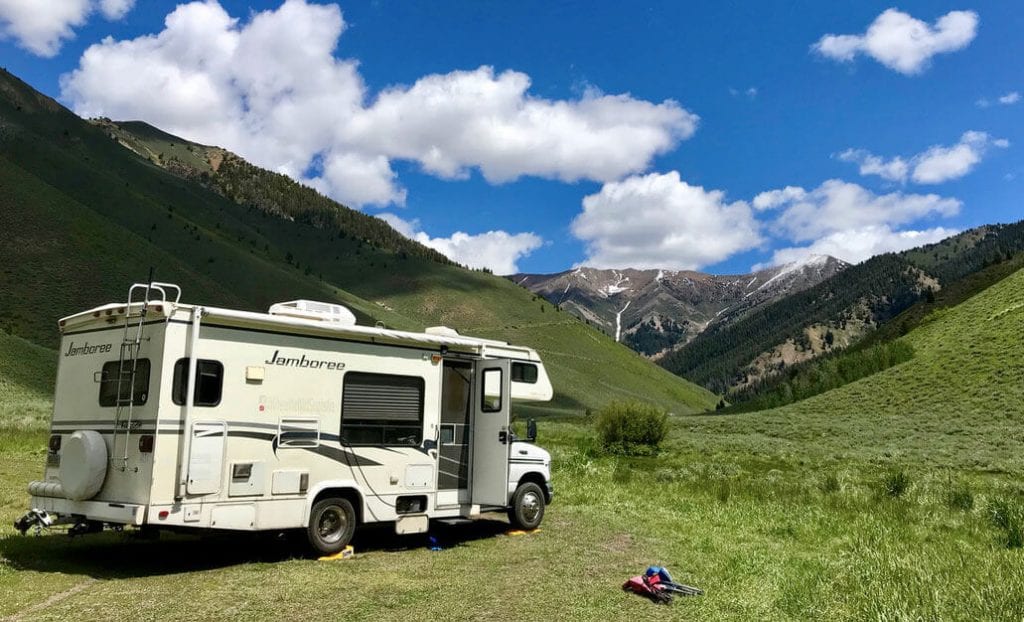 Other Outdoor Activities in Sun Valley
Paddling Redfish Lake – it's touristy but worth it
Rafting the Salmon River in Stanley, ID
Hiking options abound in the wilderness surrounding Ketchum
---
| | |
| --- | --- |
| Pros | Cons |
| One mountain, all the trails that you need | "Perfect" riding season is short |
| Great PNW riding conditions in the summer | Wet most of the year |
| Visiting PNW bike brands like Kona and Transition that let you rent a bike for the day! | Lack of free camping options |
Bellingham has a world class mountain biking destination with over 65 miles of singletrack – Galbraith Mountain.  Take a guided mountain bike tour from local experts, Dig Deep Tours, to ensure you hit the best trails during your stay!
Must Ride Trails in Bellingham
Galbraith Mountain

All of the trails. Yes… all of them! They are incredible.  Mostly Intermediate/Advanced trails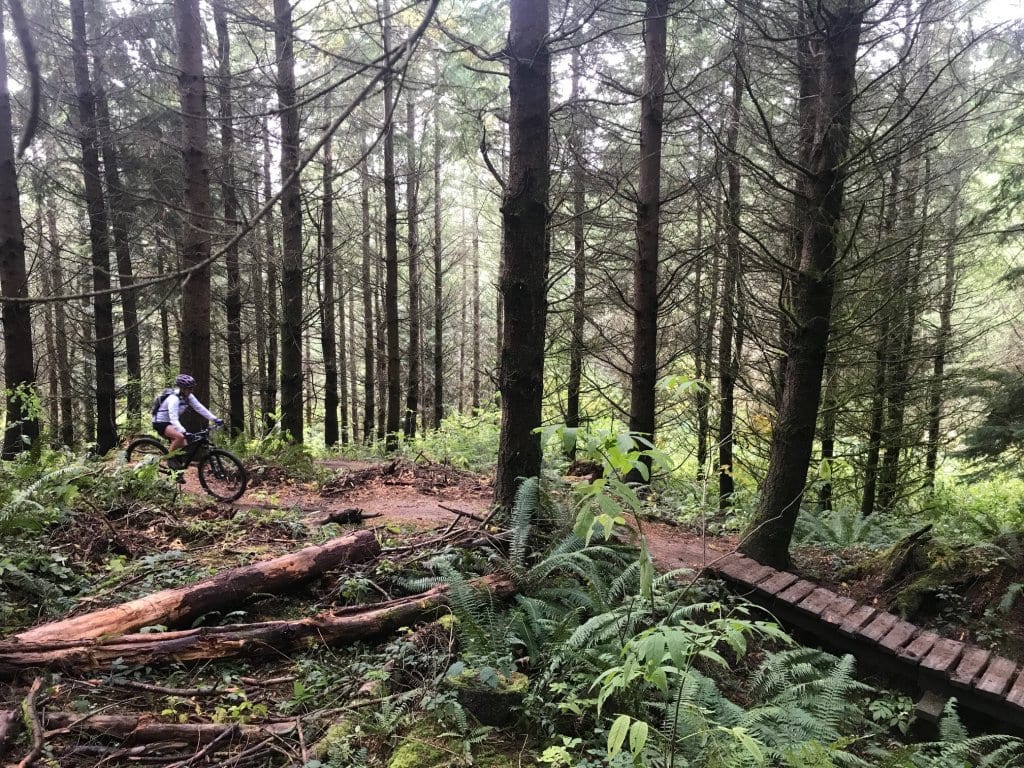 Bellingham is Best Known For
Technical features built into the awesome PNW dirt. Lots of ladder bridges, rock drops, but enough trail for anyone to enjoy regardless of rider ability. Best suited for intermediate for advanced riders however.
Where to Rent Bikes
Transition Bikes – the company headquarters. Go visit them and tell Blake we said hello. The whole crew here is awesome, you get to ride their latest bikes and the money goes to local trail systems.
We highly recommend you make the most of your time and take a guided mountain bike tour from local experts, Dig Deep Tours
Where to Camp
The Dollar Lot just outside of Galbraith Mtn.  Find out if you can still camp here before you show up with your rig (we heard it may have changed since we were there). It's at the base of the Galbraith mountain and when we visited, it was $10/night and there is nothing better than riding out of camp to hit the Galbraith trails. If you get in trouble, we didn't tell you about this.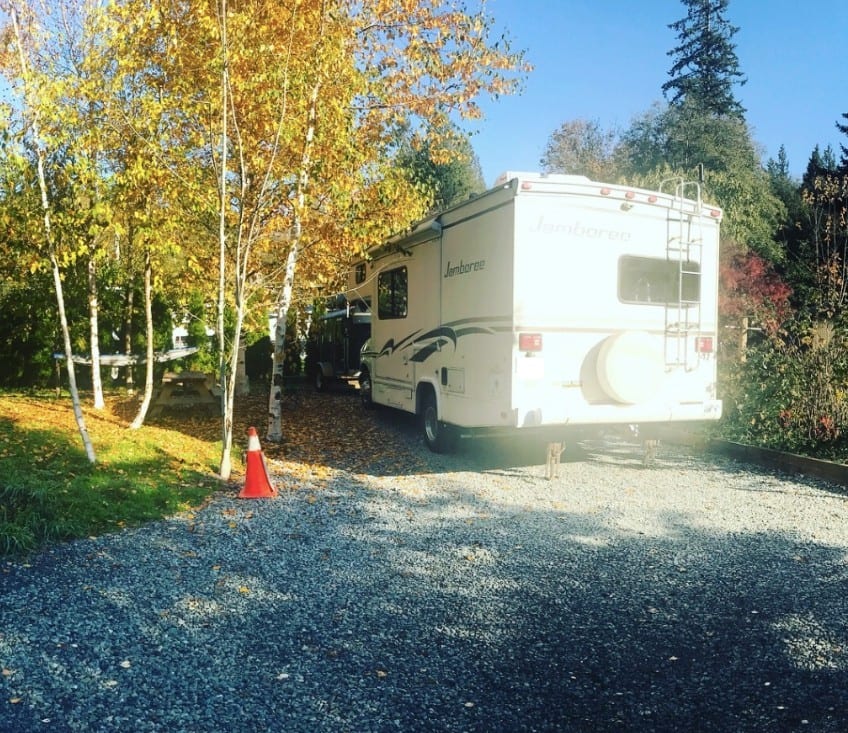 Other Outdoor Activities in Bellingham
---
| | |
| --- | --- |
| Pros | Cons |
| Ride right out of town | More city than a town |
| Camp right off the trail network | Trails can be dusty without the right moisture, high desert conditions |
| Downhill options at Mt. Bachelor | |
| Breweries and awesome food options | |
Bend is no longer a secret… but that certainly doesn't mean that it should be overlooked.  In fact, it's one of the best mountain biking destinations out there!  Plus, it's an amazing location along the Deschutes River on the eastern edge of the Cascade Range make it a prime destination for paddling, hiking, skiing, and more.  It's also known for its many tasty microbreweries – so finish off your ride with a cold one!
Must Ride Trails in Bend
Phils Trail System

So much to choose from here, for all levels – beginner to advanced

Our Bend Mountain Bike Trail Guide details all of our favorite rides!

Where to Camp for Free
Forest Road 300 Deschutes National Forest – you are camped practically on top of the mountain bike trails – Ride on/ Ride off!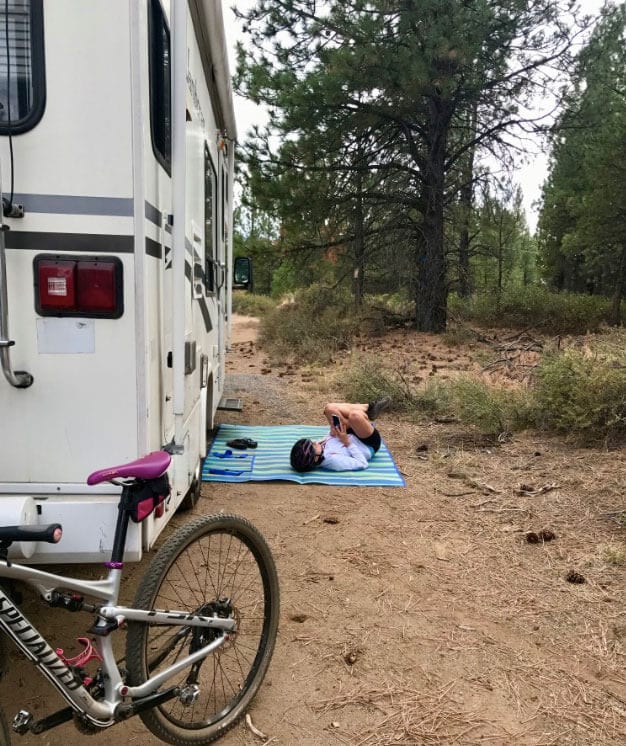 Where to Rent Bikes
Project Bike is one of the coolest bike shops as they are a full on demo shop
Bend is Best Known For
Although it is not as small as some of the other towns on our list and could technically be on a 'city' list, (it does have a Whole Foods after all), Bend is one of the most outdoorsy towns in the country. In addition to hundreds of miles of fantastic riding close to town, Bend has tons of great microbreweries, restaurants and the Deschutes River running right through town.
Other Outdoor Activities in Bend
Visiting Newberry National Monument
---
North Georgia: Ellijay, GA / Blue Ridge, GA / Dahlonega, GA
| | |
| --- | --- |
| Pros | Cons |
| Much less crowded than popular trails out west | Hot and humid summers |
| Some of the best XC trails in the country. Yes, we said it | Limited free camping options |
| Long riding season, anytime from March to November or early December | Slippery when wet and can be wet often. Lots of roots and rocks |
North Georgia has some pretty sick singletrack – rolling hills, thick forests and long ridges make it a premier mountain biking destination in the Southeast.  There are fantastic trail options right in the heart of Atlanta and all the way north through the Blue Ridge Mountains stretching through North Carolina and Tennessee.
Must Ride Trails in North Georgia
Ellijay, GA

Pinhoti 1, 2 and 3: Intermediate riding through classic north Georgia scenery

Blue Ridge, GA

Aska trail system: 17 miles of more great intermediate/advanced riding with up to 3200 feet of climbing (that's a lot for Georgia!)

Green Mountain Loop or Flat creek loop – fantastic Intermediate trail options at Aska
Stanley Gap – Advanced

This is a tough climb that doesn't give any breaks until you're at the top, which makes for an incredibly rewarding downhill as well

Dahlonega, GA

Bull and Jake Mountain IMBA Epic – Intermediate trails with great flow, scenic vistas over the north Georgia mountains and ripping downhills
North Georgia is Best Known For
These are the best mountain bike towns in North Georgia, and are easy 2-3 hour drives from the capital of Atlanta.  They feature great cross country and trail riding, lots of roots and rocks, stream crossings and beautiful dense forests. Be prepared for humid summers!
Where to Rent Bikes
Cartecay Bikes in Ellijay
Where to Camp
Ellijay: Mulberry gap is your best bet. It caters to mountain bikers camping, is right near the trail network, and you'll be surrounded by riders!
Blue Ridge: Morgantown Point Campground
Dahlonega: Jake Mountain parking lot (free!) has a few camping spots, not in the main parking, take the road to the right of the parking lot
Other Outdoor Activities in North Georgia
Whitewater rafting at the Ocoee River
Paddling Lake Blue Ridge
Incredible hiking – especially when the leaves change in the fall!
Best Time to Visit
Spring and fall are perfect in the South. Summer is hot, but the trails are very shaded so if you are used to the heat, it's manageable.  The fall colors in the southeast are a big attraction but know that pine needles and leaves can make the trails slippery at times. But you got this!
Bentonville/Bella Vista Arkansas
| | |
| --- | --- |
| Pros | Cons |
| Quaint town with world class microbreweries, restaurants, boutiques and miles upon miles of singletrack | Arkansas can be off-the-beaten path for outdoor enthusiasts |
| Year-round riding | Limited free camping options |
| Singletrack trails less than a 2 minute pedal from town | Not really a "mountain town" |
| Thoughtfully planned trails that make use of space extremely well | |
Bentonville is now known for more than just Walmart.  It's award-winning mountain bike trails are attracting more and more riders every year.  This small Arkansas city has some of the best singletrack in the country now. Several members of the Walton family are passionate mountain bikers, and their Foundation helped to build the fantastic trail network.
Best Biking Trails in Bentonville/Bella Vista
The great thing about the various sections of purpose-built singletrack in the Bentonville area is that there are trails for all levels.
The Back 40 Loop (Intermediate):  The nearby town of Bella Vista has 40 total miles of "back country" singletrack and it's famous for its long climbs and descents.  Twenty miles of the Back 40 singletrack makes up the Back 40 loop. It can be ridden either way and is family-friendly and great for kids.  Counter-clockwise is the best option for more advanced riders due to the exposure and technical riding on The Ledges section. The rest of the ride is mostly cross-country with some rollers, berms and flow as well as a "hanging bridge", waterfall and other scenery.
The Coler Network (All Levels): 17 miles of well designed trails with a variety of terrain – from green kid-friendly trails to black diamond rated rocky, technical runs.  All of the trails start from a central trailhead and connect back to the bottom, making it a great place for groups of varying levels to ride.  Rock Solid is a rocky, technical trail to test out your demo bike… and your skills.
The Slaughter Pen (All Levels): these are some of the legendary, original trails in the Bentonville area.  Start with the beginner-friendly All-American trail – a fun and flowy trail features optional ladder bridges, rollers and berms and is a great intro to the area. Trails available for all levels of riders.

Where to Rent Bikes
Visit Phat Tire Bike Shop for your Bentonville biking trip. With a collection ranging from mountain bikes to cruiser bikes starting at $38, Phat Tike Bike Shop has got you covered. They also have an incredible 4.9 star Google rating because of their awesome customer service.
Bentonville is Best Known For
The home of Walmart
The many different organizations that came together to build these fantastic mountain bike trails in record time
Where to Camp in Bentonville
Blowing Springs Campground – it's ride in/ride out to the Back 40 trails!
Other Outdoor Things to Do in Bentonville
Exploring the Crystal Bridges art trail – ½ mile dog-friendly walk with outdoor sculptures and native plants
Arkansas road trip to explore the singletrack at 53 state parks that are developing mountain bike trails throughout Arkansas
Hiking Tanyard Creek Nature Trail
Best Time to Visit Bentonville
You can ride here year-round!  Spring is the busiest season, and summer brings cooler temperatures than some other well known biking destinations, so is a great time to visit if you aren't a fan of the heat.
Asheville & Brevard, North Carolina
| | |
| --- | --- |
| Pros | Cons |
| Asheville is home to more breweries per capital than any city in the US! | Tourism traffic in summer |
| Asheville is an outdoor enthusiasts paradise, with some of the best biking, paddling, rafting, hiking, backpacking and climbing on the east coast. | Not much free camping, but tons of paid camping spots |
| We love Asheville's funky hipster vibe and it's arts district. | |
Asheville is a truly incredible gem of the Southeast.  It's outdoor recreation can't be beat – it's surrounded by the Blue Ridge Mountains, many National Forests and opportunities for almost every outdoor activity you can imagine.  The city itself has a very artsy vibe and is filled with great restaurants, cocktail bars, eclectic shopping, art galleries and microbreweries.
Asheville is quickly gaining traction in the MTB scene thanks to its plethora of incredible trails that bring bikers to it's lush green forests, flowy singletrack and scenic Blue Ridge views.  Popular mountain bike networks such as Pisgah and DuPont are located just 15 minutes away from downtown Asheville.
Best Biking Trails in Asheville
Pisgah National Forest – Pisgah is known for its advanced, technical riding with plenty of roots, rocks and gnarly stuff.  This National Forest covers 500,000 acres with 3 trailheads: Bent Creek, Mills River and Davidson River.

Bent Creek is the closest to Asheville and it's a great place to start a trip to Pisgah to get a feel for the trails before continuing further into the more remote sections.  There isn't a ton of beginner trails in Pisgah, but most are located near the Bent Creek trailhead.  Advanced riders will also find various trails with climbs and some technical features.
Mills River is south of Bent Creek and has the most trails of any section of Pisgah.  We highly recommend 2 different loops here: Fletcher Creek and Laurel Mountain. These trails have more of a backcountry feel to them because the area is less developed.
Davidson River is the most popular recreation area in Pisgah.  The trails closest to the main highway are the busiest, and the farther you venture, the more solitude you will find.  You will find a variety of singletrack and doubletrack here that is technical, rocky and steep. In this section you can ride to and explore Looking Glass Falls and Sliding Rock.

Dupont State Forest features almost 100 miles of trails for all levels across the 10,000 acre forest.  One of the most unique features of Dupont is the opportunity for slickrock riding. Not many trails can boast slickrock outside of Moab, but Dupont has a fantastic network of trails where riders can bike over and across these large granite rock domes, visit 4 beautiful waterfalls and ride through the dense Southeast foliage.
Asheville is Best Known For
Biltmore
Pisgah National Forest
Mountains-to-Sea Trail
Blue Ridge Mountains
Where to Rent Bikes
For repairs and rentals, stop by Asheville Bike Company.
If you want to rent closer to the riding destinations, you're better off renting in Brevard from The Hub or Sycamore Cycles
For a guided adventure or lessons, you can also check out The Bike Farm, bonus…they have camping options as well.
Where to Camp
There are a few dispersed sites in the Mills River area of the Pisgah National Forest – make sure they are the designated sites, camping is not allowed anywhere!
Davidson River campground or Bent Creek campground are great places to set up camp and explore the nearby trails
Other Outdoor Activities in Asheville
Kayaking, canoeing, tubing, SUP and whitewater rafting one of the country's oldest rivers, the French Broad
Guided hiking, backpacking and camping opportunities galore in the Blue Ridge Mountains including Pisgah and Dupont
Best Time to Visit Asheville
Asheville blooms from March to May. The mild temperatures around these months are ideal for outdoor activities. May is also Asheville's festival month. Summer is also a great time to take a reprieve from the South's hot summer days in the cooler mountains surrounding Asheville – but it's definitely busier.
| | |
| --- | --- |
| Pros | Cons |
| Copper Harbor trail network is an IMBA designated Silver Level Ride Center | Can be off the beaten path (but this may be a Pro too!) |
| Western-like riding experience dubbed "the BC of the Midwest" | Not a ton of true beginner terrain (but they are adding more) |
| Rugged Lake Superior shoreline riding and views | |
Copper Harbor is Michigan's northernmost community, a small village that sits on a protruding peninsula deep into the clear blue waters of Lake Superior.  It has world famous mountain biking and sea kayaking, and is the takeoff point for a trip to Isle Royale National Park, an archipelago of wilderness in Lake Superior.
The Best Biking Trails in Copper Harbor
The majority of the trails at Copper Harbor are rated intermediate – check out the popular Garden Brook (3 miles) and Woopidy Woo (2.5 miles) trails, or the longer Keweenaw Point trail (5.5 miles)
For experienced riders, hit up Overflow and Flying Squirrel.  Or try out the more technical trails like Red Trail and Paul's Plunge.

Copper Harbor  is Best Known For
It's beautiful location on a rugged peninsula jutting out into Lake Superior
Gateway to Isle Royale National Park
Mountain biking mecca
Year-round outdoor activities
Where to Rent Bikes
Keweenaw Adventure Company is a highly rated outfitter that provides mountain biking rentals and tours.  They also offer sea kayaking tours and rentals on Lake Superior and Isle Royale National Park.
Where to Camp
Trails End Campground – rates start at $10 a night. Just 2 minutes away from downtown.
Fort Wilkins Historic State Park – nightly rate starts at $30. The park is only 2 minutes away from Copper Harbor city center.
Other Outdoor Activities in Copper Harbor
Isle Royale National Park – backcountry hiking, camping, swimming
Best Time to Visit Copper Harbor
The weather from June to September is the perfect season for biking, hiking and camping.  Winter months offer great skiing, snowshoeing and fat biking opportunities!
Leave No Trace Mountain Biking
No matter which awesome mountain biking town you choose, make sure you follow Leave No Trace principles, and recreate responsibly outdoors to ensure our wild areas stay pristine for generations to come.