Boundary Waters Canoe Area Wilderness
Make just one trip to the Boundary Waters Canoe Area Wilderness, and your life will be changed forever.  This pristine 1M acre wilderness extends along 150 miles of the US/Canada border in Northern Minnesota.  The region looks much the same as it did in the early 1900s when preservation efforts began.  Water makes up 20% of the total area.  It's 1,100 lakes and hundreds of miles of rivers and streams makes it a one of a kind destination for canoeing, hiking, camping and fishing.
BWCA Canoeing and Portaging Adventures
Days consist of paddling tranquil lake after lake, portaging canoes between the lakes on historic routes traversed by early fur traders and shared with wildlife, and setting up camp in one of the 2000 backcountry campsites perched on the glacial lakes.  If you are lucky, you may spot one of the resident moose or hear wolves howling at night as you tuck into your tent.  One incredible call you have a good chance of hearing is the haunting song of the loon.  These aquatic birds are an iconic symbol of the Boundary Waters.  They are also the Minnesota state bird.  Their distinctive calls can be heard echoing across the lake in the early evening hours.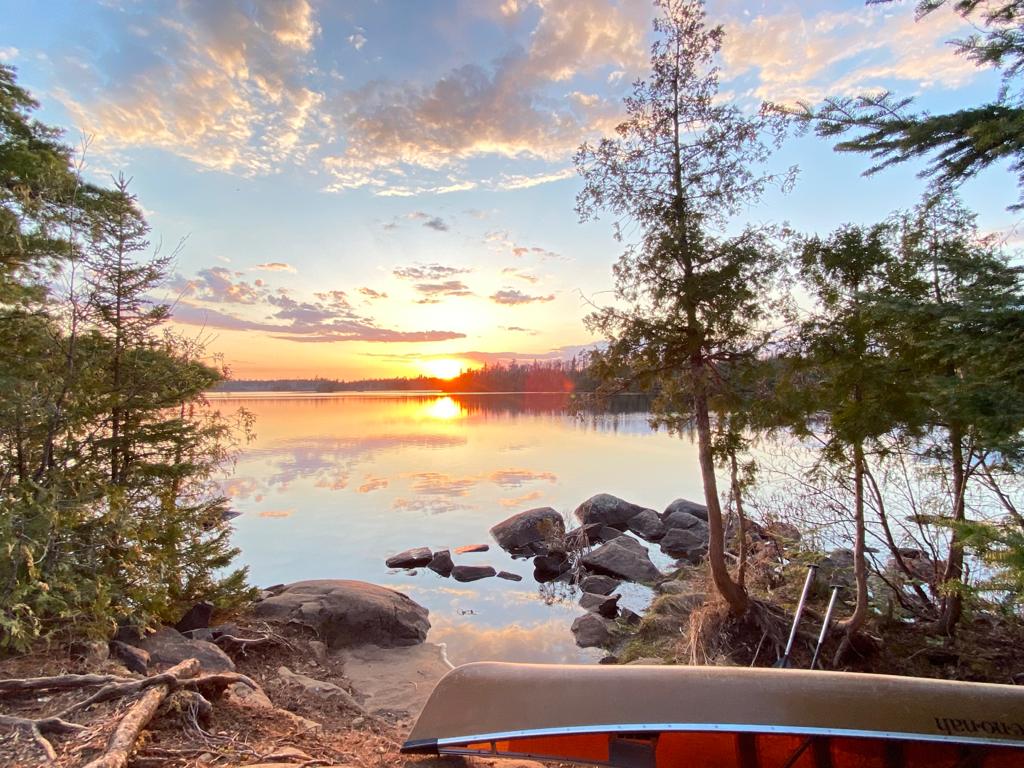 With thousands of miles of canoe and portage trails the BWCA offers an adventure for all.  Whether you desire a challenging trip paddling dozens of lakes and rivers and taking in scenic waterfalls, a peaceful paddle to observe ancient pictographs, or a kayak fishing day trip, the BWCA has endless options.  We can help you find your ideal route with outfitters based in Ely and on the Superior shore in Tofte, and provide complete outfitting for your BWCA adventure.

FAQs
Best Time to Go to the BWCA
The summer months between May and September are the most popular, but the BWCA is visited year round.   Our favorite time in the Boundary Waters is late August and early September.  The mosquitos that are in full force in the peak summer months have typically eased off by late August.  The days are usually still warm enough to enjoy a swim in the pure, warm water.  Winter is an excellent time to visit if you are prepared with the right gear.  With the right gear and knowledge, winter camping in the Boundary Waters can be an extraordinary experience.  There are far fewer visitors, and you will have the solitude of this incredible wilderness to yourself – including no bugs!  Seeing this pristine wilderness covered in snow is an incredible experience.  Enjoy it by snowshoeing, cross-country skiing or dog sledding for a truly unique winter adventure.

Guided or unguided BWCA trips?
The BWCA is a phenomenal trip, whether you choose a do-it-yourself option, or whether you select a guided trip.  Many first timers choose a guided trip, but with a little preparation and the right gear, most novices can easily do it unguided – especially if you have done any tent camping before.
Our shop in Ely, MN is located in the gateway to the western Boundary Waters, and our Tofte shop is on the eastern side flanking Lake Superior.  Our experienced outfitters will set you up with everything you need for a do-it-yourself BWCA trip – including route planning, camping gear and equipment, and all of the food you will need for your adventure.

What kind of footwear do I need for the BWCA?
The verdict is still out, but there are typically 2 types of footwear that experienced paddlers prefer in the BWCA.  1) Waterproof hiking boots – these will still get wet, because you will be stepping in and out of canoes in knee-deep water, but they will protect your feet well from the sharp rocks common in shallow water and on portages, OR 2) Closed toe water-type sandals – the benefit of these is that they dry out quickly because they are made for water, but aren't as sturdy as hiking boots so care must be taken in rocky portages/shallow water.  Make sure they are closed toe!  Open toe sandals are really a no-no in BWCA, there are too many sharp rocks and places to slip – I promise, you want to keep all your toes!
What should I pack for the BWCA?
With Ely Outfitting's complete outfitting package, the only thing you need to bring is your clothing and footwear.  Ely Outfitting is one of our curated, top-rated outfitters that will outfit your BWCA trip with ultralight Kevlar canoes, PFDs, waterproof maps, lightweight tents, sleeping bags and pads, compass, pots/pans, utensils, camp stove, water filter, camp chairs, pack saw, a food kit and portage packs to carry everything for your entire journey.  They will even provide a detailed list of what to bring with every booking!  They handle it all, from a canoe rental to complete outfitting.
SAVE THE BOUNDARY WATERS
The Boundary Waters Canoe Area Wilderness is threatened by sulfide-ore copper mining.  The Campaign to Save the Boundary Waters is leading the effort to ensure permanent protection for the Boundary Waters Wilderness, America's most visited Wilderness and Minnesota's crown jewel, from proposed sulfide-ore copper mining.
What would a Twin Metals mine on the edge of the Boundary Waters mean? Pollution. Here's a look at different ways this toxic mine could pollute the Wilderness. Not this mine. Not this place. #SavetheBWCA
Find out more about how you can help Save the BWCA!
No matter where you camp and canoe, make sure you follow Leave No Trace principles, and recreate responsibly outdoors to ensure our wilderness areas stay pristine for generations to come.