The 8 Best Mountain Bike Trails in Ketchum / Sun Valley, Idaho
Updated 7.21.23
Looking for the best mountain bike trails in the Ketchum & Sun Valley area?  Check out our trail guide below for some of the best rides in Sun Valley!
Easier
1. White Cloud Trail Outer Loop
The White Cloud Trail System is located just a mile outside of Ketchum and is easily rideable from town on the paved bike path.  The system includes a couple of loops of easy as well as intermediate trails. The White Cloud Outer Loop trail is 4.2 miles and is mostly smooth with some small climbs, and great for beginners.  It is a fun and flowing trail. The western part of the trail has very scenic views of the mountains and Sun Valley resort.

2. The Harriman Trail
The Harriman Trail is a mellow 19.2 mile dirt doubletrack (no motorized vehicles allowed) that follows the Big Wood River from North Fork campground (8 miles north of Ketchum) to Galena.  It gains about 1,300 feet from North Fork to Galena (or descends, depending which way you do it) and can be ridden as a shuttle point to point, or broken into sections using one of the many pull-offs along highway 75.  It is a beautiful ride through meadows, aspen groves and fir forests, crossing the river many times.  Views of Galena Peak and the colorful Boulder Mountains will keep you occupied, and get better the closer you get to Galena.  Any section of it is great for a nice family cruise, and it can also be used as a starting point to the Oregon Gulch loop (see below).
Intermediate
3. Greenhorn to Imperial Loop
This loop starts at the Greenhorn Gulch trailhead about 20 minutes southwest of Ketchum.  The trail climbs and descends about 1900' across it's 10.8 miles.  It is a great intermediate trail with a lot of variety in landscape, numerous great views and wildflowers. From the trailhead you'll start the loop off by crossing several bridges and slowly ascending through several scenic vistas. You will pedal through thick forests and along high ridges.  The downhill rips through beautiful views of the Pioneer Mountains. You'll end this loop exploring through a meadow of wildflowers before passing through a burnt section (from a fire in 2013) and ending back at the trailhead.

4. Bald Mountain Big Descent
The Bald Mountain Big Descent is a 13.6-mile point to point trial where you'll do exactly what the name says: descend 3,600' with amazing views all around. The easier way up is to take the Bald Mountain gondola from the base of the resort to start the trail, but you can also climb up the mountain to earn your descent!  The trail starts on Broadway Saddle Trail at the top of the gondola and follows singletrack down the back side of Bald Mountain.
Take in views far below you of the ski area, Ketchum, and wildflower meadows.  Warm Springs Trail is smooth and fast for the most part, with a few rocky sections but nothing too extreme. Don't forget to take in the awe-inspiring vistas along the way!  After 5 miles on Warm Springs you will climb 2 miles up the Traverse trail – a dirt road through the ski area. It's well worth it when you turn right on River Run trail.  River Run trail offers up a fast downhill with never-ending switchbacks as you rip down the mountain. Make sure to be on the watch for hikers on the trail as you make your way down!
5. Curly's Loop
This lower traffic loop trail starts about 12 miles north of Ketchum on Baker Creek Road.  It climbs and descends 1,650' across its 12.1 miles and is a great intermediate ride with a fast descent. You will follow along Baker Creek road for a bit, enjoying the amazing views, and start climbing when you turn onto Road 168 East Fork Road.  The climb is gradual with only a couple steep sections.  When you reach the top you'll have the opportunity to enjoy the views before turning left to descend Curly's Trail.  It's a fun and flowy descent back to Baker Creek!
Intermediate/Advanced
6. Adam's Gulch Intermediate Loop
Adam's Gulch trailhead has a ton of different options for loop rides with over 30 miles of trails and it's well signed so it's hard to get too lost.  The trailhead is an easy 1.5-mile ride from town on the paved bike path.  The 10.9-mile intermediate loop climbs and descends about 1,900' and is fairly exposed much of the way so it offers great mountain views all around. You'll start climbing right away as you start up Adams-Lake Creek Connector and continue the climb on Harper's Trail on a series of switchbacks. As you get closer to the top, it gets a bit steeper. The descent starts when you take Griffin Butte Connector – it's fast but watch for hikers!  Eve's Gulch is a gradual climb and the most popular section is the Forbidden Fruit trail descent with its big berms.

7. Oregon Gulch Loop
This 25.7-mile loop ascends nearly 2700' across the first 18 miles, and then descends quickly along Edge of the World trail. It's an intermediate/advanced trail for the confident rider.  Park at the Visitor's Center and start the loop on the Harriman Trail, a beautiful gravel doubletrack trail that winds through wildflower meadows and crosses the river many times. This trail is renowned for its views of Galena Peak and the Boulder Mountains.  After 8.5 miles on the Harriman trail, you will climb to the top of the mountain on Baker Creek Road before reaching Oregon Gulch trail.  The first section is a loose, rocky, screaming downhill that lives up to its name – Edge of the World.  The bottom section of the trail you will pedal past ponds and meadows on smooth singletrack.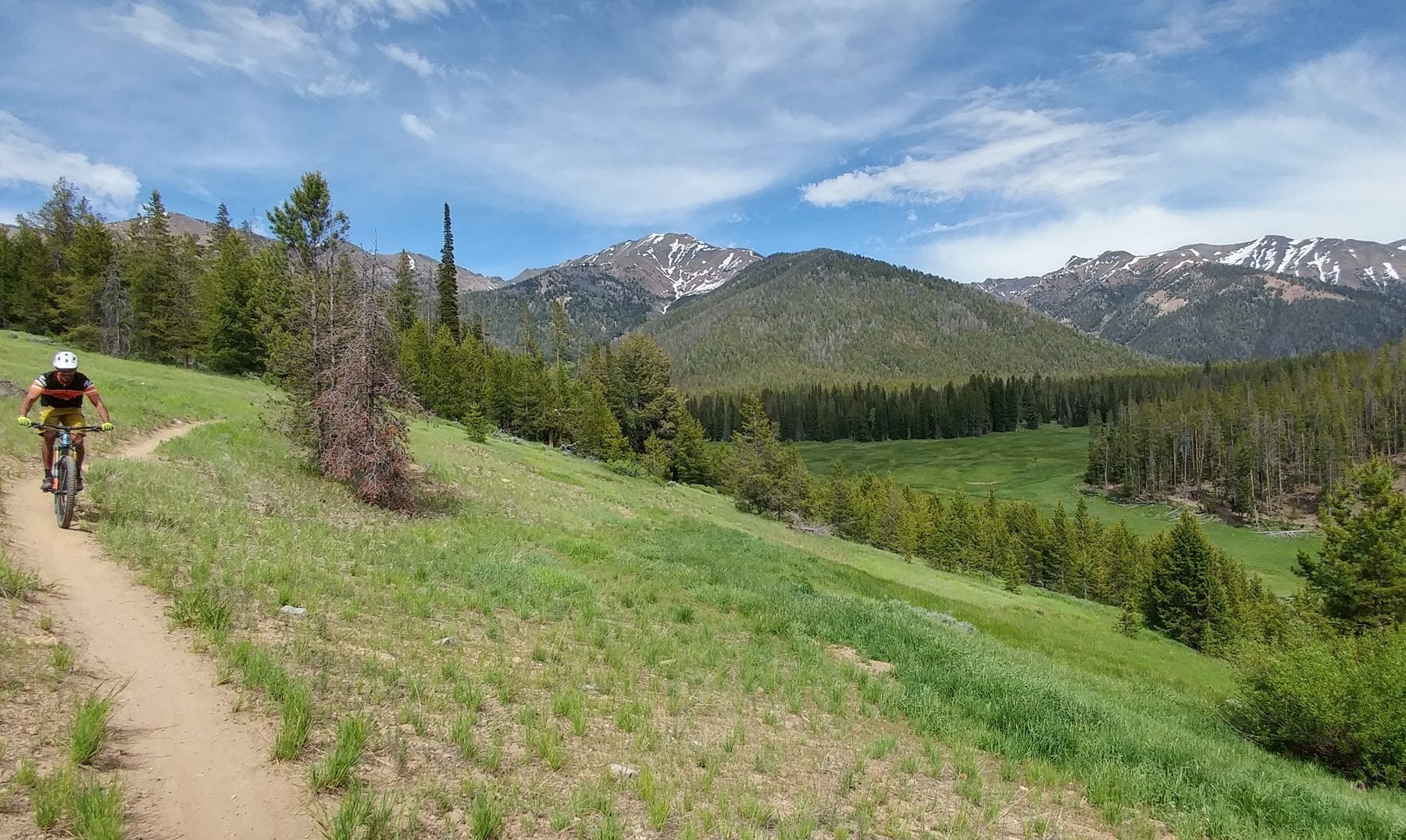 8. Galena Grinder
Galena is a fantastic trail system 24 miles north of Ketchum along highway 75 just a few miles before the magnificent Galena Pass.  This 1880's mining town has been transformed into an incredible summer and winter outdoor recreation area.  There are trails for all levels from beginner to advanced, and doubletrack forest roads to tight singletrack.  The 25.6-mile IMBA epic-rated loop covers some of the best trails in the Galena system.  The loop has a 3,000' elevation gain and hosts one of the longest running MTB races in Idaho.  If you follow the entire Grinder loop you will encounter multiple flow trails, tons of singletrack, and forest roads. There are two trails from the top of Galena Pass that offer an epic 7-mile downhill ride to the lodge.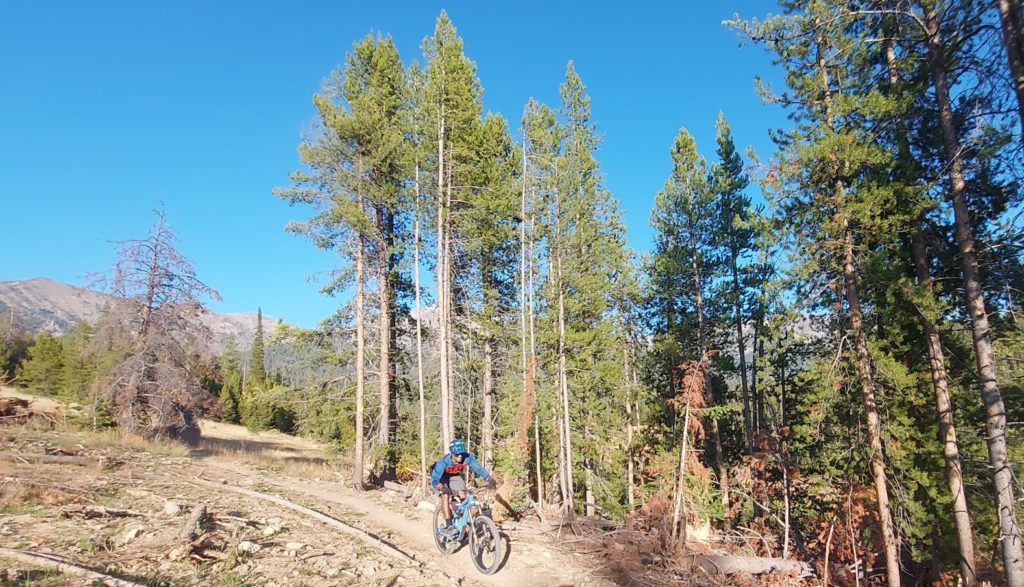 Rent a premium mountain bike perfect for the Sun Valley trails at Elephant's Perch or Backwoods Mountain Sports, both located in downtown Ketchum.  Both shops have friendly staff that will help ensure you have everything you need for your ride, including further guidance on the best local trails in Sun Valley.