Truckee Outdoors
In early September, Reet and I finished up the Interbike event in Reno and headed west to the town of Truckee, just north of Lake Tahoe. We were stoked to check out this part of the country in our RV – we had never explored the area together and were excited to check out the many outdoor adventures the Tahoe area is known for. The clear blue lake tucked into the snowy Sierra Nevada mountain range is right up our alley. Unfortunately our bikes had been stolen in Reno – super major bummer.  We were still reeling from the loss – our RV lifestyle has really helped us reduce our attachment to things…with the exception of our mountain bikes.  We just felt so violated!  As we worked with our insurance company to file claims, we decided to use our gear rental website, TripOutside.com, to book us some bikes for the Tahoe trails. We had recently added Cycle Paths bike shop in Truckee, so online we went to book quickly and easily.  We were stoked to be their first customers through TripOutside.com!  Our first night in Truckee we spent shortlisting the trails we wanted to explore on Trailforks for the next day.  The Truckee outdoors scene has so much to offer!
TripOutside also allows you to compare rental bike pricing at the best Truckee bike shops before you rent.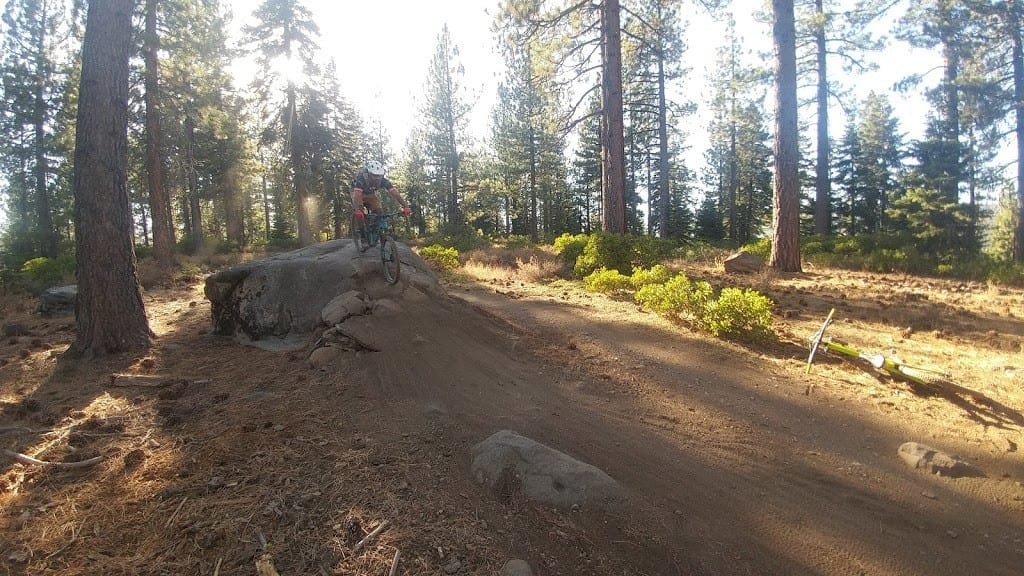 Day 1: Mountain Biking the Gnarly Tahoe Singletrack
Cyclepaths Bike Shop is conveniently located near downtown Truckee and has top of the line mountain bike rentals for all levels. We asked Greg, the owner, for recommendations on where to ride, since he's been biking this singletrack since he was a kid. He told us that the Yogi Bear trail is the locals' well-kept secret. We had to try it!
It began with a tough 6.5-mile, 2000-ft fire road climb, but was followed by an epic downhill ride on the Jackass trail with lots of switchbacks that made up for the climb. Reet enjoyed trying out his 27.5" Rocky Mountain Thunderbolt rental bike (his last bike was a 29er) on the jumps and huge rock features built right into the trail. I demoed a fantastic Juliana with the new 1×12 Eagle gear – and I am not sure I would have been able to ride all the way up without it! Getting in the low gear really helped me hang on during the steep sections. The Yogi Bear ride is a 14.5-mile loop and starts and ends off of highway 89 a bit south of Highway 80. You won't find this trail on MTB Projects or Trailforks, so make sure to ask at the bike shop for exact directions!
Next time, we plan to hit up the Northstar Bike Park – we've nominated it one of the 10 best US Bike Parks!

Day 2: Paddling the Crystal-Clear Waters of Lake Tahoe
The next day we decided to go for an afternoon paddle to enjoy the sunset over the infamous Lake Tahoe. Luckily the thieves spared our kayaks!  Paddling the purest waters in North America at Lake Tahoe was on our list of must-dos. In our research on where to paddle, we read that Sand Harbor is one of the clearest and most beautiful parts of the lake to paddle. It is about 35 mins from Truckee, and we stopped at Adrift paddle shop in Kings Beach on the way. You can rent top notch SUPs and kayaks online and pick them up right at their shop on the beach!
The warm weather and clear skies were perfect for our scenic paddle on America's purest lake. I inflated our paddleboard, and Reet took a kayak out. We couldn't believe how clear the water was! We could see all the way to the bottom, even as we paddled out from shore. The water was so calm that I even tried some paddleboard yoga, which was harder than I thought it would be… The sun set behind the mountains as we paddled, and we took some great photos as we watched it disappear.
That evening we had a beer and Mexican food in Kings Beach after the paddle, which was the perfect way to end our north Tahoe adventure. Reet and I liked it so much that we are planning to come back for a longer stay in spring already. You should also explore this hidden gem of the north this summer!

Add On: Hiking the Donner Tunnel Trails
If you have a little extra time and want to explore more of the Truckee outdoors, we recommend exploring the Donner Tunnel trails.  We found this highly rated hike on the All Trails app.  It is very unique, and unlike any other hike we've done.  The hike takes you through an abandoned railroad tunnel adorned with graffiti.  This tunnel stretches almost 1700 feet and was constructed by Chinese laborers in 1867 – the first train line to cross the Sierra Nevada mountain range.
We hiked several miles through the tunnels, stopping at various openings to admire the valley below with stunning views of Donner Lake.  The hike is an out-and-back, so you can make it as long or short as you like.  We started the hike on Donner Pass Road, just past Donner Pass Summit, where there are beautiful rocks and petroglyphs if you look close!  There is a sign denoting them so you don't miss them.  The stark contrast of beautiful, natural landscapes and graffiti filled engineering marvels made this hike quite remarkable!