Best Apres-Ski Spots at North America's Top Ski Resorts
Updated 10.17.22
You may be wondering… what exactly is apres-ski?  Where did this word come from?  The word originates from France, and literally means "after ski".  Americans have adopted this fancy European terminology to describe what many also refer to as "happy hour" after a day of skiing or snowboarding.
After hitting the slopes all day, there's nothing more rewarding than savoring a pint or a margarita, enjoying the sunset, and grooving to great music. The apres-ski scene is a major part of the ski experience, and more apres spots are amping up their game to make your ski holiday a blast. We've rounded up the best apres-ski spots at 15 top ski resorts for you to check out on your next ski vacation!
Find ski and snowboard rentals right here on TripOutside.

T Bar
The TBar, a skier and snowboarder hangout at the base of Peak 8, is a lively choice for apres-ski. This on-mountain resort bar is popular with skiers and snowboarders who are looking for tasty American/Mexican eats and a wide variety of beers. This place doesn't just warm you up – its relaxing vibe can also cool you down.
Opens from 11:00 AM to 4:30 PM Monday to Thursday & Sunday. Closes at 6:30 PM on Friday and Saturday.
Mi Casa Mexican
The mouthwatering aroma drifting from Mi Casa Mexican is just a preview of the restaurant's amazing specials. If you're craving Mexican and Southwestern dishes, Mi Casa is the place to be. The menu boasts tacos, nachos, and margaritas. Happy Hour at Mi Casa is from 3pm-6pm and means $3 Mexican beers, 3 tacos for $5, $6 pitchers and more!
Visit Mi Casa Mexican in the town center of Breckenridge.  Serving from 11:30 AM to 9:00 PM.

Garibaldi Lift and Co
Looking for an affordable apres-ski hangout with a stunning location? Located at the base of Whistler, Garibaldi Lift and Co. is the place to be. The outdoor fire pit isn't the only thing that'll keep you warm – the crowds, the ambiance, and the delicious food and beer options will liven you up, too.  Garibaldi Lift and Co will show you the true meaning of apres-ski Whistler-style.
Opens from 11:00 AM to 1:00 AM daily.
Dusty's Bar & BBQ
Located at the base of the Creekside Gondola, Dusty's Bar is your go-to spot if you're in the mood for an apres-ski party.  The locals love this bar, thanks to its delicious comfort food, great wine selection, and live bands that really get it going!
Opens daily from 11:00 AM to 1:00 AM. Dusty's Backside – opens only during the ski season – is open from 7:00 AM to 2:00 PM.
Basecamp Beer Garden
Even without the snow, Basecamp Hotel and Beer Garden is totally chill. Set in the heart of South Lake Tahoe, their outdoor seating, open fire pits, and extensive selection of seasonal beer gives Basecamp a relaxing vibe. When Happy Hour strikes, you can get specialty beer for just $4. They also offer an irresistible apres-ski treat – S'mores!
Visit them at 4143 Cedar Avenue, South Tahoe. Happy hour starts from 6:00 PM to 10:00 PM.
Tamarack Lodge
Located near the gondola, Tamarack Lodge is a popular, on-mountain apres-ski spot for skiers who want to warm up and fill up after a day of skiing. Tacos, nachos, and specialty drinks are some top menu items. Stay a little longer to enjoy Happy Hour specials – 50% off drinks! Thanks to great music, the vibe here is always electric.
Doors are open from 7:00 AM to 11 PM.

Vendetta's
Craving pizza after your mountain adventure? Head over to the town center to Vendetta's for some piping hot and flavorful slices. Snow Pig and Jack Attack are a must try – these pizza slices scream comfort. The first floor houses a lively bar, perfect for anyone who wants to mingle with the crowds. Prefer a little solitude? The second floor is a great place to relax.
Opens daily from 11:00 AM to 2:00 AM.
El Segundo
An animated taqueria and tequila bar in the heart of Vail Village, El Segundo has over 100 tequilas and a range of Mexican, Asian and American food.  Take in the lively vibe with a specialty margarita or craft cocktail after enjoying a day on Vail's famed slopes.
They're located at 223 Gore Creek Dr overlooking Gore Creek. Opens daily from 11:30am to 9:00pm.
Beehive Basin Brewery
While in Big Sky, visit the town center and  get your hands on Beehive Basin Brewery's delicious crafted beers. They're always experimenting with new flavors so if you're in the mood to try some apres-ski beers, Beehive Basin Brewery is the place to be.
Visit between 12:00 PM and 8:00 PM.
Scissorbills Saloon
Always a big hit among locals and visitors, Scissorbills Saloon is an iconic apres-ski pick for at Big Sky resort. Warm up with hot butter rum and spiced cinnamon cider, or try one of their signature cocktails. This on-mountain apres-ski dive offers Happy Hour specials and live music from 3:30-5:30 most days.
Open from 11:00 AM to 12:00 AM.

Ajax Tavern 
Just a few steps away from the Silver Queen Gondola, Ajex Tavern is a quintessential apres-ski destination at the base of Aspen Mountain. The indoor/outdoor hub is great for people watching and it's delicious truffle fries. The party starts at lunch and goes well into the night!
Opens from 11:30 AM to 10:00 PM
The Red Onion
In business for 127 years, The Red Onion has earned one of the top apres-ski spots in Aspen thanks to their classic pub fare, live music and craft beers.  Come during Happy Hour and get $1 off drafts, wines by the glass, and well drinks.
Visit them at 420 E Cooper Avenue, near the base station and gondolas.. Serving great treats from 11:00 AM to 2:00 AM.
High West Saloon
High West Saloon is probably the hippest apres-ski spot in Park City. Boasting a ski-in gastro-distillery – the only one in the world – High West serves impressive varieties of whiskey. Whether you want to hang out with fellow skiers, or simply just want to enjoy a night with delicious comfort food, High West Saloon won't disappoint.
Opens daily from 11:00 AM to 9:00 PM.
The Spur Bar and Grill
This funky landmark on Main Street is a popular hub for those looking for some after-ski fun. Chow down their tasty pizza and sandwiches while enjoying one of their signature cocktails. Fried goodies are also on the menu – they're a perfect pair to The Spur's ales, ciders, and ryes!  Or try their new Spur whiskey. They feature live music every night from a variety of genres – from rock to bluegrass and blues – they've got it all!
Opens daily from 11:00 AM to 11:00 PM.
T-Bar – Steamboat
Steamboat's favorite dive bar welcomes skiers with a classic, rustic, and casual vibe. Located on the base of the ski resort, T-Bar is home to creative drinks, delicious international plates, and an extensive wine list.  Whether you prefer to unwind and relax, or to mingle with locals after a whole day of skiing, T-Bar at Steamboat is an apres-ski spot you shouldn't miss.
Opens from 11:00 AM to 5:00 PM.
Old Town Pub
Don't let the rustic charm fool you – Old Town Pub turns into a hip place when happy hour starts. If you are looking for an apres-ski party, you can find it at Old Town Pub.  Groovy music, delicious beer, and savory onion rings (they're unlike any other!) complete any Steamboat trip. Happy Hour specials include $2 off beers, 50% off glass of wine.  Live music nights and a dance floor make this an all-night destination! Located downtown Steamboat Springs.
Happy hour starts from 3:00 to 6:00 PM daily.
Deno's Mountain Bistro
Deno's is a historic Winter Park restaurant that originally served as a stage coach stop.  With a variety of small plates to suit any taste and an extensive wine selection, Deno's is a top apres-ski pick for locals and visitors alike.  Deno's is located downtown Winter Park and is open from 3:00 to 9:30 PM on weekdays,and 11:30 AM to 9:30 PM on weekends.
Distant Brewing
Distant Brewing is located in the town of Mammoth and is housed in the old police station.   We love the craft beers, chill atmosphere, and the live music several nights a week.  They specialize in hazy IPAs, and it's the only place we've been where we've had an entire flight of fantastic hazies!
Mammoth Brewing
Located just a few steps away from the Village, Mammoth Brewing knows exactly what happy hour is. While you're there, don't miss out on their 13 artisan beers on tap or their homemade root beer. The menu is an adventure in itself – you'll find unique and delicious mash-ups like asada fries, exotic naan tacos, and fried specials.  Visit them at 18 Lake Mary Road. The fun starts at 6:00 PM.

Le Chamois & Loft Bar
Le Chamois – also known as Chammy – is a Lake Tahoe gem. A trip to Chammy is a great way to cap off an amazing pow day. Enjoy their craft beers and pair them with delicious local delicacies. Their famous Happy Hour specials are great for groups – The Buddy Pass (20 pints of Budweiser for $80), The Premium Pint Pass (20 premium beers for $100), and Bud Pitcher Pass (10 pitchers of Bud for $120).
Located in the corner of Squaw Valley Road, Chammy is open from 11:00 AM to 7:00 PM.
The Deck @ Piste
The apres-ski party at Jackson Hole is on The Deck at Piste.  Despite the crowds, this on-the-mountain apres ski spot always provides a place where skiers to relax after a day on the mountain, relishing the stunning views of the Tetons. Located at the top of Bridger Gondola, it has the best views in Jackson Hole. Complete the experience with The Deck @ Piste's salads, sweets, and delicious wines.
Opens only every Saturday from 11:00 AM to 3:00 PM.
Secret Stash Pizza
Apres-ski and pizza – to Crested Butte fans, ordering pizza from the Secret Stash is a tradition. With unique pizza varieties ranging from Greek to Pesto pizza, you'll never run out of options that will keep you coming back for more.  They've been voted the best pizza in Crested Butte every year since they opened.
Serving customers from 4:30 to 9:00 PM daily. You can find them downtown Crested Butte.
Gorrono Ranch
Grab their to-go margaritas and stake a spot on their outdoor patio where you can take in the glorious vistas of Mount Wilson. At this on-the-mountain apres spot, relaxation after your big day is top priority – so sip away while listening to funky music. Hungry?  This woodsy ski lodge serves up American eats all day long.
Opens daily from 11:00 AM to 4:00 PM.
Taos Ale House
This new, modern establishment sets a playful vibe from the minute you walk in the door.  When you can't find a seat at the restaurants right at the slopes, walk a few steps farther to Taos Ale House.  Their multi-level seating, craft beers and cocktails and scrumptious fries and pizzas are the perfect ending to your day on the slopes.
Visit the Taos Ale House in the Taos Ski Valley base village every day from 11am to 9pm.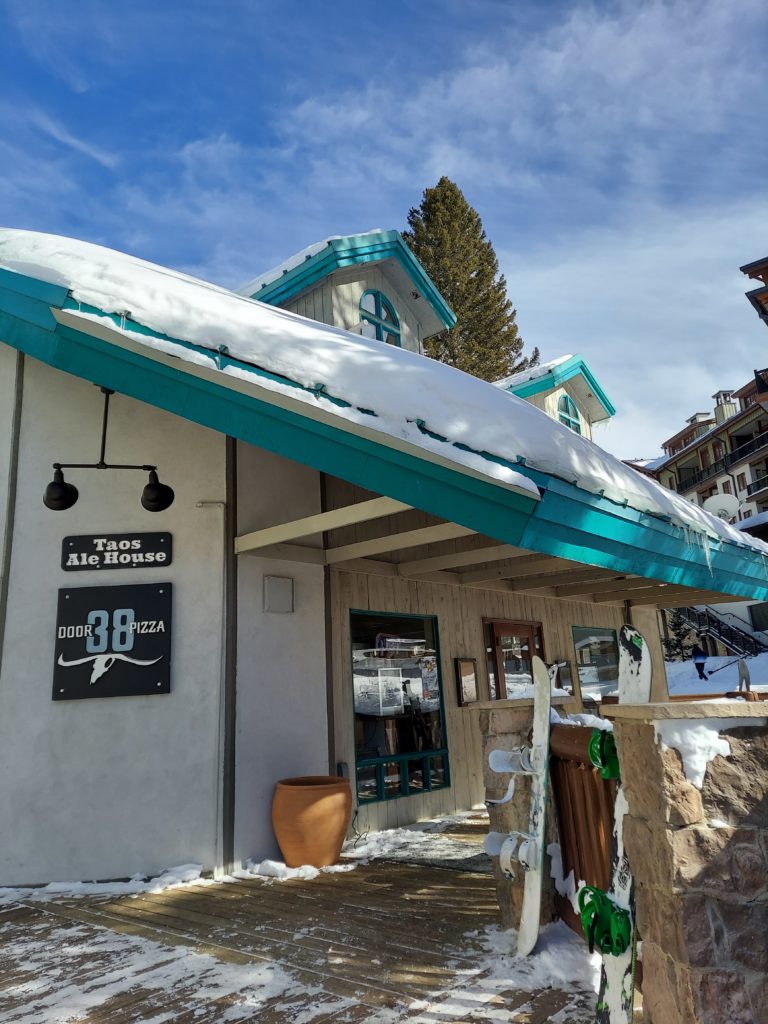 Don't let the fun stop at the slopes. Make the most of your ski vacation by hitting up the best après-ski spots in town!