Pagosa Springs, located in the southwest corner of Colorado, is known for its hot springs, stunning mountain scenery, and outdoor recreational activities. The summer season is a perfect time to explore the great outdoors near Pagosa Springs, with an abundance of outdoor activities to enjoy. In this blog post, we will explore some of the best outdoor things to do in Pagosa Springs, Colorado, in the summer.
You may also enjoy listening our out podcast with Amanda from Pagosa Mountain Sports for inspiration on things to do in Pagosa Springs.
Pagosa Springs Hikes
Surrounded by the largest wilderness area in Colorado and almost endless stretches of public land, Pagosa Springs has no shortage of hiking trails. The popular trails in Pagosa Springs are hikes that lead you to waterfalls like the Four mile Falls and Treasure falls. You can hike 10 miles to Rainbow Hot Springs if you're feeling adventurous.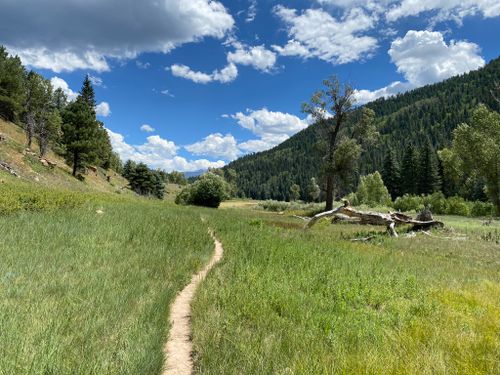 Rafting near Pagosa Springs
The San Juan River, which flows through Pagosa Springs, offers a variety of whitewater rafting experiences for all skill levels. There are several outfitters in the area that offer guided rafting trips, ranging from mild to wild. The Upper San Juan River, for example, is a gentle float trip that is suitable for families and beginners, while the Lower San Juan River offers more challenging rapids for experienced rafters. One of the most fun Pagosa Springs rafting trips is the Upper Box Piedra River trip.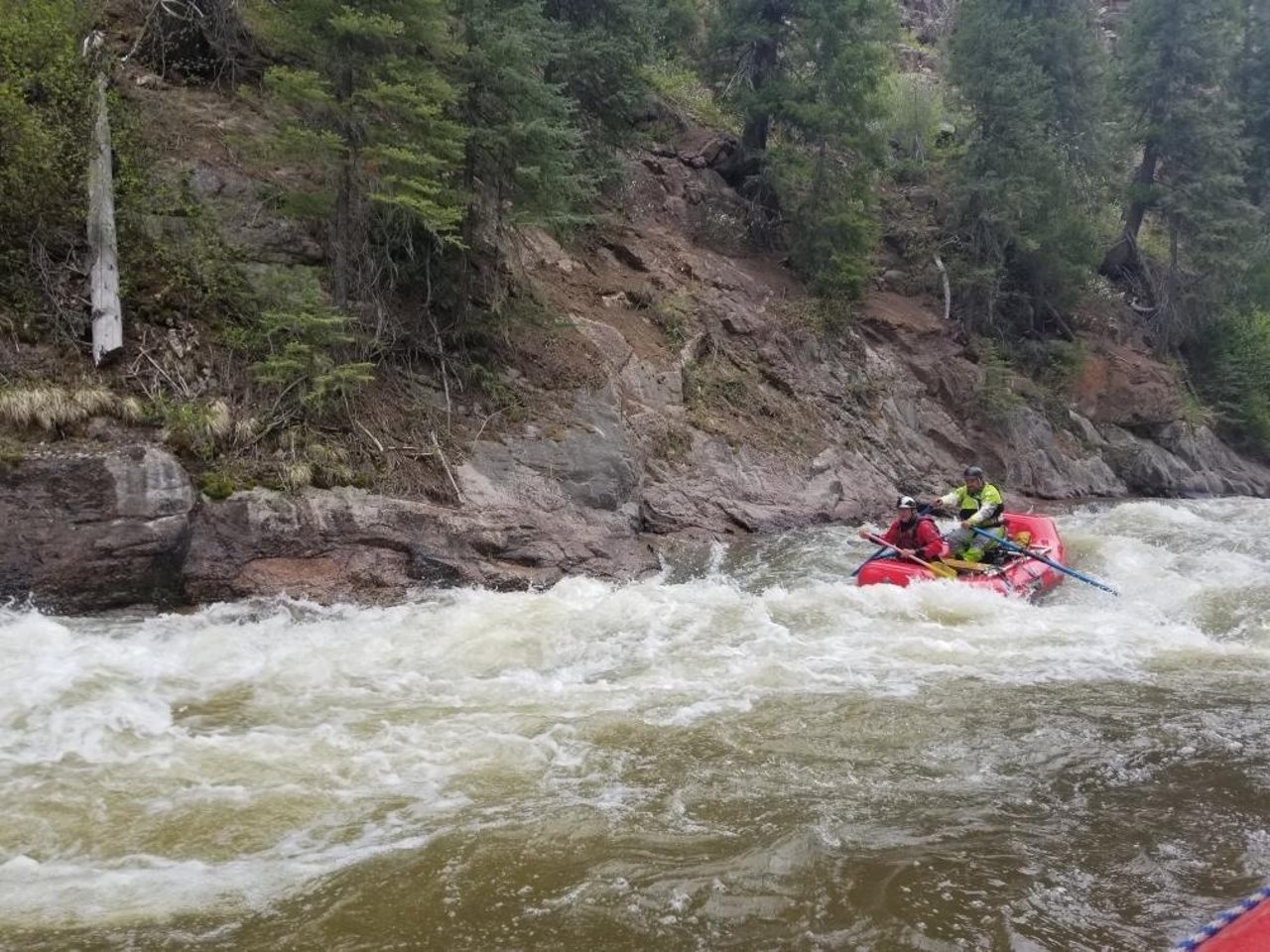 Backpacking in the Weminuche Wilderness
The Weminuche Wilderness, located in the San Juan Mountains of Colorado, is a popular destination for backpackers looking to explore the area's stunning alpine scenery and pristine wilderness. Access to the Weminuche Wilderness is available from several trailheads near Pagosa Springs, including the Piedra River Trail and the East Fork Trail. Backpackers can explore the wilderness on several multi-day routes, including the Weminuche Loop, which offers breathtaking views of the surrounding mountains and valleys. With its rugged terrain and diverse wildlife, the Weminuche Wilderness is a must-visit destination for any backcountry backpacking enthusiast.
Paddleboarding and Kayaking near Pagosa Springs
If you're a water baby like I am, you'll love all things paddling near Pagosa Springs! Whether you like floating down a river or a flatwater paddle in a lake, you'll find it all within a few minutes drive of Pagosa Springs. One of the greatest inventions in paddle sports has been inflatable stand-up paddleboards and kayaks.  No need for big vehicles or roof racks to haul your gear to the destination.
You can rent an inflatable paddleboard, single or tandem kayak and you can fit multiple boards or kayaks in a typical vehicle. Pagosa Mountain Sports can hook you up with these rentals right in downtown Pagosa Springs.
Where to paddleboard and kayak around Pagosa Springs
Echo Canyon Reservoir
The closest option for a flatwater paddle near Pagosa Springs is Echo Canyon Reservoir. Located only 9 miles south of town and one of the more popular spots to go to for a flatwater paddle.
Williams Creek Reservoir
Williams Creek is a 56-minute drive from Pagosa Springs downtown. It's the quintessential mountain lake surrounded by mountains and offers multi-activity adventures.  You can paddle, swim or hike around the lake. Make it a day trip with a picnic or camp in the nearby campground and make it a multi-day adventure.
It is a dirt road to get to the reservoir but recent reviews show that you can drive a typical sedan without any issues, if you're going in the shoulder seasons where there is a chance of snowmelt or early snowfall, we recommend taking an AWD or a 4×4 vehicle.
A popular hike from this area is Piedra Falls, which is just a short distance from the reservoir.
Both Echo Canyon and Williams Creek Canyon require a pass, you can buy one online here.  We recommend buying the license online in advance.  When buying online, select resident or non-resident and the duration of the pass (day, multi-day, annual).  Alternatively, if you'd like to purchase the license in town, you can buy one at the local City Market or Walmart.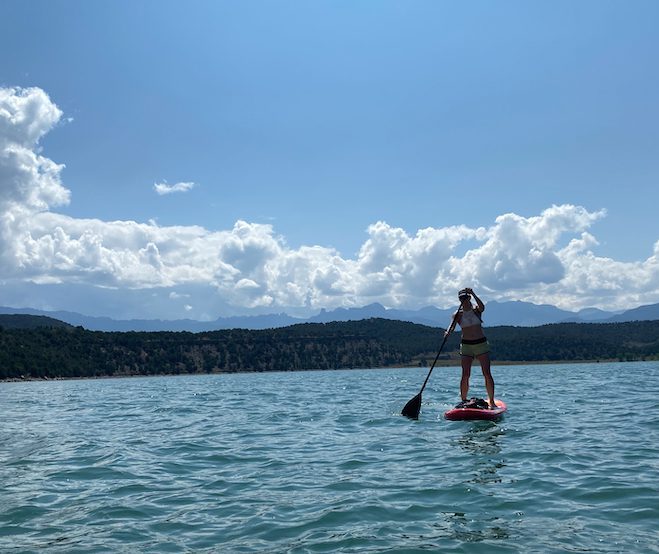 Try Body boarding in the river
Want to try something new and exhilarating on the river? Bodyboarding can be as easy or as challenging as you want to make it. From a simple stomach bodysurfing style to hopping up onto your knees or stepping up your surf game by giving a roll a try – bodyboarding is a blast!
The San Juan River flows right through the heart of downtown Pagosa Springs. Pick up a rental bodyboard at Pagosa Mountain Sports' downtown location, make the short walk to one of the standing waves along the River Walk and jump in for a fun time! Bodyboarding is the perfect activity for older kids and grownups alike!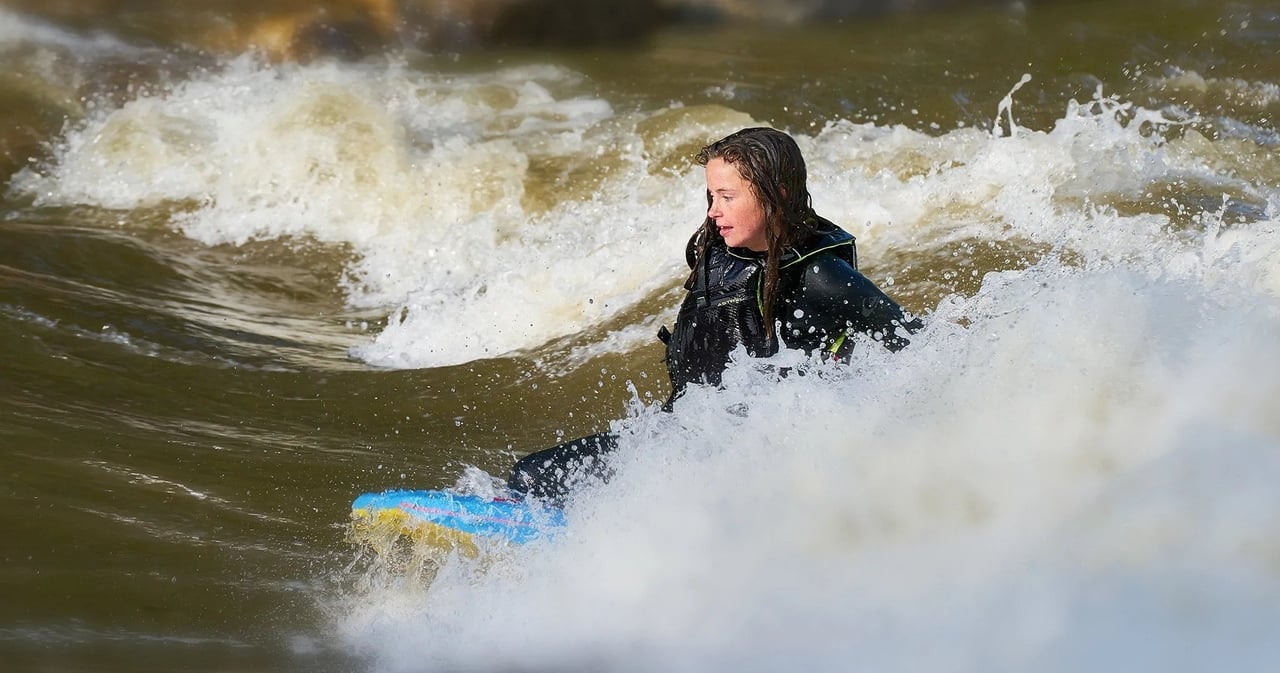 Mountain or Gravel Biking in Pagosa Springs
The southwestern Rockies offer some truly magnificent mountain biking trails and Pagosa Springs has a growing network of trails that you can explore. If you are not planning on bringing your mountain bike, you can rent one from Pagosa Mountain Sports.
The Turkey Springs trail network has the most options for intermediate riders. If you're new to the area, it's best to check with the local bike shop on latest trail status before heading out on the trails.  Trail conditions can vary depending on the time of year, and they can help you find the best trails for your abilities and preference to maximize your fun and stoke.
You can also use mountain biking apps like MTB project and Trailforks to find the local trails. If you want to avoid the research and want to ride with a local, you can take a guided mountain biking or gravel riding tour in Pagosa Springs with our expert local guides.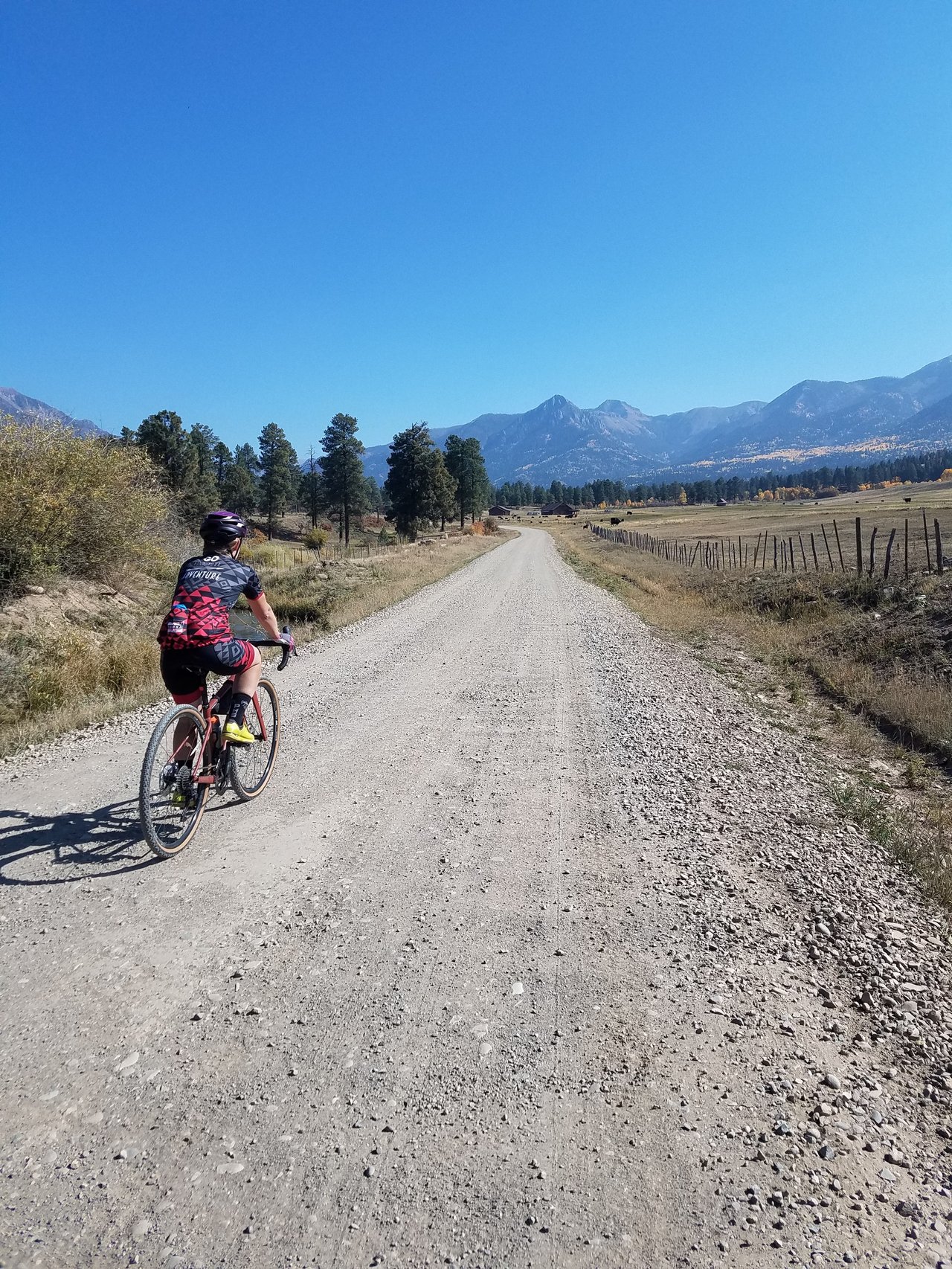 Visit The Famous Hot Springs of Pagosa Springs
No trip to Pagosa Springs would be complete without a visit to the famous hot springs. The town is home to several hot springs resorts that offer a variety of pools, spas, and other amenities. The most famous of these is The Springs Resort and Spa, which has 23 mineral pools that are fed by the world's deepest geothermal hot springs. There are also several public hot springs, including the popular Hippie Dip Hot Spring, which is located just a short hike from downtown Pagosa Springs.
Leave No Trace in Pagosa Springs
Please remember to practice Leave No Trace Principles when visiting and recreating near Pagosa Springs to protect its wild beauty and environment for generations to come. Let's work together to leave our outdoor towns better than how we found them. 
Local tips:
If you are planning on going for an adventure in the mountains, start early in the morning as there can always be a chance of an afternoon thunderstorm in the Rocky Mountains.

Before taking on an adventure, we recommend that you connect with a local outfitter or the Pagosa Springs visitors center to check in on local information like trail closures, wildlife impacts, wildfire risks, etc. Not only will you help protect the areas, but you may also get some insider knowledge on even better adventure options than the ones shared here. 
In short, Pagosa Springs, Colorado, is a great hidden gem town in Colorado for outdoor enthusiasts looking to explore the beautiful mountain scenery of the San Juan Mountains and get away from the crowds. Whether you enjoy hiking, rafting, mountain biking, paddle boarding, or soaking in hot springs, Pagosa Springs has something to offer. So, pack your bags, grab your gear, and get ready for an unforgettable summer adventure in Pagosa Springs!