What is Mountain Biking
For mountain biking beginners, let's start with the absolute basic question, what is mountain biking? Essentially, it doesn't necessarily require mountains, but constitutes any sort of dirt surface riding (small hills count, too) on a bicycle that has knobby tires and usually some type of suspension (shocks). Anyone who can ride a bike can ride a mountain bike, although there are a series of techniques specific to braking, turning, riding uphill and downhill and negotiating obstacles and technical features. We will get into all of those here, as well as necessary mountain biking gear, clothing, costs, terminology, destinations and essentials.

Where to Go Mountain Biking
What are the best places and states for mountain biking? The happy reality is that you can find trails and routes pretty much anywhere, even at the beginner level. However, select areas across the globe comprise absolute paradise for mountain bikers, rife with scenery and endless trail options built expressly for two wheels. In North America, major mountain biking hubs include Moab Utah, Sedona AZ, Crested Butte CO, Whistler, Canada, and Truckee CA. Find details for each, along with a few other hot spots, in this best mountain biking towns article.

How Much Does Mountain Biking Cost
Mountain bikes themselves range in cost from a couple hundred at the low end to $10,000-plus on the high end. As a beginner to the sport, we recommend renting a mountain bike to see what you like before investing all that dough into your own.  Once you get started and realize how much you love the sport, the question of how to choose a mountain bike is a whole new animal, but we get into a few varieties of mountain bike below.
Once you have your bike, other than its maintenance and upkeep (which, depending on how much you ride, can certainly add up) and accessing bike parks that require chairlift rides, mountain biking is essentially free. There is no charge to access most mountain bike trails.
Benefits of Mountain Biking
Lower Cost of Entry
Compared to sports like golf and skiing, in which you have to buy expensive gear and then pay every time you use it, mountain biking is, as we've established above, a relatively low-cost endeavor.   The majority of the cost is in the bike and the maintenance, since the trails are typically free to use (unless you are using the chairlift at downhill resorts).
Mountain Biking is a Great Outdoor Workout
Not only is mountain biking an amazing and comprehensive workout that builds glutes, leg, core and arm muscles as well as burns around 600 calories per hour, but it delivers an outdoor experience unlike any other. A mountain bike provides access into natural landscapes that you could otherwise only reach on foot, but with more speed and a cathartic, rewarding level of concentration as you make your way through turns and technical features.
Mountain Biking Helps you find Zen
In addition to the general allure of unplugging and disconnecting from technology, which numerous studies have proven to bring countless mental and physical health benefits, the simple focus required of mountain biking – setting your eyes on the trail ahead and thinking only of your breath, your next move or gear shift, is truly meditative. The forward focus of mountain biking can deliver a more focused, improved approach to every other aspect of your life as well.
Riding Brings you to Cool Places
Once you start planning trips around the sport (and you will!), the best mountain biking destinations also happen to also be amazing outdoor destinations offering a multitude of additional activities (hiking, paddling, climbing, etc.) as well as stunning scenery with national parks and monuments nearby and a broad gamut of food, drink, camping and lodging options.

How to Find Trails
OK, you've arrived at a mountain biking hot spot, but there are no street signs directing you to trailheads. Especially if you're a first-timer to this destination, you'll need some specific directions to the mountain biking trailheads/starting points. To get there …
Local bike shops are your best resource for finding local trails and educating you on specifics of the terrain and all things biking. Also, if you have traveled without a bike or are in the market to try out a new ride, local shops can set you up with all the mountain biking gear you need and direct you to exactly the level, length and style of trail you're seeking. While you're there, ask who manages the trails in the area and how to find them online, as these organizations often have extra insight on current trail conditions.
Follow your local bike club and trail crew
There are lots of non-profit local or national organizations that are responsible for all the hard work that goes into creating and maintaining the bike trails for everyone to enjoy. As you fall in love with the sport, following local mountain biking events and giving back by volunteering for trail building and maintenance projects brings the sport full-circle.
Must-have apps for any mountain biker
Technology does make things easier, sometimes. Download these apps for maps, detailed trail descriptions and stats on mountain biking trails everywhere.
| | | |
| --- | --- | --- |
| MTB App | Best For: | Other Information: |
| Singletracks | Finding written information on trail systems, in-depth reviews of trails, and a broad resource for all things mountain biking. | The founders are great people from Atlanta, who have served as inspiration for those new to mountain biking for years. |
| Trailforks | In-depth trail information from thousands of users who have ridden that trail before.  Some trails are only found on Trailforks, and it has a die-hard following. | Individual trail information can be overwhelming, but there are other views to connect trails into a decent ride.  The free version only allows you to download limited trails/areas.  You have to upgrade to a paid version when downloading new states, etc. |
| MTBproject | Showing larger routes of trails combined for a ride recommendation.  Also shows user reviews, ratings, photos and trailhead driving directions.  It's also free! | Among the first mountain biking apps to emerge, MTB project has a wealth of data, especially in certain areas of the country. |

Mountain Biking Terms for Beginners
Yep, this is a sport with its own glossary. Here are some standouts.
Singletrack: A singletrack refers to the narrow dirt trails used for mountain biking (and oftentimes, also hiking). The term is meant to infer that the trail is only wide enough to accommodate modes of transportation with two wheels (as opposed to four).
Doubletrack / Two track / Fireroad: A double track, also called a two track, is a wide dirt trail characterized by two visible tracks that look like they were created by a four-wheel vehicle. A fire road is a wide dirt path that looks more like a road, but can be rough and marked with holes and rocks. Although two and four-wheel vehicles can travel on these types of trails, outside of human-powered vessels (like mountain bikes), the only motorized vehicles recommended here are dirt bikes and 4WD or AWD vehicles.
MTB: Abbreviation for mountain bike or mountain biking.
Rider: A person who rides mountain bikes.
Trailhead: The starting point or parking lot of a trail or trail system.
Switchback: A sharp curve on a trail where the trail doubles back above or below the part preceding it in a zigzag formation.
Drops: Sections of the trail that drop over rocks, roots or small cliffs.
Hucking: A term used in mountain biking, skiing or snowboarding that means jumping or dropping off of a terrain feature.
Bonking: When you're pedaling and you suddenly lose all of your energy and power, typically due to a plunge in blood sugar.
Shuttle ride, shuttling: A type of mountain bike ride in which you get a vehicle ride to the starting point or leave a vehicle at the start to pick up later. This is common for longer rides or rides that start far up a mountain in which the majority is downhill.
Tubeless tires: A type of mountain bike tire that is filled with a lightweight liquid substance rather than a rubber tube. They can be inflated with a pump like regular (tube) tires.
Dropper seat: Nearly all modern mountain bikes are equipped with a seat post that you can adjust with the push of a button on the handlebars. Dropping your seat lower makes for more comfortable and confident weight balance when riding downhill.
Endo: Stemming from the concept of going "end over end," an endo is a type of mountain bike crash in which the rider unwittingly flies over the handlebars, usually rotating before hitting the ground.
Granny gear: The easiest gear on a mountain bike – your best friend when pedaling up a steep hill.
Mountain Bike Types
When you face the question of how to choose a mountain bike, especially in these days of gear advancements, there is an overwhelming variety of options. Here are the core mountain bike categories you'll come across and a brief rundown of what distinguishes them and the type of riding for which they're best suited.
Rigid mountain bike
A rigid mountain bike has no suspension components, meaning no shocks in the front fork or in the rear. Gravel bikes and cyclocross bikes fall into this category. These types of bikes are generally used for dirt riding on trails and paths with very few rocks, roots and technical features. They are best for racing or riding long distances on unpaved relatively smooth surfaces.
Hardtail mountain bike
A hardtail mountain bike has suspension only on the front fork, but not in the rear of the bike. It's used for all kinds of mountain biking, including getting started in the sport, but is not recommended for technical descents with large rocks and drops.
Fat bike
A fat bike is a rigid mountain bike (no shocks) with wide, fat tires used for suspension. Fat bikes are best suited for winter biking – riding on snow or ice-packed trails and surfaces.
Full-suspension mountain bike
A full-suspension or dual-suspension mountain bike has two shocks – one on the front fork and one on the rear portion of the bike. The amount of suspension (how far the shock will compress) is often referred to as "travel" and is measured in millimeters. Full-suspension bikes are used for every type of mountain biking but are best for technical singletrack and rough descents with rocks and drops.
Under the umbrella of full-suspension bikes come numerous subcategories. Here are those you're most likely to come across as you're shopping for your first bike.
Cross-country (XC) mountain bikes are typically the lightest weight among full-suspension bikes due to their low travel. The travel is lower on XC bikes because they are designed to do equal parts climbing and descending and are thus best-suited to mountain bikers planning to do most of their riding both uphill and downhill.
Downhill (DH) mountain bikes are exactly what you'd expect: full-suspension bikes designed for riding downhill. They typically have the most travel of any type of mountain bike and typically the heaviest and burliest variety of full-suspension bike
Enduro or Trail mountain bikes fall in between the cross-country and DH style, typically heavier and built with more travel than an XC bike but not as heavy as a DH bike. They are best suited for mountain bikers planning to ride more uphill than downhill or riders who do equal parts both but prefer a beefier bike for the downhill portions, even if it might mean a slightly heavier ride uphill.

What to Wear Mountain Biking
Let's be real. You don't want to plop yourself onto a bike saddle for a couple of hours wearing jean shorts and you certainly don't want to head out on your first mountain biking excursion without protecting your head. Here is the basic attire to dress for safety and success when mountain biking.
Helmet: You want a helmet that is cycling specific, preferably mountain bike specific (so don't throw on your ski or equestrian helmet and call it good). Unlike road cycling helmets, mountain bike helmets come with a visor at the front, which can be useful for blocking sun on bright days. A helmet equipped with MIPS, a technology designed to help prevent concussions in a high impact event, is the best. If you are riding downhill only, a full-face helmet is the way to go.
Gloves: Again, bike or cycling gloves are what you're after here, not the gardening or ski variety. Bike gloves come in short-finger and full-finger options. Full-finger gloves are warmer and have better protection against branches, rocks and bushes you might encounter along the trail.
Shorts: NOT denim. Some kind of stretch fabric are the most comfortable and mountain bike-specific shorts with a chamois pad will be the most comfortable.
Shoes: Any kind of closed toe shoe (NOT sandals) will work as you make your initial foray into mountain biking. Many seasoned mountain bikers wear clip-on shoes that attach to the pedals, but these are not a good idea when you're starting out. As you become comfortable on the mountain bike, you should give clip on shoes and pedals (they come in a variety of brands and connective technologies) a try, but these days, many expert mountain bikers actually prefer to stick with flat (regular) pedals and a bike shoe that doesn't connect to the pedal.
Breathable shirt or jersey. Go for a synthetic fabric or merino wool. Avoid cotton.
Mountain biking protective gear: If you're riding downhill especially, in addition to a full-face helmet, you'll want to wear knee and elbow pads. Even if you're on a cross-country ride, if you're a newbie, knee and elbow pads could prevent scrapes, bruises and other injuries.
Sunglasses. Find a lightweight pair of sports sunglasses that fit comfortably under your helmet.
 Must-Have Mountain Biking Gear
In addition to the above mountain biking clothing and accessories, here are a few items you'll want in tow every time you venture out on your ride.
Spare tube. Make sure you get one that is the correct size for your tire (26, 27.5 or 29-inch).
Multi-tool: This handy single unit collection of Allen wrenches, screwdrivers and chain tool is key to have on hand for any adjustments.
Hand pump or CO2 cartridge: You never know when you'll get a flat tire. One or the other is clutch to have on every ride.
Tire levers: If you get a flat, you'll need at least two of these small plastic sticks to get the tire off the rim and replace your tube.
Water bottle or hydration pack: Even on short rides, you'll get thirsty.
Basic Maintenance and Repair Tools
For beginners to mountain biking, there are a few simple practices you should master in order to feel comfortable traveling with your mountain bike and to keep it in basic working order. For most repairs and annual adjustments, you'll want to find a trusted mechanic at your local bike shop. Otherwise, you should know how to remove the wheels on your bike carefully without damaging or denting the brakes or discs. You should be able to repair a flat tire using a spare tube. You should know how to clean your bike and oil/lube the chain. Here's what you'll need in addition to the multi-tool, spare tubes and tire levers.
Floor pump: In addition to the hand pump you'll carry on rides, you'll want a floor pump  at home for easier inflation of your tires and for changing flats.
Lube: You'll want to get a bike chain-specific lube and use a dry cloth or old T-shirt to clean your chain (turn the bike upside down and hold the cloth lightly around the chain as you move the pedals backward with your other hand). After the chain is clear of dirt and debris, add a few drops of lube while slowly rotating the chain and then give the chain another pass with the dry cloth.
Where to learn mountain bike maintenance and repair
YouTube: From fixing a broken chain to changing a flat tire, adding air to your shocks and beyond, YouTube is an invaluable resource for easy-to-follow, step-by-step, DIY bike maintenance and repair techniques.
Local bike shop – Many local shops offer regular clinics and workshops on maintenance and repair basics, sometimes even for free.
REI: The goliath co-op shop of all things outdoors also offers maintenance and repair classes and clinics at many of its locations and also offers useful instructional videos.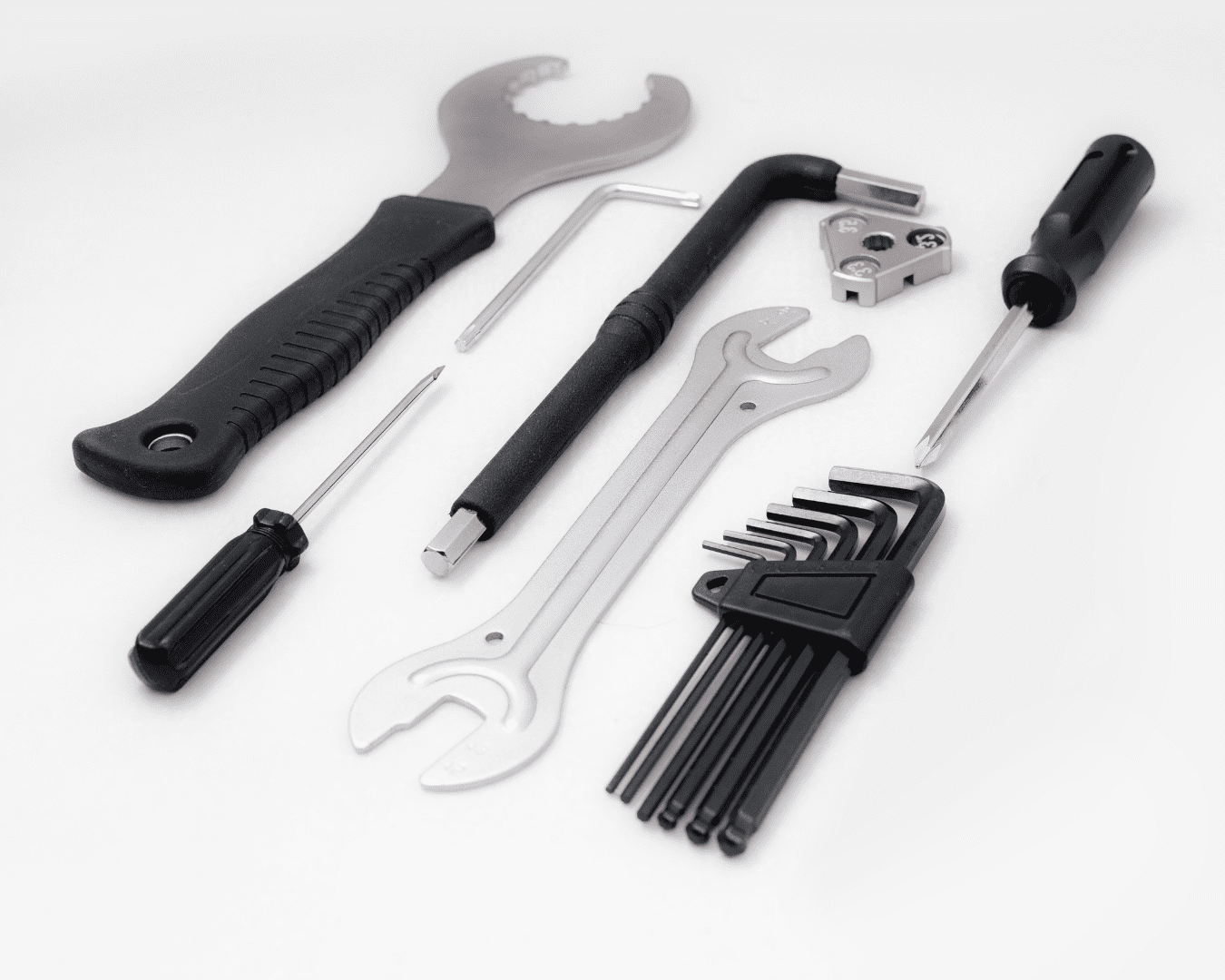 Basic Mountain Biking Skills
If you're wondering where to take a mountain bike skills clinic, look first to your local bike shop, REI and YouTube. A few skills to master include:
How and when to change gears: Practice if the best way to become comfortable with gear-changing, but in general, you should always look ahead at what's coming on the trail and change gears before you get to a hill or terrain feature, not as you're pedaling up or over it.
Riding switchbacks: Again, looking ahead of you on the trail is key. If you look at where you want to go – the finishing portion of the C-shape that makes up the curve of a switchback, your front wheel will follow your eyes.
Braking: A light touch on the brakes and feathering one and then the other is the best way from preventing a crash by hitting the brakes too hard or abruptly.
Riding uphill: Pretend like you're in a slow race. Plan on shifting to an easy gear and pedaling at a slow, comfortable speed that you can sustain for a while without breathing too heavily. If you come upon a technical section like rocks or roots, keep your weight centered on the bike, keep your eyes ahead (not down at the obstacle) and quicken your pedal until the rough patch is behind you. It's OK to get off the bike and walk through technical sections until you're comfortable to try them.
Riding downhill: On steep descents, shift your weight toward the back of your bike and stand on the pedals while dropping your seat. Look ahead and feather the brakes. If there is a technical section ahead (rocks, roots, etc.) brake before you get there, releasing the brake as you roll over the obstacle. Again, don't be ashamed to get off the bike and walk if you don't feel comfortable, but don't brake as you're riding over the obstacle. If you are committing to riding over it, commit!
MTB Etiquette and Best Practices
For all beginners to mountain biking (and really anyone riding the trails), we want to stress the importance of mountain bike etiquette.  When out on the trail you should:
Leave no trace. Follow the seven basic principles that governs outdoor adventure.
Avoid muddy trails. If you come across a wet or muddy spot, ride through it not around it.
Keep singletrack single. This means, stay on the trail. Don't cut switchbacks or ride around obstacles. This widens the trail and causes erosion.
Uphill has the right of way. If you're riding downhill, stop and pull over so uphill riders can get by.
Communicate when passing. If you approach others on the trail, give them a friendly, "passing when you have a moment," or "don't mind if a sneak by" with enough of a warning that you don't scare them out of their skin.
Offer help. If you see another rider stopped or injured, ask if they're OK or if they need any assistance. An upside down bike blocking the trail is the universal sign of distress.
Last but not least, the No. 1 rule in mountain biking is have fun out there. You are embarking on what is arguably the most rewarding outdoor activity of all time. Ride on.