Top Colorado Rafting Destinations From Wild to Mild
This year's enormous snowpack is very good news for the rafting season.  The never-ending Rocky Mountain snow we skied this winter is starting to melt and the rivers will soon be running big.  Some of the most renowned white water in the country is found in the state of Colorado.  These thrilling rapids, coupled with the astounding Rocky Mountain views and unique Colorado wildlife make Colorado a bucket list white water rafting destination.  With numerous rivers flowing through the state, there are many rafting trips to choose from. Here's where you can get in on the best Colorado white water rafting action, ranked from mildest to wildest.
TripOutside has vetted the best rafting guides to ensure your white water rafting trip is a one-of-a-kind adventure.  These Colorado guiding companies that provide these adventures are all top rated, with many years of experience guiding on these rivers, and the permits and insurance to back it all up.  Read on for our favorite Colorado white water rafting adventures!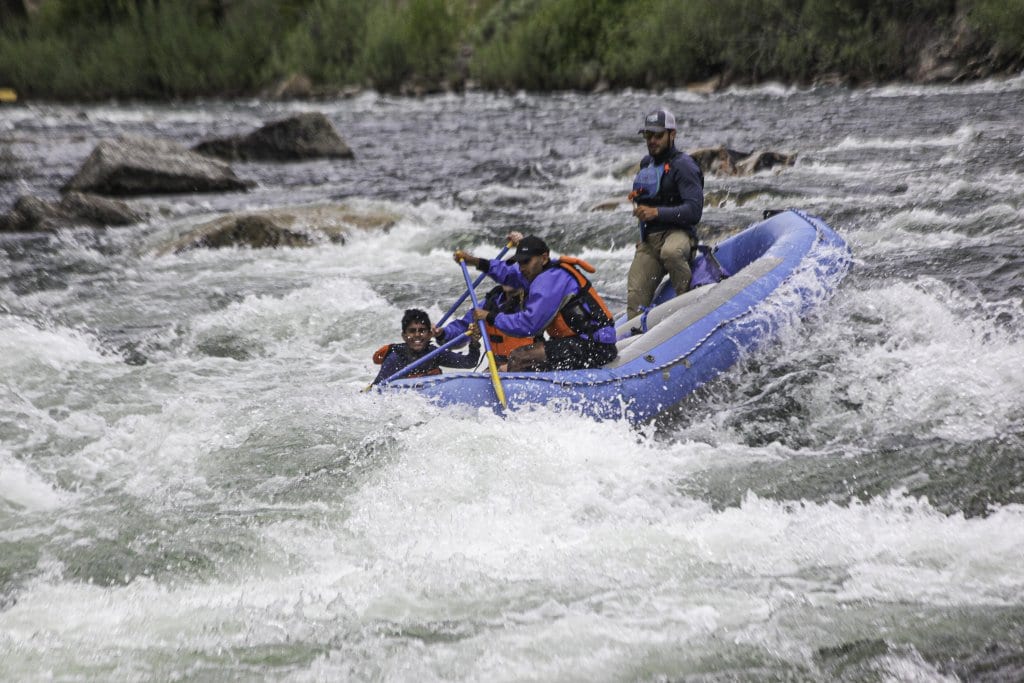 White Water Rafting Class System
Class I – Easy
Typically calm water, any rapids are very small and gentle, little to no obstruction. 
Class II – Easy/Novice
Easy rapids with waves up to three feet that are easily identified with little scouting necessary. Obstacles can easily be avoided, some maneuvering may be required.
Class III – Moderate/Intermediate
Moderate rapids with waves up to four feet, narrow passages can rock boats with the opportunity to get wet. 
Class IV – Difficult/Advanced
Longer and more difficult rapids and narrow passages, some are powerful with cross currents. Requires careful maneuvering. 
Class V – Extremely Difficult/Expert
Violent and turbulent rapids, some with multiple obstructions like holes and drops. Large waves and powerful currents.  Requires expert maneuvering.
Class VI – Extraordinarily Difficult/Expert
Almost impossible to navigate as the rapids or waterfalls are extremely dangerous. These are only attempted by the most expert or extreme rafters and kayakers.
Best Colorado White Water Rafting Destinations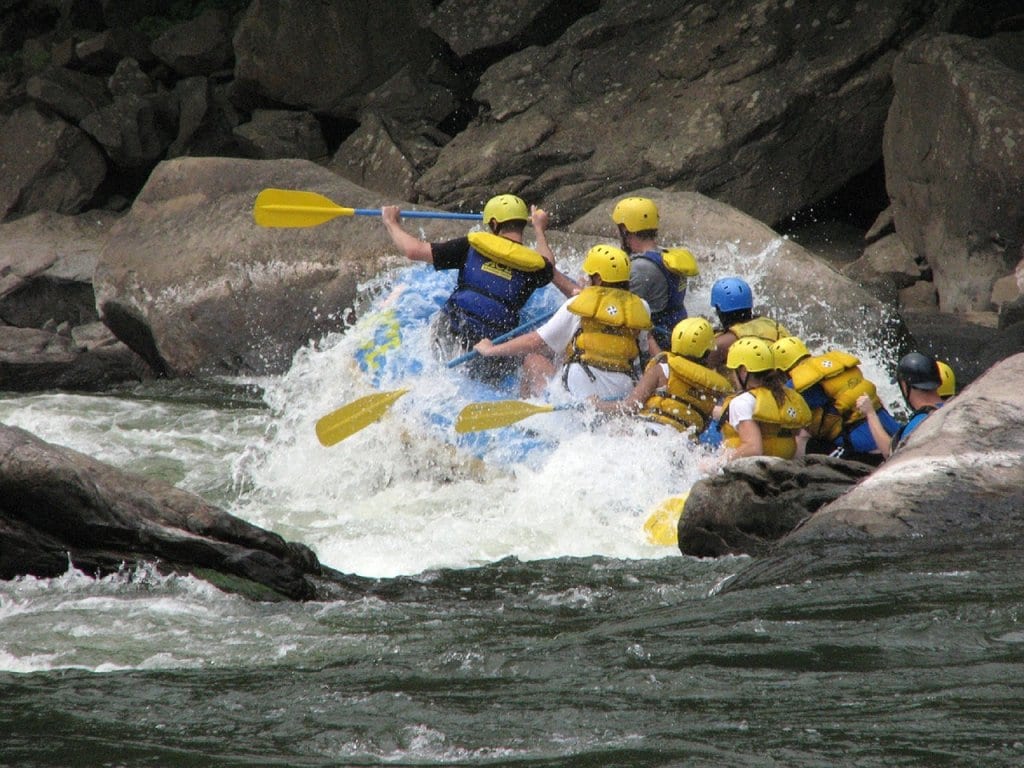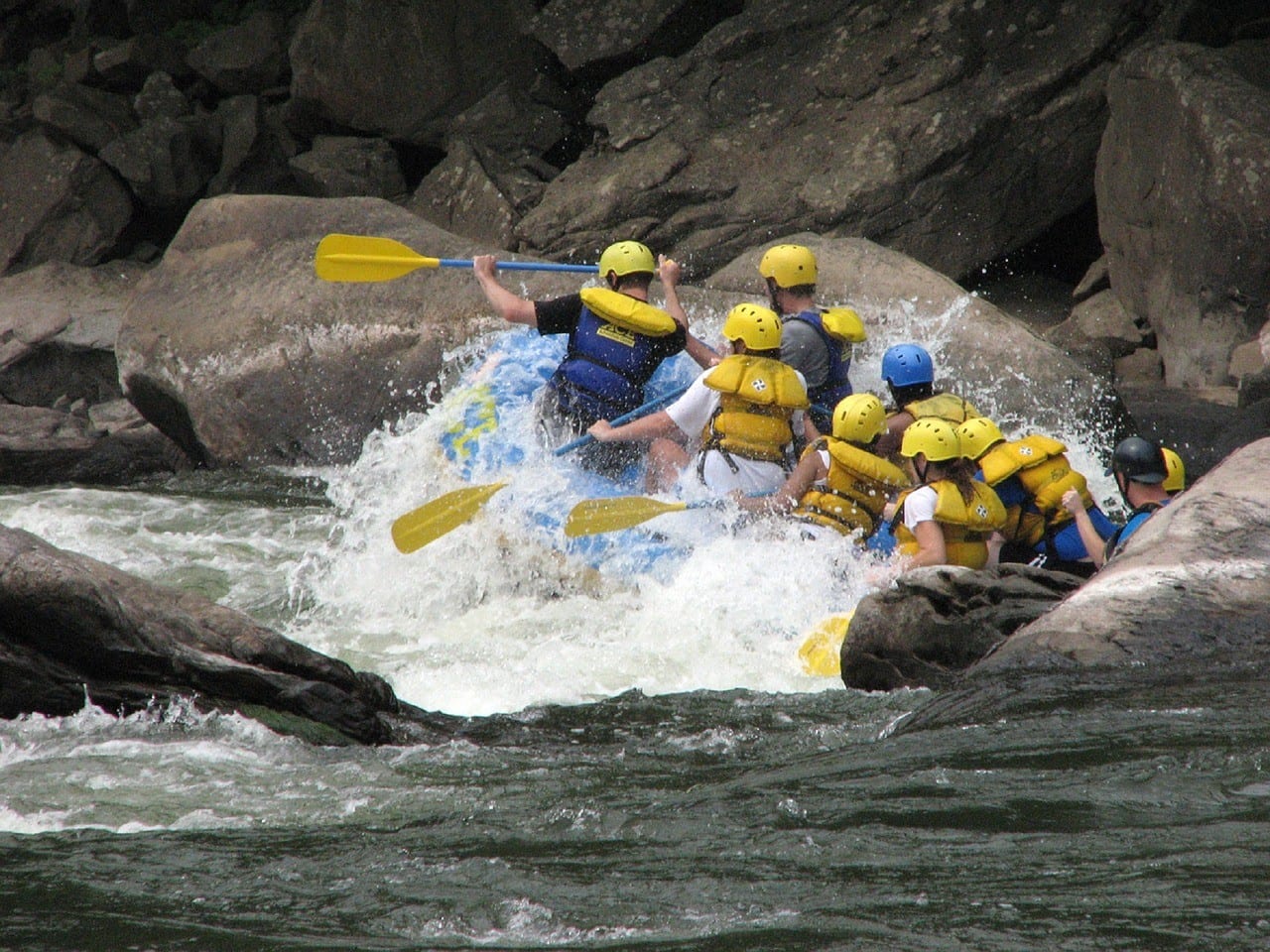 Salida, CO
Mild Whitewater Trips
Brown's Canyon
The Arkansas River is the most popular white water rafting destination in Colorado. With over 100 miles of rafting opportunities, the river offers something for everyone. The river is divided into several sections, each with different levels of difficulty.  One of the most sought after sections of white water located near Salida, CO.  The renowned Browns Canyon section of the river is considered some of the best white water rafting in Colorado, and even the world.  It ranges from class III to class IV, depending on the water levels and season, with the biggest flows typically in June.  The section is considered beginner/intermediate, and booking with an established outfitter is always recommended. 
The canyon itself is a National Monument and is located between Salida and Buena Vista in central Colorado, about 3 hours from Denver.  The rugged canyon and steep cliffs make for great whitewater and spectacular views.  The canyon itself can be completed in a half day trip, or you can add on more exciting rapids with a full day or multi-day white water rafting trip.  
Wild Whitewater Trips
The Numbers
For those with rafting experience looking for more adventure, The Numbers is a section of 7 major non-stop rapids with solid thrills from top to bottom.  This is the most continuous section of whitewater on the Arkansas River, and the numerous rapids were numbered rather than named.  This trip will involve paddling hard and navigating steep chutes, big waves and long rapids.  Participants should be fit and able to swim.  After conquering the rapids, pause to take in the superb views of the Collegiate Peaks, the highest concentration of 14,000+ foot peaks in the U.S.  Combine The Numbers with Brown's Canyon for a multi-day whitewater rafting adventure.
After your rafting adventure, there are plenty of other outdoor activities to enjoy in Salida and nearby Buena Vista, from hiking fourteeners to mountain biking infamous Rocky Mountain singletrack.
Canon City, CO
Mild Whitewater Trips
Bighorn Sheep Canyon
Just 8 miles west of Canon City, CO, on the mighty Arkansas River, lies Bighorn Sheep Canyon.  This canyon features family friendly rafting, with primarily Class I-III rapids and the chance for Class IV at the highest flows.  Take in the awe-inspiring views of the canyon in between rapids, and look for the canyon's namesake bighorn sheep and other wildlife.  Canon City is just 1 hour from Colorado Springs, making this an easy Rocky Mountain getaway.  Bighorn Sheep Canyon makes for a great  half-day white water rafting adventure, or explore the Arkansas River on a multi-day adventure and tack on the infamous Browns Canyon.
Wild Whitewater Trips
Royal Gorge
The Royal Gorge section is the most challenging section of the Arkansas River, with Class IV and V rapids. Rafting the Royal Gorge in Canon City, CO provides the ultimate whitewater experience for experienced paddlers.  As the canyon narrows to just 25 feet through the Gorge, the river provides big waves, steep drops and Class III-V whitewater.  This advanced rafting trip features legendary rapids and stunning views of 1,000-ft cliffs of the gorge.  This trip is made for those with rafting experience who want a little more thrill.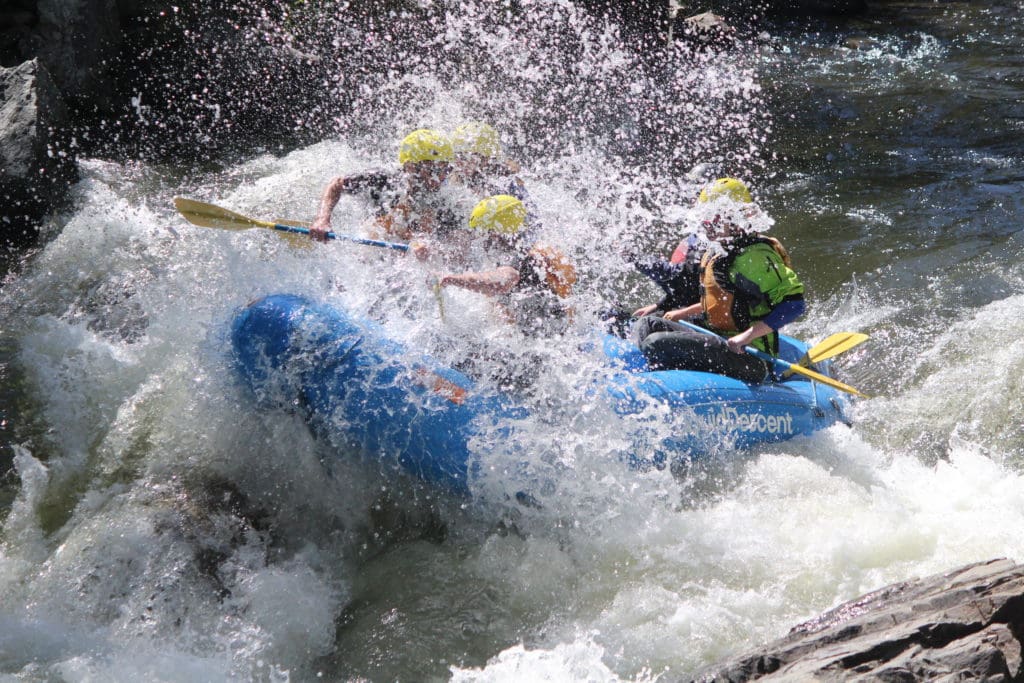 Idaho Springs, CO
Mild Whitewater Trips
Clear Creek 
One of the most convenient rafting destinations to Denver, Idaho Springs offers white water for all ages and abilities.  Just 30 minutes from downtown Denver, Idaho Springs' Clear Creek offers Class I-IV rapids throughout its varied canyons. The river is only 20 miles long, but it has some of the most challenging rapids in the state. The river is divided into several sections, each with different levels of difficulty.  Beginner rafting adventures on the lower Clear Creek allow you to hone your skills paddling through smaller rapids while keeping an eye out for wildlife.  This is a great 2.5 hour family friendly adventure, with ages 5+ welcome.
Kremmling, CO
Mild Whitewater Trips
Little Gore Canyon
The Colorado River offers some of the most scenic Colorado river rafting trips. The river flows through canyons and valleys, offering breathtaking views of the surrounding mountains.  White water raft the headwaters of the Colorado River at Little Gore Canyon, just 12 miles southwest of Kremmling, CO.  This beginner/intermediate section of the legendary Colorado River is an easy 3-hour drive from Denver.  Little Gore Canyon's Class II-III rapids make it a great family trip, with milder whitewater, superb scenery and a stop at hot springs along the way!  Raft the Little Gore Canyon on a full day adventure, or take your time and enjoy even more of the Colorado River on a multi-day rafting trip with the very first licensed rafting guides in Colorado.
Wild Whitewater Trips
Gore Canyon
Once you've graduated past Little Gore Canyon and have some advanced rafting experience under your belt, the Gore Canyon Class IV-V rapids await.  This renowned Colorado white water rafting trip is for advanced/expert paddlers only, and offers up some of the biggest water still runnable commercially in Colorado.  These high adrenaline rapids require portages and frequent scouting, and the trip is by special arrangement only.  Requirements included age 18+, physically fit and experience paddling Class IV+ rapids.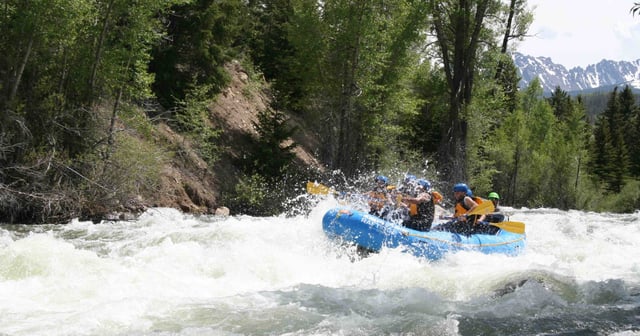 Breckenridge, CO
Mild Whitewater Trips
Blue River
The Blue River is the best river rafting in Summit County, Colorado. This beautiful Class III river runs through the rugged Colorado landscape of the Gore Range mountains. Rafting the Blue River begins just north of Silverthorne, and only 20 minutes from Breckenridge (1 hour from Denver).  The best time of year to raft the Blue River is May – July, and the flow is dependent on water releases from nearby Dillon Reservoir.  The 5-mile trip can be completed in a half day, and it's the perfect adventure to get a taste of rafting in Colorado.  It's a family-friendly trip, with kids 6+ welcome.
Wild Whitewater Trips
Upper Clear Creek
To step it up a notch, check out the upper Clear Creek rafting options near Bond, CO, about a 1.5 hour's drive from Breckenridge.  More advanced half day rafting trips start at 8,000 feet and run dozens of Class III through V rapids through more technical sections of the river.  Choose from a half day intermediate option with Class III and IV rapids, or the half day advanced option with Class IV and V rapids.  The advanced option is extreme, steep and technical, which makes it only for those with rafting experience, the ability to swim, and strong physical conditioning. 
Whichever option you choose, with over 20 miles of some of the most continuous whitewater in the state, plus the best scenery on the river, these action packed trips will be the thrill of your vacation.  In between adrenaline pumping rapids, scour the steep cliffs of the canyon for the resident bighorn sheep.
In addition to fantastic rafting, the mountain town of Breckenridge offers up renowned mountain biking, kayaking and SUP at nearby Dillon Reservoir, hiking some of the tallest peaks in the U.S., rock climbing courses and guided climbing adventures, and so much more!  It's the perfect Rocky Mountain destination for your next vacation.
Durango / Pagosa Springs, CO
Mild Whitewater Trips
Animas River
Southwestern Colorado has spectacular rafting, with the celebrated Animas River starting high up in the San Juan Mountains and cutting its way right through Durango, CO. The river offers a variety of rafting trips, from mild to wild. The Lower Animas section is more moderate, with Class II and III rapids.  Choose from a quick "Splash and Dash" introductory trip that offers 2.5 hours of introductory whitewater rafting through Class I-III rapids.  Listen to historical Old West stories about the early days of Durango while you look for wildlife along the river in between rapids.  If you have a bit more time, taking the half day trip down the Animas allows for stops along the way for snacks, swimming and enjoying the scenery.
Wild Whitewater Trips
Upper Animas River
Rafting the Upper Animas is a more challenging, full day adventure with Class III – IV rapids.  This trip let's you experience the infamous Durango Silverton Narrow Gauge Railway!  You will board the Railway to get to the best part of the Animas River Gorge. Once you hit the river, the action starts with Broken Bridge rapid just a few miles downstream. Plenty of other class III and IV rapids follow along with some calmer sections and visits to historical landmarks.  Take in the spectacular San Juan Mountain scenery of southwest Colorado!
Piedra River – Upper Box Canyon
Rafting this breathtaking stretch of the Piedra brings you through continuous class I-IV rapids, as you make your way down river through more remote areas known for an abundance of wildlife and San Juan views.  The trip meets in Durango, and a shuttle brings rafters to the put-in near Pagosa Springs. This full day trip stops for a riverside lunch before entering the heavily-forested Upper Box Canyon, the highlight of the trip.  Lone Pine and Limestone rapids will provide a little more action for those with some rafting experience looking for more whitewater.
Framed by the grand San Juan Mountains in Southwest Colorado, Durango is the ultimate adventure destination.  After your rafting adventure, stay for a few days to paddle alpine lakes, ride high country singletrack, and rock climb the Hermosa cliffs.  There's plenty of things to do in this off-the-beaten-path mountain town.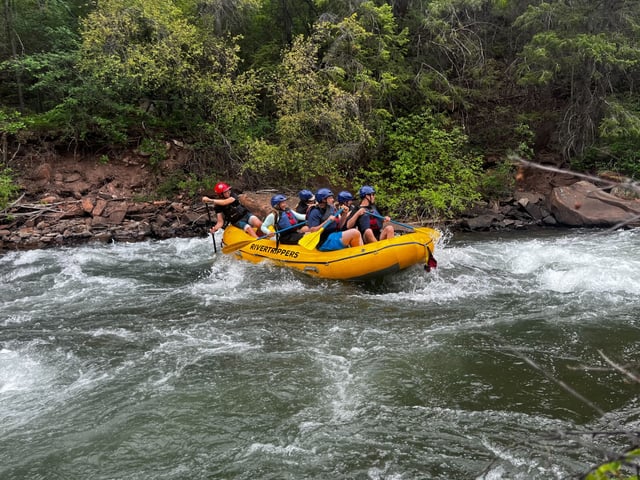 Telluride, CO
Wild Whitewater Trips
San Miguel River
The half day raft trip down the San Miguel River in Telluride, CO provides unmatched beauty as this snow-melt-fed river plunges from the high peaks of the San Juan Mountains and cascades through San Miguel and Norwood canyons. The contrast between the riparian river ecosystem and the red sandstone canyon makes this trip undeniably unique.  It starts just 5 miles northwest of Telluride and continues for approximately 10 miles through Class I-IV whitewater. The San Miguel is one of the few remaining free-flowing rivers in Colorado.  This 3-hour trip is best experienced in May-June, and kids 10+ are welcome. 
In addition to fantastic whitewater, Telluride is well known for its spectacular hiking and mountain biking trails winding through the rugged San Juans.  The rainbow colors of these mountains are like nothing you've seen before!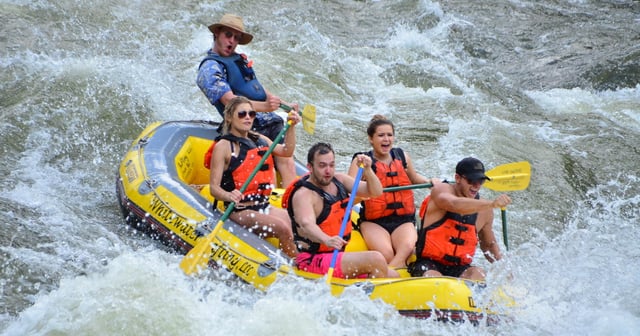 Glenwood Springs, CO
Mild Whitewater Trips
Shoshone Rapids – Colorado River
The Colorado River in Glenwood Springs has fantastic white water rafting under 3 hours from Denver.  A half day rafting trip down the Colorado River offers 3 hours of excitement starting with the popular Shoshone Rapids. This section of the river offers a 2-mile stretch of Class III-IV rapids that are exciting but not intimidating. In spring, the rapids rise to Class IV, with a gentler Class III in mid-summer and fall.  Enjoy the beauty of the Glenwood Canyon on the Colorado River as you conquer the rapids, including Baptism, Tuttle's Tumble, Tombstone, The Wall, and Maneater.  This family friendly adventure allows children 5+, and is a quick 10-minute shuttle ride to the put in.
Wild Whitewater Trips
Shoshone Rapids – Colorado River
If you are looking for more river rafting adventure in Glenwood Springs, check out the Double Shoshone Rafting trip, which takes you through the shoshone rapids TWICE!  You will take a more challenging line the second time through the rapids, making this a great option for anyone looking for a bit more excitement.  Minimum age is 5, but this trip includes extra walking and raft carrying, so basic physical fitness is recommended.
Leave No Trace 
It's important to remember to always follow Leave No Trace principles while rafting. Here are some tips for rafting:
Travel and camp on durable surfaces – be careful to not damage the terrain at the put in and take out, or anywhere you stop along the river

Pack out all trash – leave the outdoors better than you found it!

Leave what you find – leave no trace includes leaving things where they are and avoiding disruption – whether it's a rock, wildflower or pine cones

Respect wildlife – rafting is a great way to observe the local wildlife.  But if your actions make them change their behavior, you  are not practicing leave no trace.  Wildlife is easily scared by loud voices and quick movements.  Never disturb or feed the wildlife, and enjoy wildlife from a distance
White Water Rafting Colorado
Colorado is a paradise for river rafting, with numerous white water rapids to explore. Whether you're a beginner or an experienced rafter, there's a white water rafting trip in Colorado that's perfect for you. So grab your paddle and hit the rapids for an unforgettable adventure!