Best Intermediate Rides in Hood River
Every weekend, riders flock to the Hood River area to ride the legendary trails and take in Oregon's breathtaking landscapes. Hood River has a variety of trails with great options for beginner through advanced riders, but we have focused on the top trails for intermediate riders.  We've done the research for you – check out our top 5 Hood River mountain bike trails below!
If you are visiting the area, or want to demo a bike, we feature the best rental shops in Hood River.  Rent a sweet demo bike online here!

Post Canyon Trails
One of the top places to ride is the Post Canyon area, with 74 miles of trails and 24 intermediate rides.  Here are 4 great rides at the Post Canyon trail system for intermediate riders:
Rating 4.0 (9)
Ascent: 496′                                       Descent: -2,685′
The longest trail on the list, the Post Canyon Shuttle Route is 10.3 miles long and 90% singletrack. The blue/black rated trail offers a series of variations to customize your ride.  This is a shuttle ride, so don't forget to leave a car at the Seven Springs Staging Area before shuttling to the top.  When you begin, you will pass by Kingsley Reservoir, climb a short gravel grind and ride a narrow ribbon of rocky singletrack on Ken A trail.  Don't stop pedaling on Ken A to make it through!  Packed with cascading drops, the rocky terrain of the Hill Road makes it technical yet exciting.  This trail gives riders a ton of smooth singletrack and the flexibility to tailor to taste with alternate options.  Because it's a shuttle route, you get to enjoy the descents without a ton of work!
Rating 4.7 (26)
Ascent: 1,326′                                    Descent: -1,319′
This loop is a good introduction to the lower Post Canyon area – it combines several trails and is mostly singletrack with several climbs and flowing descents as well as some fun trails features like banked switchbacks and tabletops.  Riders are able to shorten or extend the ride easily with other trails, or by bailing at any road crossing.
Rating 4.0(7)
Ascent: 1,123′                                    Descent: -1,121′
This loop trail is 90% singletrack and combines Dirt Surfer, Sexy Beast, Cobbles, and Ken A trails for an awesome 7.2-mile ride.   The trail has a ton of variety – climbing, descending, and some technical terrain. It is popular among intermediate rider, who typically find this trail is a great challenge.  Most riders climb out of the Binns Hill Staging Area and up Dirt Surfer, Sexy Beast to Cobbles – then enjoy the brisk descent down Ken A, Dirt Surfer and back to Binns Hill.

Rating 4.2 (6)
Ascent: 631′   Descent: -66′  
8 Track is a shorter trail at 3.3 miles, and is the last trail in the final lap of the Post Canyon area. 8 Track is broadly divided into 3 segments:
Lower 8 Track – Starting from Family Man, Lower 8 Track is fast, flowing and hardly has any climbing. It is great for kids and beginners who could make a loop back to the Family Man.
Middle 8 Track – Taking a left from Trail 106, the first part of this trail is fast and level along an old logging road. However, a sudden right turn leads to a steeper stretch with plenty of twists and turns. There are more roots and technical features than Lower 8 Track.
Upper 8 Track – The most difficult stretch of the trail, the Upper 8 Track is meant for more advanced riders. Several steep climbs are followed by fast downhill sections. You can connect to other trails to make the ride longer.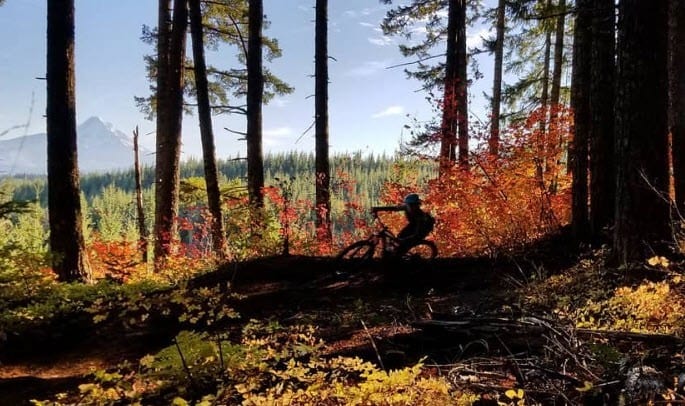 Honorable Mention Rides – Mount Hood National Forest
Rating 4.4 (5)
Ascent: 60'   Descent: -1211′  
This 4.1-mile trail is primarily a descent that goes through the Mount Hood National Forest and Badger Creek Wilderness.  There are some rocky areas, optional jumps and drops that can be easily walked if needed.  It's a great point to point intermediate ride that connects 2 different trails, and can be reversed, going uphill back to the start for an 8.2-mile ride.
We feature top of the line mountain bike rentals at the best bike shops in Hood River!