Guide to the Best Outdoor Activities in Austin
Our travels recently took us through Austin, TX – a place we've been wanting to check out for a while!  Austin is increasingly becoming known for its outdoor adventure scene and the numerous easily accessible outdoor activities across the city. From bat kayaking tours to rock climbing from a boat, here are our top recommended outdoor adventures in Austin.
Austin Kayaking and Paddleboarding
Kayaking and stand up paddleboarding are some of the best outdoor activities in Austin to beat the summer heat, explore the city's lakes and rivers and learn about the history and culture of the area.  You don't have to go far – many of these waterways lie right in the city.
Lady Bird Lake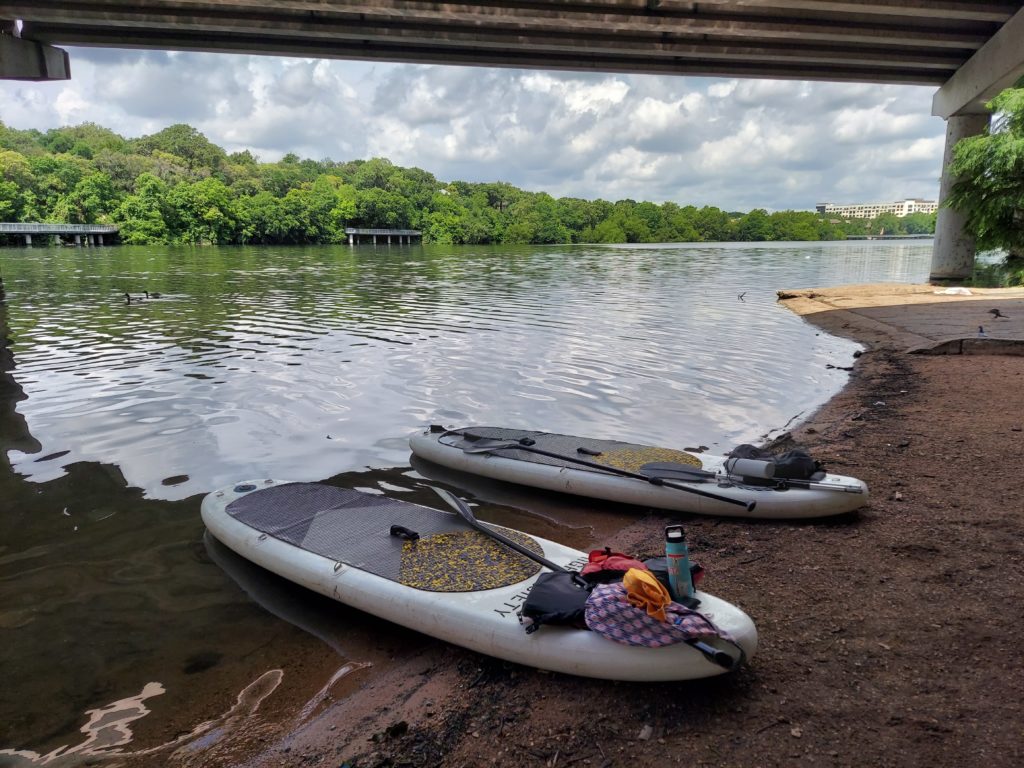 Also known as Town Lake, Lady Bird Lake is located in the heart of downtown Austin.  This river-like reservoir on the Colorado River is a wonderful place to kayak or paddle board right in Austin.  Guided kayak tours offer an informative and fun way to explore the city and enjoy the skyline views while learning about Austin history and culture.  Special tours can be booked to see the world's largest urban bat colony at sunset.  Observe a natural wonder as 1.5 million bats stream out of the iconic Congress Avenue bridge and learn about how these nocturnal creatures improve the ecosystem for all of us.
After you've finished your paddle, check out the Ann and Roy Butler Hike and Bike Trail, a 10-mile loop around the lake, is perfect for walking, jogging, or biking.
Lake Austin
Lake Austin is the other popular paddling lake in the city of Austin.  It is also a reservoir of the Colorado River located just west of downtown and offers more expansive opportunities for kayaking and paddleboarding. Paddlers enjoy the scenic beauty of the lake, paddling along the shoreline, and venturing out to explore its various coves and inlets.
Zilker Park
Zilker Park is a sprawling urban park in downtown Austin with first-come first-served kayak and paddleboard rentals which allow you to explore the park's waterways.  Paddle Barton Creek's peaceful waters surrounded by beautiful limestone cliffs and lush vegetation.  If the water levels are too low in the creek, head out to Ladybird Lake for a scenic skyline paddle.  After you're done kayaking, cool off with a dip in Barton Springs Pool, a natural spring-fed swimming pool right in the park.
McKinney Falls State Park
McKinney Falls State Park, located southeast of downtown Austin, features Onion Creek, a beautiful and relatively calm waterway perfect for kayaking and paddleboarding. The creek meanders through rocky terrain and peaceful forested areas, offering opportunities to observe local wildlife, including birds, turtles, and fish. You'll also encounter tranquil stretches of water and occasional small rapids, which add to the paddling experience.  McKinney Falls State Park provides multiple access points to launch your kayak or paddleboard into Onion Creek. The most convenient access points are located near the Lower Falls area and the Upper Falls area within the park. Park signage and staff can guide you to these designated launch areas.  The park does not offer on-site rentals, so you will need to bring your own equipment or rent from a local outfitter.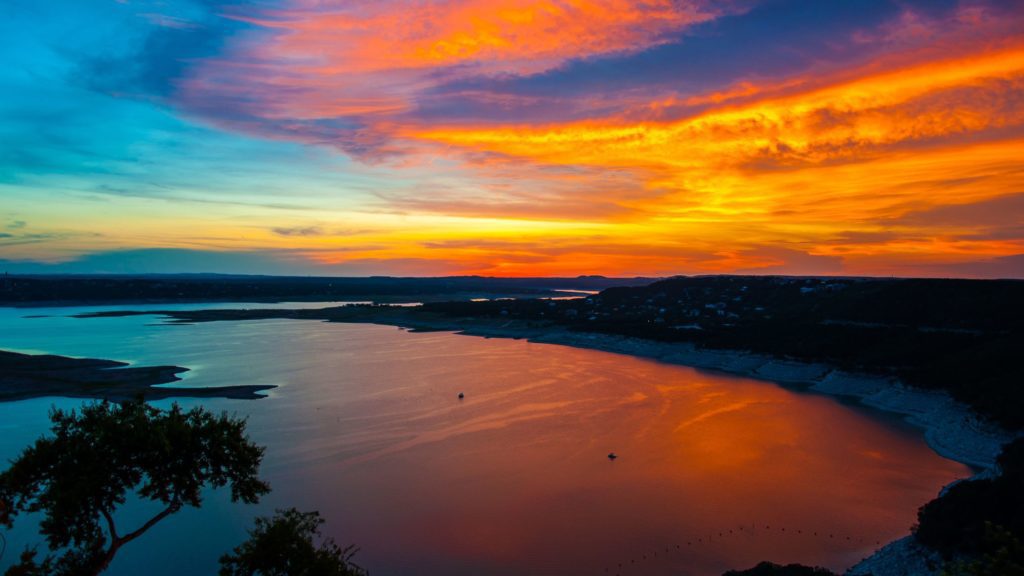 Lake Travis
While slightly farther from downtown Austin, Lake Travis is another popular destination for kayaking and paddleboarding.  The 30-minute drive through hill country brings you to this reservoir on the Colorado River with clear waters, expansive shoreline to discover, and breathtaking views of the surrounding hills.  There are rental options available at various marinas and parks around Lake Travis.
These lakes and creeks provide a range of options for kayaking and paddleboarding in Austin, each with its own unique features and scenery. Whether you prefer urban paddling, serene natural settings, or expansive reservoirs, Austin has something to offer for all skill levels and preferences.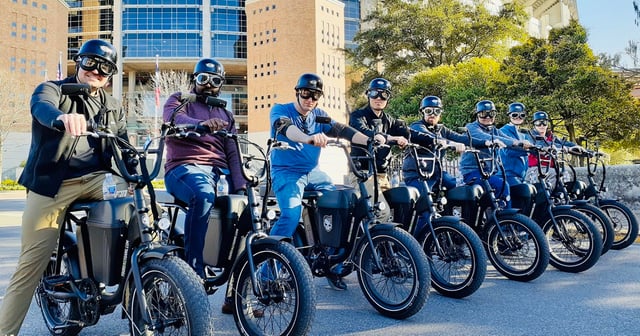 Austin Electric Biking
Ditch the car and explore Austin on an electric bike!  Guided e-bike tours allow you to cruise the city at a leisurely pace discovering the city's vibrant street art and iconic landmarks like the Texas State Capitol, Moody Theater, Driskill Hotel, Rainey Street.  E-bikes are fun and super easy to ride, all you need to know is how to ride a bicycle.  E-Biking in Austin is an outdoor activity you can feel good about – not only are you reducing traffic and seeing the sights at your own pace, but you get a workout while you are at it!
Austin Mountain Biking
There are a variety of options for mountain biking across Austin.  For the mellower rides in-town, check out Barton Springs Bike Rental for hardtail mountain bikes, plus a wide range of cruisers, electric, hybrid and fat bikes.  The shop is located next to Zilker Park for easy access to the Barton Creek Greenbelt and the gravel surface Lady Bird Lake Trail.  For full suspension mountain bike rentals, head to Cycle Progression for high-end Pivot, Ibis, and Yeti bikes for the more technical trails in Austin like Walnut Creek and Reveille Peak Ranch.
Walnut Creek Metropolitan Park
About 10 miles north of downtown in North Austin, Walnut Creek Park features a network of trails specifically designed for mountain biking. With varying levels of difficulty, riders of all skill levels can enjoy the trails. The park offers both beginner-friendly and challenging sections, with twists, turns, and small jumps.
Barton Creek Greenbelt
The Barton Creek Greenbelt starts right in downtown near Zilker Park, and snakes its way through the city, connecting to 40+ sanctioned and unsanctioned trails.  The area not only provides mountain biking trails, but also hiking and rock climbing opportunities. The trails can be technical and challenging, especially after rain when the terrain gets more rugged. Riders can enjoy the natural beauty of the area while navigating through rocky and hilly sections.
South Austin Trail Network
Head to Southwest Austin for over 100 miles of singletrack trails that wind through wooded areas and native prairie landscapes providing a mix of fast sections and technical rocky areas.  The cross-country terrain features mild elevation and is well suited to beginners and intermediate riders, but even the advanced rider will enjoy the multiple features and rock gardens along the way.
Reveille Peak Ranch
While not in Austin proper, Reveille Peak Ranch is worth mentioning as it's located about an hour's drive northwest of Austin. It offers a dedicated mountain biking trail system with a mix of beginner, intermediate, and advanced trails. The trails take riders through scenic Hill Country landscapes, with challenging climbs, thrilling descents, and technical features.
Before heading out to these locations, it's recommended to check trail conditions, closures, and any other regulations specific to each park or trail system.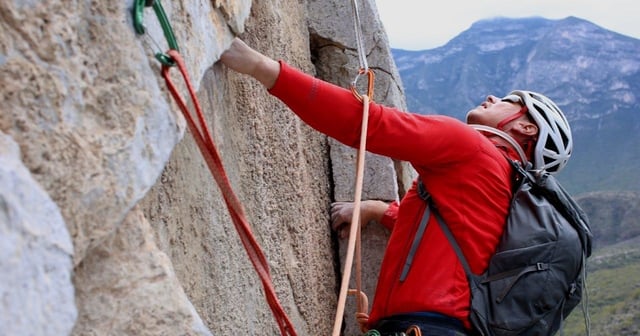 Austin Rock Climbing
Rock climbing in Austin offers a diverse range of options for climbers of all skill levels. For those newer to the sport, we recommend climbing with a guide in Austin or brushing up your skills with a climbing course to make the most of your climbing trip.  As with any outdoor activity, it's crucial to practice proper safety measures while rock climbing. Climbers should be familiar with their own skill level, use appropriate safety equipment, and adhere to established climbing ethics and guidelines.
For an extremely unique climbing adventure in Austin, check out Rock About Adventures' boat climbing tour.  This may be the only guided boat climbing tour in America – affectionately called Deep Water Soloing (DWS).  The lakes of central Texas offer some amazing climbing opportunities, allowing you to climb as high as you like and then jump back into the water.   These tours are actually great for everything from beginner to advanced climbers.
Other hotspots in the Austin rock climbing scene include:
Barton Creek Greenbelt
The Barton Creek Greenbelt is a 7.9-mile stretch of natural space right downtown Austin that is known for its hiking and swimming spots but also offers excellent rock climbing opportunities.  Nestled on the banks of the Barton Creek, this is the closest location to Austin for climbing at about eight minutes from downtown.  The limestone cliffs along the greenbelt provide many different routes for climbers. The routes vary in difficulty, with options for both beginners and experienced climbers. Popular climbing areas within the greenbelt include Seismic Wall, Gus Fruh, and New Wall.
Enchanted Rock State Natural Area
Located just under 2 hours west of Austin, Enchanted Rock is a massive pink granite dome that offers fantastic hiking and rock climbing opportunities. Enchanted Rock offers granite dome formations with traditional climbing routes. The climbing is mainly slab climbing with a mix of crack and face climbing. It's important to note that a climbing permit is required to climb at Enchanted Rock, and some areas have access restrictions due to nesting birds.  From beginner rock climbing lessons to rappelling adventures and multi-pitch climbing, there's something for every level of climber.   You can also explore the hiking trails leading to the summit, where you'll be rewarded with panoramic views of the surrounding Hill Country.
Reimers Ranch
About 40 minutes outside Austin, Milton Reimer's Ranch Travis County Park is a limestone jewel that has become a favorite crag for the local climbing community.   The climbing at Reimer's is some of the best limestone cragging in the country.  Having climbs varying from easy to world-class hard, this locale tests a first-time climber or the pro alike. The Central Texas Mountaineers maintain hardware so you can be rest assured that you are clipping onto good bolts and chains.
Located west of Austin, Reimers Ranch Park is a popular destination for rock climbing. The park features limestone cliffs with numerous bolted sport climbing routes. The routes at Reimers Ranch offer a variety of challenges, from easy to advanced. The park provides a scenic setting and a range of climbing options, making it a favorite among local climbers.
We've included just a few of the many outdoor activities to add to your Austin adventure itinerary. Whether you're looking for kayaking, paddleboarding, biking, climbing or simply enjoying nature, Austin has something to offer for every outdoor enthusiast.