Snowboarding Gear Guide: What to Wear and Bring for an Epic Ride
👋 friends! I've been snowboarding since 2011 when Julie first helped me get out on the slopes in Minnesota. I've been in love ever since and fast forward a few years, we now live just a couple of miles from a ski resort! One thing I've learned is that my level of comfort in the cold and my ability to adapt to the weather has a significant impact on how much I enjoy my time out there. I've dialed in my clothing and accessories over time and have been wearing the same 2 kits for over 8 years now. I recommend purchasing high-quality gear because it lasts long and performs well when you need it to.
Snowboarding has turned into my favorite winter sport, but it does demand a bit of know-how when it comes to gearing up and knowing what to wear and what to bring snowboarding.  Whether you're strapping in for your first ride or seeking to fine-tune your checklist, you've come to the right place. In this guide, I'll dive into the nitty-gritty of what to wear when snowboarding, lay out a snowboarding checklist, and share the must-have gear that'll make your ride truly epic. So, whether you're a newbie or a seasoned rider, let's get you geared up for your snowboarding journey! I have listed a rundown of the essentials for your trip below, followed by a downloadable and printable snowboard trip checklist that'll have your packing done in a jiffy.
⚠️ Everything we purchase has an environmental impact, here are some of our favorite tips to reduce our footprint:
Don't buy new products if you can help it!
Borrow gear from friends or family members.
Consider shopping for used gear on Patagonia Worn Wear or a local used outdoor gear store. Sometimes the gear that we're looking for just isn't available pre-loved, please consider supporting a

local

outdoor retailer before buying from a large chain. 🙏🏾
Rent vs. buy: if you're not sure that you'll commit to the sport, consider renting the gear.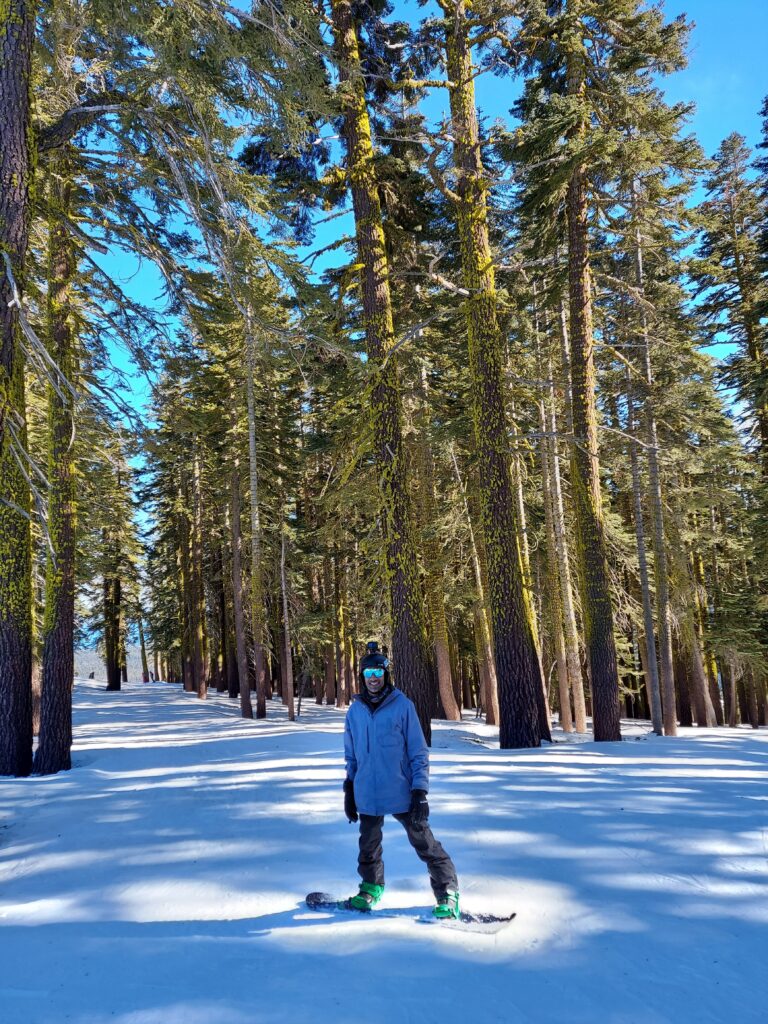 Snowboard Packing Categories
Please note that some of the links within this post are affiliate links. We do our very best to only recommend products and brands that align with our values of quality, durability, and environmental responsibility. Our focus is on partnering with B-Corps, brands offering recycled products, or those committed to eco-friendly practices. By choosing these links, you're supporting companies that help reduce our environmental footprint.
Snowboard Outerwear – Dress like an onion, think layers
The cold can get in the way of an awesome pow day. Your snowboard jacket and insulated pants are your best friends on the slopes. Packing warm outerwear does not just complete your look – it blocks the cold and keeps you warm, plus it gives extra protection from wipeouts.
Outerwear is bulky and takes up a lot of baggage space, and also the most expensive component of the outfit, so you may want to consider saving space and renting instead. Check out Mountain Threads Clothing Rentals – you can pick up high-quality snowboarding clothing at their Denver location on your way to the slopes, or have it delivered to your accommodation anywhere in the US! You can even save 10% by booking through TripOutside. If you also need to rent a snowboard, check out Black Tie Ski Delivery – they rent snowboard outerwear, in addition to boards and boots, at many of their 30 snowboard destinations.
Here's our list of snowboard outerwear essentials: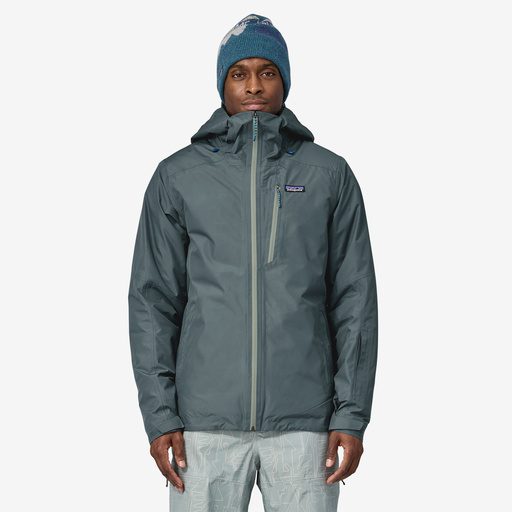 Waterproof Outer Jacket for Snowboarding:
A waterproof and insulated jacket is a must to wear when snowboarding to keep you warm and dry.
Some jackets have insulated layers built in while others come with layers that you can remove for warmer days.
You can also choose a light outer layer that is only waterproof and windproof and add your own mid-layers underneath.
Its job is to protect you from wind and moisture.
Shop Men's Outer Layer Jackets
Midlayer Jacket for Snowboarding:
For a mid-layer, it will depend on the weather. Hoodies, fleece jackets, or a puffy all work here. This layer is there to keep you warm and you can even decide to do 1-2 layers here based on the temps and how you feel. You may not need a mid layer if you your outer layer is insulated, or if it's a warm day on the slopes.
Its job is to keep you warm.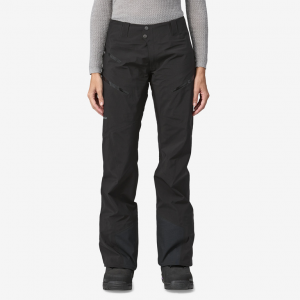 Snow Pants for Snowboarding
Invest in durable, waterproof, and insulated snowboarding pants, which help you stay warm and dry, even on snowy days or after wipeouts.
Gloves or Mittens for Snowboarding
Ensure your hands stay warm and dry by choosing gloves or mittens with insulation and waterproofing. Mittens can be warmer, but gloves allow a bit more dexterity.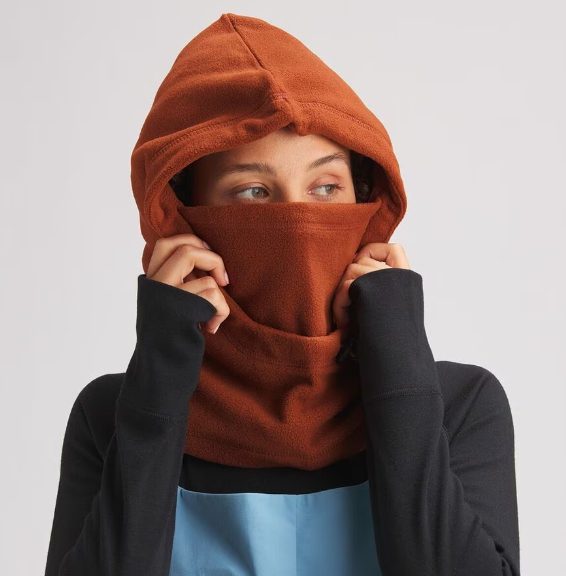 Neck Gaiter or Buff for Snowboarding
These neck and face protectors are essential for snowboarding, offering protection from the cold and snow.  The wind can really whip at your face, especially on the chairlift. In extreme cold, a balaclava provides full-face coverage and added warmth.
Snowboarding Helmet
Protect your noggin with a snowboarding helmet, an essential choice for safety while snowboarding, plus it keeps your head toasty warm! Consider getting one with concussion prevention technology like MIPS.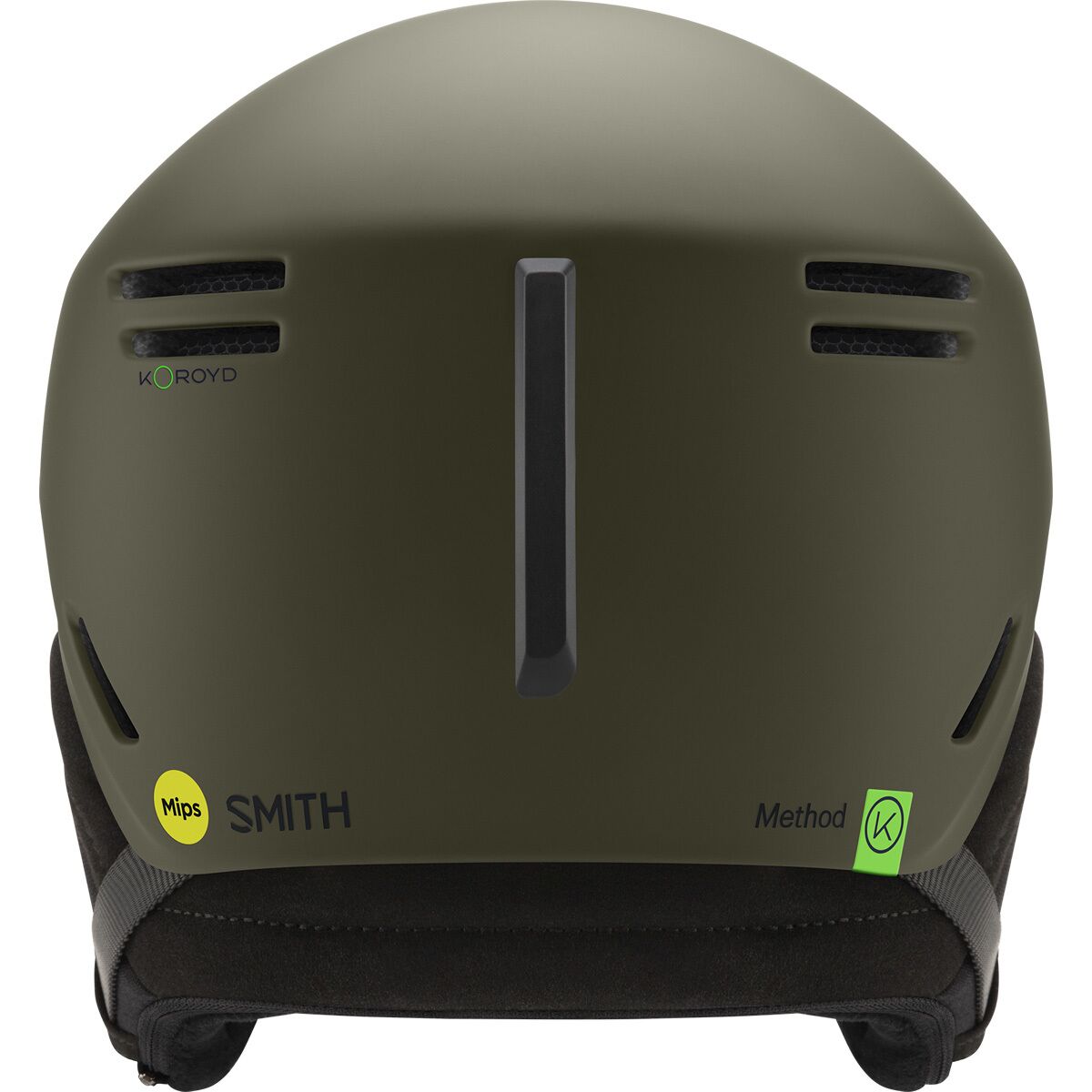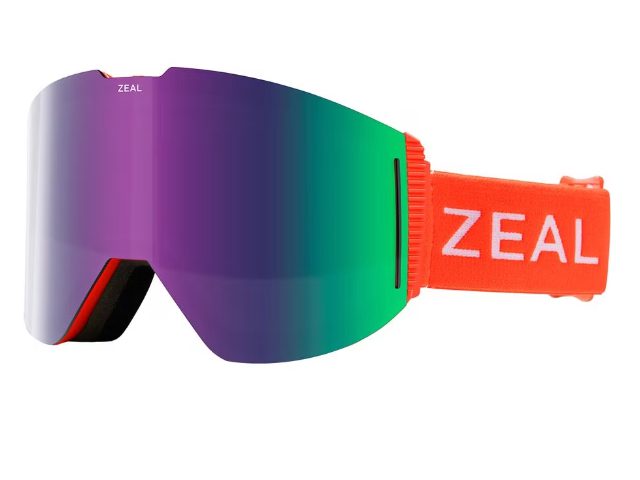 Goggles for Snowboarding
Opt for goggles with anti-fog and UV protection features—a vital item on any snowboarding essentials list.
I personally ❤️ the ones with the easy pop-out lenses because they are easy to clean, replace lenses, and keep protected – it's easy to store the lenses away from the goggles.
Snowboard Base Layers
Alright, now that we've covered the outside, let's snuggle up to our cozy base layers on the inside. Base layers are a necessity for wicking the moisture away from your body while snowboarding. They come in many forms – pants, shirts, sports bras, socks, and even tights. Base layers are designed to be lightweight – you can layer them on without feeling awkward, and you can pack them without worrying about taking up too much baggage space.  Base layers are typically made of synthetic materials like polyester, or wool, silk or bamboo fibers, which help moderate your body temperature and keep you comfortable.  Avoid cotton, which is not quick-drying and pulls heat away from the body, leaving you cold.
Find high quality snowboarding base layers for women at Patagonia or Backcountry.
Find high quality snowboarding base layers for men at Patagonia or Backcountry.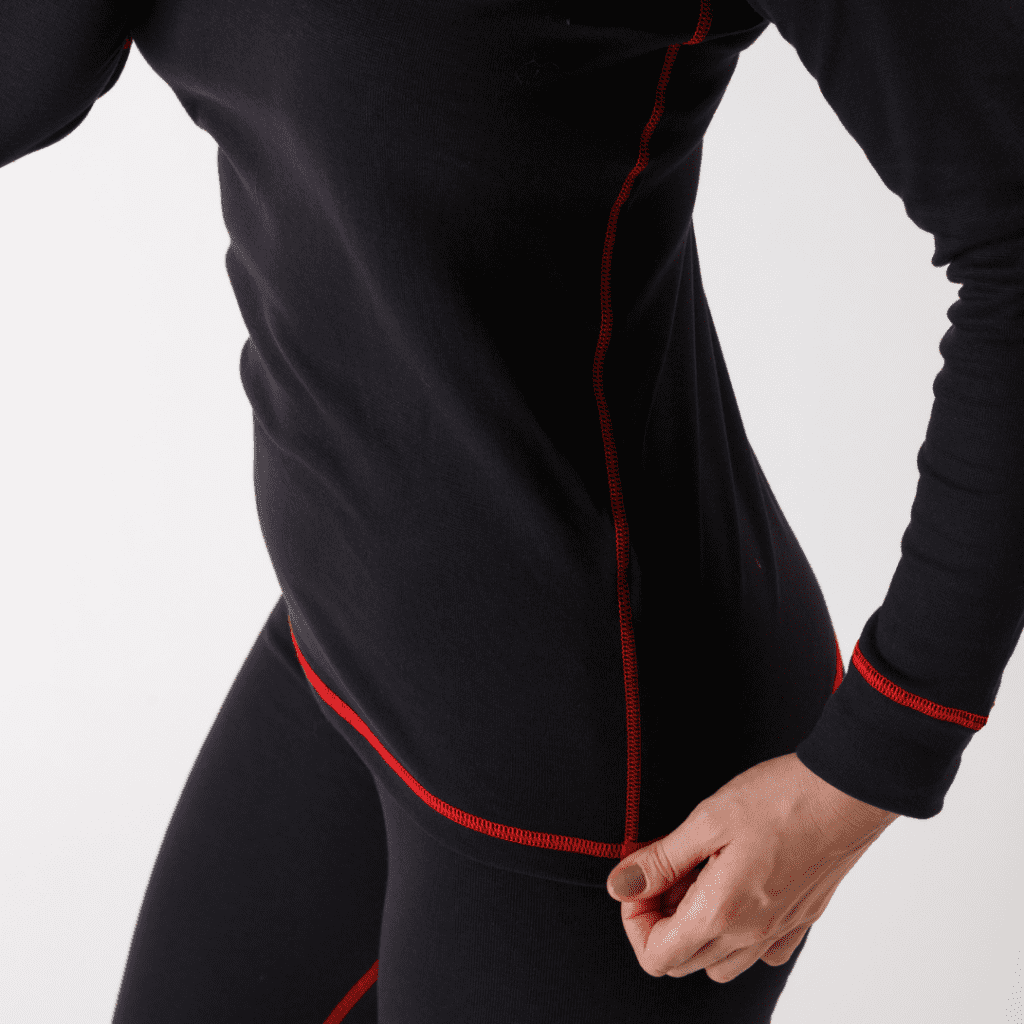 Other Snowboard Gear
If there's something you ought to make sure to remember when packing for a snowboard trip, it would be your snowboard gear. Nothing spells bummer more than a forgotten snowboard or boots. On the other hand, snowboard destinations across the country make it silly easy to rent the latest boards and boots, which makes packing and flying a breeze.  Find the best local snowboard shops at over 35 ski destinations on TripOutside.
Snowboard Accessories
No snowboard trip is complete without packing your favorite snowboard accessories. These items will help ensure your comfort during a long day on the slopes!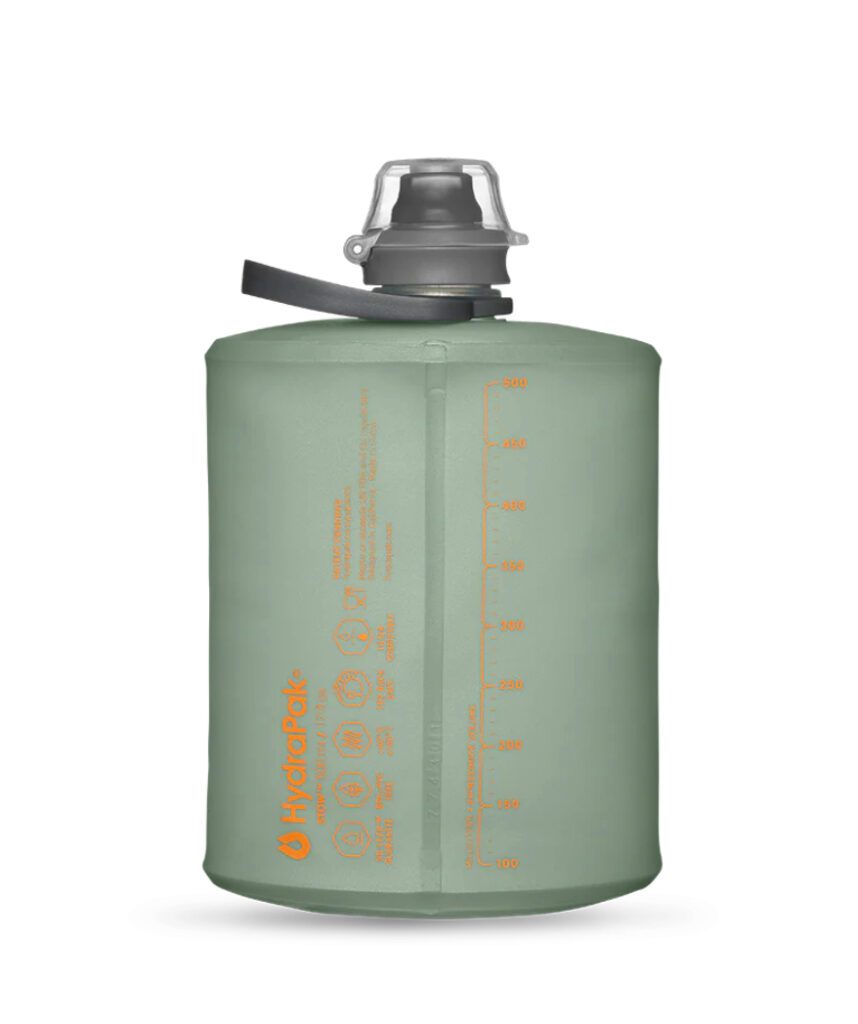 Key snowboard accessories we make sure to pack:
Backpack: A backpack with hydration compatibility and extra storage for snacks and essentials is a helpful snowboarding accessory.
Tool Kit or Multi-tool: Carry a simple snowboard tool kit for on-the-go adjustments and repairs—a practical item for your snowboarding checklist.
Sunscreen and Lip Balm: Protect your skin from UV rays and dryness with sunscreen and lip balm—just because it's cold doesn't mean the sun isn't beating down!
First Aid Kit: Be prepared for minor injuries with a compact first aid kit—a wise addition to any snowboarding essentials list.
Water Bottle: I don't go anywhere without my Hydrapack collapsible bottle! You can stash it in your jacket and when you go in for water breaks, you can use this instead of single-use cups or buying plastic water bottles. Save the planet!
Pads and protection: If you're new to snowboarding or are challenging yourself by trying new tricks or hitting the park, consider adding in some protection layers that you can wear underneath like knee pads, wrist pads or padded base layers.
How to Layer for Snowboarding
FAQs
How to choose snowboarding pants?
There are many different factors to choosing the best snowboarding pants for yourself, here are our most practical tips:
Waterproof: This is the most crucial part of the deal. You can ski and snowboard with even some waterproof rain pants with some base layers underneath. But the most important thing is to make sure that you don't let all that snow turn into water and soak you.
Insulated: If the pants have some built-in insulation, that will help you stay warm on the mountain and your butt warm on the chairlift up.
Other features to consider:

Pockets: You can't have enough of these. Think phones, maps, gloves, keys, masks, snacks… there is a lot to pack on a trip.
Built-in Gaiters: These help your pants stay on and hook on to the boots and keep the snow out of your pants from the bottom. Dry = warm.
Ventilation: Temperatures can vary a lot from day to day, seasonally, and even from the top of the mountain to the bottom. It's nice to have some ventilation to cool down when things get a little heated.
Strong in the right places: Around the bottom of the pants, sometimes you will find reinforced cuffs that get worn out from rubbing against the boots and bindings. These are helpful for the longevity of the pants.
Radical self-expression: It's great to have a unique pair of pants that call to you. Not only does it make you excited to put them on, but it also helps your group find you on the slopes or in the lift line. "Oh hey, there is Reet in his neon purple cat-printed snowboarding pants"?
Do I have to wear a snowboard jacket or is any jacket ok?
Any warm jacket will do, but you have to consider if it is up for the job.
Is it waterproof? If yes, then this will be an outer layer – even a good rain jacket can work if you can have enough warm layers underneath to stay warm.
Is it a fleece? Then you probably don't want this as your outer shell but would be a good mid-layer jacket. Also, make sure that you have base layers that are not cotton.
Now that you are all geared up for your snowboard trip, check out our top tips for planning your trip!