Ride bikes, not horses at this new type of Ranch in Southwest Colorado.
My guest on this podcast was Jake from Zuma Bike Ranch, located in the southwest area of Colorado. Zuma Bike Ranch is located on the corner of 3 different cities in the area, Dolores, Mancos, and Cortez Colorado. This post is a brief summary of our full podcast conversation. 
About Zuma Bike Ranch
Jake has been a mountain bike instructor for over 5 years and has been coaching with Ninja Mountain Bike Clinics. He has been hooked on working with people on their skill development and is passionate about teaching riders how to be stronger, more confident, and more skilled riders.
Jake has created a purpose-built mountain biking-specific property in the area that is dedicated to teaching and coaching mountain biking. The 40-acre property is right next to Phils's world mountain biking trails and joins the new section of Phil's world.
He has taken time to build features that are great for teaching different skills by taking inspiration from the different areas in the country where he has taught mountain biking. Different areas of the country present different features that make the trail networks unique for example the use of bedrock or a side of a hillside to make some nice benched-in switchbacks. The first year, he walked the property with his dog and identified all the places where interesting features could be built for teaching, bushwacked, and built trails. They have camping and trails right on the property for riders to camp and ride right on the property.

What are some things that everyone could gain from taking a mountain biking clinic or lessons?
Mountain biking has changed so much since a few decades ago when it started. The sport has grown so much over time and the innovation and design in manufacturing have created this opportunity to learn the dance between the rider and the mountain bike. You can now throw your body weight around and counter the bike to attack different features on the trail. This type of teaching didn't exist before and there is now an opportunity to learn new skills using the knowledge gained through this curriculum that allows riders to become much safer and much more confident than ever before.
People take multiple clinics from multiple instructors and continue to learn and have breakthroughs that help them improve their riding.

What can you expect from a mountain bike lesson or a clinic at Zuma Bike Ranch?
At the ranch, there are group lessons, private lessons, and clinics. You can bring your own private group and focus on the agreed-upon skills that you want to work on and Jake can put together a program just for that group. The same goes for private lessons. Jake will ask you about your goals, who they see themselves as a rider, and what they visualize themselves doing. For example, high-speed corning, pressure control, or doing big drops. Using that information, he will make a custom program for that private group or individual.
In the clinics, they will be broken down by the different segments that you'll see in the industry.
Fundamental skills: you will use these skills, no matter where you are on your skill level.
Jumping clinics that focus on jump progression
Intermediate and advanced skills clinics are also being added for more advanced riders that want to work on more technical moves.
Most of the skill development happens right at the property using the features that have been built. You can spend an entire weekend learning at the ranch.
Outdoor Activities near Cortez, Dolores, and Mancos CO
What do you like to do in the four corners area? Outdoor activities to do in the four corners area
Montezuma county is a great hub that branches out into different ecosystems and landscapes. 20 minutes west of Cortez you can explore Sand Canyon which is a true red rock desert similar to Moab. When you're at Phil's world, you're a high desert with pinon pines and junipers. 20 minutes north in Dolores you're in the high alpine, ponderosa pine, and just beyond that are rugged San Juan mountains.
With so many different types of unique environmental aspects, you can be doing a high alpine mountain bike ride on the Colorado trails in 45 minutes and then be in red rock within a few minutes. They have awesome trail organizations that are heavily volunteer staffed and do great work.
You also have Mesa Verde National Park nearby and the Canyons Of the Ancient National Monument. One of the great things about this area is that you can visit and explore here almost the entire year.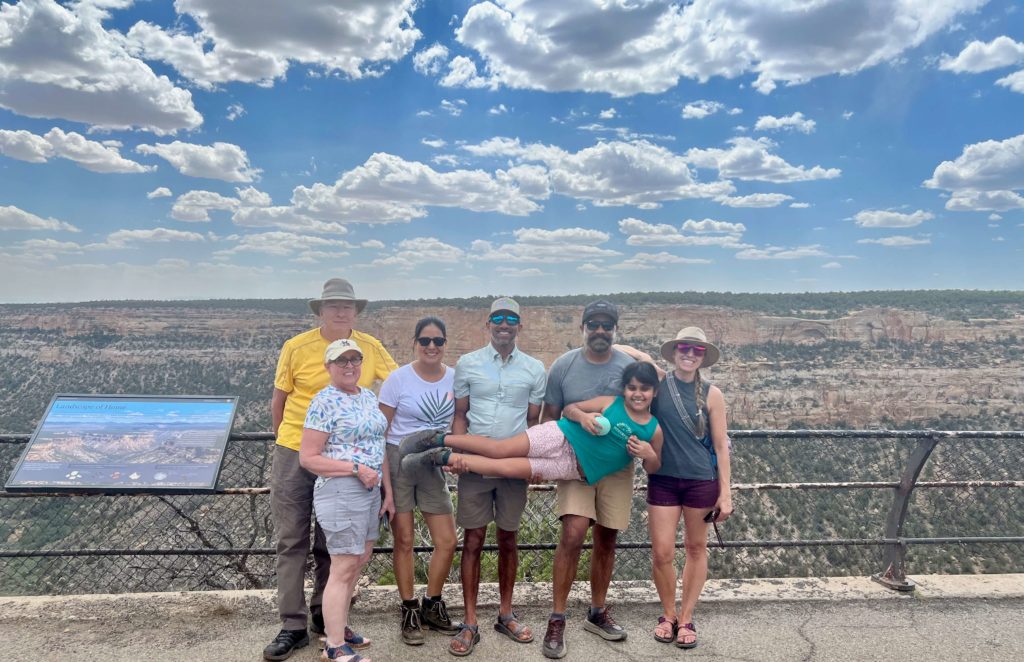 Mountain biking trail networks around the area
Sand Canyon: This is part of the Canyons of the Ancient area, the riding is Moab-style red rock, slick rock. There are untouched pueblo rock cliff dwellings that are untouched. It's one of the only places in the world where you can mountain bike close to ancient ruins. It's a great place to ride, even in the winter.
Phils World: 50 miles Phil's world has expanded over the past few years and now offers South Phil's, middle, and north Phil's World. The new northern area now offers more technical features because of its deeper canyons. There are 50 miles of trails here that offer something for everyone. Whether it is the original fast and flowy trail network, the fun features and downhill sections, or now the new technical mesa riding.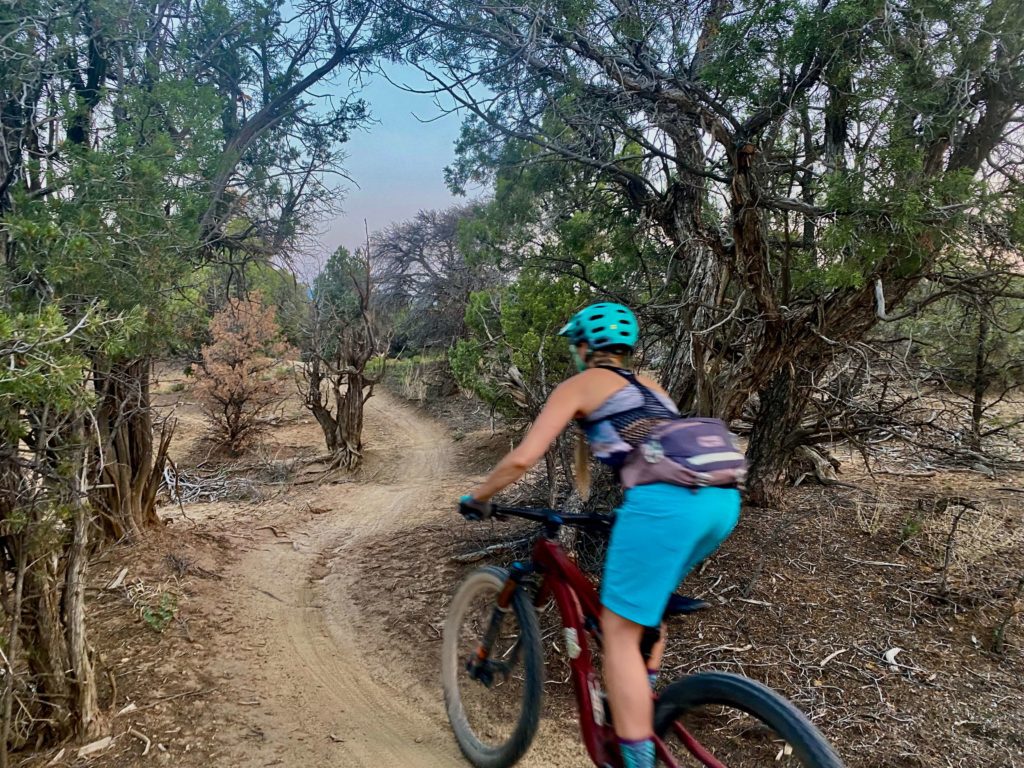 Dolores: 60 miles:  The Boggy Draw trail system has beautiful ponderosa pines and old-growth forests. It is a different offering than Phil's world because it's a bit higher than Phil's world. It's great for introductory or beginner riders because there isn't too much elevation change on the network.
There are trails that drop down to McPhee reservoir that offer more technical and high-speed descends.
There is so much mountain biking in the area that you can never get tired of riding here! If you do, you can always expand to Durango, Aztec, or the San Juan Mountains.
What do visitors need to know before visiting the four corners?
Given the delicate ecosystem in the high desert, there are unique things to be aware of:
Know the ancient history of this incredible area: Take the time to explore the history of this valley. It's important to educate yourself on the history of the culture of the ancient pueblo and the native habitants of this land. Visit Mesa Verde National Park, Sand Canyon, and Canyons of the ancient. Taking some time on your trip to understand the history and get to know the place.
Follow Leave No Trace principles, Stay on the trail, and know about Cryptobiotic soils as they are very fragile and are an important part of the ecosystem.
Know about the fire restrictions: you're in a high fire danger zone in Colorado. Every summer there are fire restrictions and it is important to know what those restrictions are in your area before you visit.
Support the local trail organizations:
Support the local community: There are three really cool towns, Mancos, Cortez, and Dolores. There are cideries, breweries, coffee shops, restaurants, and bike shops. Go visit the local businesses and support them!

In Mancos, visit Mancos Brewing and the cute downtown area.
In Cortez:
In Dolores: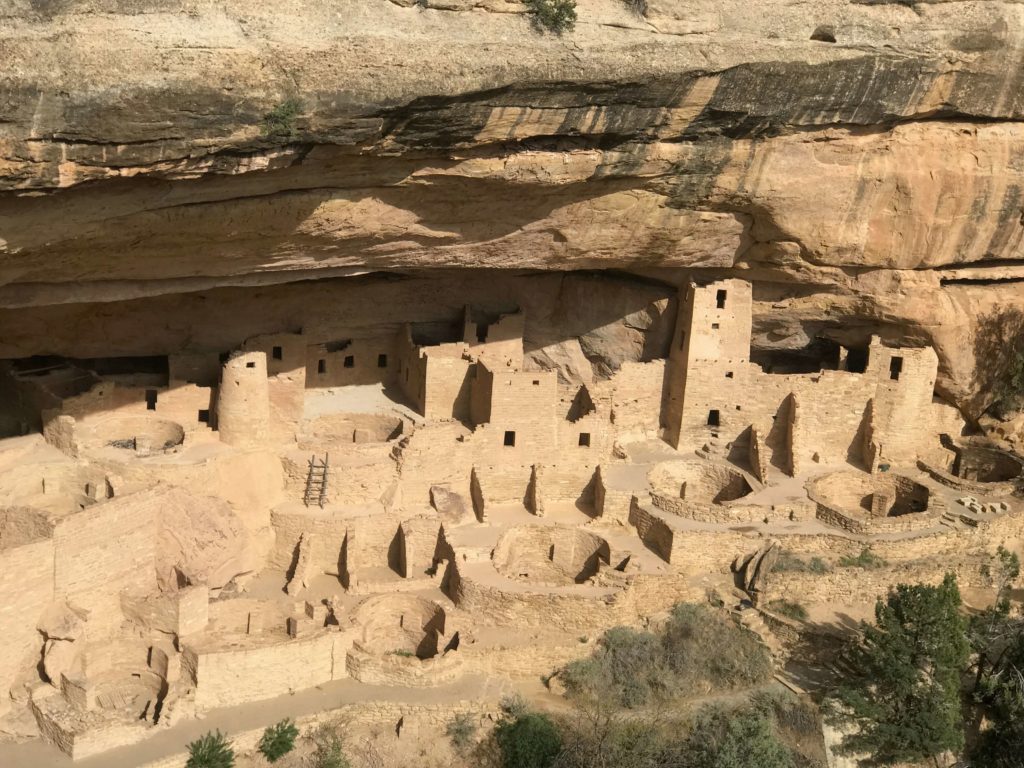 Find Zuma Bike Ranch on TripOutside
Follow them on Instagram
Send us a voice message: https://anchor.fm/tripoutside/message