Kayaking and Surf Lessons in Laguna Beach, CA

Fall in love with Laguna Beach and kayak the marine reserve with Justin from Laguna Ethos. In this episode, Justin shares his passion for the wildlife below the water and how they're helping spread the stoke in the world by taking people out on kayak trips, surf lessons, and hiking trips.
Ocean Kayak Eco Tour + Wildlife Viewing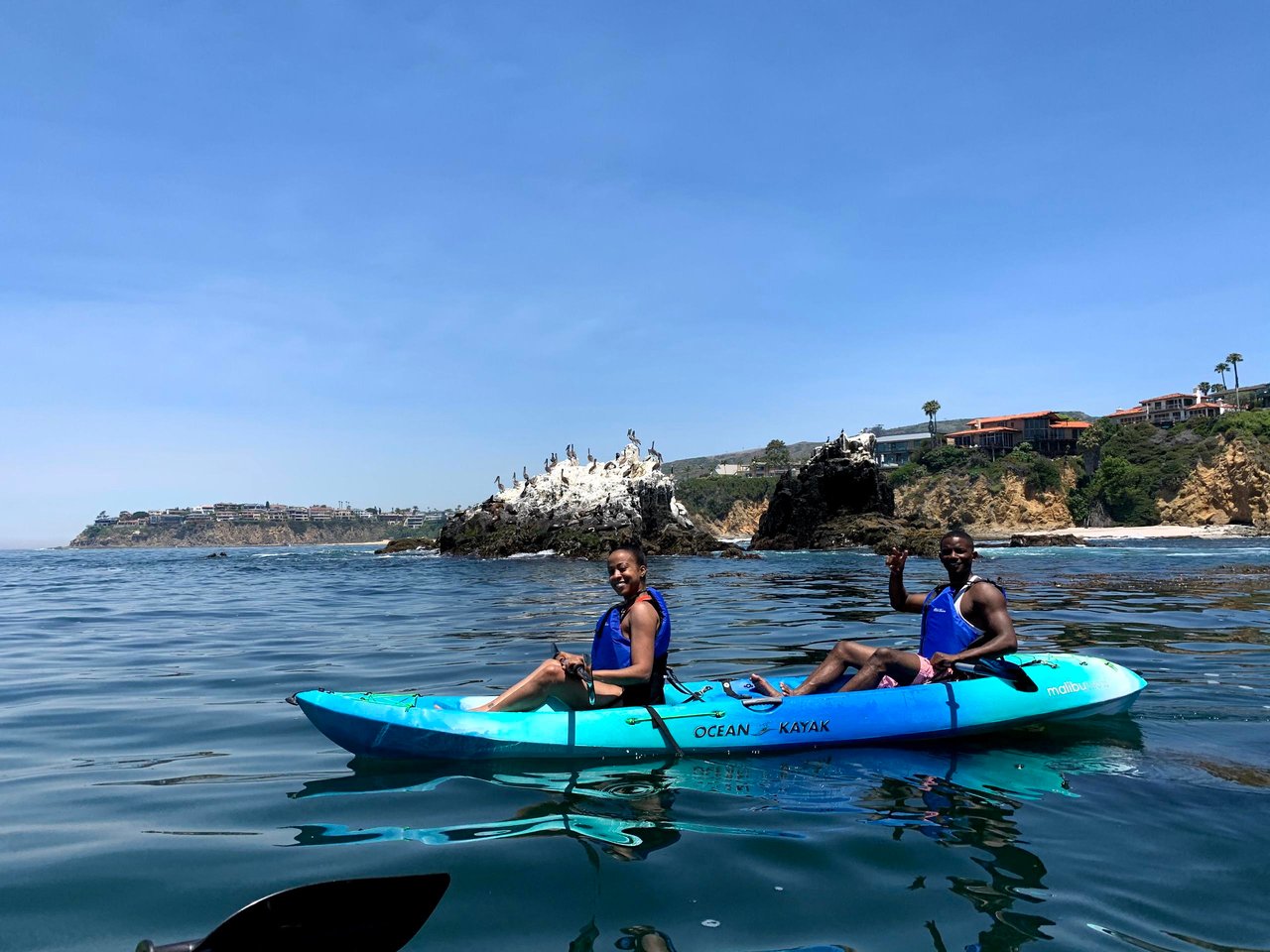 Take a guided kayak tour along one of the most dramatic balboa rock-lined coastlines in the world. Located within the sacred Blue Belt Wildlife Sanctuary, full of hidden beaches, contoured cliffs, crystal clear ocean water. Most tours are lucky enough to see creatures like domestic sea lions, water birds, dolphins, exotic fish, whales, and more.
This activity is perfect for all ages and experience levels. Laguna Ethos pride ourselves in providing customer satisfaction and the most authentic Laguna Beach cultural experience.
We meet on a private seaside in north laguna, wherein your guide will provide a safety brief in accordance with the Water Safety Authority and paddle basics. Then we release into the calm, covered cove, in which we hug the dramatic shoreline and spot first rate coves and beachfront mansions. We'll paddle though pacific kelp beds and learn about the precious ecology and wildlife, over hidden reefs, and see marine life such as garibaldi (our california country fish), harbor seals, pacific sea lions, bottlenose and common dolphins. And if we are actual lucky, we could see whales!!
Afterwards you will feel energized and ready for the rest of your sun drenched day in Laguna Beach, CA! Our guides always provide the best advise for local cuisine and various levels of entertainment, ranging from hikes to surf lessons. Be sure to ask about what's happening in the Art Festival or local downtown.
Kayak tours are for everyone. No experience is necessary.
Time: Daily Tours at 8AM, 930AM, 11AM
Location: Fisherman's Cove – 631 Cliff Dr
Inclusions: kayak, paddle, life jacket, photos, guided tour
What to bring: swim trunks, t-shirt, sunglasses with strap, hat,
sunblock, water, towel – Wear anything you don't mind getting wet!
Ages: 8 years and up can paddle in a tandem with an adult.
Children 3 – 7 can ride for free in the middle with 2 adults
The Laguna Ethos semi-private surf lessons in Laguna Beach, CA are limited to 3 students to every instructor. We teach at Thalia St, Laguna's best location for beginner waves. Our 1.5 hour lessons allow you ample time to learn paddle out, wave judgment, etiquette, and pop-up techniques. Our instructors are experienced professionals who pride themselves on getting you standing up on waves and keeping you safe. We have a very high ratio of students standing up the first time, and launching into a lifetime of passion for surfing and surf culture.
No long walk to the water! We are less than 100 feet from the shoreline right in front of the best waves in Laguna. No vans or long walks with heavy boards! Brand new gear for this season, you found the right company to surf in Laguna Beach.
We love beginners. No prior experience is necessary though you must be able to swim and have a healthy love of the ocean.
Time: Changes daily depending on tides – when you click Book Now you will see a calendar.
Location: Laguna Ethos Surf Spot – Located adjacent to the beachfront mansion: 765 Gaviota Dr, Laguna Beach, CA 92651. We are Surf Spot #2, just look for the smiling friendly, and energetic instructor.
Inclusions: surfboard, wetsuit, bottled water, life experiences, fun, golden memories, natural beauty, more fun 🙂
What to bring: swim trunks, sunblock, towel, love, happiness, passion
Ages: 8 years old and up, exceptions for super groms