Are you looking for adventure in the Zion or Southern Utah area?  Overwhelmed by where to start?  Look no further.  Zion Rock and Mountain Guides is TripOutside's go-to partner for discovering the beauty of the canyons, rocks and buttes of the American Southwest.  Here's why!
About the Zion Area
Zion National Park is a spectacular but popular destination with long lines and traffic to prove it. But fortunately, Zion activities don't end at the Park's soaring red-and-white cliffs. The entire Zion area is a huge playground with endless opportunities for adventure.  In fact, the areas surrounding Zion National Park have some of the lesser known adventure spots.  These are the areas where Zion Rock and Mountain Guides will take you. 
Guides are not allowed to guide in the National Park, so our recommendation is to explore the Park on your own and let Zion Rock and Mountain plan your canyoneering, rock climbing or biking adventure. 
When you have finished hiking Angel's Landing or The Narrows, Zion Rock and Mountain will guide you on a magical trip to discover the hidden gems far from the crowds.
About Zion Rock and Mountain Guides

Fantastic Reviews
Zion Rock & Mountain Guides have stellar reviews – an average of 4.7 stars (out of 5) from Google, TripAdvisor and Yelp.  Customer reviews rave about their vast amount of knowledge, the shops' incredible positive energy, the friendly and genuine guides, and ease of the entire process.  We decided to take a canyoneering trip with Zion Rock & Mountain to see what the big deal was about!
Expert Guides
The team at Zion Rock & Mountain catered to our needs from start to finish.  We are newer to canyoneering and rappelling, and were looking for a great guide who could instruct us along the way.  We were delighted to get an expert guide who had years of experience and was able to show us "the ropes".
Zion Rock & Mountain Guides' team of experienced, well trained guides are Southern Utah experts
. They have c
atered to locals and visitors to the Zion area for more than 20 years, and the team has acquired intimate knowledge and interesting facts about the park, and its landmarks
. Their guides focus on making each trip more meaningful – not only do they guide you through adventures of the iconic landmarks, but you learn about the history and geography of the area along the way.  

Their Passion for Zion
The team at Zion Rock & Mountain considers the Zion area their home…and they're passionate about it
.
You'll see this passion through their curated Zion National Park activities and packages – each
is custom created
to get your adrenaline going, and your eyes feasting on the panorama of Zion's rugged rocks and spectacular vistas
.  They truly love the Zion area, and it shows in their adventures. 
Everyone at Zion Rock and Mountain Guides are a close-knit extended family. Staff and guides focus on making each guest feel like family!
Their Adventures
The team at Zion Rock and Mountain Guides understand that adventure is for all – whether young or old, beginner or expert
. There's no age rule –  kids and adults alike can give canyoneering, rock climbing, biking, and hiking a try.
In fact, this superb company has provided rock climbing and adventure trips for kids as young as 3 and seniors as old as 90
! 
They also custom create their canyoneering, rock climbing and biking adventures based on the customer's experience and preferences.  There are many different incredible spots they take their guests to, honed from their years of experience in the area.  They are happy to accommodate specific requests, and provide a light and fun atmosphere with a focus on safety.
We took on a beautiful canyon called Lamb's Knoll with our guide, a beautifully sculpted sandstone wonderland just outside the Zion National Park boundary.  The long rappels challenged our skills, but our guide made us feel comfortable and confident through his first-rate instruction and tremendous patience.
Exploring with Zion Rock and Mountain Guides
Zion National Park and the surrounding area
is considered
a mecca for canyoneering, hiking, biking, and rock climbing
.
The sprawling landscape is famous for it's canyons, buttes and mesas that are perfect for exploring.  Zion Rock and Mountain offers fantastic packages to explore the best that Southern Utah has to offer – from rock climbing adventures to canyoneering slot canyons and mountain biking epic singletrack – they've got it all.
Unsure if you're capable for the adventures? Zion Rock and Mountain Guides offer classes for every adventure. Classes and guides help you feel ready and comfortable before each trip. 
Zion Rock Climbing
Its large walls, lay-backs, traverses, and under-clings make the Zion area a hotspot for rock climbing
.
Guides and gear from Zion Rock and Mountain Guides make rock climbing tours less intimidating
. 
The team plans adventures for beginners through expert climbers, and makes sure the adventure you go on suits your preferences
.
Joining a guided rock climbing excursion is ideal if you want to take away the hassle of planning and decision making. Guided adventures helps you find the hidden gems of the area
.
The guides have years of experience in finding the best climbing spots, and are ready to teach participants how to
effectively
use climbing gear, what basic body movements to remember, and how to navigate the vertical realm
. 
An easier take on the rock climbing tour is available through the family package – kids as young as 3 years old can join the rock climbing fun
!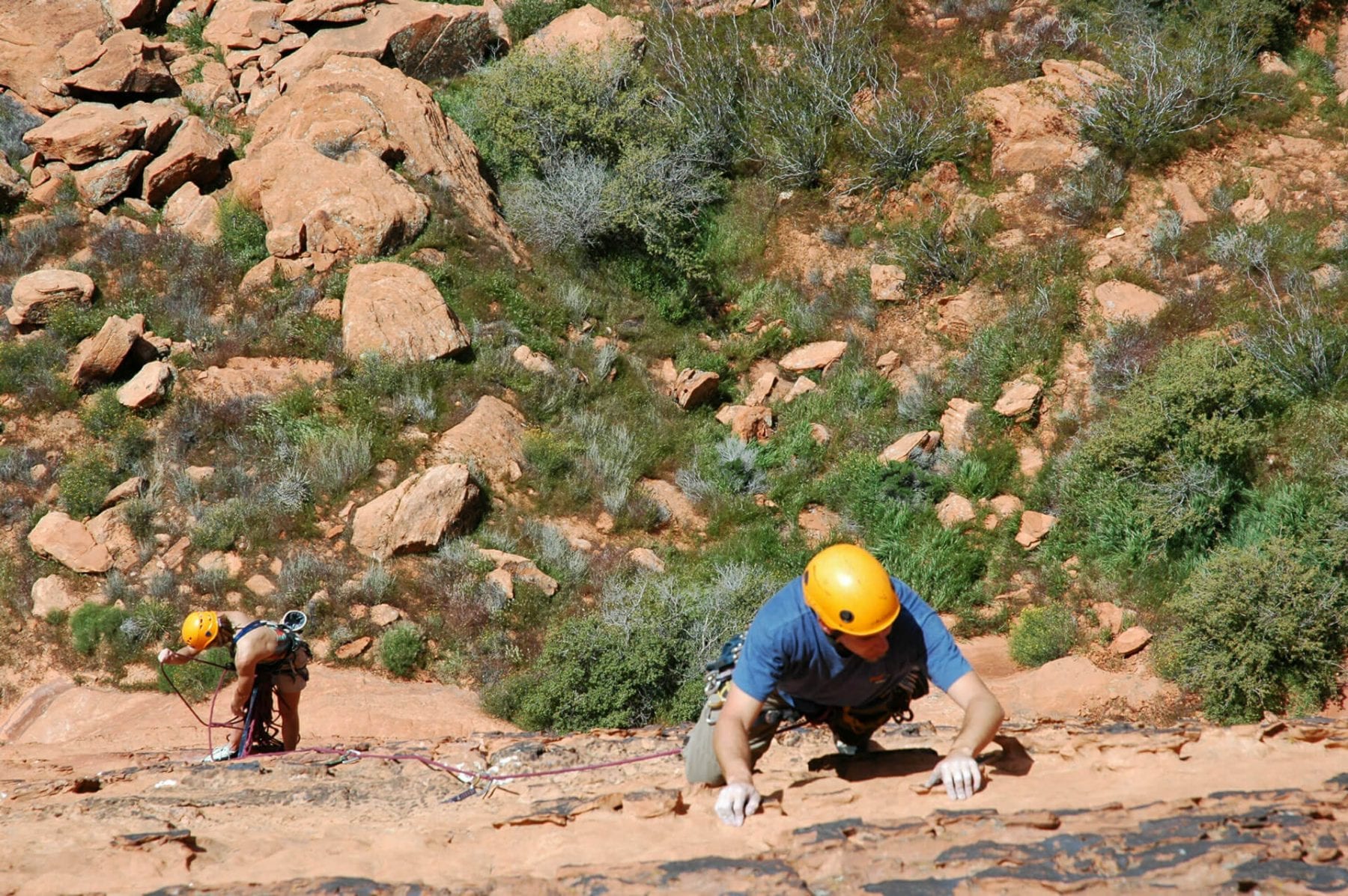 Zion Canyoneering
Scattered around Zion National Park are beautiful slot canyons which you can only access by canyoneering
. Adventure-loving guides
 at Zion Rock and Mountain have been canyoneering these canyons for more than 2 decades, and know the best slot canyons in the area, whether you want to start easy, or test your guts at rigid slots
. 
Their half and full day canyoneering adventures lead to beginner, intermediate, and advanced canyoneering slots like Lambs Knoll, Behunin Canyon and Heaps Canyon
.
With Zion Rock and Mountain Guides' Family Canyoneering package, you can take on basic but super fun canyons that provide a ton of adventure at a more
leisurely
pace
.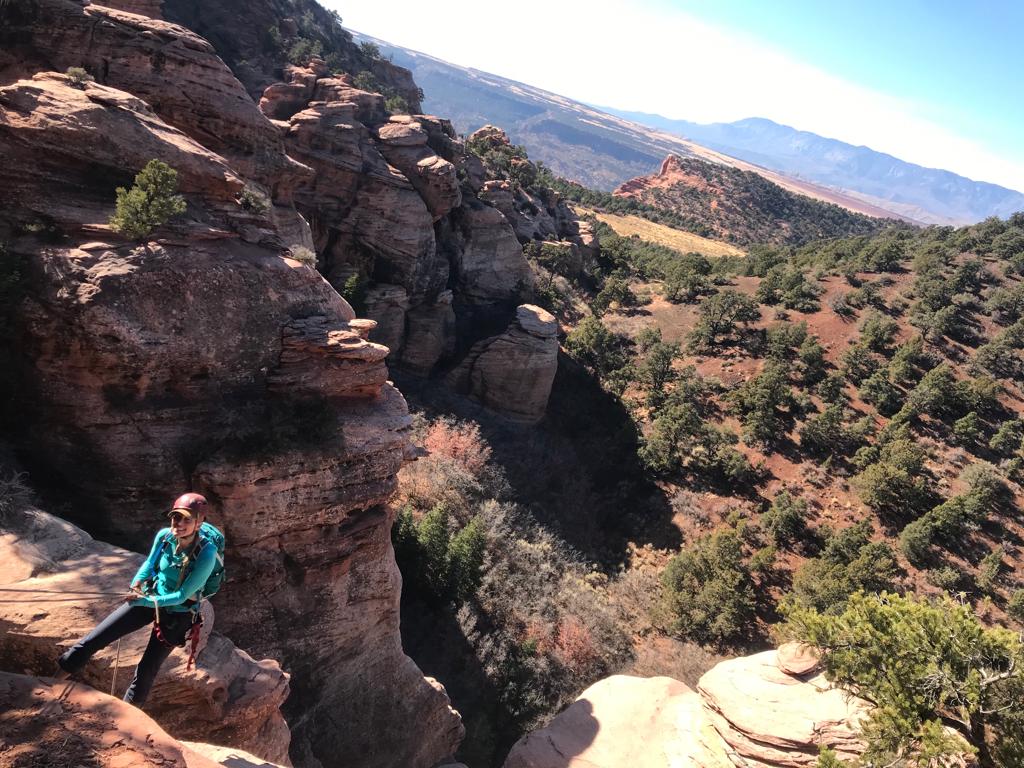 Zion Mountain Biking
Biking in the Zion area is one of the best ways to see the area's breathtaking features – rugged rock formations, deep canyons, and red rock mesas
.  Guided bike tours from Zion Rock and Mountain Guides are perfect if you want to combine adventure and learning in one trip. Whether you want to experience introductory mountain biking with the kids, or find lesser known epic singletrack with an experienced guide,  the team at Zion Rock and Mountain Guides are here for your adventure.
With Zion Rock and Mountain Guides' Family Biking Adventures, you can bask in these stunning views with your family
!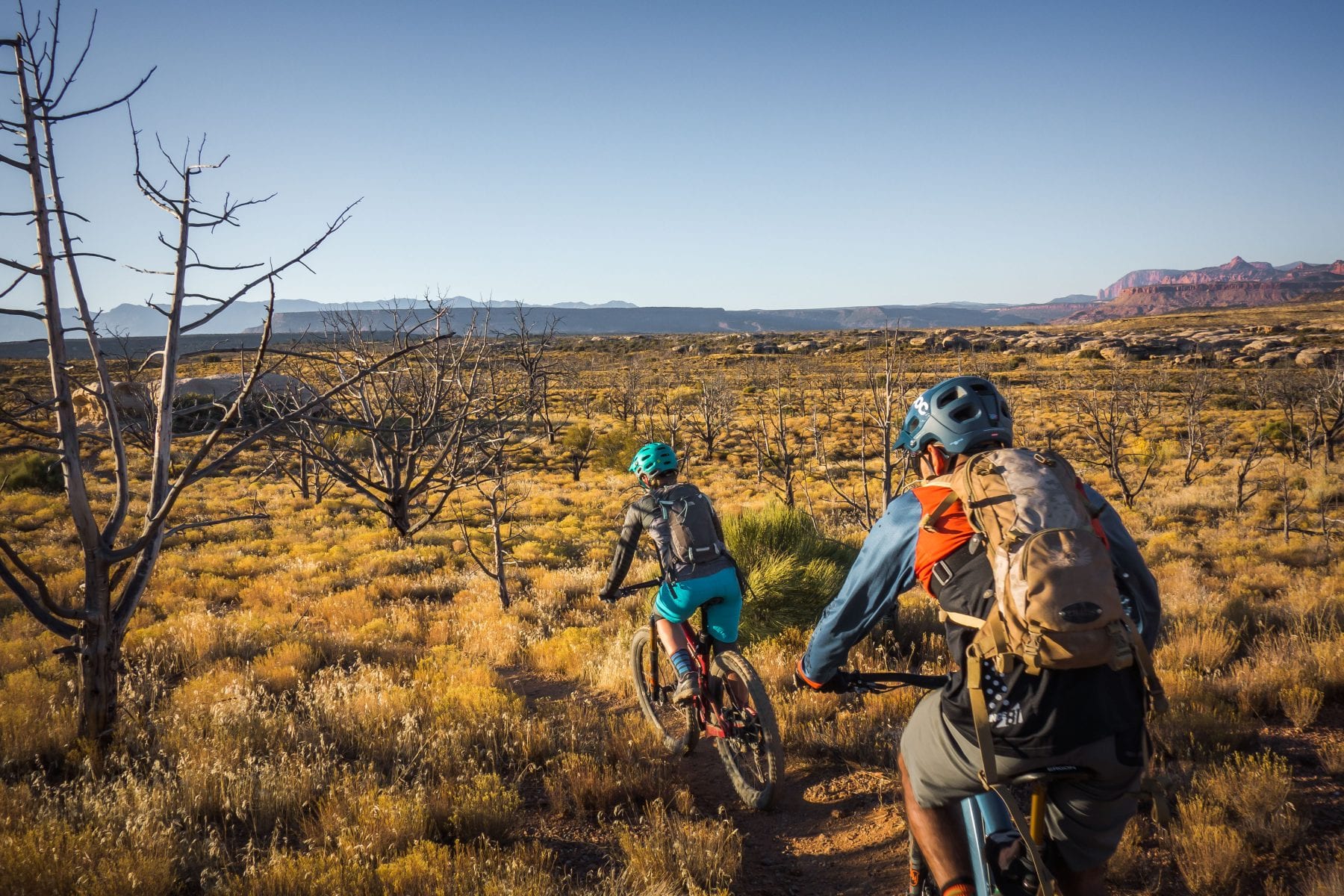 Zion Hiking
Zion Rock and Mountain Guides also offers action-packed hiking adventures that'll bring you to walls and cracks that'll challenge your agility
.
Hiking has become an outdoor tradition at Zion National Park, and the team at Zion Rock and Mountain Guides has unique hiking packages for both adventure seekers and families who want to experience the famous vistas and canyons of the Zion area
.
Zion Hike and Bike is a great package if you can't choose between hiking and biking – get the both of best worlds by experiencing both in one day
! The rewards at the end of every tour – hidden canyons, and picturesque vistas – make this trip one for the books. 
Join the Slots and Arch Hiking Trip if you want to savor a little solitude during the journey.
This backcountry excursion will lead you 1500ft up to a famous arch, remote slot canyon locations, and 360-degree views of the backcountry
. 

Why Choose Zion Rock and Mountain Guides
What sets Zion Rock and Mountain Guides apart from the competition? Their love and passion for the Zion area! We love their unparalleled customer service and eagerness to help you plan the perfect adventure.  They make sure you get the guide and adventure suited to your preferences and your budget. 
Their excursions are
 inspired by
40 years of exploring the Zion area, and 20 years of helping people enjoy Zion adventures
. Each tour is unique, well-planned, and curated to bring the best of Zion to you. It's safe to say that they offer the best outdoor adventures in the Zion area.