Nestled in the picturesque state of Minnesota, Minneapolis boasts an incredible urban landscape surrounded by a network of beautiful lakes. It is easy to find an escape from the hustle and bustle of city life, the city's numerous lakes provide the perfect opportunity for paddle sport enthusiasts. Whether you're a seasoned paddler or a beginner looking for a new experience on the water, Minneapolis and its surrounding areas offer an array of options. In this blog post, we'll explore the top lakes within a 30-minute drive of Minneapolis, where you can indulge in the joy of paddling amidst breathtaking natural scenery.
We've had the pleasure of paddleboarding on Lake Minnetonka at Wayzata Beach with our partner Wai Nani Surf & Paddle and we are excited to explore the rest of the lakes.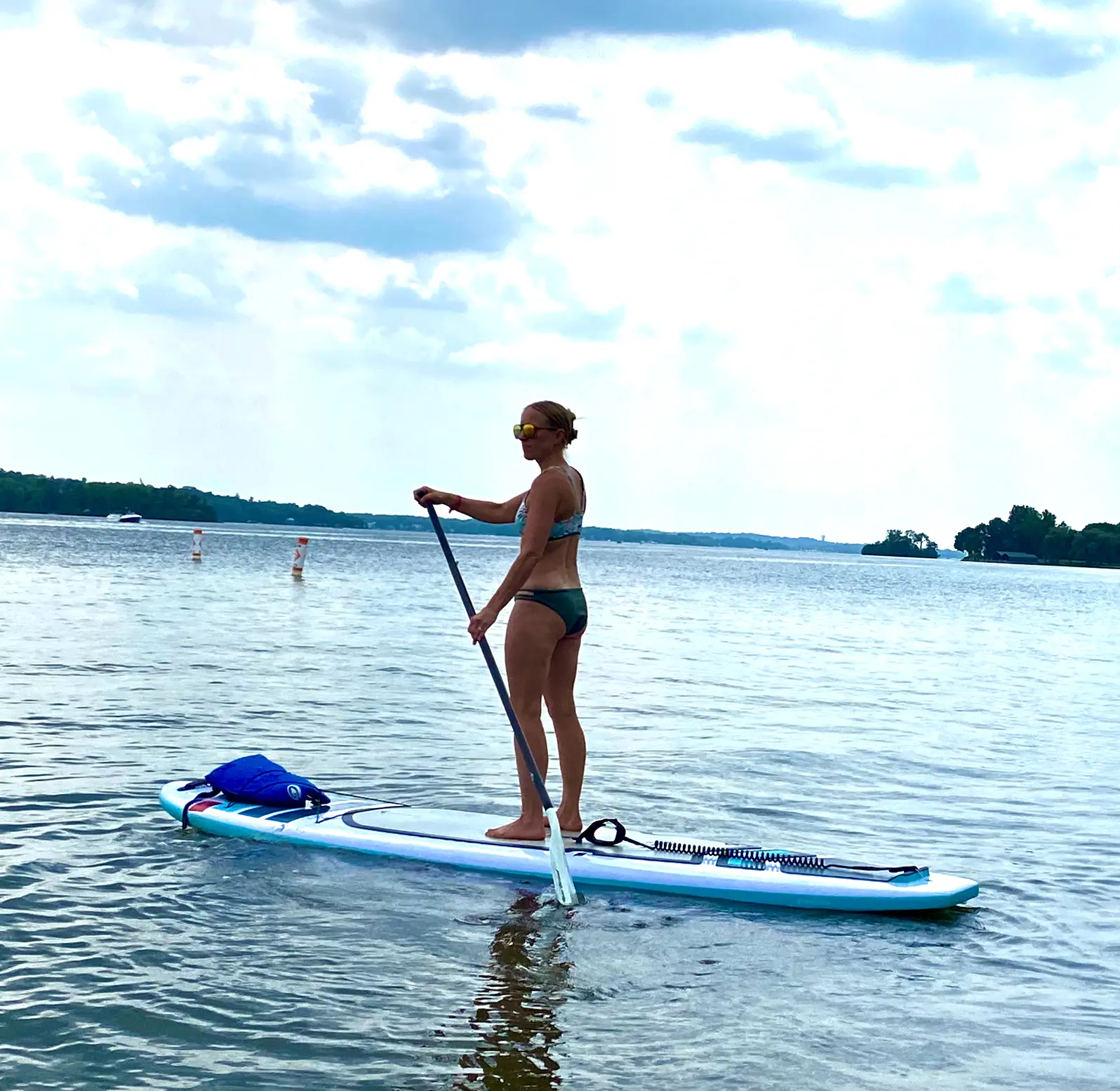 Lake Minnetonka 
Lake Minnetonka, a sprawling lake west of Minneapolis, allows motorized boats but has designated certain areas as "low wake." Paddling on this vast expanse of water offers an adventure in nature's splendor. Spanning approximately 14,528 acres, the lake is one of Minnesota's largest and most cherished bodies of water, offering a wide range of recreational opportunities and stunning natural beauty.
Location: Wayzata and Excelsior are great places to access and paddle Lake Minnetonka
Rent a Kayak or SUP in Wayzata or Excelsior or take an SUP Yoga or Fitness Class.
Chain of lakes | Cedar Lake, Lake of the Isles, and Bde Maka Ska (Lake Calhoun) 
Located just minutes from downtown Minneapolis, Cedar Lake and Lake of Isles are tranquil oasis for paddleboarders and kayakers. With a complete ban on motorized boats, these lakes provide a peaceful environment for exploring its clear waters and enjoying the surrounding natural beauty, right in the city.
Location: Minneapolis, Open in Google Maps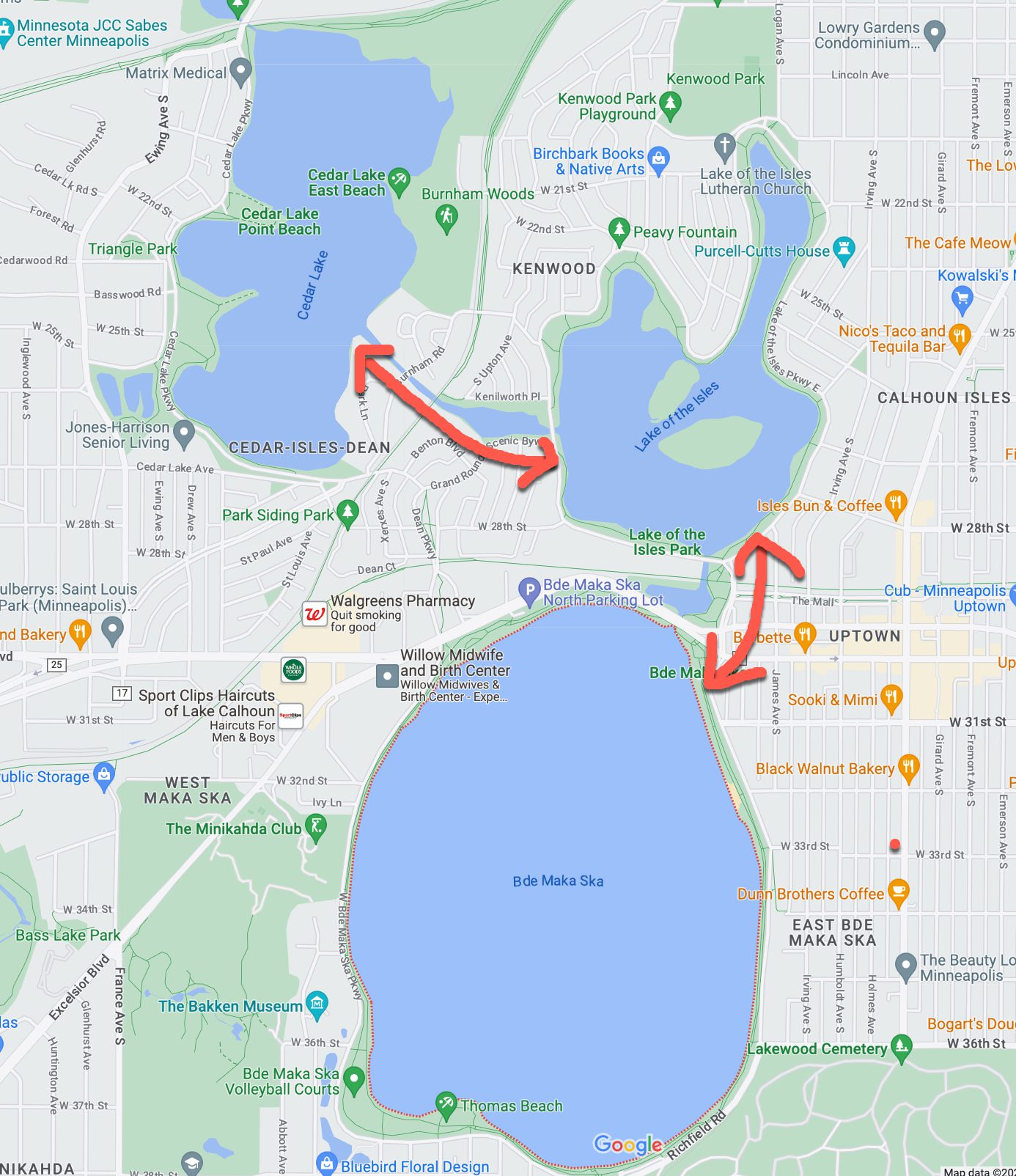 Bde Maka Ska 
Bde Maka Ska, previously called Lake Calhoun, is one of the most popular lakes in Minneapolis. It's the largest link in the Chain of Lakes and has three beaches and a variety of water recreation activities. There are canals that connect the chain of lakes and create a unique paddling experience!
Location: Minneapolis, Open in Google Maps
Lake Harriet 
Situated southwest of Minneapolis, Lake Harriet offers a serene paddling experience with its low wake policy. This sparkling lake surrounded by lush parkland provides the ideal setting for a relaxing day on the water.
Location: Minneapolis, Open in Google Maps
Nokomis Lake
Lake Nokomis, known for its family-friendly atmosphere, permits motorized boats but designates certain areas as "low-wake" zones. Paddleboarders and kayakers can explore these tranquil areas and connect with nature.
Location: Minneapolis, Open in Google Maps
Wirth Lake
Nestled within Theodore Wirth Regional Park, Wirth Lake is a peaceful retreat for paddling enthusiasts. With its low wake policy, you can glide across the calm waters and savor the beauty of the natural surroundings. This is a great lake to visit if you want to go for a hike, trail run, or a mountain bike ride in Theodore Wirth Regional Park and then go cool off and play in the water. A multi-adventure day anyone?
Location: Minneapolis, Open in Google Maps
Lake Independence (Motorized Boats Allowed, but Some No-Wake Zones)
Located on the outskirts of Minneapolis, Lake Independence invites both motorized boats and paddlers. Several no-wake zones provide a tranquil paddling atmosphere, making it an excellent choice for outdoor enthusiasts. With 945 acres of water, Baker Park has many different lakes for paddling like Independence, Half Moon and Spurzem lakes. You can rent a canoe, kayak, paddleboat, rowboat, or stand-up paddleboard at Baker Campground. 
Location: Maple Plain, MN, Open in Google Maps
Long Lake
Long Lake is a haven for water-based activities. Boating, fishing, kayaking, and paddleboarding are popular activities on the lake's calm waters. The lake's relatively quiet atmosphere creates an ideal environment for relaxation and outdoor enjoyment.
Location: Long Lake, Minnesota Open In Google Maps
Minneapolis and its surroundings are a haven for paddleboarding and kayaking enthusiasts. Whether you seek the calm waters of no-motorized lakes or the serenity of low-wake zones, the lakes near Minneapolis offer an incredible range of opportunities to explore nature's beauty. So, grab your paddle, head to one of these lakes, and embark on a memorable adventure amid the splendor of Minnesota's scenic landscape. Happy paddling!