Miami Outdoors
Miami is not just a place, it is a feeling. This city is one destination where you can soak in the blissful sunshine all year long. Even more than the sunshine, Miami sizzles with salsa and sports. Yes, sports!! If you always thought of Miami as just another party place, think again.  Miami has a ton to offer for outdoor enthusiasts – it is just a matter of exploring the right places.  Not only does Miami have a ton to offer those looking for water sports, it is also a great destination for biking.  Read on for the best places to explore Miami outdoor activities, water sports, and biking trails.
Best Time of Year to Visit: Mid-October to early-January is considered the best time to visit Miami. It is the perfect destination to escape the winter and get outdoors where it never gets cold.
Miami Kayaking & Paddle Boarding (SUP)
Miami's warm climate and calm water makes it a fabulous destination for water sports. Some of Miami's top water sports are Kayaking and Paddle boarding.
Best Miami Kayak and Paddle Board Rental Shop: Rent a kayak or paddle board (SUP) from Virginia Key Outdoor Center. Right from their launch area visitors can enjoy the sandy beaches, waves breaking, and open sea on their shores. The rentals start from just $35 for 2 hours and the shop offers a wide range of paddles, boards, life jackets, and free basic instructions on how to use the equipment.  The knowledgeable staff can recommend multiple options for places to paddle, based on what you would like to see.  Here are some of our favorites:
Explore Jimbo's Lagoon, where multiple manatee and dolphin sightings have been documented. Virginia Key is filled with wildlife, so it's likely that you will see more than just manatees.
Paddle into their sheltered lagoon where the water is always calm. From there you can paddle out to Norris Cut to enjoy the beach or view the port.  Both areas are spectacular at night.
Search the sand, rocks and sea grass beds of Virginia Key Beach North Point Park for sea urchin, starfish, eagle rays, iguanas and dolphins. Experience this spectacular habitat first-hand from your kayak or SUP.
Or, book a guided tour to explore the area with an expert who can provide kayak/SUP pointers and show you the incredible diversity of the area!
Other Kayaking/Paddling Spots: From rivers to beaches to bays, the Miami area has a lot of places where you can kayak or paddle-board. The following are some more top spots on our list:
South Beach: Needless to say, South Beach is synonymous to Miami. In fact, it is most of the Miami. Famous for its celebrities and nightlife, South Beach is a tourist favorite.  You can escape the crowds and paddle right off the beach (wait for a calm day if you are a beginner).  The views of South Beach are fantastic right off the shore!
The Miami River: The Great Miami River drains out of the Everglades and runs through the city. Paddling the river offers views of downtown from a different angle.  Launch your kayak or paddle board near Brickell Key and paddle upstream for 4 miles as you admire the views of downtown and the many cargo and river boats.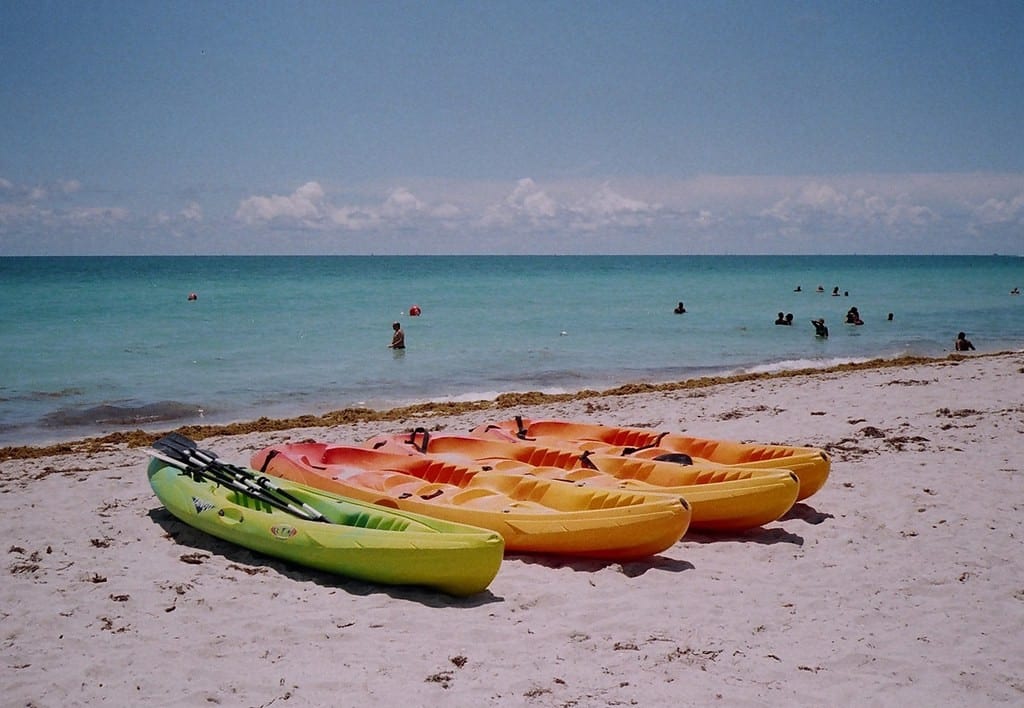 Mountain Biking
Many may think mountain biking isn't a conventional activity for beachy Miami.  Fortunately, Miami has some great mountain biking trails just outside the city.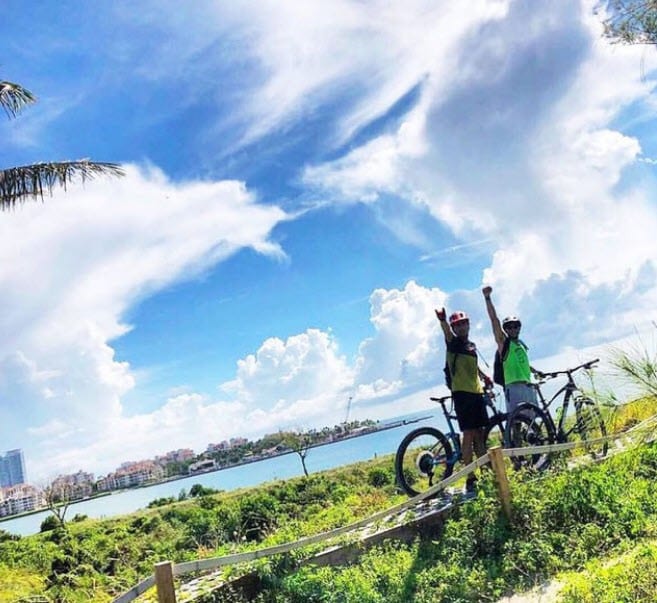 Best Trails: Miami's only mountain bike trails are located near Virginia Key, only 15 minutes out of the city. There is over 9 miles of trails with options for everyone from beginner to advanced.  Many features have been built for riders throughout the trails including wooden overpasses, rock gardens and wood platforms and log overs.
Best Miami Bike Rental Shops: Leave your bike at home and rent a mountain or cruiser bike online starting at $30 for 2 hours at the Virginia Key Outdoor Center just minutes from the trails.  VKOC is the most beloved rental shop for tourists and locals alike. It provides cruiser bikes, kids bikes, and mountain bikes. All bike rentals are provided with a helmet, key and lock.
Next time you visit Miami, make sure you leave time to explore the incredible outdoors after you finish partying in the city!